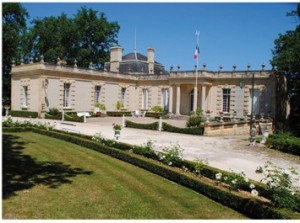 Learn everything about Chateau Haut Sarpe, St. Emilion with wine tasting notes, wine and food pairings, best vintages, a history of the property, and information on the vineyards and winemaking. If you want to read about other important, Bordeaux Chateaux: Links to all Bordeaux Wine Producer Profiles
Chateau Haut Sarpe History, Overview
Chateau Haut Sarpe has a long history in the region as it dates all the way back to 1750 when it was founded by Pierre Beylot. The design of the beautiful chateaux was inspired by the Trianon, which is located in Versailles.
Chateau Haut Sarpe first came into prominence when the estate earned a gold medal for their wine in 1867, at the World Fair in Paris. As the name implies, it shares a common heritage with Clos de Sarpe. In fact, both properties were at once time owned by the same family.
At the time the estate was owned by the du Foussat family. Today, Chateau Haut Sarpe is owned by the well-known Janoueix family who took over Chateau Haut Sarpe in 1930. The Janoueix family owns a myriad of popular estates in St. Emilion as well as in Pomerol and Bordeaux Superieur.
Chateau Haut Sarpe is a fun estate to visit. The views from the plateau are quite nice and there is a small, charming village inside with its own little wine bar for the workers called the Glou Glou. Chateau Haut Sarpe is also known for hosting sculpture exhibits in their landscaped gardens and a flour mill museum, located on the grounds.
Chateau Haut Sarpe Vineyards, Terroir, Grapes, Winemaking
The 21-hectare, Right Bank vineyard of Chateau Haut Sarpe is planted to 70% Merlot and 30% Cabernet Franc. The vineyard is located in the eastern part of Saint Emilion, next to Clos de Sarpe and not far from Chateau Sansonnet.
Many of the vines are old and average close to 45 years of age. The terroir is a blend of clay, limestone, and sandy soils. As the vineyard is replanted, new plantings are being done at much higher vine densities, of which some vines are planted to 10,000 plants per hectare.
Beginning with the 2015 vintage, the estate shifted to using only organic farming techniques. The property is located just a short walk from the picturesque village of Saint Emilion.
To produce the wine of Chateau Haut Sarpe, fermentation takes place in large, traditional, temperature-controlled, cement, vats. The wine is aged in 30% new, French oak barrels for an average of 12 months before bottling. There is a second wine, Chateau Vieux Sarpe.
The best vintages of Chateau Haut Sarpe are: 2022, 2021, 2020, 2019, 2018, 2017, 2016, 2015, 2010, 2009 and 2005. Though it should be noted that starting with 2018, the quality of the wine here took a big leap up.
The production here is large at close to 10,000 cases of wine per vintage. The new work in the vineyards coupled with bringing in Hubert de Bouard of Chateau Angelus could really shake things up here and bring more attention to one of the most obscure Grand Cru Classe vineyards in the appellation.
When to Drink Chateau Haut Sarpe Faure, Anticipated Maturity, Decanting Time
Chateau Haut Sarpe is better with at least 3-4 years of bottle age. Of course, that can vary slightly, depending on the vintage.
Chateau Haut Sarpe is best enjoyed in the first 3-12 years of life. Young vintages can be decanted for about 1 hour to 90 minutes. This allows the wine to soften and open its perfume. Older vintages might need very little decanting, just enough to remove the sediment.
Serving Chateau Haut Sarpe with Wine and Food Pairings
Chateau Haut Sarpe is best served at 15.5 degrees Celsius, 60 degrees Fahrenheit. The cool, almost cellar temperature gives the wine more freshness and lift.
Chateau Haut Sarpe is best paired with all types of classic meat dishes, veal, pork, beef, lamb, duck, game, roast chicken, roasted, braised, and grilled dishes. Chateau Haut Sarpe is also good when matched with Asian dishes, rich fish courses like tuna, mushrooms, and pasta.
Château Haut-Sarpe Wine Tasting Notes
10 Vintages 23,210 Views Sort by Vintage-Rating
2022
Château Haut-Sarpe (St. Émilion Grand Cru)

Chocolate, cherries, flowers and licorice come together in this medium-bodied, creamy, forward wine. Drink from 2025-2037. 89-91 Pts.

1,232 Views

Tasted

May 8, 2023

2021
Château Haut-Sarpe (St. Émilion Grand Cru)

Black raspberries and flowers on the nose bring you to a medium-bodied, mineral driven, strict wine made in an old-school. classic style that is going to appeal to some tasters more than others. Drink from 2024-2035. 87-89

1,124 Views

Tasted

May 20, 2022

2020
Château Haut-Sarpe (St. Émilion Grand Cru)

Smoke, wild cherries, coffee, licorice, spice and red fruits define the perfume. On the palate, the wine offers a mid-palate and finish which delivers a ripe, sweet fruit and chocolate coated endnote. Drink from 2023-2036.

516 Views

Tasted

Mar 21, 2023

Dark in color and round in texture, the wine offers a core of chocolate, licorice, oak and plums on the nose and palate. The mid-palate and finish deliver a ripe, sweet fruit and chocolate coated endnote. 90-92 Pts

1,289 Views

Tasted

May 20, 2021

2019
Château Haut-Sarpe (St. Émilion Grand Cru)

Medium-bodied, bright, vibrant, fresh and silky with a liberal dose of crushed rocks and stones to come along with the wines sweet, lively, polished, red fruits and salty tannins. Showing much better in the bottle than it did in barrel, this should age and evolve quite nicely. Give it a year or two in the bottle to age and it is going to be even better. Drink from 2024-2037.

889 Views

Tasted

Mar 29, 2022

Medium-bodied, fresh, sweet and juicy, with a bright core of spicy red fruits and herbs with a lifted, red berry finish. 89-91 Pts

2,263 Views

Tasted

Jun 8, 2020

2018
Château Haut-Sarpe (St. Émilion Grand Cru)

Much better in bottle than in barrel the wine is round, lush, showy and sweet, with loads of ripe fruits, crushed rocks and a judicious hit of oak. Give this a few years to continue filling out and soften and it should be a better wine.

685 Views

Tasted

Mar 9, 2021

Flashy, fleshy and juicy, this is the most concentrated wine I have ever tasted from the estate. There is a strong eucalyptus note to the dark red fruits as well as a jammy, fatness in the mouth. This is a good wine to drink young, for all its up-front, ripe juiciness. 87-89 Pts

1,260 Views

Tasted

Apr 19, 2019

2017
Château Haut-Sarpe (St. Émilion Grand Cru)

Spicy red fruits, crisp on the palate with licorice and red plums, this medium bodied wine is on the classic, tart side. Subsequent vintages have shown improvement.

1,454 Views

Tasted

Apr 26, 2018

2016
Château Haut-Sarpe (St. Émilion Grand Cru)

Forward, fresh, bright red fruits with an easy character that is ready for near term drinking.

2,854 Views

Tasted

Sep 21, 2019

Good color, ripe, dark fruits, this wine is fleshy and sweet, but there is a touch of dryness in the mouth and in the finish.

2,816 Views

Tasted

Apr 29, 2017

2015
Château Haut-Sarpe (St. Émilion Grand Cru)

Spicy red fruits, crisp on the palate with licorice and red plums, this medium bodied wine is on the classic, tart side. Subsequent vintages have shown improvement.

1,972 Views

Tasted

May 21, 2018

Chateau Haut-Sarpe has kicked up their game by bringing in Hubert de Bouard to consult. Showing a lot of color for the estate, this wine is fresh, medium bodied and stony with ripe, red fruits in the finish.

1,740 Views

Tasted

Apr 29, 2016

2014
Château Haut-Sarpe (St. Émilion Grand Cru)

Light, simple, forward, early drinking, red plum centered wine with a nice mineralistic component on the back end.

1,050 Views

Tasted

Feb 10, 2019

2012
Château Haut-Sarpe (St. Émilion Grand Cru)

Light, bright fresh red fruits and spice, with a hint of earth in an early drinking style.

2,066 Views

Tasted

Dec 1, 2015