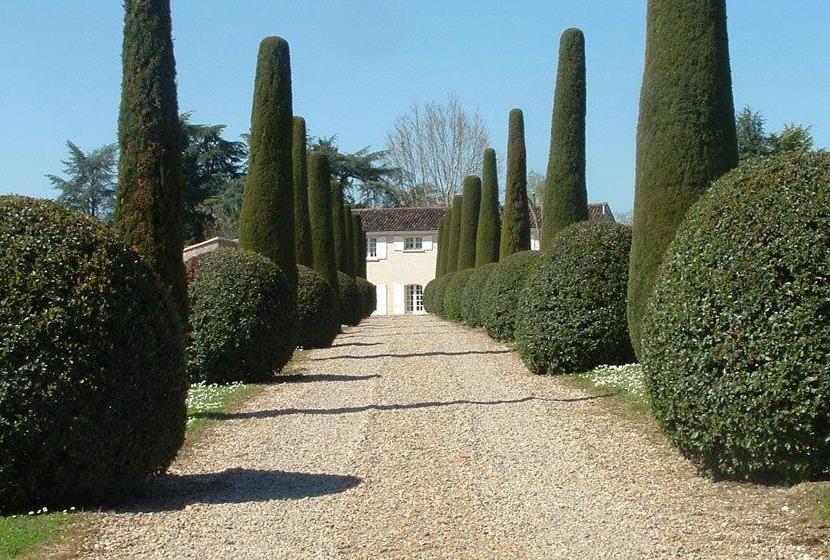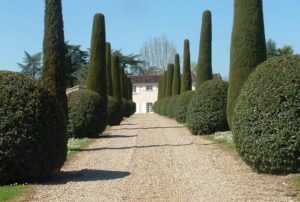 Learn everything about Chateau Rol Valentin St. Emilion with wine tasting notes and wine with food pairing tips. Learn the best vintages, a history of the property, and information on the vineyards, and winemaking. If you want to read about other important, Bordeaux Chateaux: Links to all Bordeaux Wine Producer Profiles
Chateau Rol Valentin, History, Overview
Chateau Rol Valentin does not have a long history, In fact, it made its debut with the difficult 1994 vintage.
Prior to that, the property was known as Clos Valentin. The founder of Rol Valentin was Eric Prissette, the former, European soccer star. That changed in time for the now legendary, 2009 Bordeaux vintage.
That was the year Chateau Rol Valentin took on a new owner when it was sold to the daughter of Leclerc's chief wine buyer, Jean-Luc Roche, and her husband, Nicolas Robin, who is the nephew of the famous Robin sisters of the Right Bank.
The Robin sisters previously owned Chateau Lafleur and Chateau Le Gay in Pomerol. The original and smaller vineyard was increased to its current size when the new owners took over.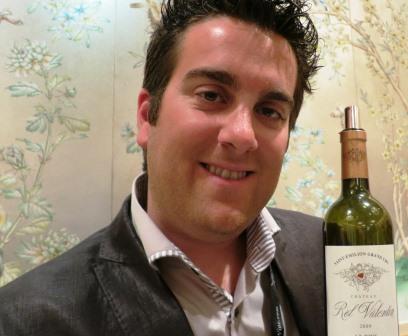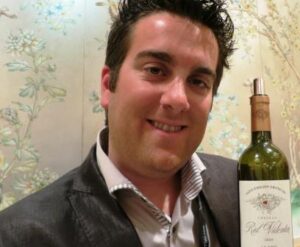 Chateau Rol Valentin Vineyards, Terroir, Grapes, Winemaking
The 7.5-hectare vineyard of Chateau Rol Valentin is planted with 85% Merlot, 10% Cabernet Franc and 5% Malbec. The making changes here are the recent addition of almost 5% Malbec in the vineyards. there are some recent plantings of Malbec The terroir is sand, clay, and limestone soils.
The vines are planted to a density of 6,600 vines per hectare. Most of those vines are old, averaging close to 43 years of age. The vineyard is managed using self-sustaining farming techniques.
The vineyards of Chateau Rol Valentin are located in two separate areas in St. Emilion. About 40% of their vines are placed on sandy soils, north of La Gomerie on the way to Cheval Blanc.
The remaining 60% of Chateau Rol Valentin's vineyards are planted in the cooler, clay, and limestone soils near Valandraud, Chateau Fleur Cardinale, and Chateau Faugeres, located east, on the way to Cotes de Castillon in the commune of St. Etienne de Lisse.
A lot of effort goes into making Rol Valentin. Until 2019, what took place was that after harvesting and sorting, the whole berries are poured into 13, small, open-top, Taransaud tanks of various sizes ranging from 10 hectoliters up to 30 hectoliters.
However, in 2020, Rol Valentin completely modernized their cellars adding all-new cement tanks in their new cellars. These smaller vats allow for fermentation to take place on a parcel by parcel basis. The maceration runs for about 30 days. Malolactic fermentation is conducted in 70% new French oak barrels.
The Best Vintages of Chateau Rol Valentin are: 2022, 2021, 2020, 2019, 2018, 2017, 2016, 2015, 2014, 2010, 2009 and 2005.
On average, about 2,000 cases of Rol Valentin are produced each year. The estate of Chateau Rol Valentin is consulted by Stephane Derenoncourt. There is a second wine, Les Valentines.
Chateau Rol Valentin is a medium/full-bodied, fresh, supple St. Emilion wine that was an early drinker, that did not develop much complexity with aging.
Since the new owners took over, there is a better sensation of depth in the wine. 2010 looks to be the best vintage for Rol Valentin yet. The new owners are dedicated to improving the wines of Chateau Rol Valentin.
The Robin family also owns Chateau de Laussac in the Cotes de Bordeaux appellation, which they purchased in 2004, and Clos Vieux Taillefer in Pomerol.
When to Drink Chateau Rol Valentin, Anticipated Maturity, Decanting Time
Chateau Rol Valentin is better with at least 3-6 years of aging in good vintages. Young vintages can be decanted for up to 1 hour, or a bit longer, helping the wine soften to help develop the aromatic character.
Older vintages might need very little decanting, just enough to remove the sediment. Chateau Rol Valentin offers its best drinking and should reach peak maturity between 4-18 years of age after the vintage.
Serving Chateau Rol Valentin with Wine, and Food Pairing Tips
Chateau Rol Valentin is best served at 15.5 degrees Celsius, 60 degrees Fahrenheit. The cool, almost cellar temperature gives the wine more freshness and lift.
Chateau Rol Valentin is best served with all types of classic meat dishes, veal, pork, beef, lamb, duck, game, roast chicken, roasted, braised, and grilled dishes. Chateau Rol Valentin is a perfect match with Asian dishes, hearty fish courses like tuna, mushrooms, and pasta as well as cheese.
Château Rol Valentin Wine Tasting Notes
21 Vintages 90,588 Views Sort by Vintage-Rating
2022
Château Rol Valentin (St. Émilion Grand Cru)

Deep in hue, the wine is spicy, floral, and fresh, with sweet, ripe, black raspberries, and plums in the perfume. Creamy, soft, and polished, the medium-bodied wine is fresh, supple, and shows a nice depth of fruit on the refined palate. Drink from 2026-2040. 92-94 Pts.

691 Views

Tasted

May 8, 2023

2021
Château Rol Valentin (St. Émilion Grand Cru)

Cherries, licorice, smoke and espresso in the nose and on the palate. The wine is round, soft and polished, with loads of ripe, sweet, juicy, dark plums, chocolate, licorice and espresso in the elegant, fresh finish. Drink from 2023-2037. 89-91

1,515 Views

Tasted

May 20, 2022

2020
Château Rol Valentin (St. Émilion Grand Cru)

Flowers, black raspberries, licorice, black cherries and plum scents are out in front here. Medium-bodied, silky, fresh, pure and vibrant, as well as refined in texture, the wine offers ample, sweet, ripe, red berries and a touch of cocoa in the finish. Drink from 2024-2040.

852 Views

Tasted

Mar 21, 2023

Medium-bodied, silky, fresh, pure and vibrant, the fruits are elegant and refined in texture. Finishing with loads of sweet, ripe, red berries with floral touches. this elegant charmer will be just great with only a few years of aging. 91-93 Pts

1,797 Views

Tasted

May 20, 2021

2019
Château Rol Valentin (St. Émilion Grand Cru)

Loads of fresh picked flowers, perfectly ripe, red and black cherries, fresh herbs and tints of cocoa are all over the place here, on the nose and palate. Blending silky-textures, freshness, and layers of elegant, red fruits with nuances of cocoa, licorice and spice in the background, this is going to be just great with a year or two of cellaring. Drink from 2024-2036.

1,398 Views

Tasted

Mar 29, 2022

2018
Château Rol Valentin (St. Émilion Grand Cru)

Fresh, soft, elegant, refined, medium-bodied and with loads of ripe, red fruits, dark cherries, flowers, earth and coffee bean on the nose, palate and silky finish. This is probably best in its first 12-15 years of life.

1,058 Views

Tasted

Mar 9, 2021

Elegant and fresh, soft and silky, this medium-bodied charmer remains focused on the purity and refined textures in the fruit. This is probably best in its first 12-15 years of life. 91-93 Pts

2,118 Views

Tasted

Apr 19, 2019

2017
Château Rol Valentin (St. Émilion Grand Cru)

Fresh picked raspberries, cherries and strawberries combine with licorice and espresso to produce an elegant expression here. The wine is soft, medium bodied and will be easy to drink upon release

2,000 Views

Tasted

Apr 26, 2018

2016
Château Rol Valentin (St. Émilion Grand Cru)

With floral, fresh cherry and red and black plums, this is soft, silky and inviting. Medium bodied and polished, this is a charmer.

2,973 Views

Tasted

Apr 29, 2017

2015
Château Rol Valentin (St. Émilion Grand Cru)

Elegant, fresh, soft and sweet with a medium-bodied, raspberry and cherry-tinged profile that should drink great on release

3,309 Views

Tasted

Apr 29, 2016

2014
Château Rol Valentin (St. Émilion Grand Cru)

With floral, cherry and plum scents in the nose, this medium-bodied, velvety textured wine delivers licorice and sweet, cherries in an open finish. 89-90

3,233 Views

Tasted

Apr 27, 2015

2013
Château Rol Valentin (St. Émilion Grand Cru)

With spicy plums, fennel and a light mocha and red berry finish, this should be ready to drink on release. 87-89 Pts

3,028 Views

Tasted

Apr 29, 2014

2012
Château Rol Valentin (St. Émilion Grand Cru)

Medium-bodied with refined character, licorice, coffee bean and blackberries, the wine is soft, but a bit light in the finish. 89-91 Pts

5,187 Views

Tasted

Apr 26, 2013

2011
Château Rol Valentin (St. Émilion Grand Cru)

Deep ruby in color, with truffle, licorice, dark cherry, spice and coffee scents, this medium bodied, charming St. Emilion offers a finish filled with bright, fresh, black raspberries and vanilla. 88-90 Pts

4,021 Views

Tasted

Mar 16, 2012

2010
Château Rol Valentin (St. Émilion Grand Cru)

Youthful, fresh, medium-bodied, and just about ready to go, the wine is all about its fresh, sweet, dark pit fruits, licorice, espresso, and black cherry character, which shows well on the nose and palate.

2,800 Views

Tasted

Sep 19, 2021

Better out of bottle than barrel, the wine offers fresh, ripe, black raspberries, licorice, earth, spice and black cherry jam notes. Silky, soft and round, this medium/full bodied ripe will drink great with just a few years of age.

4,572 Views

Tasted

May 8, 2013

Coffee, truffle, cassis, plums and licorice scents fill your glass. Silky in texture and more concentrated than the 2009, the wine ends with floral, plum and fennel flavors. Thanks to investments from the new owners and the efforts of their consultant, Stephane Derenoncourt, this Bordeaux wine from St. Emilion is becoming a property to watch. 91-93 Pts

4,867 Views

Tasted

Mar 14, 2011

2009
Château Rol Valentin (St. Émilion Grand Cru)

This is such a luscious, forward wine, it's fun to drink today. Decanted, 90 minutes prior to dinner, the wine is dark ruby in color. The nose serves up espresso, smoke, spice, thyme and black cherry liqueur aromas. Medium/full bodied, soft and polished, the silky, dark red berries and spice notes in the finish hit the spot. The wine was made from a blend of 90% Merlot and 10% Cabernet Franc.

2,895 Views

Tasted

Aug 4, 2016

Forward in style and filling out nicely, this is developing better than anticipated. After a few years in the bottle, it seems richer, with more lush qualities in the plush finish. This wine is already fun to drink.

4,651 Views

Tasted

May 19, 2013

2009 Rol Valentin. The property has new owners related to the Robin family, previous owners of the famed Chateau Lafleur in Pomerol. The fruit is sourced from two separate vineyards: 60% of the crop comes from vineyards located in the eastern sector of St. Emilion, not far from Valandraud, on clay and limestone soils, while the remaining 40% emanates from property with sandy soils located close to Gomerie. The wine opens with stone, floral, black cherry and plum aromatics. Soft and velvety textured, this elegant wine should drink well after a few years of bottle age. I've always liked the style of this wine, but the lack of the wine's ability to age has put me off from buying it. The 2009 is the best vintage I've tasted from this chateau. I hope the quality and style of this vintage will allow it to age better than those of previous years. 90-92 Pts

5,930 Views

Tasted

Aug 29, 2010

2008
Château Rol Valentin (St. Émilion Grand Cru)

Light ruby in color, the nose is filled with smoke, cherry and coffee scents. Medium bodied, this elegant wine finishes with light, soft cherry sensations.

4,637 Views

Tasted

Mar 11, 2011

08 Château Rol Valentin, from former soccer star Eric Pressete, begins with an oak, plumy, black and red fruit perfume. Medium bodied and elegant, this is a quality wine for early drinking. 89-91 Pts

3,959 Views

Tasted

Jul 1, 2009

2006
Château Rol Valentin (St. Émilion Grand Cru)

More interesting on the earthy, red fruit and espresso nose than on the rustic, bright red berry and forest leaf oriented palate, this is fully developed and should be drunk up over the next 4-5 years.

3,402 Views

Tasted

Dec 11, 2019

2005
Château Rol Valentin (St. Émilion Grand Cru)

Medium bodied, displaying spicy dark red fruits, herbs and fennel. Air and swirling added to the complexity of the aromatics and helped flesh out the delicate, red berry personality.

5,119 Views

Tasted

Mar 12, 2012

2001
Château Rol Valentin (St. Émilion Grand Cru)

Fully mature, this is elegant, silky, medium bodied and quite easy to drink. The secondary, truffle, smoke, licorice, tobacco and fresh, earthy, red fruits are at peak, or just slightly past its high point today.

3,190 Views

Tasted

Jan 8, 2018

2000
Château Rol Valentin (St. Émilion Grand Cru)

This soft, light, sleek, red and black fruit filled wine is easy to drink. Eric Prisette, the European Soccer star and former owner recently sold the property to the Robin family who are related to the previous owners of Lafleur. This is a property to watch.

3,700 Views

Tasted

Mar 5, 2010

1998
Château Rol Valentin (St. Émilion Grand Cru)

Medium bodied with notes of ripe black fruits accented with hints of raspberry aromatucs. Produced in a crowd pleasing style, this is a wine I prefer drinking in its youth to capture the freshness. I would not hold this wine more than a few years

3,271 Views

Tasted

Oct 14, 2008

1995
Château Rol Valentin (St. Émilion Grand Cru)

Slightly past fully mature, this medium bodied, earthy, spicy, kirsch oriented wine is soft in texture and has a nice, round, cherry finish. Drink up.

4,415 Views

Tasted

Jun 4, 2012