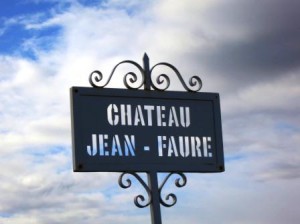 Learn everything about Chateau Jean Faure St. Emilion with wine tasting notes and wine with food pairing tips. Learn the best vintages, a history of the property, information on the vineyards and winemaking. If you want to read about other important, Bordeaux Chateaux: Links to all Bordeaux Wine Producer Profiles
Chateau Jean Faure History, Overview
The creation of Chateau Jean Faure dates back to 1763. But the property remained obscure until Chateau Jean Faure was purchased by Olivier Decelle in 2004, beginning the modern era for the estate.
Part of the reason for the purchase was, the estate came recommended to Olivier Decelle by the noted, Left Bank consultant, Jacques Boissenot. Olivier Decelle is now well versed in Bordeaux winemaking as he also owns Chateau Haut Maurac in the Medoc.
In 2016, Olivier Decelle sold Chateau Haut Ballet in the Satellite appellation of Fronsac to the owners of Chateau La Dauphine. Outside of Bordeaux, Olivier Decelle owns Mas Amiel in the Roussillon appellation in the Rhone Valley.
The Decelle family made a large investment in Jean Faure and changed their vineyard management techniques as well. One of their first decision was to improve the drainage in the vineyards. To accomplish this, they built new drainage channels.
To assist with the soil's ability to hold the right amount of water, they added several tons of stones to their vineyards. Most importantly, they are now using organic farming techniques and are heading into a biodynamic direction on at least some of their parcels.
Horses are used in vineyards. They employ 4 different, sturdy French breeds and if you meet them they are named; Quanou, Nola, Marquise, and Varyx.
Chateau Jean Faure Vineyards, Terroir, Grapes, Winemaking
The 18-hectare, Saint Emilion vineyard of Chateau Jean Faure is planted to 50% Cabernet Franc, 45% Merlot, and 5% Malbec. Chateau Jean Faure is an interesting Right Bank estate, due in large part to the unique vineyard cepage with their high percentages of Cabernet Franc and Malbec.
In fact, Chateau Jean Faure has one of the largest concentrations of Cabernet Franc and Malbec planted in the entire Bordeaux appellation. The vineyard has a terroir of clay, gravel, and sand soils.
The vineyard of Chateau Jean Faure has old vines that average close to a respectable, 40 years of age. But they have much older vines that are more than 60 years of age.
The vines are located in two main sections, as they have parcels close to Chateau La Dominique and not too far from Chateau LEvangile in Pomerol. They have slopes and elevations that rise to almost 40 meters in height. The best terroir is their parcels with their old vine Cabernet Franc.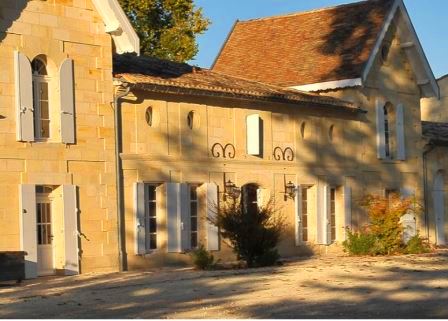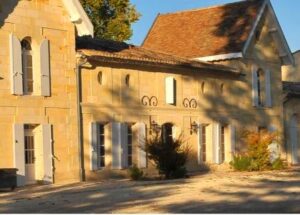 To produce the wine of Chateau Jean Faure, vinification takes place in 80-hectoliter, concrete vats that are shaped slightly differently than you find in most Saint Emilion cellars. The concrete vats are wider, making them more similar to those found in Burgundy. The grapes are whole berry fermented. However, the Malbec are treated differently as a portion of those grapes are vinified whole bunch, meaning the stems used as well.
Malolactic fermentation takes place in French oak barrels. It should be noted the aging for Chateau Jean Faure is done in a combination of 40% new French oak barrels, demi-muid, and foudres. Stephane Derenoncourt consults the winemaking and vineyard management. Production is on average, close to 5,000 cases of Chateau Jean Faure per vintage.
The best vintages of Chateau Jean Faure are: 2022, 2021, 2020, 2019, 2018, 2017, 2016, 2015, 2014, 2012, 2010, 2009 and 2005.
When to Drink Chateau Jean Faure, Anticipated Maturity, Decanting Time
Chateau Jean Faure is better with at least 3-4 years of bottle age. Of course, that can vary slightly, depending on the vintage.
Chateau Jean Faure is best enjoyed in the first 3-12 years of life. Young vintages can be decanted for about 1 hour to 90 minutes. This allows the wine to soften and open its perfume. Older vintages might need very little decanting, just enough to remove the sediment.
Serving Chateau Jean Faure with Wine and Food Pairings
Chateau Jean Faure is best served at 15.5 degrees Celsius, 60 degrees Fahrenheit. The cool, almost cellar temperature gives the wine more freshness and lift.
Chateau Jean Faure is best paired with all types of classic meat dishes, veal, pork, beef, lamb, duck, game, roast chicken, roasted, braised, and grilled dishes. Chateau Jean Faure is also good when matched with Asian dishes, rich fish courses like tuna, mushrooms, and pasta.
Château Jean-Faure Wine Tasting Notes
14 Vintages 58,376 Views Sort by Vintage-Rating
2022
Château Jean-Faure (St. Émilion Grand Cru)

With a unique nose of flowers, melted butter, red pit fruits, and spice, the palate is where the wine shows best with its layers of juicy, sweet, lush fruits, minerality, and vibrancy that stays with you. The wine blends 64% Cabernet Franc, 30% Merlot and 6% whole-bunch vinification, Malbec. Drink from 2025-2040. 92-94 Pts.

1,529 Views

Tasted

May 8, 2023

2021
Château Jean-Faure (St. Émilion Grand Cru)

Soft, polished, sweet, floral, and fresh, the fruits are juicy with a touch of spice and mint in the endnote. The wine has a nice depth of flavor, with a creamy, as well as fresh edgy to the spicy, red berries and leafy herbs in the endnote. The wine is made from a blend of 67% Cabernet Franc and 33% Merlot, which is the highest proportion of Cabernet Franc ever used in blend. Hopefully, they will continue using more Cab Franc in future vintages as it really works here. Drink from 2023-2039. 91-93

1,269 Views

Tasted

May 20, 2022

2020
Château Jean-Faure (St. Émilion Grand Cru)

Utilizing one of the highest percentages of Cabernet Franc in Bordeaux, at 65% of the blend, the wine offers a floral dominated perfume with cedar, spice, herbs, mint and salty plums. Medium-bodied, elegant, refined and silky on the palate, there is freshness, refinement and a savory edge to the sweet, vibrant, dusty red fruits in the finish. Drink from 2023-2042.

1,151 Views

Tasted

Mar 21, 2023

Richly colored, the wine is soft, vibrant and medium-bodied. The perfume easily displays its bouquet of flowers, dark cherries and spice. The wine is elegant, refined and silky on the palate, leaving you with earthy, spicy, fresh and savory, dark red fruits on the palate and in the finish. 91-93 Pts

3,868 Views

Tasted

May 20, 2021

2019
Château Jean-Faure (St. Émilion Grand Cru)

With a nose packed with roasted nuts, espresso, truffle, flowers and dark red fruits, the wine is even better on the palate with its layers of ripe, sweet, silky textured, red fruits. Soft, polished, fresh and fruity, you can drink this early, or age it for more secondary development. Drink from 2023-2035

3,145 Views

Tasted

Mar 29, 2022

With a beautiful dark hue, the wine shows a complex set of aromatics, lush, silky, sexy textures, richness and complexity. The finish exudes a myriad of spicy red and black fruits, licorice and herbs. Part of what makes this wine so interesting is the blend featuring a high proportion of Cab Franc in the mix using 65% Cabernet Franc, 30% Merlot and 5% Malbec. 92-94 Pts

4,206 Views

Tasted

Jun 8, 2020

2018
Château Jean-Faure (St. Émilion Grand Cru)

With good purity in the fruit, softness in its texture, ripe tannins and loads of fruit on your palate and in the juicy, sweet finish, I am really liking this elegantly styled wine. Give it a couple of years in the cellar and promises to be even better.

1,696 Views

Tasted

Mar 9, 2021

With flowers, black raspberries, dark cherries, licorice, sap and just a bit of jam in the nose, the wine is rich, fresh, sweet, round and refined. There is a nice energetic pop on the palate with plenty of ripe sweet fruit in the end note. 90-92 Pts

2,814 Views

Tasted

Apr 19, 2019

2017
Château Jean-Faure (St. Émilion Grand Cru)

Flowers and stone along with herbs, spice and red fruits combine to create a medium bodied, crisp, classic red berry-focused wine.

2,013 Views

Tasted

Apr 26, 2018

2016
Château Jean-Faure (St. Émilion Grand Cru)

Another Saint Emilion that is better in bottle than it was in barrel, the wine now offers deep, juicy plums, espresso, licorice, truffle flowers. Silky, elegant, fresh and lively, with a lifted, dried red pit fruit and floral finish, give this a few years before popping a cork, and it will show even better.

2,706 Views

Tasted

Sep 21, 2019

Medium bodied with spicy, sweet fruits, this is on the red side of the style range. The wine is bright and fresh with sweet, juicy red plums in the finish.

2,942 Views

Tasted

Apr 29, 2017

2015
Château Jean-Faure (St. Émilion Grand Cru)

With 50% of the blend devoted to Cabernet Franc, it is easy to understand the strong, floral notes that complicate the fresh, sweet, dark, red berries and spice character of the wine. The round, soft finish is completed by the chocolate covered cherries in the endnote.

3,265 Views

Tasted

Mar 12, 2018

The high percentage of Cabernet Franc adds this great floral note and spicy quality to the ripe, dark, red fruits, licorice and earth. The finish ends with a nice, dark chocolate and cherry note that leaves you wanting more.

3,310 Views

Tasted

Nov 22, 2017

With 50% Cabernet Franc in the blend, the wine combines ripe, dark cherries, plum, licorice and fresh flowers along with round, plush textures and a fresh, sweet, fruit and spice filled finish.

2,428 Views

Tasted

Apr 29, 2016

2014
Château Jean-Faure (St. Émilion Grand Cru)

Dark red berries with a round, plush center and a sweet, polished fruity finish. 89-91 Pts

3,365 Views

Tasted

Apr 27, 2015

2013
Château Jean-Faure (St. Émilion Grand Cru)

With smoky red fruits, the medium-bodied wine has a chalky finish. 83-85 Pts

2,143 Views

Tasted

Apr 28, 2014

2012
Château Jean-Faure (St. Émilion Grand Cru)

Smoke, red fruits, medium-bodied with a chalky finish. 84-86 Pts

2,849 Views

Tasted

Apr 26, 2013

2011
Château Jean-Faure (St. Émilion Grand Cru)

Chocoalte, smoke, espresso bean, licorice and black cherry scents lead to a soft, open, easy to drink wine that finishes with cocoa and plum.

1,980 Views

Tasted

Nov 17, 2013

2010
Château Jean-Faure (St. Émilion Grand Cru)

Deeply colored with black raspberry, licorice and earthy scents, this round, sweet, full bodied St. Emilion wine should offer good value when it's released. 88-90 Pts

4,681 Views

Tasted

Apr 28, 2011

2009
Château Jean-Faure (St. Émilion Grand Cru)

Spice, black raspberry, licorice and earthy scents lead to a medium/full bodied wine with soft textures and a long, round, ripe black cherry filled finish.

7,016 Views

Tasted

Jul 18, 2011