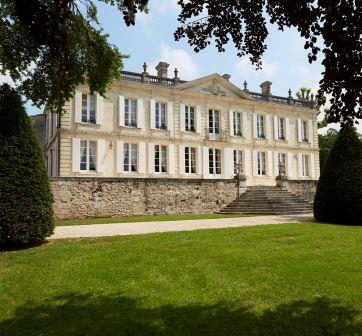 Learn everything about Chateau La Dauphine Fronsac with wine tasting notes and wine with food pairing tips. Learn the best vintages, a history of the property, information on the vineyards, and winemaking. If you want to read about other important, Bordeaux Chateaux: Links to all Bordeaux Wine Producer Profiles
Chateau La Dauphine History, Overview
While the modern era of Chateau La Dauphine is quite recent, the estate is one of the older properties in the region dating back to the late 1600s. The beautiful French chateau was built in 1750. The property was owned at the time by Louis Dauphin, which is where the estate takes its name from.
In 1985, the vineyard was purchased by the Moueix family from François Regis Marcetteau de Brem, a direct descendant of the original owner. They did not own the property very long, as they sold it to Guillaume Halley in 2001. 3 other vineyards were included in the same transaction with the Moueix family, La Croix Canon, Canon de Brem.
Guillaume Halley earned his fortune as the owner of the Champion supermarket chain. The Halley family are the founders of the massive supermarket chain, Carrefour.
Under Guillaume Halley, Chateau de La Dauphine was completely transformed into a modern, chateau and vineyard in the region of Fronsac. In fact, he spent close to ten million Euros on the renovations!
With that budget, Chateau de La Dauphine, with its renovated chateau, new chai, and modern wine-making facilities that are completely gravity fed, was turned into a contender for the top wine of the Fronsac appellation. His son Jean Halley took over the estate, hiring Michel Rolland as his consultant in 2012, replacing Denis Dubourdieu.
To increase the quantity of Chateau de La Dauphine, Jean Halley was able to merge Chateau Canon de Brem into La Dauphine. That was quite a feat considering that Canon de Brem was located in the Canon Fronsac appellation.
In December 2015, it was announced that Guillaume Halley sold Chateau La Dauphine to the Labrune family, through their personal holding company, FCB SA. The is the first Bordeaux investment for FCB SA, which until now, focused on technology and the healthcare sector. They made a second purchase in 2020 when they bought the neighboring estate of Vrai Canon Bouche.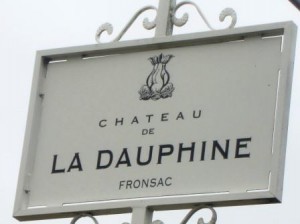 The new owners received approval for organic and biodynamic certification starting with the 2015 vintage. In 2016, the Labrune family added to their holdings in Fronsac when they purchased Chateau Haut-Ballet from Olivier Decelle. Those vines were incorporated into the vineyards of La Dauphine.
Chateau La Dauphine Vineyards, Terroir, Grapes, Winemaking
The 53-hectare vineyard of Chateau de La Dauphine is planted to 80% Merlot and 20% Cabernet Franc. Though you also find a tiny, 1-hectare portion of the vineyard devoted to white wine grapes. Located on the top of the Fronsac plateau, they have an elevation of 60 meters, making them one of the highest points in the appellation. The terroir is clay, limestone, and sand soils on the plateau.
At the bottom of the slopes, you find more sand, silt, and clay in the soils. The vineyard is planted to a vine density of 6,300 vines per hectare. On average the vines are 33 years of age.
Starting in 2012, Chateau La Dauphine shifted to 100% organic farming techniques. They earned their certification for organic farming in 2015. They are also experimenting with biodynamic farming on a 3-hectare parcel of vines. The plan is to continue increasing the number of hectares that are managed using biodynamic farming techniques.
The wine of Chateau de La Dauphine is made in a completely modern, state-of-the-art facility in the Fronsac appellation. In fact, it currently offers the most advanced wine-making facilities in the entire commune as well as in much of the Right Bank!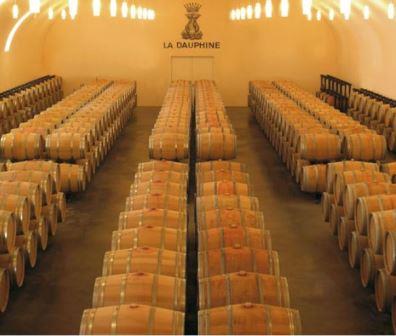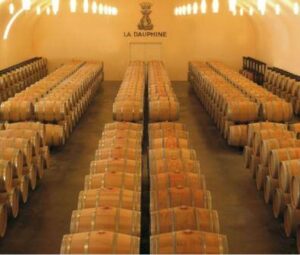 The semi-underground, circular vat room has 26 concrete vats that are placed around the sides of the building. This is in addition to the 16 stainless steel tanks that are also used for the vinification.
Each of the tanks is 50 hectoliters in size, allowing for the parcels to be vinified on a plot by plot basis. Malolactic fermentation takes place in French, oak barrels. On average, the wine of Chateau de La Dauphine is aged in 30% new, French barrels oak for 12 months.
Starting with the 2020 vintage, La Dauphine began producing, de La Dauphine Cuvee Prestige, a 100% Cabernet Franc wine from a single block of old vines planted in 1946. To further differentiate the wine, La Dauphine Cuvee Prestige, is aged in sandstone and clay amphora. No oak is used on this Cuvee.
The estate also produces a small amount of white Bordeaux wine, Le Blanc de la Dauphine that is produced from a 1-hectare parcel of vines planted to 75% Sauvignon Blanc and 25% Semillon.
The best vintages of Chateau de La Dauphine are: 2022, 2021, 2020, 2019, 2018, 2017, 2016, 2015, 2014, 2012, 2010, 2009 and 2005.
The average annual production of Chateau de La Dauphine is close to 21,000 cases per year. There are two second wines, Delphis de la Dauphine and Les Cyprus de la Dauphine.
When to Drink Chateau La Dauphine, Anticipated Maturity, Decanting Time
Chateau La Dauphine is much better with at least 2-4 years of aging in good vintages. Young vintages can be decanted for 1 hour to 90 minutes.
This allows the wine to soften and open its perfume. Older vintages might need very little decanting, just enough to remove the sediment. Chateau La Dauphine offers its best drinking and should reach peak maturity between 3-12 years of age after the vintage.
Serving Chateau La Dauphine with Wine, Food, Pairing Tips
Chateau La Dauphine is best served at 15.5 degrees Celsius, 60 degrees Fahrenheit. The cool, almost cellar temperature gives the wine more freshness and lift.
Chateau La Dauphine is best paired with all types of classic meat dishes, veal, pork, beef, lamb, duck, game, roast chicken, roasted, braised, and grilled dishes. Chateau La Dauphine is also good when matched with Asian dishes, rich fish courses like tuna, mushrooms, and pasta.
Chateau de La Dauphine is a top value Bordeaux wine and one of the best wines from Fronsac Canon Fronsac. It's filled with lusty, ripe, dark, jammy fruit, soft textures, and good concentration. Plus, the wine of Chateau La Dauphine drinks well young.
Chateau La Dauphine has embraced luxury wine travel. There is a restaurant on the property that is a great spot to enjoy views of their vineyards while dining al fresco.
Château de la Dauphine Wine Tasting Notes
19 Vintages 66,692 Views Sort by Vintage-Rating
2022
Château de la Dauphine (Fronsac)

Quite floral on the nose, the wine is also loaded with smoke, cherries, plums, licorice and cocoa. Creamy, soft, polished, and fresh, there is a nice salty essence in the finish providing complexity, and a touch of chocolate-mint adding vibrancy to the finish. La Dauphine is now one of the top wines from Fronsac. Drink from 2025-2038. 93-95 Pts.

1,418 Views

Tasted

May 8, 2023

2021
Château de la Dauphine (Fronsac)

With deep color, once past the freshly picked floral aromas, you find that the fruits are on the dark red side of the style range, with round textures and a soft, polished, sweet, lively, black raspberry and energetic plum finish. Drink from 2023-2034. 90-92

1,123 Views

Tasted

May 20, 2022

2020
Château de la Dauphine (Loupiac)

Deeply colored, and already quite expressive, the wine opens with nuances of crushed rocks, flowers, Morello cherries, bitter chocolate and licorice in the perfume. Silky, flamboyant and yet, refined, the finish lingers, which is a good thing as it allows you to enjoy more of its sweet, red, salt-tinted fruits. Drink from 2023-2036.

452 Views

Tasted

Mar 21, 2023

2020
Château de la Dauphine (Fronsac)

Dark in color, the wine kicks off with licorice, Morello cherries, bitter chocolate, blackberry and smoke. Round, rich, lush and opulent, the velvet textured, chocolate covered plums on the palate really stick with you. Drink it young or age it for a few years. 91-93 Pts

1,591 Views

Tasted

May 20, 2021

2020
Château de la Dauphine Blanc (Bordeaux)

White peach, flowers, spice, green apples and pears create the nose. Sweet, creamy and fresh, with a core of white peaches on the palate and in the finish. This will be best on the young side, over the next yew years.

397 Views

Tasted

Mar 21, 2023

2019
Château de la Dauphine (Fronsac)

Dark in color, the wine pops with little effort due to all of its flowers, perfectly ripe black-cherries, licorice, spice, dark chocolate and smoky aromatics. Opulently textured, with silky-tannins, vibrancy, length and purity, this beauty is going to provide fabulous drinking for at least 15 years. And it sells for a song. This is a wine you can purchase by the case! Drink it young, or age it for a few years. Drink from 2023-2035.

1,809 Views

Tasted

Mar 29, 2022

Deep in color, with flowers and chocolate, along with round, silky textures and a blast of rich, ripe dark red fruits, licorice, earth and spice. The wine meshes fruits, supple textures, espresso, cocoa and a fruity, fresh, silky finish. Drink it young, or age it for a few years. 90-92 Pts

3,022 Views

Tasted

Jun 8, 2020

2018
Château de la Dauphine (Fronsac)

Rich, ripe, silky and seductive, the fruits have a nice bite of freshness, giving lift and energy. The medium/full-bodied, fruit-filled wine finishes with a gorgeous blend of coffee bean, licorice, plums and dark cocoa. You can pop a cork on release or age it for a few years.

1,990 Views

Tasted

Mar 9, 2021

Showing good color, the wine is rich, fat and juicy, espresso, dark chocolate covered cherries and licorice from start to finish. Lush, rich and concentrated, there is length, density and freshness here. Plus, you can pop a cork on release or age it for a few years. 91-93 Pts

2,069 Views

Tasted

Apr 19, 2019

2017
Château de la Dauphine (Fronsac)

With deep color, this fruity wine is on the dark berry side with plenty of fresh, juicy blackberries and plums adding to the fun. Lushly textured, sweet and fleshy, the wine has a ripe, plump personality.

2,430 Views

Tasted

Apr 26, 2018

2016
Château de la Dauphine (Fronsac)

Still dark in color, the wine is floral, fennel filled and fruity. Rich, silky, elegant and deep, there is fruit, freshness, length and character, and the best part is, the wine is easy to find and it is affordable too!

2,976 Views

Tasted

Sep 21, 2019

With deep color, you catch the floral, blackberry, licorice and vanilla nose first. The lush textures, freshness and juicy fruits in the finish make this wine already delicious, and it should age for a few years too.

4,046 Views

Tasted

Apr 29, 2017

2015
Château de la Dauphine (Fronsac)

Deep in color, the wine is lush, rich, fleshy, sweet and long. There is minerality, loads of ripe, juicy fruits, length and character. You can drink this for pleasure for at least 15 years or so.

3,247 Views

Tasted

May 21, 2018

Deeply colored, with a lush, round, supple character, the wine is packed to the gills with licorice, sweet, juicy, dark red and black fruits, chocolate and espresso beans. Sweet, fresh, ripe, earthy, dark fruits with great textures and presence, plus it sells for a song and drinks well early! 90-92 Pts

3,473 Views

Tasted

Apr 29, 2016

2014
Château de la Dauphine (Fronsac)

Stony plums, espresso, wood and cocoa in character, the wine is forward, round and made for early drinking. 88-89 Pts

3,316 Views

Tasted

May 1, 2015

2013
Château de la Dauphine (Fronsac)

Fresh herbs, fennel and red berries, soft and round in texture, the wine exchanges depth for an ease of drinkability. 86-88 Pts

2,852 Views

Tasted

May 1, 2014

2012
Château de la Dauphine (Fronsac)

Sensuous textures, forward, lush dark fruits, licorice, cocoa and earth for an affordable price. What's not to like?

2,633 Views

Tasted

May 15, 2015

Soft, silky, lush, and forward, this will make for delicious, early, uncomplicated, well-priced drinking. 89-91 Pts

3,011 Views

Tasted

Apr 26, 2013

2011
Château de la Dauphine (Fronsac)

Licorice, chocolate and earthy scents with black raspberry, this wine is open and soft on the palate, finishing with jammy black cherry. This Fronsac estate is consulted by Denis Dubourdieu. 87-89 Pts

3,696 Views

Tasted

Apr 20, 2012

2010
Château de la Dauphine (Fronsac)

Deep in color, with oak, licorice, floral, chocolate and dark berry scents pairs well with the wines round textures and sweet black cherry finish. 89-91 Pts

5,370 Views

Tasted

Mar 14, 2011

2009
Château de la Dauphine (Fronsac)

Licorice, black cherry, red plums, espresso bean and earth make up the perfume. Medium bodied, with round textures and an accessible personality, this will drink best at a young age.

4,790 Views

Tasted

Jul 13, 2012

2008
Château de la Dauphine (Fronsac)

Coffee, earth, cassis aromas open up this early drinking crowd pleaser that ends with flavors of kirsch and plums.

4,156 Views

Tasted

Mar 8, 2011

2006
Château de la Dauphine (Fronsac)

Soft, lush and plush, this licorice, coffee, vanilla and dark cherry filled wine is a bit on the oaky side. Drink this young as it's not going to develop much more complexity.

2,316 Views

Tasted

Nov 29, 2013

2005
Château de la Dauphine (Fronsac)

Licorice, chocolate, black raspberry and black cherry aromas lead the way to a a rich, ripe, concentrated wine filled with gobs of lush dark berries, black cherries and fennel. From one of the best producers in Fronsac, this bargain priced Bordeaux wine made from a blend of 80% Merlot & 20% Cabernet Franc delivers a lot of bang for the buck. Personally, I prefer wines like this on young side. I'd drink it before its 10th birthday.

4,509 Views

Tasted

Jan 20, 2011