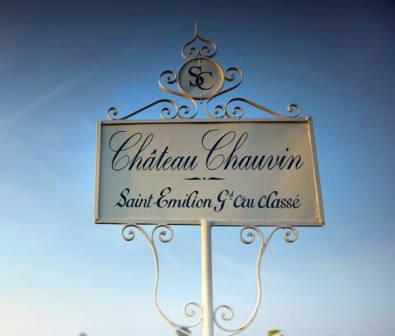 Learn everything about Chateau Chauvin St. Emilion with wine tasting notes and wine with food pairing tips. Learn the best vintages, the history of the property, and information on the vineyards and winemaking. If you want to read about other important, Bordeaux Chateaux: Links to all Bordeaux Wine Producer Profiles
Chateau Chauvin History, Overview
Chateau Chauvin has a long history in Saint Emilion dating back to the 1500s. Chauvin started out life as part of the Corbin empire. Jumping forward to the 19th century, for a time, Chauvin was part of a much larger Bordeaux vineyard owned by Chateau Figeac.
That vineyard ended up giving birth to some of the most famous chateaux from the Saint Emilion appellation including Chateau Cheval Blanc and Chateau Chauvin, which were all part of the same massive vineyard. At the time of its formation in 1838, when the land was purchased by the Chauvin family, the wines were sold under the name of Chateau Figeac-Chauvin.
The modern era of Chateau Chauvin begins in 1891 when Victor Ondet, the grandfather of the present owner purchased the original 4 hectare Saint Emilion property.
Over time, Chateau Chauvin was expanded, most recently in 1998, when the estate purchased an additional 2.5 hectares of St. Emilion vineyard land from the neighboring estate of Vieux Chateau Chauvin. Those additional vines helped Chateau Chauvin grow to its current 15-hectare size.
Until recently, Chateau Chauvin was managed by direct descendants of Victor Ondet, Marie-France Ondet, and Beatrice Ondet. That all changed in 2014 when Chateau Chauvin was sold by the Ondet family to Sylvie Cazes and her children.
Sylvie Cazes bought the estate and plans to manage the property with her children. If the name Sylvie Cazes sounds familiar to you, it should. She is the sister of Jean Michel Cazes and one of the owners of Chateau Lynch Bages in Pauillac.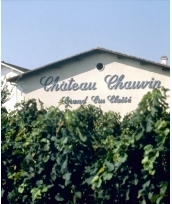 Chateau Chauvin Vineyards, Terroir, Grapes, Winemaking
The 16.25-hectare vineyard of Chateau Chauvin is planted to 66% Merlot, 30% Cabernet Franc and 4% Cabernet Sauvignon. The terroir is sand, gravel, clay, and iron soil. The vineyard is one, large, single parcel located next to the chateau. At its peak, the top of their slopes reaches 43 meters.
The average age of the vines is 30 years. However, they also have old vines. In fact, close to 35% of their vineyard has vines that are more than 35 years of age!
The vineyard is planted to a vine density of 6,500 vines per hectare. However, the newer plantings take place at 8,600 vines per hectare. The Right Bank vineyards of Chateau Chauvin are situated in the northwest portion of Saint Emilion, not too far from Pomerol and close to Chateau Cheval Blanc and Chateau La Dominique.
The wine of Chateau Chauvin is vinified in stainless steel tanks that vary in size from as small as 50 hectoliters up to 70 hectoliters. Malolactic fermentation takes place in barrels. The wine is aged in 50% to 70% new, French oak barrels for between 15 and 18 months, depending on the quality and character of the vintage.
The best vintages of Chateau Chauvin are: 2022, 2021, 2020, 2019, 2018, 2017, 2016, 2015, 2010, 2009, 2005 and 2000.
On average, close to 5,000 cases of Chateau Chauvin are produced each vintage. There is a second wine, Folie de Chauvin, which was previously sold under the name of La Borderie de Chauvin.
Chateau Chauvin is a well-priced, St. Emilion, Bordeaux wine that has won a lot of wine lovers over, due to its ability to offer good quality wine with style and character, at a fair price.
When to Drink Chateau Chauvin, Anticipated Maturity, Decanting Time
Chateau Chauvin is usually better with 3-4 years of bottle age. Of course, that can vary slightly, depending on the vintage. Chateau Chauvin is best enjoyed in the first 4-14 years of life.
Young vintages can be decanted for up to 1 hour or so. This allows the wine to soften and open its perfume. Older vintages might need very little decanting, just enough to remove the sediment.
Serving Chateau Chauvin with Wine and Food Pairings
Chateau Chauvin is best served at 15.5 degrees Celsius, 60 degrees Fahrenheit. The cool, almost cellar temperature gives the wine more freshness and lift. Chateau Chauvin is best paired with all types of classic meat dishes, veal, pork, beef, lamb, duck, game, roast chicken, roasted, braised, and grilled dishes.
Chateau Chauvin is also good when matched with Asian dishes, rich fish courses like tuna, mushrooms, and pasta.
Château Chauvin Wine Tasting Notes
17 Vintages 59,211 Views Sort by Vintage-Rating
2022
Château Chauvin (St. Émilion Grand Cru)

With a strong opening from its floral character, the perfume quickly moves to its black raspberry, espresso, and earthy side. The lushness in the fruits, freshness in the mid-palate, and salty, crushed stone character in the finish all work in harmony this year. This is the best vintage of Chateau Chauvin ever produced. Drink from 2026-2042. 92-94 Pts.

1,094 Views

Tasted

May 8, 2023

2021
Château Chauvin (St. Émilion Grand Cru)

Underbrush, red berries and floral notes form the core of this medium-bodied, bright, crisp, crunchy red pit fruit dominated wine that will be delicious to enjoy on release. Drink from 2023-2034. 89-81

890 Views

Tasted

May 20, 2022

2020
Château Chauvin (St. Émilion Grand Cru)

Smoky red fruits, tobacco leaf, flowers and red fruits combine to produce the attention-seeking perfume. On the palate, the wine is fresh, soft and vibrant with silky tannins and a gorgeous sweetness to the fruit in the medium-bodied finish. This could be the best vintage of Chateau Chauvin I have ever tasted! Drink from 2023-2040.

435 Views

Tasted

Mar 21, 2023

Earthy, smoky and loaded with ripe red berries, the wine is soft, elegant, fresh and vibrant. The refied finish delivers sweetness, lift and gracefully-textured red fruits on the backend. 90-92 Pts

993 Views

Tasted

May 20, 2021

2020
Château Chauvin Folie de Chauvin (St. Émilion Grand Cru)

Medium-bodied, fresh, light, red berry dominated wine with a touch of herbs and green olives on the nose and finish that is perfect for early drinking pleasure. 85-87 Pts

881 Views

Tasted

May 20, 2021

2019
Château Chauvin (St. Émilion Grand Cru)

Flowers, cedar, smoke, licorice and red fruit aromas create the perfume. On the palate, the wine is soft, energetic and fresh, with a mid-palate and finish loaded with earthy, spicy, smoky plums and chocolate from start to finish. Drink from 2023-2035.

687 Views

Tasted

Mar 29, 2022

Medium-bodied, fresh, bright, crisp and juicy, with a focus on its red fruit, licorice, smoke and earthy character. Give this a few years in the cellar for it to further flesh out and soften. 89-91 Pts

1,970 Views

Tasted

Jun 8, 2020

2018
Château Chauvin (St. Émilion Grand Cru)

With a strong floral accent, the wine adds wet earth, licorice and plums to its nuances. Medium-bodied, soft and silky, with sweet, dark red berries and thyme on the palate and in the finish, there is good freshness and complexity found here.

872 Views

Tasted

Mar 9, 2021

Medium-bodied, polished, earthy and leafy with succulent cherries, plums, soft textures and roundness. The finish with its thyme-infused red fruits really hits the spot. 90-92 Pts

1,654 Views

Tasted

Apr 19, 2019

2016
Château Chauvin (St. Émilion Grand Cru)

Soft and polished, with layers of sweet, ripe, juicy plums, the medium-bodied, elegant, easy to like wine serves up sweet, red cherries and licorice with ease. You can enjoy this with just a few years of age.

2,274 Views

Tasted

Sep 21, 2019

Deep in color, full bodied with more richness than usual, there is a tannic structure with enough freshness and crisp, crunchy, dark red berries to age.

1,684 Views

Tasted

Apr 29, 2017

2015
Château Chauvin (St. Émilion Grand Cru)

Fresh, forward, medium bodied, easy drinking, red cherry dominated fruit with earth and thyme accents.

3,974 Views

Tasted

May 21, 2018

Good color, fresh, forward, soft, but a it feels slightly pushed, and a bit extracted for its abilities. Still the earthy, thyme and cherry finish is quite nice.

2,288 Views

Tasted

Mar 12, 2018

Medium bodied, fresh, forward, soft, but a little pushed, during the extraction, giving it just a bit of dryness in the plummy, cherry, thyme and earthy finish.

2,477 Views

Tasted

Nov 22, 2017

Medium bodied with a plethora of fresh, ripe berries, earth, flowers and stone, this wine is the best the estate has produced since Sylvie Cazes took over. There is an attractive softness to the elegant finish. The bottles now have a new label, which history buffs may be interested to know is a redesign of their label from the 1920s.

1,539 Views

Tasted

Apr 29, 2016

2014
Château Chauvin (St. Émilion Grand Cru)

Sporting a new label, which history buffs may be interested to know is a redesign of their label from the 1920s, the medium-bodied, floral, red berry-dominated wine is on the fresh, smooth, easy drinking side. 86-88 Pts

2,742 Views

Tasted

Apr 27, 2015

2013
Château Chauvin (St. Émilion Grand Cru)

Pleasant and easy to drink, this lighter styled wine will offer its cherry and spice profile on release. 87-89 Pts

1,791 Views

Tasted

Apr 28, 2014

2012
Château Chauvin (St. Émilion Grand Cru)

Medium bodied, with a bright red fruit character, the wine shows some sweet and tart cherries in the fresh, finish. The wine was made from a blend of 75% Merlot, 20% Cabernet Franc and 5% Cabernet Sauvignon.

2,827 Views

Tasted

Nov 8, 2015

Earth, spice, licorice and red berries with medium body and a dry finish. 86-88 Pts

3,348 Views

Tasted

Apr 26, 2013

2011
Château Chauvin (St. Émilion Grand Cru)

Easy to like and easy to drink, with its open, coffee, cherry, cocoa and earthy personalty. Medium bodied and already open, you can pop a cork on this the day it is released.

2,512 Views

Tasted

Nov 17, 2013

2010
Château Chauvin (St. Émilion Grand Cru)

Consistently one of the best value wines from St. Emilion, the 2010 continues that streak with its open, round, soft style, ripe black raspberries, spice and licorice. Drink it now, or give it a few years of age and it should be even better.

4,037 Views

Tasted

Sep 15, 2013

2009
Château Chauvin (St. Émilion Grand Cru)

Deep in color, this well priced St. Emilion offers fresh coffee, licorice, chocolate, black cherry jam and earth. Soft, round, open and already fun to taste.

4,491 Views

Tasted

Jul 16, 2012

2008
Château Chauvin (St. Émilion Grand Cru)

Licorice, spice and jammy black plums open to a soft, round, easy to like, but simple St. Emilion wine that is already accessible.

4,084 Views

Tasted

Sep 1, 2011

2005
Château Chauvin (St. Émilion Grand Cru)

Blackberry, black cherry, tobacco and gravel scents lead to a medium/full bodied wine with a sweet, plum and licorice finish. This is already starting to drink well and should deliver pleasure for at least another decade or longer.

4,585 Views

Tasted

Aug 1, 2011

2000
Château Chauvin (St. Émilion Grand Cru)

Fully mature, medium bodied charmer with an earthy, sweet, ripe, cherry, plum and tobacco nose is made even better with its thyme and spicy accents. Soft, round and easy to like, this pop and pour wine is at peak today.

5,082 Views

Tasted

Nov 14, 2016