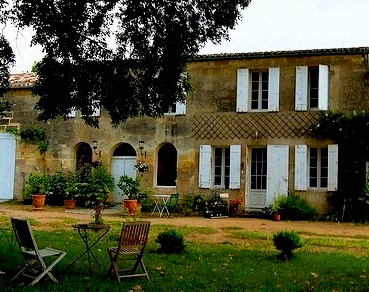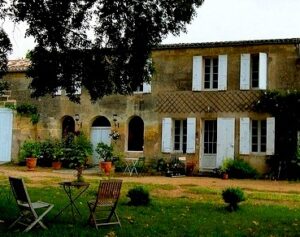 Learn everything about Chateau Pierre de Lune St. Emilion with wine tasting notes, wine, and food pairing tips, best vintages, a history of the property, and information on the vineyards and winemaking. If you want to read about other important, Bordeaux Chateaux: Links to all Bordeaux Wine Producer Profiles
Chateau Pierre de Lune in Saint Emilion is possibly the smallest of the popular, Grand Cru Classe vineyards in the appellation. This tiny 1 hectare, vineyard belongs to the long-time, previous Regisseur of Clos Fourtet, Tony Ballu.
Chateau Pierre de Lune Vineyards, Terroir, Grapes, Winemaking
The Right Bank vineyard of Chateau Pierre de Lune is planted to 90% Merlot and 10% Cabernet Sauvignon. Pierre de Lune has a terroir of sand and gravel soils. The vines are planted at a density of 6,600 vines per hectare. The average age of the vines is a very, respectable 32 years of age.
Since 2007, the Saint Emilion vineyard of Pierre de Lune has been farmed using 100% biodynamic farming techniques. Fermentation takes place in stainless steel tanks with a 26-day cuvaison which is punctuated by daily pigeages.
Malolactic fermentation takes place in 50% new, French oak barrels. The wine of Chateau Pierre de Lune is aged in 50% new, French oak for 15 months.
The Best Vintages of Chateau Pierre de Lune are: 2022, 2021, 2020, 2019, 2018, 2017, 2016, 2015, 2012, 2010, 2009 and 2005.
Tony Ballu, the owner of Chateau Pierre de Lune is dedicated to producing the finest Bordeaux wine possible at Pierre de Lune. To prove this, he declassified the majority of the Bordeaux wine he tried to produce with the 2008 vintage. Tony Ballu decided to do this because he was not happy with the quality he was able to produce in the vintage.
That is a major commitment when your vineyard is only one hectare. Chateau Pierre de Lune can be difficult to find, as only 200 cases of this supple, stylish, Bordeaux wine are produced every year. The owners also operate a small, charm-filled, bed and breakfast on their Saint Emilion property, giving guests a chance to experience life in a vineyard.
When to Drink Chateau Pierre de Lune, Anticipated Maturity, Decanting Time
Chateau Pierre de Lune is better with at least 4-6 years of bottle age. Of course, that can vary slightly, depending on the vintage. Chateau Pierre de Lune is best enjoyed in the first 5-18 years of life.
Young vintages can be decanted for about 1 hour, give or take. This allows the wine to soften and open its perfume. Older vintages might need very little decanting, just enough to remove the sediment.
Serving Chateau Pierre de Lune with Wine and Food Pairings
Chateau Pierre de Lune is best when served at 15.5 degrees Celsius, 60 degrees Fahrenheit. The cool, almost cellar temperature gives the wine more freshness and lift.
Chateau Pierre de Lune is best paired with all types of classic meat dishes, veal, pork, beef, lamb, duck, game, roast chicken, roasted, braised, and grilled dishes. Chateau Pierre de Lune is also good when matched with Asian dishes, rich fish courses like tuna, mushrooms, and pasta.
Château Pierre de lune Wine Tasting Notes
17 Vintages 41,523 Views Sort by Vintage-Rating
2021
Château Pierre de Lune (St. Émilion Grand Cru)

Round, ripe and polished, the wine is loaded with espresso, chocolate, black cherry and plums. Soft, forward and ready-to-go on release. Drink from 2023-2034. 89-91

1,424 Views

Tasted

May 20, 2022

2020
Château Pierre de Lune (St. Émilion Grand Cru)

Incense and toasty oak, along with juicy ripe plums, licorice and flowers are what you initially notice. Medium-bodied, round, polished, soft and fleshy, with spicy overtones to the red fruits and oak on the palate and in the supple-textured finish are what you find here. 90-92 Pts

1,638 Views

Tasted

May 20, 2021

2019
Château Pierre de Lune (St. Émilion Grand Cru)

With a nice depth of color, the wine is round, lush forward, soft and polished with toasted oak, espresso, dark cocoa and ripe, sweet, black plums on the nose and palate. Give this a few years in the cellar to better integrate. Drink from 2023-2038.

1,181 Views

Tasted

Mar 29, 2022

Deeply colored, with dark red fruits, espresso beans, smoke, spice and licorice on the nose. The palate is round, lush, fresh and juicy. The oak is a bit prominent at the moment, as are the tannins. But with 5 years in the cellar, everything should come together nicely. 90-92 Pts

2,886 Views

Tasted

Jun 8, 2020

2018
Château Pierre de Lune (St. Émilion Grand Cru)

Powerful, rich, lush with an oaky lean to a sweet and fleshy, licorice and cocoa round, plush finish. The wine is a blend of 85% Merlot with 15% Cabernet Sauvignon. 91-93 Pts

1,517 Views

Tasted

Apr 19, 2019

2017
Château Pierre de Lune (St. Émilion Grand Cru)

With an oaky presence the wine is round, supple, ripe and polished, making it easy to drink on release, so you can enjoy its lush fruity charms early.

1,352 Views

Tasted

Apr 26, 2018

2016
Château Pierre de Lune (St. Émilion Grand Cru)

Blackened fruits, espresso, dark chocolate with cherry liqueur are molten and flowing. Fat, juicy and sweet, this is forward, opulent and dense. Using 100% Merlot, the wine was produced from very low yields of 11 hectoliters per hectare.

1,609 Views

Tasted

Apr 29, 2017

2015
Château Pierre de Lune (St. Émilion Grand Cru)

Medium-bodied with a focus on its fresh, soft, ripe plums, flowery essence and supple textures.

1,244 Views

Tasted

Apr 29, 2016

2014
Château Pierre de Lune (St. Émilion Grand Cru)

From 90% Merlot and 10% Cabernet Franc, this medium-bodied, fresh wine centers on a lush, cherry and cocoa core. This should be drinkable on release. 89-91 Pts

1,418 Views

Tasted

Apr 27, 2015

2013
Château Pierre de Lune (St. Émilion Grand Cru)

90% Merlot and 10% Cabernet Franc produced a forward, soft, approachable and round wine brimming with smoke, fennel and red plums. 87-89 Pts

1,165 Views

Tasted

Apr 29, 2014

2012
Château Pierre de Lune (St. Émilion Grand Cru)

Minerality, smoke, earth and fresh berries with round textures and a jammy, cocoa- and berry-filled finish are found in the wine. 89-91 Pts

1,273 Views

Tasted

Apr 26, 2013

2011
Château Pierre de Lune (St. Émilion Grand Cru)

One of the smaller St. Emilion vineyards at just 1.05 hectares, the wine was produced from a blend of 90% Merlot%, 10% Cabernet Sauvignon and reached 13.5% alcohol.. Flowers, black raspberry and spice make up this medium-bodied, soft-textured wine with a soft, sweet, red cherry-filled finish. 89-90 Pts

1,328 Views

Tasted

Apr 24, 2012

2010
Château Pierre de Lune (St. Émilion Grand Cru)

Pierre de Lune is owned Tony Ballu, the wine maker for Clos Fourtet. This small, 1 hectare, biodynamically farmed vineyard is planted on sand and gravel soils. From a mix of 90% Merlot and 10% Cabernet Sauvignon, the wine reached 14% alcohol, which is lower than what they achieved in 2009. With scents of jammy black raspberries, stone and licorice, this round textured wine ends with a licorice and sweet, black cherry finish. 91-93 Pts

2,214 Views

Tasted

Apr 22, 2011

2009
Château Pierre de Lune (St. Émilion Grand Cru)

2009 Pierre de Lune. The property is owned Tony Ballu, winemaker for Clos Fourtet. The small (1 hectare) biodynamically farmed vineyard is planted on sand and gravel. From 90% merlot and 10% cabernet franc, the wine offers black and blue fruit aromas coupled with licorice and espresso notes. Full bodied with round textures, this rich wine ends with supple, jammy dark berry flavors. 92-94 Pts

2,872 Views

Tasted

Jun 29, 2010

2008
Château Pierre de Lune (St. Émilion Grand Cru)

Not a wine you see often, which is too bad, but I really like it. Round, supple, ripe and filled with lush black cherries, licorice and chocolate, with truffle accents, this is drinking quite well today.

1,356 Views

Tasted

Sep 16, 2020

2006
Château Pierre de Lune (St. Émilion Grand Cru)

Ready to go, but in no danger of running out of steam, the medium-bodied wine is lush, round, fruity, and packed with smoke, espresso, dark cocoa, deep, red pit fruit, licorice and opulent tannins.

1,668 Views

Tasted

Aug 29, 2021

2005
Château Pierre de Lune (St. Émilion Grand Cru)

Nice wine, soft, silky, polished with the right amount of licorice, cherry and truffle too. This is close to fully ready, so if you are waiting, wait no longer.

3,277 Views

Tasted

Jul 17, 2018

What a pleasure to taste. Silky, almost luxurious in nature on the palate. The fresh sweet, dark fruits were in full force on nose as well, accompanied by licorice, dark chocolate and smoke. The endnote on the finish continued the theme. Popped and poured, this was just great from the moment the wine hit the glass, through to the last drop.

2,545 Views

Tasted

Dec 16, 2017

Mature, with an earthy, truffle, cocoa, black cherry, licorice and smoke filled nose, this round, open wine is ready to drink.

2,745 Views

Tasted

Jun 28, 2015

Ready to drink, this charming, elegant, medium bodied wine is all about the truffle and fresh cherry notes, with plush textures. As good as this is, it's not a wine for aging. I'm going to drink my remaining bottles over the next 5 years.

2,706 Views

Tasted

Oct 13, 2014

This is described as eating perfectly ripe, sweet, polished blackberries with drops of licorice and chocolate off your table. There is not a hard edge to be found in this sexy, elegant, stylish wine. With a very small production, this will become very hard to find.

2,749 Views

Tasted

Jun 24, 2007

2004
Château Pierre de Lune (St. Émilion Grand Cru)

Light in color and fruit, with simple red fruits, spice and earth, this needs to be drunk up sooner than later.

1,356 Views

Tasted

Nov 30, 2014