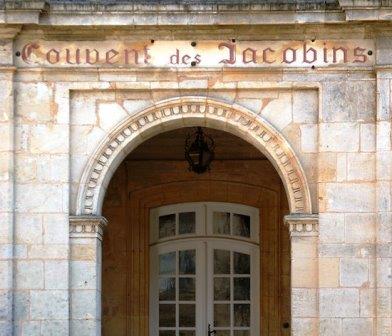 Learn everything about Couvent des Jacobins St. Emilion with wine tasting notes and wine with food pairing tips. Learn the best vintages, the history of the property, and information on the vineyards and winemaking. If you want to read about other important, Bordeaux Chateaux: Links to all Bordeaux Wine Producer Profiles
Couvent des Jacobins History, Overview
Couvent des Jacobins is situated right in the center of the picturesque, Saint Emilion village. The actual chateau is located on the site of an ancient, 13th-century Dominican monastery. The Dominican part of the name comes from Saint Dominic de Guzman. The estate takes its name from the order of Friars and preachers that were responsible for the Dominican monastery, Freres Precheurs Jacobin.
The modern era for Couvent des Jacobins begins in 1902 when the property was purchased by Jean Jean. At the time, the Jean family also owned Chateau Trimoulet. Couvent des Jacobins remains a true, family-owned vineyard. The current owner and manager of Couvent des Jacobins, Rose Noelle Brode, is a direct descendant of Jean Jean, the estate's founder.
Couvent des Jacobins Vineyards, Terroir, Grapes, Winemaking
The 11 hectare Right Bank vineyard of Couvent des Jacobins is planted to 75% Merlot and 20% Cabernet Franc and 5% Petit Verdot. This marks a change in the plantings here, with an increase in the amount of Cabernet Franc as well as the addition of Petit Verdot, which was used in the blend for the first time in 2014.
They have vines planted in three different sectors of St. Emilion, giving the estate a mix of terroirs that consist of mostly, sand, clay, and some limestone in their soils. Those three main blocks are further separated into 69 different parcels of vines. This makes farming difficult here because the parcels are in quite a diverse array of terroirs.
The vineyard blocks are located close to Chateau Grand Mayne, Chateau Laroze and they also have vines planted not far from the town of Libourne, close to the train station.
They have old vines, many of which are close to 45 years of age. The vineyard is planted to a vine density of 7,000 vines per hectare. Starting in 2015, the estate moved to 100% organic farming methods. They were certified organic by Ecocert starting with the 2020 vintage.
To produce the wine of Couvent des Jacobins, vinification takes place in traditional, temperature-controlled, cement tanks. Malolactic fermentation takes place in a combination of French oak barrels for a portion of the wine and the remainder occurs in vats. The wine is aged in an average of 50% new, French oak barrels for between 12 to 15 months prior to bottling.
The best vintages of Couvent des Jacobins are: 2022, 2021, 2020, 2019, 2018, 2017, 2016, 2015, 2014, 2010 and 2009.
In 2015, the estate introduced a new wine, a special micro-Cuvee made from a selection of their oldest vines, planted in 1961 on sand and clay terroir. "Calicem" is made from 100% Merlot that is aged in a combination of 70% Demi Muid and new, French oak barrels. The wine is riper, richer, and deeper than the regular Cuvee.
The production is quite small as less than 250 cases are produced from under 1 hectare of old vines. The estate also produces a second wine, Le Menut des Jacobins. On average, production at Couvent des Jacobins is close to 3,250 cases of wine per vintage for this Saint Emilion estate.
When to Drink Couvent des Jacobins, Anticipated Maturity, Decanting Time
Couvent des Jacobins wines are better with 3-5 years of bottle age. Of course, that can vary slightly, depending on the vintage. Couvent des Jacobins are best enjoyed in the first 5-15 years of life.
Younger vintages can be decanted for up to 1 hour or so. This allows the wine to soften and open its perfume. Older vintages might need very little decanting, just enough to remove the sediment.
Serving Couvent des Jacobins with Wine and Food Pairings
Couvent des Jacobins is best served at 15.5 degrees Celsius, 60 degrees Fahrenheit. The cool, almost cellar temperature gives the wine more freshness and lift.
Couvent des Jacobins is best paired with all types of classic meat dishes, veal, pork, beef, lamb, duck, game, roast chicken, roasted, braised, and grilled dishes. Couvent des Jacobins are also good when matched with Asian dishes, rich fish courses like tuna, mushrooms, and pasta.
Couvent des Jacobins Wine Tasting Notes
22 Vintages 62,475 Views Sort by Vintage-Rating
2022
Couvent des Jacobins (St. Émilion Grand Cru)

Deep in color, black cherries, licorice, chocolate, and plums. The wine is rich, chocolately, and packed with dark red fruits, and freshness with a hint of espresso in the lingering, sensual finish. Drink from 2025-2040. 92-94 Pts.

883 Views

Tasted

May 8, 2023

2021
Couvent des Jacobins Calicem (St. Émilion)

Deeply colored, the wine shows off its espresso, smoke, chocolate, coffee bean and black cherry character easily. Sweet, lush, fruity and floral, you can drink this opulently-textured wine on release. Produced from 100% old vine Merlot planted in 1961. Drink from 2024-2038. 92-94

1,714 Views

Tasted

May 20, 2022

2021
Couvent des Jacobins (St. Émilion Grand Cru)

Medium/full-bodied, rich, fleshy, round textured sweet, dark cherries, licorice, espresso, flowers and black plums hit all the right notes. The wine is soft, energetic, aromatic and supple-textured in the finish, which leaves you with sweetness and freshness providing length and energy. Drink from 2023-2035. 91-93

1,895 Views

Tasted

May 20, 2022

2020
Couvent des Jacobins Calicem (St. Émilion)

There is a wealth of fruit here as you find black, red and blue fruits meshed with smoke, cocoa, licorice, crushed rocks and flowers in the nose. On the palate, the wine is opulent, vibrant, long and deep. There is flesh and freshness in the finish that carries through to the hedonistic endnote. Drink from 2024-2045.

323 Views

Tasted

Mar 21, 2023

Produced from 100% old vine Merlot planted in 1961, the wine is opaque in color. The nose, with its showy bouquet of black plums, figs, Morello cherries, flowers and licorice gets you going. On the palate, the wine has density, richness and intense concentration. The fruit is ripe, sensuous, full and deep. The long finish expands on your palate with all its dark roasted espresso, bitter cocoa, blackberries, plums, blueberry, spice and cherry notes. Even with all this density, there is lift and freshness. There is a lot going on here. Give it at 5 years or maybe a few more before pulling a cork. 96-94 Pts

2,390 Views

Tasted

May 20, 2021

2020
Couvent des Jacobins (St. Émilion Grand Cru)

Smoke, oak, espresso, and chocolate-covered plums are at the core of this wine. Supple in texture, with layers of silky, fresh, sweet black cherries and chocolate, this is going to be delicious on release, and it has the stuff to age as well. This is easily the finest vintage of Couvent des Jacobins produced yet. Drink from 2023-2042.

1,046 Views

Tasted

Mar 21, 2023

Deep garnet in hue, the wine is spicy, floral and on the ripe, dark red fruit side. You also find additional notes of licorice, wet earth and espresso in the perfume. Rich, supple, sweet and fresh with soft, ripe tannins and a luscious, black cherry and spice filled mid-palate and finish, this is a nice step-up in quality, character and freshness here. This is easily the finest vintage of Couvent des Jacobins produced yet. 93-95 Pts

2,498 Views

Tasted

May 20, 2021

2020
Le Menut des Jacobins (St. Émilion Grand Cru)

Forward, light expression of fresh, spicy red fruits with a touch of dark cocoa in the finish for early drinking consumption. You can enjoy this on release and over the near term. 86-88 Pts

2,150 Views

Tasted

May 20, 2021

2019
Couvent des Jacobins Calicem (St. Émilion)

Opulent, rich, full and deep, with layers of richly-textured, black, red and blue fruits from start to finish. The voluptuous ending lingers due to all the layers of fresh, perfectly ripe, sweet, dark fruits, licorice, chocolate and a touch of minerality in the endnote. Drink from 2024-2045.

938 Views

Tasted

Mar 29, 2022

Dark in color, the wine exudes black cherries, roasted nuts and cocoa in the nose. Rich, concentrated, lush and velvety in texture, the long finish weaves between chocolate-covered plums and sweet cherries. 92-94 Pts

2,635 Views

Tasted

Jun 8, 2020

2019
Couvent des Jacobins (St. Émilion Grand Cru)

Silky, fresh, vibrant, refined, red berry oriented wine with an olive and savory herbal edge on the nose and palate. You can drink this with pleasure now, or age it for a few years. Drink from 2023-2033.

1,862 Views

Tasted

Mar 29, 2022

Showing nice color, the wine starts off with aromas of flowers, black raspberries and even blacker cherries with licorice. Medium/full-bodied with silky, polished tannins and the perfect amount of freshness and chocolate in the red berry-filled finish. The wine is made from a blend of 85% Merlot, 10% Cabernet Franc and 5% Cabernet Sauvignon. 91-93 Pts

3,735 Views

Tasted

Jun 8, 2020

2019
Le Menut des Jacobins (St. Émilion Grand Cru)

Medium-bodied, forward, early-drinking, light, soft, sweet, fresh, cherry filled, soft-textured wine with a touch of cocoa in the endnote that is ready for consumption. Drink from 2022-2028.

1,576 Views

Tasted

Mar 29, 2022

2018
Couvent des Jacobins Calicem (St. Émilion)

Roasted black cherries, plums and blackberries are mixed with a judicious blend of dark chocolate, licorice, espresso and smoke. The wine is full-bodied, concentrated, round, ripe and tannic, so give it at least 5 years or so in the cellar to get the most out of its lush characteristics. The fruit comes from a parcel of 100% old vine Merlot planted in 1961.

603 Views

Tasted

Mar 9, 2021

With a black raspberry, licorice and smoke-filled character, this wine is ripe, round, lush and fruity. The berries are sweet, pure and fresh with depth, length and volume. From the owners of Couvent des Jacobins, this wine comes from a parcel selection of 100% old vine Merlot which was planted in 1961. 92-94 Pts

1,397 Views

Tasted

Apr 19, 2019

2018
Couvent des Jacobins (St. Émilion Grand Cru)

Chocolate covered plums and cherries are all over the place here. The wine is silky, polished, soft and fruity with layers of sweet plums, licorice and crushed stone from start to finish.

1,560 Views

Tasted

Mar 9, 2021

With a silky, juicy, forward character, the wine is lush, plush and polished. The espresso, wild cherry, stone and fennel is apparent from start to finish. There is depth but you also find energy, giving it lift in the finish. 91-93 Pts

2,287 Views

Tasted

Apr 19, 2019

2017
Couvent des Jacobins (St. Émilion Grand Cru)

Juicy and fresh with dark red fruits, flowers in its spicy personality, the tannins are soft, the character is forward and the finish is on the bright red berry side. The wine is made from blending 80% Merlot, 12% Cabernet Franc and 8% Petit Verdot.

1,849 Views

Tasted

Apr 26, 2018

2016
Couvent des Jacobins Calicem (St. Émilion)

With a nice floral character, the wine is fruity, fleshy, ripe, plush, round and offers a wealth of dark, red berries, licorice and earthy notes. If you prefer primary, fruity wines, pop a cork, else give it a few years for more softness and nuances to appear.

1,752 Views

Tasted

Sep 21, 2019

2016
Couvent des Jacobins (St. Émilion Grand Cru)

With flowers and spice to accompany the ripe, red fruits, the wine is soft polished fresh and juicy with a blast of sweet of spicy cherries in the finish. This is the first vintage to include Petit Verdot in the blend.

1,743 Views

Tasted

Sep 21, 2019

Best wine here in a long time. The fruit is soft and silky, medium bodied and fresh and the finish offers licorice, cherries and spice.

1,895 Views

Tasted

Apr 29, 2017

2015
Couvent des Jacobins (St. Émilion Grand Cru)

This is another 2015 that had really stepped up since bottling. Forward, soft and supple, here you find earthy, polished, sweet, cherries, plums and fennel that carry through to the ripe, sweet, red berry and licorice filled finish.

2,641 Views

Tasted

Mar 12, 2018

Better from bottle, than when last tasted in barrel, the wine has gained in richness, texture and complexity. The forward, soft textured, supple wine offers an earthy, polished, sweet, ripe, plum, cherry and licorice profile with a fresh, ripe, slightly, dusty finish. The wine was made from a blend of 85% Merlot, 11% Cabernet Franc and 4% Petit Verdot.

2,444 Views

Tasted

Nov 22, 2017

Medium-bodied with a floral edge to the stony plums. Give this wine a few years to come together as it should soften and develop quite well.

2,282 Views

Tasted

Apr 29, 2016

2015
Couvent des Jacobins Calicem (St. Émilion)

Deep in color, the wine offers licorice, smoke, espresso, jam, black cherry and wet earth. Full-bodied, fleshy soft, round and forward, the texture is soft, the fruits are ripe and you find chocolate-covered red fruits in the finish. This is a nice first effort. From the owners of Couvent des Jacobins, this is a parcel selection of old vine Merlot planted in 1961. The wine is micro-vinified, meaning that the wine was fermented and aged in 35% new, French oak barrels ranging in size from 600 liters to 225 barrels. The production is under 250 cases. This is debut vintage.

2,026 Views

Tasted

Oct 22, 2020

2014
Couvent des Jacobins (St. Émilion Grand Cru)

Medium bodied and soft textured with a fruity charm, this wine has licorice, fresh red fruit and a touch of oak in the finish. 87-89 Pts

1,747 Views

Tasted

Apr 27, 2015

2012
Couvent des Jacobins (St. Émilion Grand Cru)

Medium bodied, fruity, forward and focused on its cherry personality, this is a wine to drink in its youth.

2,417 Views

Tasted

Nov 8, 2015

Medium-bodied with simple red berries and a chalky finish. 85-87 Pts

2,909 Views

Tasted

Apr 26, 2013

2011
Couvent des Jacobins (St. Émilion Grand Cru)

More interesting on the nose than the palate, this light style of St. Emilion, with its spicy, red berry and herb personality should be enjoyed in its youth.

2,218 Views

Tasted

Nov 17, 2013

2010
Couvent des Jacobins (St. Émilion Grand Cru)

Medium bodied, firm, tannic, bright, crisp, red berry, spice and espresso oriented wine that needs at least another 5 years or so to come around. I prefer the riper, softer, 2009.

1,885 Views

Tasted

Nov 5, 2016

2009
Couvent des Jacobins (St. Émilion Grand Cru)

Licorice, espresso, earth and fresh, ripe black cherries with cocoa lead to a round, forward, soft textured, black and fruit filled wine that can be enjoyed young, or aged for a few years.

3,145 Views

Tasted

Jan 2, 2015

1995
Couvent des Jacobins (St. Émilion Grand Cru)

Light, simple, bright, short red berry dominated wine, with stern tannins.

2,030 Views

Tasted

Nov 14, 2017