St. Emilion Bordeaux Wine Guide, Producer, Chateaux Listings
St. Emilion Wine Guide with a description of St. Emilion wines, their character and style, history, classification system, producer and chateaux listings with links to pages on every important property in the Saint Emilion wine producing region with St. Emilion wine tasting notes, histories of the best properties, images, technical information on wine making, terroir, soil, profiles, photographs, classifications and more with St. Emilion wine buying tips and detailed information on the Saint Emilion appellation and its wines.
If you want to read about other Bordeaux wine producers in different Bordeaux appellations: Links to all Bordeaux Wine Producer Profiles If you are interested in learning more about Bordeaux wine, we offer numerous articles on everything about Bordeaux wine, from a history of the Bordeaux region and the famous 1855 Classification, the grapes used to produce Bordeaux wine and even vintage summaries covering Bordeaux wine from 1900 to today: All About Bordeaux Wine Guide
Map of Bordeaux St-Emilion Chateau
The links located to the left of the page lead to all the best St. Emilion wines and their producers. You can read wine tasting notes , detailed  profiles and detailed histories of the estates, details on the wines, wine making, soils and other important information, as well as view images of the following top Bordeaux value wine producers.
St. Emilion could be the oldest active wine producing appellation in the Bordeaux region with a history that dates back to the times of the ancient Romans. Numerous Roman ruins are scattered all over the St. Emilion appellation. Interestingly, due to the ease of shipping, the wines of St. Emilion were some of the first Bordeaux wines sold for export. In the early 1300′s, when only a few vines were scattered in the Medoc, St. Emilion wine was already being shipped to England at the request of King Edward. St. Emilion was a much smaller appellation in its formative years. Today, that is no longer the case. St. Emilion is one of the largest wine producing regions in Bordeaux with 1,449 hectares under vine.
The terroir and soil varies quite a bit from property to property for the numerous, St. Emilion wine producing chateaux. In the best terroir, you have soils with limestone, clay, gravel, sand and iron deposits. The best St. Emilion wine comes from the estates located on the plateau of St. Emilion. With its massive layers and deposits of limestone, St. Emilion wine from the chateaux located on the plateau, or cotes, produce wines of richness, exotic textures and minerality. The limestone offers good drainage in the wet years, while retaining much needed moisture in the dry vintages while adding pH and various mineral elements to the soils. Wine from limestone intensive terroirs often display more minerality characteristics in the aromatics and flavors.
Limestone is rich in calcium, an important vine nutrient. With time, limestone degrades and develops into clay soil. This takes place because limestone is high in pH and calcium, which eventually breaks down. These elements are found in the St. Emilion limestone soils through the various deposits of marine life from millions of years ago. The unique limestone soils of St. Emilion promote the development of deep roots that are capable of enduring long, dry spells without water, along the ability to ingest the specific, trace elements and qualities found in the Limestone terroir. Perhaps, this explains why many of the best St. Emilion wines display minerality in their flavor profile.
Clay soils are unique. Clay as you now know is produced from degraded limestone, which explains why you often find limestone and clay located in the same terroir. Clay soils can contain a high, CEC, also known as Citation Exchange Capacity. That CEC is important as it allows the soil to help bring more nutrients into the grape vines. Because of the relationship between limestone and clay, the clay possesses many of the chemical compounds and nutrients that add to the uniqueness of the terroir; including calcium, pH and other trace minerals, that along with the CEC, help the soils to retain water and feed the vines.
Most of the better St. Emilion wine comes from the chateaux located on the Cotes. The Cotes are the limestone, rich, hillsides that surround the picturesque village of St. Emilion. Out of the list of 15 Premiere Cru Classe wines, the vast majority of those chateaux are situated on the Cotes. To get a picture of the limestone terroir, you can visit several of the deep, underground caves that connect some of the chateaux like Beau-Sejour Becot, Canon and Clos Fourtet. Other top estates from the Cotes are: Angelus, Ausone, Beausejour Duffau, Larcis Ducasse, Pavie, Pavie Macquin and Troplong Mondot.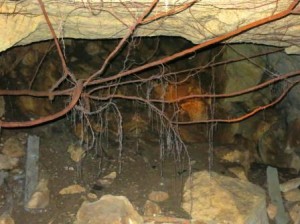 If most of the top Premire Cru classe wines come from the Cotes, what about the other St. Emilion wine producers? Cheval Blanc, which many tasters feel is the best St. Emilion wine made, comes from the graves section of St. Emilion that borders Pomerol. Other top estates from those terroirs are Figeac, and La Dominique. Valandraud is also not situated on the Cotes. They are further east in the clay rich terroir of St. Etienne de Lisse.
St. Emilion wine is also produced from sandy terroirs. One of the top examples with sand in their terroir is Canon La Gaffeliere. St. Emilion wine also comes from estates located on sandy soils and close to Pomerol in the Corbin sector. Those wines are often lighter in style. At this point in time, Chateau Corbin is one of the better estates from those sectors.
Merlot and Cabernet Franc are the dominant grapes that make St. Emilion wine. Merlot gives the wine lush textures, richness and concentration with flavors of plums, blackberry, licorice, chocolate and black cherry. The Cabernet Franc adds aromatic qualities like flowers and spice as well as tannin and structure. However, other grape varieties are used to produce St. Emilion wine including, Cabernet Sauvignon, Malbec and Petit Verdot.
Feeling left out of the 1855 Classification, St. Emilion created their own unique classification of St. Emilion wine. It is the only classisification that strives to keep up with the times.  St. Emilion wine is reclassififed every 10 years. The more recent classification took place in 2012. List of current St. Emilion Classifications
The wines of St. Emilion, as you have seen are classified. While it look difficult at first, especially for American wine buyers, as they do not correspond to the famous 1855 Bordeaux Classification, they are easy to understand and follow. There are four levels of classification in St. Emilion. Premier Grand Cru Classe St. Emilion wines are the First Growths of St. Emilion. Those chateaux are divided into two categories, Premier Grand Cru Classe A, of which there are only 4 chateaux entitled to use that designation and .Premier Grand Cru Classe B, of which 15 estates are allowed to use that wording on their label. The next level of Grand Cru Classe has a total of 63 estates in that classification. The level of quality and consistency varies widely in that classification. In my view, some of those estates could be First Growths, while others should not be allowed to own that level of classification. The final, lowest level of classification in St. Emilion is Grand Cru. Wines bearing the Grand Cru designation did not earn that classification for the level of quality found in their wines. To be a St. Emilion Grand Cru winery, a property must abide by the rules and regulations of the St. Emilion appellation. While wines bearing the Grand Cru designation could be as good as Grand Cru Classe, or Premier Grand Cru Classe wine, as every St. Emilion chateau is not classified, generally speaking, wines at the Grand Cru level are not as good as wines in the classified category. Examples of top St. Emilion estates that have chosen not to be classified are Tertre Roteboeuf and Chateau Le Dome. Currently, there are more than 200 St. Emilion Grand Cru producers in the appellation.
St. Emilion wine makers are some of the most progressive producers in Bordeaux. In part, because the Right Bank estates are often smaller, they can more easily innovate and experiment. The short lived garage wine movement sprung up in St. Emilion. There are numerous small, dynamic, exciting St. Emilion wine makers striving to produce great St. Emilion wine from small bits of quality, unique terroir all over the appellation. St. Emilion wine is one of the best places for savvy, wine buyers to seek out the best wines for the money. St. Emilion wine comes in a wide array of styles, from rich, ripe, concentrated, bold, hedonistic wines offering decadent tasting experiences to more traditional, fresher, medium bodied wines. St. Emilion wine offers something for everyone. While many of the top St. Emilion wines can be enjoyed at a young age, they age and evolve as well as any of the top properties in the Left Bank.