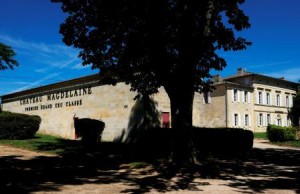 Learn everything about Chateau Magdelaine St. Emilion with wine tasting notes, wine and food pairings, best vintages, a history of the property, information on the vineyards, and winemaking. If you want to read about other important, Bordeaux Chateaux: Links to all Bordeaux Wine Producer Profiles
Chateau Magdelaine History, Overview
Chateau Magdelaine dates back to at least the 18th century when it was owned by the Chatonnet family. By the early 1950s, Magdelaine had fallen into a state of neglect in the wine-making facilities and their Saint Emilion vineyards.
At that point, the estate was put up for sale. It was acquired in 1952 by Ets Jean-Pierre Moueix who replanted the vineyards and modernized the winemaking.
Chateau Magdelaine is an old-school style, traditionally made Bordeaux wine is located just outside of the village St. Emilion. Chateau Magdelaine has some very good neighbors. The property is situated close to Chateau Ausone, Chateau Belair-Monange, and Chateau Canon at the break of the limestone plateau.
Even though this Bordeaux wine is produced almost exclusively from Merlot, Magdelaine is not fleshy or lush in style. It is a lean, light, fresh, bright, stern, classic style of Saint Emilion wine.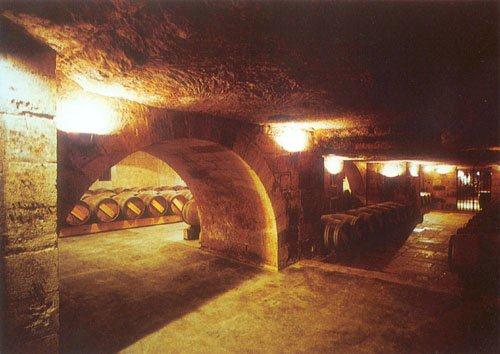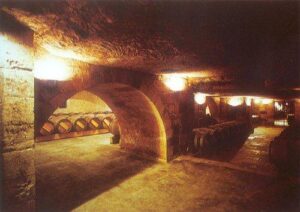 Chateau Magdelaine Vineyards, Terroir, Grapes, Winemaking
The 11.3 hectare St. Emilion vineyard of Chateau Magdelaine is planted to 90% Merlot and 10% Cabernet Franc. The terroir is limestone and clay soil.
The vineyard is one large parcel, with a terroir that can be divided into two sections, with 6 hectares located on the Saint Emilion limestone plateau while the remainder of the vines is planted on the slopes. Most of the vines are close to 35 years of age. However, the oldest plots of Magdelaine date back to the 1920s! The vine density is 6,000 vines per hectare.
For the production of Chateau Magdelaine, two laser sorting tables have been in use since 2009. The winery uses thermoregulated concrete vats and since 2004, they have also some stainless tanks for fermentation. No bleedings take place and malolactic fermentation occurs in the tank. The decision to add the press wine is made during the elevage.
Chateau Magdelaine is aged in an average of 40% new, French oak barrels for about 18 months before bottling The production of Chateau Magdelaine is close to 2,500 cases per year. There is a second wine, Les Songes de Magdelaine.
When to Drink Chateau Magdelaine, Anticipated Maturity, Decanting Time
Chateau Magdelaine is better with at least 5-10 years of bottle age. Of course, that can vary slightly, depending on the vintage. Chateau Magdelaine is best enjoyed in the first 7-25 years of life. However, that is vintage-dependent as a recently tasted 1928 was sublime!
Young vintages can be decanted for about 2 hours or so. This allows the wine to soften and open its perfume. Older vintages might need very little decanting, just enough to remove the sediment.
Serving Chateau Magdelaine with Wine, Food, Pairing Tips
Chateau Magdelaine is best served at 15.5 degrees Celsius, 60 degrees Fahrenheit. Chateau Magdelaine is best paired with all types of classic meat dishes, veal, pork, beef, lamb, duck, game, roast chicken, roasted, braised, and grilled dishes.
Chateau Magdelaine is also good when matched with Asian dishes, hearty fish courses like tuna, mushrooms, and pasta.
When the 2012 St. Emilion Classification was announced, the owners of Chateau Magdelaine, Ets. Moueix, declared that 2011 would be the final vintage for the property.
From that point forward, the vineyard of Chateau Magdelaine would be merged into their other estate in the appellation, Chateau Belair-Monange.
Château Magdelaine Wine Tasting Notes
9 Vintages 44,445 Views Sort by Vintage-Rating
2011
Château Magdelaine (St. Émilion Grand Cru)
Floral, black raspberry and cherry tones with medium body open into a delicate red berry and spice finish. 89-91 Pts
4,056 Views
Tasted

Apr 24, 2012
2010
Château Magdelaine (St. Émilion Grand Cru)
Medium bodied, stony and fresh, the mineral driven nose is complicated by notes of thyme, black cherry, earth and plums. Clearly there is more held in reserve that should come out with 5-7 years of age.
5,602 Views
Tasted

Feb 27, 2015
2009
Château Magdelaine (St. Émilion Grand Cru)
2009 Magdelaine opens with minerals, dark raspberries, chocolate, and licorice aromas. The soft textured wine is medium bodied, and ends with dark berry and chocolate flavors. 89/91 Pts
4,905 Views
Tasted

Jun 29, 2010
2008
Château Magdelaine (St. Émilion Grand Cru)
Showing some lightness in the color, the wine is maturing. More interesting on the nose with its black raspberry, floral, tobacco and earthy character, than on the medium bodied, crisp, bright, red berry and herbal finish.
4,708 Views
Tasted

May 28, 2014
08 Château Magdelaine shows an abundance of ripe, black fruit, herbs, and a hint of oak with some minerals in the nose. Full bodied with some good texture, but there is an austere/lean quality to the wine as well, which finishes with kirsch notes. 88-91 Pts
4,277 Views
Tasted

Jul 1, 2009
2005
Château Magdelaine (St. Émilion Grand Cru)
Medium bodied, the wine is more interesting on the earthy, floral, cherry and spice centric nose, than on the palate, with its fresh, bright, red fruit character.
3,911 Views
Tasted

May 4, 2016
Earth, herbs, floral and spicy cherry notes, medium body with a crisp, cherry finish. The wine is fine, it just lacks excitment or unique character.
4,125 Views
Tasted

May 4, 2012
1990
Château Magdelaine (St. Émilion Grand Cru)
Bland and light, this fully mature, lean, St. Emilion wine was focused on red berries, tobacco and spice. Fully mature, there is no reason to hold this any longer.
4,699 Views
Tasted

Jun 3, 2012
1982
Château Magdelaine (St. Émilion Grand Cru)
Just past its best days, the wine is medium bodied, fresh, bright, crisp and offers up red plums, cherry, flowers and earthy notes. Soft and gentle in texture, a bit light in the mouth, this is more than ready.
3,474 Views
Tasted

Nov 12, 2018
1975
Château Magdelaine (St. Émilion Grand Cru)
Austere, with slightly rustic tannins, the wine is on the very bright, red berry side, with nuances of herbs, wet earth and spice. Medium bodied, with sharp, red fruits in the finish, this is an old school classic.
2,850 Views
Tasted

Nov 22, 2018
1928
Château Magdelaine (St. Émilion Grand Cru)
I was surprised at how good this wine was. At 90 years of age, there was a lot to like here. Looking like an orange tea, the wine had depth of flavor with cigar box, leaf, herb and cedar notes to go along with the bright fruit. Soft and refined, the finish felt as fine as it tasted.
1,838 Views
Tasted

Oct 16, 2018