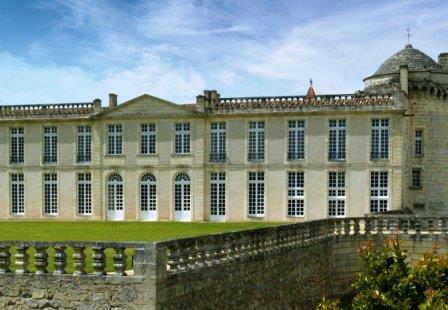 Learn everything about Chateau Laroque St. Emilion with wine tasting notes, wine and food pairings, best vintages, a history of the property, and information on the vineyards and winemaking. If you want to read about other important, Bordeaux Chateaux: Links to all Bordeaux Wine Producer Profiles
Chateau Laroque History, Overview
Chateau Laroque has a very long track record and history in the Saint Emilion appellation. Chateau Laroque dates back to the 12th century. In fact, a small remnant remains of the original tower built in the 12th century. The estate as we know it today, with its magnificent, chateau, was constructed in the 17th century by Marquis de Rochefort-Lavie.
The property remained in the hands of the same family until the depression struck in 1929. Like many families and companies at the time, the owners did not have the funds to maintain the estate and the vineyards. Wine ceased to be produced at Chateau Laroque for several years.
The modern era for Chateau Laroque starts in 1935 when the property was purchased by the Beaumartin family from the descendants of the Marquis de Rochefort-Lavie.
In 1962, the vineyards of Chateau Laroque were completely replanted and the wine-making facilities were updated as well. The situation remained about the same for close to 50 years.
By that time, the chateau was in need of repairs, the cellars demanded updating and the vineyards required extensive replanting. Positive changes began taking place starting with the 2015 vintage as you will see. Today, Chateau Laroque is probably better known for its architecturally stunning, chateau and its perfectly manicured gardens.
It truly is one of the most beautiful structures in the Right Bank. However, with all the improvements taking place here, and their willingness to spend the funds needed to turn things around, you can expect things to begin to change rapidly.
Chateau Laroque Vineyards, Terroir, Grapes, Winemaking
The massive 61-hectare vineyard of Chateau Laroque is planted to 87% Merlot, 11% Cabernet Franc and 2% Cabernet Sauvignon. The terroir is clay with limestone soil. The vineyard is situated northeast of the Saint Emilion village in the commune of St. Christophe des Bardes. Chateau Laroque owns the largest vineyard in St. Emilion.
However, only 40 hectares of vines are classified as Grand Cru Classe. The remaining 21 hectares of vines are considered to be St. Emilion Grand Cru. Back to those 40 hectares, only 27 hectares of vines are used to produce their top wine, Chateau Laroque. As you can see, the selection is important here, especially since it's such a large vineyard.
Their best 27 hectares are located in the deep, clay-rich soils close to Chateau Troplong Mondot. They have another outstanding parcel of vines on clay, close to their neighbor, Chateau Rocheyron.
The vines are on average 40 years of age. However, they have old vines. 14 hectares of vines are almost 55 years old. The vineyard of Chateau Laroque is planted to a vine density of 6,000 vines per hectare.
At Chateau Laroque, the vineyard is managed using 100% organic techniques. But they choose not to be certified organic, allowing them to make a wider variety of choices. They are also biodiverse, meaning they are HVE certified.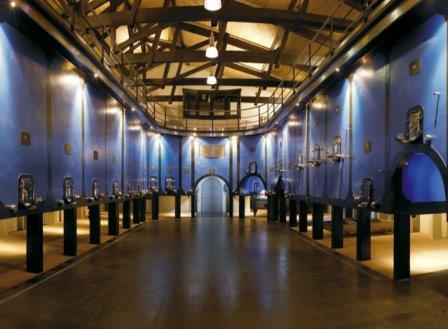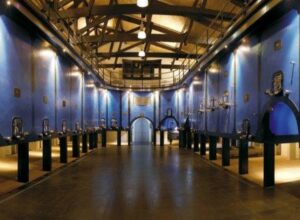 To produce the wine of Chateau Laroque, the wine is fermented in traditional, temperature-controlled, cobalt blue, cement vats that vary in size to help with parcel by parcel vinification. The wine is aged in 50% new, French oak barrels for 12 months before bottling. About 11,000 cases of Chateau Laroque are produced in an average vintage.
Chateau Laroque remains relatively unknown as the wines have not sold been en primeur by negociants. The wines were often released a few years after the vintage had been in the bottle. Most of the production is sold in France. But that is slated to change.
Chateau Laroque announced they were ready to start producing quality wine starting with the 2015 vintage. Earlier that year, they hired David Suire as the director of the estate. David Suire is experienced and well-known in Bordeaux, especially in Saint Emilion for his work with the team of Nicolas Thienpont and Stephane Derenoncourt.
The best vintages of Chateau Laroque are: 2022, 2021, 2020, 2019, 2018, 2017, 2016 and 2015. In fact, starting with the 2015 vintage, Chateau Laroque has continually made the best wine in the history of the estate.
,
On average, the entire production of Chateau Laroque is slightly more than 25,000 cases of wine per vintage. There is also a second wine, Les Tours de Laroque, which can consist of more than 8,000 cases of wine per vintage, depending on the year. Chateau Laroque also makes a third wine, Chateau Peymouton which produces close to 5,000 cases per year from their non-classified vines.
When to Drink Chateau Laroque, Anticipated Maturity, Decanting Time
Chateau Laroque needs some time before it can be enjoyed. Young vintages can be decanted for an average of 11-2 hours. This allows the wine to soften and open its perfume.
Older vintages might need very little decanting, just enough to remove the sediment. Chateau Laroque is usually better with at least 5-7 years of bottle age.
Of course that can vary slightly, depending on the vintage character. Chateau Laroque offers its best drinking and should reach peak maturity between 5-20 years of age after the vintage.
Serving Chateau Laroque with Wine, Food, Pairing Tips
Chateau Laroque is best served at 15.5 degrees Celsius, 60 degrees Fahrenheit. The cool, almost cellar temperature gives the wine more freshness and lift.
Chateau Laroque is best paired with all types of classic meat dishes, veal, pork, beef, lamb, duck, game, roast chicken, roasted, braised, and grilled dishes. Chateau Laroque is also good when matched with Asian dishes, hearty fish courses like tuna, mushrooms, and pasta.
Château Laroque Wine Tasting Notes
15 Vintages 143,556 Views Sort by Vintage-Rating
2022
Château Laroque (St. Émilion Grand Cru)

Showing a dark hue, the wine is all about its perfect balance between intensity, concentration, freshness, and elegance. The red pit fruits are sweet, refined, pure, and supple. The finish is long, creamy, pure, and while powerful, it is elegant as well, leaving you with a saltiness on the backend, providing lift and precision. The wine was made with 98% Merlot and 2% Cabernet Franc, 14.55% ABV. Drink from 2026-2045. 94-96 Pts.

7,511 Views

Tasted

May 8, 2023

2021
Château Laroque (St. Émilion Grand Cru)

With nice color, the wine already shows flowers, licorice, dark red pit fruits, and just a hint of chocolate. Soft, polished and fresh, with sweet, juicy, black cherries and silky tannins, and plenty of juicy, dark fruits in the finish, this should be simply delicious to enjoy on release. The wine was made with 99% Merlot and 1% Cabernet Franc, reaching 13.5% ABV. The harvest took place October 1 - October 18. Drink from 2023-2037. 91-93

4,967 Views

Tasted

May 20, 2022

2020
Château Laroque (St. Émilion Grand Cru)

Espresso, black cherry, licorice, coffee bean, chocolate and plum liqueur fill the perfume. The wine is rich, opulent, deep and fresh on the palate with layers of lushly-textured, black plums, chocolate, blueberries and blackberries. Perfectly balanced, hedonistic, concentrated and vibrant, with a long, expansive finish, this is in contention for the best vintage produced at Laroque yet. Drink from 2023-2042.

6,665 Views

Tasted

Mar 21, 2023

Dark garnet in color with purple edges, the wine is lush, rich and concentrated. Opulent in texture, with layers of velvety, red, black and blue fruits, crushed rocks, chocolate and licorice, there is a gorgeous sense of purity, richness, length and freshness here. The wine shows elegance and refinement as well as layers of fruit on the palate and in the finish. 94-96 Pts

11,200 Views

Tasted

May 20, 2021

2019
Château Laroque (St. Émilion Grand Cru)

Dark chocolate, spice-box, smoke, licorice, espresso and plums carry the nose. The wine is full-bodied, deep, rich, lush and plush on the palate with layers of ripe, supple, silky dark red fruits with intensity, purity, and salty tannins. The wine is hitting all the right notes. And even better, as good as it is now, with some age, this is going to be even better. This is in competition for the highest scoring, well-priced wine in all of Bordeaux. This is a reminder, grab this wine by the case. Eventually, prices will rise. Remember, you heard it here first. Drink from 2023-2045.

9,407 Views

Tasted

Mar 29, 2022

The deep, dark color has a purple to the sheen that looks great in the glass. Quite floral in nature, the nose is assisted by smoke, spice box, espresso, plum, dark chocolate and blueberry. Rich, sensuous, lush and silky there is a freshness that keeps everything moving briskly. The finish is all about the ripe, sweet, deep fruits, and salty minerality. This is even better than the 2018, which says a lot. The wine blends 97% Merlot and 3% Cabernet Franc, reaching 14.5 ABV with a pH of 3.44. One of the new players in the Saint Emilion sweepstakes, grab this wine by the case due to its balance between high quality and low price. Eventually, prices will rise. Remember, you heard it here first! 94-96 Pts

16,964 Views

Tasted

Jun 8, 2020

2019
Château Laroque Les Tours de Laroque (St. Émilion)

Flowers with cocoa, hints of spice and cherries are on the nose. Medium-bodied, soft, supple and already easy to drink, this fruity charmer is all set for near-term drinking. Drink from 2022-2037.

943 Views

Tasted

Mar 29, 2022

2018
Château Laroque (St. Émilion Grand Cru)

With a good depth of color, the fleshy wine is rich, full-bodied, luscious and loaded with a myriad of dark red berries, black cherries and just a touch of blue fruit. Concentrated, opulent and silky, the finish really sticks with you, which is a good thing as all this fruit is not something you want to miss. The wine blends 97% Merlot and 3% Cabernet Franc, 14.5% ABV. Chateau Laroque remains a diamond in the rough selling for a song. This will change Laroque gains more popularity, buy it now if this is your style of wine.

10,442 Views

Tasted

Mar 9, 2021

Inky in hue, the wine looks like a dark gemstone with purple around the edge. With just one swirl, you get black and blue fruits, flowers, incense, licorice, dark chocolate and smoke. Powerful, full-bodied, concentrated, and intense, this vintage is at an entirely new level for Laroque. The wine manages to remain balanced between its opulent nature, incredible level of density, silky palate feel and length. The wine was made with 97% Merlot and 3% Cabernet Franc, reaching 14.5 ABV with a pH of 3.48. This is your hot tip of the day: Chateau Laroque is a diamond in the rough and the wine sells for a pittance despite the high level of quality. This will change as the wine gets discovered so buy it now if this reads like your style of wine. 93-95 Pts

23,380 Views

Tasted

Apr 19, 2019

2018
Château Laroque Les Tours de Laroque (St. Émilion)

Medium-bodied, soft and ready to go, this is perfect for near term drinking due to its wealth of sweet, ripe, red berries, licorice and touch of coffee bean. Enjoy it over the next 5-7 years.

2,228 Views

Tasted

Mar 9, 2021

2017
Château Laroque (St. Émilion Grand Cru)

Showing a dark hue, the wine opens with a strong mineral sensation, along with licorice, blackberries and dark chocolate. Medium/full bodied, the wine is sweet, elegant and fresh. The saltiness in the finish complements the dark red fruits and thyme throughout the endnote and there is a vibrancy and spicy quality to the fruits that is palpable in the finish. The wine was made with 99% Merlot and 1% Cabernet Franc, reaching 14.54 ABV with a pH of 3.48.

4,079 Views

Tasted

Apr 26, 2018

2016
Château Laroque (St. Émilion Grand Cru)

It is easy to find the smoke, licorice, truffle and black cherry aromas. But it's on the palate, where this really shines. Round, ripe, supple, silky and with loads of ripe, luscious plums and black cherries, this is an estate to watch. The wine was made with 95% Merlot, 4.5% Cabernet Franc and .5% Cabernet Sauvignon.

6,457 Views

Tasted

Sep 21, 2019

With a worthy depth of color, this wine reveals dark berries, earth and licorice in the fragrance. The fruit is sweet and juicy. There is complexity and vibrancy with a long, persistent boysenberry and black cherry finish. The wine was made with 95% Merlot, 4.5% Cabernet Franc and .5% Cabernet Sauvignon, reaching 14.5% ABV with a pH of 3.35. This is the second vintage for Laroque with David Suire, the new director who has achieved great success in his efforts here.

6,315 Views

Tasted

Apr 29, 2017

2015
Château Laroque (St. Émilion Grand Cru)

Medium bodied, the wine shows a strong minerality presence before you start to find the red fruits. There is a softness to the tannins and freshness to the fruit, which lets you know this is going to be an estate to watch. However, you should note that subsequent vintages are definitely stronger.

4,689 Views

Tasted

May 21, 2018

Medium/full bodied, with a luscious texture that sets off the floral, licorice, cocoa and dark cherry personality, this wine is easy to like and drink, ending with rich textures and loads of sweet, fresh black cherries, fennel and cocoa. With David Suire as the new director, it is easy to see the improvements in just his debut vintage. And you know, the best is yet come!

5,021 Views

Tasted

Apr 29, 2016

2014
Château Laroque (St. Émilion Grand Cru)

Medium bodied, with a forward, leafy, simple, fresh, red berry personality, and a one note, cherry and herb finish.

6,941 Views

Tasted

Mar 18, 2017

2012
Château Laroque (St. Émilion Grand Cru)

Pleasant, early drinking, fresh, medium bodied, cherry and black raspberry inspired wine, with a bit of spice and fresh herbs in the finish.

5,770 Views

Tasted

Dec 1, 2015

2010
Château Laroque (St. Émilion Grand Cru)

Earthy, leafy, fresh and already open with its cherry core of fruit. Medium bodied, with a leafy, red fruit finish.

3,533 Views

Tasted

Mar 18, 2017

2009
Château Laroque (St. Émilion Grand Cru)

Forward, supple and serving up a nice dose of plum, licorice, earth and spice, this round, plush wine is already drinking well.

4,765 Views

Tasted

Nov 17, 2013

2000
Château Laroque (St. Émilion Grand Cru)

Showing age in its color, the wine offers strawberry preserves and smoke and earth on the nose. Medium bodied, with sweet fruit, but the finish is clipped, making the wine far too short.

2,279 Views

Tasted

Mar 18, 2017