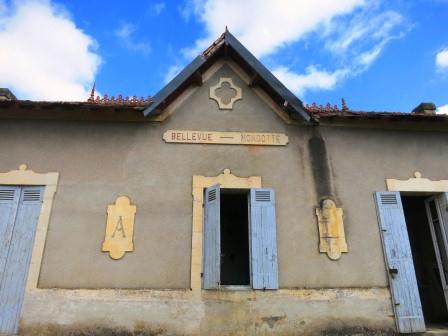 Learn everything about Chateau Bellevue Mondotte, St. Emilion with wine tasting notes, and wine with food pairing tips. Learn all the best vintages, the history of the property, and information on the vineyards and winemaking. If you want to read about other important, Bordeaux Chateaux: Links to all Bordeaux Wine Producer Profiles
Chateau Bellevue-Mondotte History, Overview
In 2001, Chateau Bellevue Mondotte was purchased by Gerard Perse. At the time, Gerard Perse was already known for owning several Bordeaux vineyards in Saint Emilion including Chateau Pavie and Chateau Monbousquet.
Bellevue Mondotte is a small jewel of a vineyard that is perfectly located, just east of the picturesque St. Emilion village. The vineyard is very close to the other St. Emilion estates also owned by Gerard Perse; Chateau Pavie, Chateau Pavie Decesse, and it is just a bit further from another Perse family-owned vineyard, Chateau Monbousquet.
As the name implies, the vineyard is also not far from La Mondotte. Everything changed in 2022 after the classification. The vineyards of Bellevue Mondotte and Pavie Decesse were merged into Chateau Pavie, making 2021, the final vintage for Bellevue Mondotte.
Chateau Bellevue Mondotte Vineyards, Terroir, Grapes, Winemaking
The small, 2-hectare vineyard of Bellevue Mondotte is 100% Merlot starting in 2020. The Cabernet Franc and Cabernet Sauvignon could be back in the vineyard by 2030. The vines are on average close to 50 years of age. The vineyard has southern exposures. The tiny vineyard is on the top of the limestone plateau, with elevations that can reach 80 meters at its peak.
Even though the vineyard is quite small, it is divided into 3 main parcels which are two different terroirs with half the vineyard planted in clay with limestone and the other half of the vineyard planted in pure, deep limestone.
Due to drastic green harvesting and selection, this property has some of the lowest yields of any Right Bank Bordeaux wine estate.
In fact, the yields are probably lower than you will find at almost every Left Bank estate as well. It is not unheard of for Bellevue Mondotte to produce wines from as little as 15 hectoliters per hectare!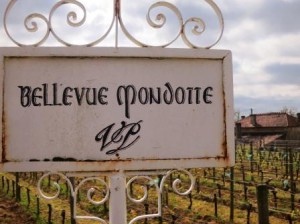 After harvesting and intense sorting at Bellevue Mondotte, for the vinification of Bellevue Mondotte alcoholic fermentation starts naturally in temperature-controlled, oak wood vats. This initial step is followed by a long maceration can, which can last up to seven weeks. Malolactic fermentation takes place in barrels.
The wine of Bellevue Mondotte is aged in 90%, new, French oak barrels for up to 24 months. During the first six months of aging, the wine remains on its fine lees.
The final blend takes place just before bottling, which is done without fining or filtering. Very little Chateau Bellevue Mondotte is produced each year. In an average vintage, production hovers at close to 350 to 400 cases of wine per year.
The best vintages of Chateau Bellevue Mondotte are 2021, 2020, 2019, 2018, 2017, 2016, 2015, 2014, 2010, 2009, 2008, 2005 and 2000.
Chateau Bellevue Mondotte is a serious Bordeaux wine. Produced with stunning levels of concentration, extract, and raw materials, the wine feels rich, opulent, and velvety in your mouth.
This powerful, balanced and stylish Bordeaux wine is a liqueur of St Emilion that is produced from the ripest possible fruit coupled with intense minerality. Not much is made and it's expensive.
But if Bellevue Mondotte is your style of wine, if you can afford it, the wine is worth the money for its unique expression of St. Emilion. On average, between 300 and 350 cases of Bellevue Mondotte are produced each vintage.
When to Drink Chateau Bellevue Mondotte, Anticipated Maturity, Decanting Time
Chateau Bellevue Mondotte is much better with at least 10-15 years of aging in good vintages. Young vintages can be decanted for 2-3 hours or more. This allows the wine to soften and open its perfume.
Older vintages might need very little decanting, just enough to remove the sediment. Chateau Bellevue Mondotte offers its best drinking and should reach peak maturity between 15-30 years of age after the vintage.
Serving Chateau Bellevue Mondotte with Wine, Food, and Pairing Tips
Chateau Bellevue Mondotte is best served at 15.5 degrees Celsius, 60 degrees Fahrenheit. The cool, almost cellar temperature gives the wine more freshness and lift.
Chateau Bellevue Mondotte is best served with all types of classic meat dishes, veal, pork, beef, lamb, duck, game, roast chicken, roasted, braised, and grilled dishes. Chateau Bellevue Mondotte is also a perfect match with Asian dishes, hearty fish courses like tuna, mushrooms, and pasta as well as a myriad of various cheeses.
Château Bellevue Mondotte Wine Tasting Notes
20 Vintages 197,520 Views Sort by Vintage-Rating
2021
Château Bellevue Mondotte (St. Émilion Grand Cru)

Deeply colored, the wine already expresses flowers, minerals, dark red pit fruits, licorice and cocoa. On the palate, there is freshness, energy, ripe, dark berries, sweetness to fruits and salinity. There is a good concentration and depth of flavor. The fruits are juicy, ripe and sweet, with blackberries, citrus and cocoa with a touch of spice in the endnote. This is the second vintage produced from 100% old vine Merlot. 14.81% ABV. Drink from 2026-2050. 93-95

1,358 Views

Tasted

May 20, 2022

2020
Château Bellevue Mondotte (St. Émilion Grand Cru)

Produced from 100% old vine Merlot, the black, and purple color alone tells you this is going to offer a deep, tasting experience. The wine is intense, full-bodied, deep, long, and opulent, providing seamless layers of chocolate-covered blackberries, black cherries, plums, and espresso. Yet, with all this depth of flavor, everything is balanced, harmonious, long, and hedonistic. The finish offers to lift, purity, and velvet-textured tannins that coat your palate stains your teeth, and doesn't relinquish their hold on you for more than 50 seconds, leaving you with waves of rich plums, and black cherries with tones of crushed rocks, and stones in the endnote. However, it is not easy to find as only 350 cases, give or take were produced. Drink from 2027-2055.

630 Views

Tasted

Mar 21, 2023

Almost opaque in color, the wine is equally dark on the palate with its blackberry, black plum and chocolate profile. Full-bodied, rich, opulent and dense, the wine coats your palate, stains your teeth and doesn't relinquish its hold on you for at least 60 seconds, leaving you with waves of opulent, velvet-drenched plums and black cherries. Hedonistic and intense, with a salty, mineralistic, chocolate-tinged, plummy finish, this is a unique style of wine that needs to be tasted. And it needs to be aged for at least 12-15 years due to its intensity. However, it is not easy to find as only 350 cases, give or take were produced. This is the first vintage made from 100% old vine Merlot. 14.81% ABV. 97-99 Pts

2,305 Views

Tasted

May 20, 2021

2019
Château Bellevue Mondotte (St. Émilion Grand Cru)

Opaque in color, initially you notice flowers, licorice, black plums, cherries, blueberries, chocolate, and espresso, though they take a bit of coaxing to come out. The wine is full-bodied, rich, deep and intense. The finish coats your palate with layers of dark fruits along with crushed stones and a background note of cocoa that lingers with a dash of salt at the end. Drink from 2030-2050.

1,112 Views

Tasted

Mar 29, 2022

Dark, with purple accents, but not quite opaque, the wine is full-bodied, rich, deep and intense. There is power, length and purity, yet nothing is too much, everything is working in balance here. The fruit is dark, the tannins and polished finish really stick for close to 50 seconds. 95-97 Pts

3,695 Views

Tasted

Jun 8, 2020

2018
Château Bellevue Mondotte (St. Émilion Grand Cru)

Intensely mineral driven, here you find crushed rock, stone and oceanic influences on the nose and palate. Full-bodied, dense and intense with a wealth of ripe, dark red and black pit fruits, give this full-bodied, intense, concentrated, rich, tannic, youthful wine at least a decade in the cellar before pulling a cork. The wine is made with 90% Merlot, 5% Cabernet Franc and 5% Cabernet Sauvignon.

3,001 Views

Tasted

Mar 9, 2021

On the floral and licorice side, the wine is ostentatious, fleshy, full-bodied, opulent and powerful. With fabulous viscosity, density, length and power, the fruit, rocks and crushed stones get you hooked as it coats your palate. This is not a shy wine. It is big, powerful and comes with a massive wall of fruit, stones and tannin. The finish keeps on going with its powerful, flamboyant character. This is not a wine to enjoy young. So be prepared to cellar it for close to a decade before popping a bottle. The wine is made with 90% Merlot, 5% Cabernet Franc and 5% Cabernet Sauvignon. 96-98 Pts

2,763 Views

Tasted

Apr 19, 2019

2017
Château Bellevue Mondotte (St. Émilion Grand Cru)

Smoky black and blue fruit, licorice and spice box allure create the aromatic profile. Deep in color with a supple texture and ripe, sweet, opulent plums, this wine finishes with a spicy, mineral character sustaining the plethora of ready fruit. Produced from a blend of 90% Merlot, 5% Cabernet Franc and 5% Cabernet Sauvignon, the wine reached 14.5% ABV with a pH of 3.47. Yields were quite low at only 16 hectoliters per hectare this vintage.

2,031 Views

Tasted

Apr 26, 2018

2016
Château Bellevue Mondotte (St. Émilion Grand Cru)

Opaque in color, the wine is powerful, mineral-driven and intense. There is a real depth of flavor with waves of ripe fruit, crushed rocks, oyster shell, smoke, espresso, licorice and chocolate. Patience is going to be a virtue here as the wine insists on at least 10-15 years before it will be ready to strut its stuff.

2,554 Views

Tasted

Sep 26, 2019

A deep shade, smoky and mineral driven with dark, ripe plums that remain on your palate for at least 60 seconds. This is focused, elongated and the fruit is pristine. The sensation of salt and rocks really pulls through here. This is a wine to cellar for a decade or so; it will be well worth the wait.

3,503 Views

Tasted

Apr 29, 2017

2015
Château Bellevue Mondotte (St. Émilion Grand Cru)

There is a purity of fruit here, that you cannot help but be wowed by. The wine is powerful, big, concentrated and takes over your palate. Yet, it is in perfect balance, which is hard to figure out how they managed to do that. The wine sticks with you for close to 50 seconds. .

3,739 Views

Tasted

May 21, 2018

Inky in tint with oyster shell, florals and black and blue fruit perfume, this wine is a bit like Beyonce -- incredibly rich, lush, sensuous and polished with a blast of ripe, dense fruits in the finish.

3,458 Views

Tasted

Apr 29, 2016

2014
Château Bellevue Mondotte (St. Émilion Grand Cru)

Flowers, cherry and stone on the nose, this wine is a continuous wave of concentrated, fresh cherries being crushed atop of a block of ancient limestone. This will need time. Produced from a blend of 90% Merlot, 5% Cabernet Franc and 5% Cabernet Sauvignon, the wine reached 13.8% ABV with a pH of 3.52. Yields were only 20 hectoliters per hectare. 93-95 Pts

3,042 Views

Tasted

Apr 27, 2015

2013
Château Bellevue Mondotte (St. Émilion Grand Cru)

One of the deepest colored wines of the vintage, with notes of licorice, espresso, black cherry and toast, the wine has a polished texture in its tannic black and blue fruit finish. Produced from miniscule yields of only 9 hectoliters per hectare, this is a very strong wine for the vintage. The wine is aging in 100% new French new oak. The wine reached 13.3% ABV with a pH of 3.37. 93-94Pts

2,698 Views

Tasted

Apr 28, 2014

2012
Château Bellevue Mondotte (St. Émilion Grand Cru)

With a deep shade of ruby, the wine is packed with fennel, crushed stone, flowers, espresso and ripe dark and red berries. Concentrated, rich and supple, the wine ends with ripe, juicy, sweet and polished plums and oak. 93-95 Pts

4,163 Views

Tasted

Apr 26, 2013

2011
Château Bellevue Mondotte (St. Émilion Grand Cru)

Smoke, truffle, fennel, cocoa and dark cherry aromas lead to a plush, silky, soft wine with a lot of intensity and minerality for the vintage. Give this a few years to develop and it should be even better.

3,828 Views

Tasted

May 20, 2014

Deep in color with flowers, stone, blackberry liqueur, coffee, caramel, plum, chocolate mint and smoke, the wine is fleshy, big, dense and concentrated with layers of ripe dark berries. There is a lot of tannin, minerality and oak in the finish. This wine will require time to develop and come together. 92-94 Pts

4,969 Views

Tasted

Apr 24, 2012

2010
Château Bellevue Mondotte (St. Émilion Grand Cru)

Coffee, licorice, smoke, oak, wet earth and blackberry liqueur scents flood your glass. Deep in color, the wine is powerful, rich and clearly expresses its limestone terroirs. There is a polish to the tannins, and an elegance to the powerful, ripe black fruits. But make no mistake, this is a wine to lay down. It is not going to be fun to taste for at least a decade or more.

5,870 Views

Tasted

May 7, 2013

Deep in color, licorice, stone, smoke, coffee and jammy dark berries pop from the glass. This thick, rich, intense, fresh, mouth filling St. Emilion ends with a long, pure, minerality based opulent, spice and plum liqueur finish. 95-96 Pts

6,555 Views

Tasted

Jul 30, 2011

2009
Château Bellevue Mondotte (St. Émilion Grand Cru)

Inky in color, the wine is packed and stacked with layers of dark fruits, crushed stone, licorice, coffee bean and opulent textures. Full bodied, concentrated, long, powerful and intense, the wine is not close to maturity. You should hang on to this hard to find wine for at least 7-8 years. But it is going to be worth the wait.

3,588 Views

Tasted

Sep 20, 2019

Opaque in color, with aromas of crushed rocks, blueberry, espresso and jammy black fruit; this fat, dense, intensely concentrated multi-layered, low acid St. Emilion wine was made to order for hedonists.

8,464 Views

Tasted

Jul 30, 2011

2009 Bellevue Mondotte is inky black. Blackberry, blueberry, spice rack, jam, smoke, and stone quarry aromas waft from the glass. Thick and dense, and filled with rich, round, concentrated layers of lush fruit, this intense wine has the texture of crushed velvet and silk, and a powerful, jammy berry finish. 96-98 Pts

7,383 Views

Tasted

Jun 28, 2010

2008
Château Bellevue Mondotte (St. Émilion Grand Cru)

Fleshy and flashy, with layers of ripe, deep, dark fruits that stick with you. At 10 years of age, the wine is still young, concentrated and tannic, needing at least another 5-10 more years to soften and develop. But it is going to be worth the wait.

3,412 Views

Tasted

Sep 17, 2018

08 Château Bellevue Mondotte. This producer turned out a whopping 450 cases in 2008. This deep, ink colored elixir displays blackberry, truffle, coffee, smoke, and mineral notes in the perfume. The palate enjoys being slathered in layers of rich, ripe, blackberry, black cherry and boysenberry flavors. The pure, velvety, decadent finish remains for over 40 seconds. 94-97 Pts

9,552 Views

Tasted

Aug 1, 2009

2007
Château Bellevue Mondotte (St. Émilion Grand Cru)

No need to hold off any longer. Pop and pour brings out the sweet, plum, licorice, smoke and coffee notes. The texture shows a lush quality,with a dark, plum finish and the sensations of of dusty tannins.

3,714 Views

Tasted

Dec 21, 2017

2006
Château Bellevue Mondotte (St. Émilion Grand Cru)

Still holding on to its dark color, the wine is deep, rich and intense. There is a sweetness to fruit and a lot of crushed rock sensations in the powerful, intense finish. Give this 5-10 more years and this should be a super wine.

4,432 Views

Tasted

May 25, 2016

2005
Château Bellevue Mondotte (St. Émilion Grand Cru)

Inky in color, the wine is full bodied, intense, dense and concentrated with multiple layers of ripe, sweet, black fruits, crushed rocks, licorice, smoke and espresso. Still young, the texture really grabs you in the lingering finish.

6,345 Views

Tasted

Feb 4, 2017

Explosive aromatics of truffle, crushed stone, wet earth and ripe fruits open to an intense mineral driven, powerful, concentrated wine that remains on your palate for close to 50 seconds! This is intense, long, expansive and pure, but so very young. It will be better in 10, 20, or 30 years!

7,772 Views

Tasted

May 18, 2013

Inky and opaque in color. Minerals paired with licorice and sweet, ripe dark berries offer an intense perfume. Full bodied, concentrated and intense, the long finish ended with an ocean of velvet laced black cherries that seems to last forever.

8,746 Views

Tasted

Jul 21, 2008

2004
Château Bellevue Mondotte (St. Émilion Grand Cru)

This could be the most intense and concentrated wine of the vintage. Youthful, fleshy, intense, lush and opulent, the wine delivers layers of licorice, espresso, black cherry, truffle and stone in every decadent sniff and sip.

5,147 Views

Tasted

Nov 30, 2014

One of the most concentrated wines of the vintage. Produced from yields of just 15 hectoliters per hectare, the wine, while still young is starting to become civilized with its licorice, black cherry, plum liqueur, earth, espresso bean and spicy perfume. Rich, full bodied, smooth and supple, the plush, polished, opulent finish leaves an impression of ripe, juicy, chocolate covered plums, earth and kirsch.

5,851 Views

Tasted

May 18, 2013

2003
Château Bellevue Mondotte (St. Émilion Grand Cru)

With just a few weeks to go before its 20th birthday, the wine has shed its former, oaky shell, which has been replaced by waves of ripe, lush, opulent fruits, crushed stone, smoke, licorice, and black cherries. Drink from 2022-2035.

2,117 Views

Tasted

Nov 28, 2022

Voluptuous, rich, powerful, full-bodied, concentrated, lushly textured wine that delivers an ocean of ripe, black cherries, plums, blackberries, licorice, smoke, crushed stone and espresso on the nose and palate. No sensation of overripeness, heat, or jam, but the finish still shows oak as part of its character. This is a good time to be drinking this, if you have a bottle or two in your cellar. A brief 30 minute decant was all it needed.

3,320 Views

Tasted

Jul 11, 2020

Deep in color, with lightening at the edges, the wine is powerful, concentrated and deep. There is an intense mineral element to the layers of perfectly ripe, exotic fruits. This is one of the wines of the vintage. Unlike many 2003 wines, this will enjoy a long life.

5,539 Views

Tasted

Dec 18, 2014

Smoke, caramel, coffee bean, blackberry liqueur, flowers, earth and tobacco open the perfume. This is so packed with fruit, tasters need to decide if they should eat it or drink it. The finish must last for more than 60 seconds with its endless array of dense layers of plum, blackberry and cassis.

5,831 Views

Tasted

Oct 23, 2013

Licorice, coffee bean, truffle, chocolate and black raspberry liqueur scents open to a flashy, fleshy, fun, full bodied wine that is a joy to drink. Still incredibly young, this is an intensely concentrated, lush, mineral driven, hedonistic St. Emilion.

5,065 Views

Tasted

Dec 12, 2012

Still deep, ruby in color, incense, smoke, black and blue fruits, licorice, mineral, coffee, caramel and truffle aromas, layers of fat, sexy, plush, ripe, polished, sweet and opulently textured fruit is found in the finish. This is developing into a beautiful St. Emilion. Give it a few more years for the tannins to continue melting away.

4,405 Views

Tasted

May 30, 2012

The incredibly inky, purple, black robe is as dark as night. Aromatics of melted blackberry liqueur with doses of coffee, cinnamon, licorice, blueberries and chocolate. The palate is thrilled as this amazingly concentrated, opulent wine spills over your senses. This is incredibly rich and sexy juice. The finish gives a text book example of plush. Still young with a big future ahead, when this wine matures, it's will offer an unbelievable tasting experience. This is the third time I've tasted this wine and each time it reminds me of 00 Pavie. I popped and poured the wine allowing it to develop in the decanter and glass for several hours. With air, it kept getting better and better. This is definitely sex in a bottle!

4,398 Views

Tasted

Jun 1, 2007

The perfume smells like molten, liquefied, blackberry liqueur with doses of coffee, cinnamon, licorice, blueberries and mocha. On the palate, this amazingly concentrated wine is so opulent, it's hard to believe. This is incredibly rich and sexy juice. Next to decadence in the new Websters, they have a picture of 03 Bellevue Mondotte. The finish is very, very plush.

4,647 Views

Tasted

Jun 12, 2006

2001
Château Bellevue Mondotte (St. Émilion Grand Cru)

Medium bodied, elegant charmer, with a ripe, sweet, fresh plum, oak, earth, stone, licorice and floral character. Clearly, ready to drink and to deliver pleasure, this is not a wine with long term aging prospects. But it is a perfect charmer today.

3,213 Views

Tasted

Nov 13, 2016

Rich, fat, concentrated and packed with sweet, ripe, lusciously textured, black and blue fruits, along with a nose of licorice, smoke, caramel, plum liqueur and wet earth. This is one of the younger tasting 2001 Right Bank wines. It has potential to improve.

3,543 Views

Tasted

Jan 17, 2016

This wine continues to flesh out. The textures are softer, the wine feels fatter, yet with more velvety, sensuous qualities, since I last tasted it. Full bodied, potent and rich, with a true, licorice, black cherry, chocolate and plum personality. This should be very long lived for a 2001.

5,486 Views

Tasted

Jan 20, 2014

The wine is not for the oak averse, as strong notes of espresso bean and coconut remain. On the positive side, which overshadows the oak, the wine is fresh, youthful, concentrated, opulently textured and delivers a core of ripe and very ripe, boysenberry, blackberry and dark cherries, complicated by licorice, earth and blue fruits. You can drink this now, or age it for another 5 years.

4,785 Views

Tasted

Aug 8, 2013

Coffee bean, licorice, blackberry, boysenberry, stone, charcoal and tar create the complex fragrance. Rich, thick and concentrated with ripe, blackberry and cocoa, the wine ends with chocolate covered blackberry. Over the past few years, the wine seems to have exchanged some of its exuberant fruit for more minerality. Subsequent vintages offer even more concentration of fruit, but with more purity as well.

5,203 Views

Tasted

Jul 14, 2012

Opaque in color. Thick, rich, and deeply concentrated with layers of fat, sexy, ripe, black fruit, jam, licorice, blue fruit, vanilla, herbs and spices. Mouth filling textures are the hallmark of the wine at this stage. This is packed and stacked with pure ripe fruit.

4,288 Views

Tasted

May 1, 2007