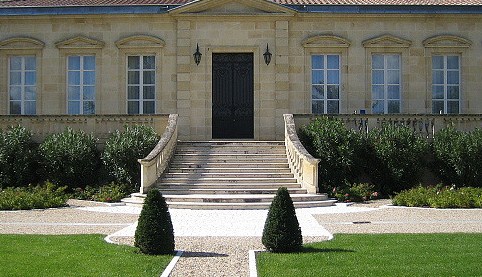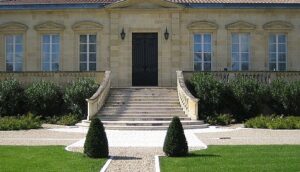 Learn everything about Chateau La Tour Figeac St. Emilion, Bordeaux with wine tasting notes and wine with food pairing tips. Learn the best vintages, a history of the property, information on the vineyards, and winemaking. If you want to read about other important, Bordeaux Chateaux: Links to all Bordeaux Wine Producer Profiles
Chateau La Tour Figeac History, Overview
Until the late 1800s, Chateau La Tour Figeac was an important part of the massive, 200 hectares, St. Emilion estate, Chateau Figeac. For numerous reasons, Figeac divided and sold their land in multiple transactions in the late nineteenth century.
Today, Figeac is 37 hectares, which is a lot less than the original vineyard size of 200 hectares. In 1876 Figeac sold numerous parcels from their estate. A few years later, in 1879, once again more vines were sold. In the transaction of 1879, some of the lands were purchased by the Corbière family. Those vineyards were used to create Chateau La Tour Figeac.
In 1881, similar to what just took place at Figeac, Chateau La Tour Figeac was split in two. Fifty percent continued to exist as La Tour Figeac and the remaining 50% of the vineyard became La Tour du Pin Figeac.
Chateau La Tour Figeac is owned and managed by the Rettenmaier family. The Rettenmaier family purchased the estate in 1973, shortly after their friends, the von Neipperg family bought Chateau Canon La Gaffeliere. The vineyards are located in a very good Saint Emilion terroir.
As you can see, they have some well-known neighbors with Chateau Figeac to the south, Chateau Cheval Blanc to the east, and to the north and west, you find the Pomerol appellation just a few rows of vines away. Otto Rettenmaier is in charge of the estate today.
Chateau La Tour Figeac Vineyards, Terroir, Grapes, Winemaking
The 15 hectare Right Bank vineyards of Chateau La Tour Figeac are planted to 65% Merlot and 35% Cabernet Franc. The terroir is a blend of gravel and sandy clay, atop a subsoil of clay soil. The vines are on average 35 years of age. The vineyard is planted to a vine density that ranges from 6,000 to 7,600 vines per hectare. Newer plantings are done at the higher levels of vine density.
The vineyard of Chateau La Tour Figeac has been 100% biodynamically farmed since 1997.
To produce the wine of Chateau La Tour Figeac, the grapes are whole berry fermented in a combination of stainless steel and open-top, large, oak tanks with a 30-day cuvaison. Microbullage is performed under the cap. Malolactic fermentation takes place in barrels. The wine is aged in 50% new French oak barrels for an average of 18 months with the wine aging on its lees for a portion of that time.
The best vintages of Chateau La Tour Figeac are: 2022, 2021, 2020, 2019, 2018, 2017, 2016, 2015, 2014, 2012, 2010, 2009 and 2005.
There is a second wine, L'Esquisse de La Tour Figeac. Stephane Derenoncourt consults the estate and his charming wife, Christine Derenoncourt, is the director of Chateau La Tour Figeac. In 2000, Chateau La Tour Figeac produced an experimental 100% Merlot wine that was never made again.
When to Drink Chateau La Tour Figeac, Anticipated Maturity, Decanting Time
Chateau La Tour Figeac needs some time before it can be enjoyed. Young vintages can be decanted for an average of 1-2 hours. This allows the wine to soften and open its perfume. Older vintages might need very little decanting, just enough to remove the sediment. Chateau La Tour Figeac is usually better with at least 5-7 years of bottle age. Of course, that can vary slightly, depending on the vintage character. Chateau La Tour Figeac offers its best drinking and should reach peak maturity between 6-20 years of age after the vintage.
Serving Chateau La Tour Figeac with Wine, Food, Pairing Tips
Chateau La Tour Figeac is best served at 15.5 degrees Celsius, 60 degrees Fahrenheit. The cool, almost cellar temperature gives the wine more freshness and lift. Chateau La Tour Figeac is best paired with all types of classic meat dishes, veal, pork, beef, lamb, duck, game, roast chicken, roasted, braised, and grilled dishes. Chateau La Tour Figeac is also good when matched with Asian dishes, hearty fish courses like tuna, mushrooms, and pasta.
Château La Tour Figeac Wine Tasting Notes
17 Vintages 76,198 Views Sort by Vintage-Rating
2022
Château La Tour Figeac (St. Émilion Grand Cru)

Quite floral in nature, the wine is elegant, fresh, soft, and silky. The fruits are vibrant, fresh, and supple, finishing with black plums, espresso, chocolate, and minty nuances. Drink from 2025-2045. 93-95 Pts.

594 Views

Tasted

May 8, 2023

2021
Château La Tour Figeac (St. Émilion Grand Cru)

Medium-bodied, soft, vibrant red fruits, flowers and touches of cocoa, coffee beans, licorice, herbs and cherries are in the nose and on the mid-palate here, finishing with sweet, ripe, bright, energetic, sweet cherries, red plums, and dark cocoa. Drink from 2023-2038. 92-94

1,255 Views

Tasted

May 20, 2022

2020
Château La Tour Figeac (St. Émilion Grand Cru)

Flowers, licorice, and smoke with fresh red berries create the nose. On the palate, the wine is elegant, silky and fresh, as well as supple, long and packed with dark chocolate, black cherries, espresso and licorice, there is length and refinement here. Drink from 2023-2040.

722 Views

Tasted

Mar 21, 2023

Quite floral in nature, the medium-bodied wine presents its refined take on black raspberries, cocoa, plum, smoke, spice and licorice. Silky, polished, fresh, and elegant, this is top vintage for La Tour Figeac. 92-94 Pts

1,710 Views

Tasted

May 20, 2021

2019
Château La Tour Figeac (St. Émilion Grand Cru)

Fresh, fruity, silky, soft and refined, the wine expresses a beautiful sense of purity on the nose and palate as well as poise and grace. The elegant finish caps everything off nicely. Drink from 2022-2034.

1,784 Views

Tasted

Mar 29, 2022

Flowers and cherries in the nose come out easily before encountering the fresh, lifted red berries, minerality and cocoa notes in the soft, polished, silky, medium-bodied finish. 90-92 Pts

2,660 Views

Tasted

Jun 8, 2020

2018
Château La Tour Figeac (St. Émilion Grand Cru)

Silky, sexy, fresh and vibrant, with a great core of elegantly textured fruits. The wine is aromatic, refined and with a beautiful sense of purity, lengthy and character. This is showing much better in bottle than in barrel, which is always something you want to see.

1,186 Views

Tasted

Mar 9, 2021

Licorice, smoke, flowers and cherry aromatics are right there when you want them. Medium bodied, silky and juicy, the red fruits are ripe, pure, polished and fresh. 90-92 Pts

2,315 Views

Tasted

Apr 19, 2019

2017
Château La Tour Figeac (St. Émilion Grand Cru)

Forward, fruity, fresh, medium-bodied, elegant, lifted plums, cherries, licorice, espresso, and cocoa with hints of flowers come through easily on the nose and refined, silky palate.

1,740 Views

Tasted

Aug 30, 2021

2016
Château La Tour Figeac (St. Émilion Grand Cru)

Smoky black cherry, licorice, espresso and earth work perfectly with the fresh, ripe, sweet, plums and cherries. Medium-bodied and finesse driven, this is quite the charmer.

2,105 Views

Tasted

Sep 21, 2019

Silky soft and polished, this wine is medium bodied and elegantly styled with supple textures. The finish shows ripe, dark red pit fruits, earth, cocoa and thyme.

2,570 Views

Tasted

Apr 29, 2017

2015
Château La Tour Figeac (St. Émilion Grand Cru)

Here's a wine that keeps getting better and better as it ages in bottle. The truffle and floral notes get you going. But perhaps it's the silky, fresh, ripe, sweet, plums and cherries that is the best part. Elegant and classy, this is quite the charmer.

3,659 Views

Tasted

Mar 12, 2018

The floral and light truffle notes that accompany the ripe, plum and cherry fruits really stand out. Medium/full bodied, silky, elegant and fresh, the wine ends with polished, sweet, juicy plums and cherries with a touch of licorice in the finish. This turned out better in bottle than in barrel, which is always a good sign.

2,503 Views

Tasted

Nov 22, 2017

Elegant in all the right ways, combined with freshness, thyme, smoke and ripe, red fruits blended with black plums, this wine serves up a soft, sweet, silky, medium bodied, finesse styled, cherry finish.

1,989 Views

Tasted

Apr 29, 2016

2014
Château La Tour Figeac (St. Émilion Grand Cru)

Sweet cherries, earth and stone with fresh picked flowers on the nose, this medium bodied wine has a soft, sweet, cherry finish. 88-90 Pts

4,146 Views

Tasted

Apr 27, 2015

2013
Château La Tour Figeac (St. Émilion Grand Cru)

Ruby in color with a kiss of oak, earth, herbs and black raspberries, the wine is medium bodied with sweet dark cherries and chocolate in the finish. Finesse in style, drink this young for the fruit. From a blend of 80% Merlot and 20% Cabernet Franc. The yields were 20 hectoliters per hectare, with the Grand Vin made from 50% of the harvest. The wine is aging in 50% new oak. 89-91 Pts

2,714 Views

Tasted

Apr 29, 2014

2012
Château La Tour Figeac (St. Émilion Grand Cru)

Medium bodied, fresh, dark cherry and plum dominated wine with licorice and earth was made in an open style that will drink well young.

3,346 Views

Tasted

Mar 11, 2015

Deep in color, with stone, coffee, licorice and black raspberries, the wine is soft in texture with ripe and over ripe cherries in the oaky finish. 88-90 Pts

3,654 Views

Tasted

Apr 26, 2013

2011
Château La Tour Figeac (St. Émilion Grand Cru)

From a blend of 77% Merlot and 23% Cabernet Franc, the wine reached 14.4% ABV. With, flowers, stone, licorice and red berries, the wine offers round, supple textures and a soft cherry finish. 90-91 Pts

5,630 Views

Tasted

Apr 24, 2012

2010
Château La Tour Figeac (St. Émilion Grand Cru)

2010 La Tour Figeac is made by Christine Derenoncourt, the wife of Stephane Derenoncourt. In 2010, the apple does not fall far from the tree with this wine 75% Merlot and 25% Cabernet Franc blend. Licorice, spice, jammy black cherry aromas open to a suave, lush, fennel, spice and ripe dark berry finish. 91-93

5,488 Views

Tasted

Apr 22, 2011

2009
Château La Tour Figeac (St. Émilion Grand Cru)

Truffle, spice, mushroom, black pepper, jammy blackberries, full bodied, filled with ripe dark fruit, round tannins and a soft, plush, red and black fruit filled finish.

5,454 Views

Tasted

Jul 16, 2011

2009 La Tour Figeac is made by Christine Derenoncourt. Soils are a mix of gravel and sandy clay atop a subsoil of rich clay. This estate is biodynamically farmed. The La Tour Figeac, 78% merlot and the rest cabernet franc, expresses mineral, floral, and jammy berry notes in its perfume. This fleshy, round textured wine ends with spicy berry and anise flavors. 89-91 Pts

4,733 Views

Tasted

Jun 29, 2010

2008
Château La Tour Figeac (St. Émilion Grand Cru)

08 Château La Tour Figeac is a treat, with its juicy style and ample black cherry, plum, and licorice personality. The opulent texture adds to the experience. It should drink well young. 88-90 Pts

4,980 Views

Tasted

Jul 1, 2009

2005
Château La Tour Figeac (St. Émilion Grand Cru)

The entry is plush, rich and soft. Aromatics were enough to keep me interested, but, I'd like to see this wine in another 5 years to learn how well the oak bonded with the wine.

6,323 Views

Tasted

Jan 20, 2008

2000
Château La Tour Figeac (St. Émilion Grand Cru)

Fully mature, the wine is medium bodied and on the elegant, finesse side of the style range, focusing on its floral, cherry pipe tobacco, thyme and truffle nose. Soft, ripe, cherries are all over the finish. There is no need to age this further. The wine was produced from blending 60% Merlot with 40% Cabernet Franc.

2,938 Views

Tasted

Nov 13, 2017