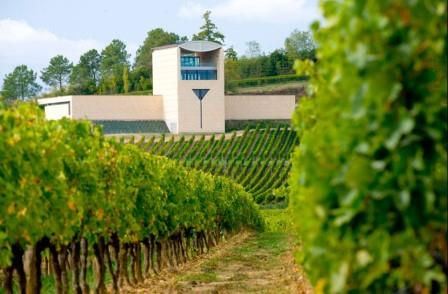 Learn everything about Chateau Faugeres St. Emilion with wine tasting notes and wine with food pairing tips. Learn all the best vintages, the history of the property, and information on the vineyards and winemaking. If you want to read about other important, Bordeaux Chateaux: Links to all Bordeaux Wine Producer Profiles
Chateau Faugeres History, Overview
Chateau Faugeres has a long history in St. Emilion dating back to 1619 when the vineyard was cultivated by Andre de Faugeres, which as you can see is where the property takes its name from.
In 1987, the vineyards were taken over by the Guisez family who was direct descendants of the Esquissaud family who had owned the property since 1823. Under the direction of Pierre-Bernard Guisez and his wife Corinne Guisez, Chateau Faugeres began improving their work in the vineyards and in the cellars.
This soon began to pay off, as the winery started gaining notoriety with critics and consumers. However, Chateau Faugeres did not take off until Silvio Denz purchased Chateau Faugeres in 2005 from Corinne Guisez. Silvio Denz made the decision to buy the vineyard with the help and advice of Stephan von Neipperg, who also consults on the vineyard at Chateau Faugeres along with Michel Rolland.
Before Silvio Denz decided to produce Bordeaux wine, he was in the perfume business, which is where he made his fortune. Silvio Denz also owns Lalique as well as other wineries in Bordeaux, Spain, and Italy.
Aside from Chateau Faugeres,in Bordeaux, Silvio Denzo also owns Peby Faugeres in Saint Emilion and Cap de Faugeres in the Cotes de Castillon appellation.
In 2009, Silvio Denz finished a complete renovation of Chateau Faugeres. The architecturally stunning, state-of-the-art winery, designed by Mario Botta, is one the most modern, Bordeaux wine-making facilities in the Right Bank.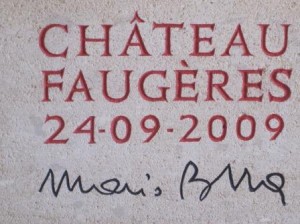 Chateau Faugeres Vineyards, Terroir, Grapes, Winemaking
The large 49-hectare vineyard of Chateau Faugeres is planted to 85% Merlot, 10% Cabernet Franc and 5% Cabernet Sauvignon. Out of their 49 hectares, 37 hectares are cultivated with vines. The remainder of the property is reserved for verdant rolling hills, gardens, and parkland.
The vines are old, with an average age of 35 years. The vineyard has a small parcel of 100% old vine Merlot that is culled away specifically for the production of Chateau Peby Faugeres.
The terroir of Chateau Faugeres is mostly clay and limestone soils with gentle slopes and a slightly cooler micro-climate, lending its vineyard to later harvesting times. Their best terroir is on the plateau which rises to 80 meters at its peak.
A lot of work in the vines takes place to produce Chateau Faugeres, which includes debudding, crop-thinning, and leaf pulling. Vineyard management is focused on sustainable farming techniques at Chateau Faugeres. The vineyard recently earned the ISO, 14001 ranking.
Chateau Faugeres is located on the edge of the Saint Emilion, Castillon plateau, not far from Valandraud, Chateau Fleur Cardinal, Chateau de Pressac, and Rol Valentin. For another reference point, this is due east of the Saint Emilion village, close to the Cotes de Castillon border.
In fact, a portion of their vineyard resides in the Cotes de Bordeaux appellation. Those vines are used to produce Cap de Faugeres. Essentially three wines are produced from their vines in Saint Emilion; Chateau Faugeres, Peby Faugeres, and Haut Faugeres.
To produce the wine of Chateau Faugeres, grapes are whole berry fermented after they undergo a 5-day cold soak at 12 degrees Celsius. Alcoholic fermentation takes place in new, temperature-controlled, gleaming, stainless steel tanks that vary in size from 80 hectoliters up to 152 hectoliters. Everything in the cellar is fed by gravity flow.
Malolactic fermentation takes place in a combination of new and used French oak barrels. The wine of Chateau Faugeres is aged in 50% new, French oak barrels for 14 months. During that time, the wine is aged on its post-malolactic lees for 4 months.
The best vintages of Chateau Faugeres are: 2022, 2021, 2020, 2019, 2018, 2017, 2016, 2015, 2014, 2010, 2009, 2008, 2005 and 2000.
Close to 15,000 cases of Chateau Faugeres are produced each vintage. There is a second wine, Haut Faugeres. Chateau Faugeres also produced a small quantity of white Bordeaux wine from 1.65 hectares of vines planted with equal parts Sauvignon Blanc, Semillon, and Sauvignon Gris. However that wine is no longer in production. The last vintage was 2020.
When to Drink Chateau Faugeres, Anticipated Maturity, Decanting Time
Chateau Faugeres is much better with at least 6-8 years of aging in good vintages. Young vintages can be decanted for 1-2 hours or more.
This allows the wine to soften and open its perfume. Older vintages might need very little decanting, just enough to remove the sediment. Chateau Faugeres offers its best drinking and should reach peak maturity between 8-20 years of age after the vintage.
Serving Chateau Faugeres with Wine, and Food Pairing Tips
Chateau Faugeres is best served at 15.5 degrees Celsius, 60 degrees Fahrenheit. The cool, almost cellar temperature gives the wine more freshness and lift.
Chateau Faugeres is best served with all types of classic meat dishes, veal, pork, beef, lamb, duck, game, roast chicken, roasted, braised, and grilled dishes. Chateau Faugeres is a perfect match with Asian dishes, hearty fish courses like tuna, mushrooms, and pasta as well as cheese.
Château Faugères Wine Tasting Notes
19 Vintages 81,001 Views Sort by Vintage-Rating
2022
Château Faugères (St. Émilion Grand Cru)

Black fruit, flowers, chocolate, plums, and mocha shine in the nose. The palate displays more of those lusciously-textured, black cherries, plums, and chocolate. The wine is rich, creamy, long and sweet, with vibrancy, energy, and a touch of savory herbs on the backend. The wine blends 70% Merlot, 25% Cabernet Franc and 5% Cabernet Sauvignon. 14.5% ABV. Drink from 2024-2045. 92-94 Pts.

695 Views

Tasted

May 8, 2023

2021
Château Faugères (St. Émilion Grand Cru)

Medium-bodied, soft, fresh and silky, with layers of sweet, juicy, dark plums, black cherries, mocha and espresso. Lush and refined, the wine finishes with espresso, dark cocoa and deep, ripe, sweet pit fruits with a sprig of mint in the endnote. The harvest took place September 29 - October 15. Drink from 2023-2037. 91-93

1,122 Views

Tasted

May 20, 2022

2020
Château Faugères (St. Émilion Grand Cru)

Truffles, cocoa, dark red fruits, licorice and spice create a perfume that wants to get noticed. On the palate, the wine is rich, lush, concentrated, deep and polished. Yet, it is balanced by its freshness, lift and elegance that makes everything work here from start to the vibrant, cocoa, plum and spice-box finish. Drink from 2024-2040.

493 Views

Tasted

Mar 21, 2023

Dark in color, the black cherry, flower, licorice, plum liqueur and espresso nose jumps out in front. On the palate, the wine is opulent, rich, full-bodied, deep and concentrated. The perfectly ripe fruit is dark, opulent and polished with velvety textures, length and volume on the mid-palate and finish. 93-95 Pts

2,545 Views

Tasted

May 20, 2021

2020
Château Faugères Blanc (Bordeaux)

Juicy lemons and white flowers open the nose, while on the palate, the wine is all about its core of sweet, white peaches, apricots and creamy lemon chiffon. Drink from 2023-2030.

988 Views

Tasted

Mar 21, 2023

2019
Château Faugères (St. Émilion Grand Cru)

Deeply colored, the wine is fresh, vibrant and rich. The fruit blends black cherries, plums and strawberry with dried flowers, forest leaves and spice. Plushly-textured, long and packed with loads of ripe, sweet, dark red fruits, chocolate, licorice and spice, the soft, polished finish tastes and feels great. Drink from 2023-2038.

1,573 Views

Tasted

Mar 29, 2022

Dark in color, the wine is packed with round, fat fruits, licorice and soft tannins. The mid-palate and endnotes come with a ripe, sweet, fruity finish that carries on nicely. This wine is forward in style and should be great to enjoy close to its release. The wine was made from a blend of 70% Merlot, 21% Cabernet Franc and 9% Cabernet Sauvignon. 91-93 Pts

2,807 Views

Tasted

Jun 8, 2020

2018
Château Faugères (St. Émilion Grand Cru)

Dark in color, the wine instantly hits you with licorice, chocolate covered cherries, plums, smoke and espresso. Lush, polished, rich and velvety, there is good density, lift and length here. This wine is forward in style and should be great to enjoy with just a few years of age, if you can keep your hands off it for that long. The wine was made from a blend of 70% Merlot, 21% Cabernet Franc and 9% Cabernet Sauvignon.

1,976 Views

Tasted

Mar 9, 2021

2017
Château Faugères (St. Émilion Grand Cru)

Fleshy and plush, round and rich, this wine is sweet, fruity, forward and should be great close to its release. The wine was made from a blend of 85% Merlot, 10% Cabernet Franc and 5% Cabernet Sauvignon.

2,589 Views

Tasted

Apr 26, 2018

2016
Château Faugères (St. Émilion Grand Cru)

Espresso, smoke, licorice, wet earth and ripe, luscious deep red fruits are all over the place. The wine concentrated, full, is rich, juicy and round textured, with staying power on your palate.

1,743 Views

Tasted

Sep 21, 2019

Made from 85% Merlot, 10% Cabernet Franc and 5% Cabernet Sauvignon, the wine opens with lusciously textured, very ripe, chewy dark plums. Stand by for sweetness, freshness and length.

2,518 Views

Tasted

Apr 29, 2017

2015
Château Faugères (St. Émilion Grand Cru)

Fruity, fleshy and fresh, this combines perfectly ripe, opulently textured, red and black fruits, velvet textures and a long end note of licorice, espresso, ripe black plums and black cherry, with a bit of cocoa on top of the fruit. Round, fat, juicy, sweet, ripe, dark red fruits, cocoa, anise, smoke and plums are made even better with the lushly textured mouth feel, silky tannins and sweet, ripe, polished fruits in the finish.

3,048 Views

Tasted

May 21, 2018

With more silk on the tannins, additional layers of fruit and complexity, this should easily hit the top of my barrel scores with its round, fat, juicy, sweet, ripe, dark red fruits, cocoa, anise, smoke and plums. The lushly textured finish leaves an impression.

3,484 Views

Tasted

Jul 12, 2017

Round, fat, juicy, sweet, ripe, dark red fruits, cocoa, anise, smoke and plums are made even better with the lushly textured mouth feel, silky tannins and sweet, ripe, polished fruits in the finish. The wine is made from a blend of 80% Merlot, 15 Cabernet Franc and 5% Cabernet Sauvignon. 91-93 Pts

3,694 Views

Tasted

Apr 29, 2016

2014
Château Faugères (St. Émilion Grand Cru)

The wine is approachable and easy to like. Lush, forward and filled with ripe, juicy plum, chocolate-covered cherry and licorice tones. 90-91 Pts

4,927 Views

Tasted

Apr 27, 2015

2013
Château Faugères (St. Émilion Grand Cru)

Light in color and medium bodied with good freshness in the soft strawberry and cherry finish. Drink this bright wine on the young side to get the most from its fruit, as this is not built for aging. 87-89 Pts

2,594 Views

Tasted

Apr 28, 2014

2012
Château Faugères (St. Émilion Grand Cru)

Soft, ripe, sweet and easy drinking, with silky tannins, forward in style, ending with a ripe, dark cherry and licorice finish.

2,665 Views

Tasted

May 15, 2015

2011
Château Faugères (St. Émilion Grand Cru)

Medium bodied, forward, easy drinking, soft, open and charming. There is no need for long decanting or aging here, just pop, pour and enjoy.

2,638 Views

Tasted

Nov 14, 2017

Medium bodied, soft, polished and open, the wine serves up licorice and black cherries in the nose and on the palate.

3,352 Views

Tasted

Nov 17, 2013

From 85% Merlot, 10% Cabernet Franc and 5% Cabernet Franc, the wine is aged in 50% new oak. This medium-bodied wine displays floral, red plum , licorice and earthy aromas and ends with a light red berry finish. 89-90 Pts

3,804 Views

Tasted

Apr 24, 2012

2010
Château Faugères (St. Émilion Grand Cru)

Faugeres From a blend of 85% merlot, 10% cabernet franc and 5% cabernet sauvignon, the wine will be aged in 50% new oak for about 14 months. Licorice, bitter chocolate, boysenberry aromatics, plush, soft, round textures and a ripe, chocolate and black cherry finish are found in this wine. 90-91 Pts

4,026 Views

Tasted

Apr 22, 2011

2009
Château Faugères (St. Émilion Grand Cru)

Lush textures, licorice, espresso, black cherries, plum, cocoa and truffle scents and an opulent, forward, sensuous finish are already on full display.

4,078 Views

Tasted

May 19, 2013

2008
Château Faugères (St. Émilion Grand Cru)

Fully mature, the wine combines truffle and earthy nuances with smoky dark fruits. The wine shows some strict characteristics in the tannins, so you might want to give it an hour of air, and pop your corks over the next few years. Round, fat, juicy, sweet, ripe, dark red fruits, cocoa, anise, smoke and plums are made even better with the lushly textured mouth feel, silky tannins and sweet, ripe, polished fruits in the finish.

1,922 Views

Tasted

Sep 17, 2018

08 Château Faugeres starts off with a truffle nose intermingled with oak and black fruits. This medium/full bodied, elegantly styled wine will offer pleasure at a young age. The wine finishes with silky, jammy black berry flavors. Owner Silvio Denz unveiled his new, show stopping wine making facilities in September 2009. 89-91 Pts

4,169 Views

Tasted

Jul 1, 2009

2005
Château Faugères (St. Émilion Grand Cru)

Lush, round and silky, with loads of ripe, black cherry, cocoa and earthy tones, the wine ends with sweet, dark red fruits and chocolate. This is ready from prime time drinking.

4,032 Views

Tasted

Jun 28, 2015

The power trio of Michel Rolland, Stephan von Neipperg and Silvio Denz produced a solid wine in 2005. Still deep in color, with licorice, coffee, blackberry, blueberry, stone and chocolate covered cherries, this is a sensuous, deep, rich, opulent, lush, modern style of St. Emilion wine that has offered pleasure from the moment it was bottled. There is a lot to like here and it's still fairly priced.

5,566 Views

Tasted

Nov 1, 2011

2000
Château Faugères (St. Émilion Grand Cru)

Drinking perfectly today, the wine offers all its soft, round textured charms with layers of licorice, coffee bean, black cherries, earth, anise and spice. There is no need to age this wine any longer.

4,313 Views

Tasted

May 19, 2013

1998
Château Faugères (St. Émilion Grand Cru)

Fully mature, the wine is round open and ready for prime time drinking, thanks to its easily accessible, licorice, black cherry, chocolate, earthy character and lushly textured finish. There is no reason to hold this for further evolution.

3,640 Views

Tasted

Feb 20, 2018