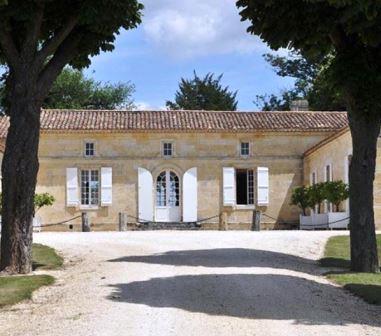 Learn everything about Chateau Trotte Vieille St. Emilion, Premier Grand Cru Classe B with wine tasting notes, and wine with food pairing tips. Learn all the best vintages, a history of the property, information on the vineyards, and winemaking. If you want to read about other important, Bordeaux Chateaux: Links to all Bordeaux Wine Producer Profiles
Chateau Trotte Vieille History, Overview
Chateau Trotte Vieille is one of the oldest properties in Saint Emilion. In fact, documents are clearly able to date the formation of the estate all the way back to 1453!
While some properties in Saint Emilion were around at that time, most were not producing wine. That is not the case here. There are ancient manuscripts that make mention of the vineyards and that wine was already being produced by Trotte Vieille in 1453.
Trotte Vieille is an interesting name. As it did not come from a previous owner or the commune where the vines are planted, what is the origin? While we cannot be sure, the legend that is repeated today states; there was an elderly lady back in the 14th century who was quite the busybody.
She delighted in knowing everything about everyone in her village. She would walk over to where the stagecoaches stopped after departing from Bordeaux and she'd rush to the coaches to learn of some news. This act caused the residents of Saint Emilion to name her, "old trot", or in modern times, Trottevieille.
Jumping into the modern era for Chateau Trotte Vieille, in 1949, Marcel Borie, one of the principals of the well-known, Bordeaux negociant, Borie-Manoux, gave the Saint Emilion vineyard to his son in law, Emile Casteja.
The Casteja family owns several vineyards in Bordeaux including Chateau Lynch-Moussas and Chateau Batailley in Pauillac and Domaine-de-LEglise in Pomerol. Philippe Casteja remains in charge of Chateau Trotte Vieille.
Chateau Trotte Vieille Vineyards, Terroir, Grapes, Winemaking
The 33 hectare vineyard of Chateau Trotte Vieille is planted to 50% Merlot, 46% Cabernet Franc and 4% Cabernet Sauvignon. The vineyard is in 1 single block, which is not common. Chateau Trotte Vieille has a terroir of clay and limestone soils.
Located just east of the village, the vineyards are not far from Troplong Mondot or Pavie Macquin. The vine density is 7,500 vines per hectare.
The vineyard has old vines that are on average, close to 50 years old. However, the estate has some very old vines. One parcel has vines that are more than 100 years old! Some of the vines are even pre-phylloxera, making them among the oldest vines in the Right Bank! Most of their oldest vines are planted to Cabernet Franc.
Chateau Trotte Vieille maintains some of the oldest vines for producing Bordeaux wine in the right bank. In fact, several of these old vines are pre-phylloxera. That means some of their vines are over 150 years old!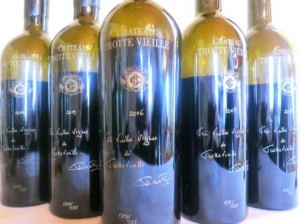 In fact, starting with the 2004 vintage, Chateau Trotte Vieille began producing a small amount of wine made from their oldest vines.
This unique 100% old vine, Cabernet Franc wine, "Les Vieilles Vignes du Chateau Trotte Vieille" is not commercially available as it's produced in such small amounts. 135 hand-etched bottles are produced each vintage, making this the rarest wine made in Bordeaux today. The wine is aged in 100% new, French oak barrels.
Chateau Trotte Vieille previously employed two consultants, Gilles Pauquet and Denis Dubourdieu. However, that changed. The estate now uses the advice of Thomas Duclos.
To produce the wine of Chateau Trotte Vieille, the vinification takes place in traditional, concrete vats. The wines are aged in an average of 98% new, French oak barrels for between 12 and 18 months. The chateau produces about 12,000 cases of Bordeaux wine per year. There is a second wine, La Vieille Dame de Trotte Vieille, which made its debut with the 2000 vintage.
The best vintages of Chateau Trotte Vieille are: 2022, 2021, 2020, 2019, 2018, 2017, 2016, 2015, 2010, 2009, 2005 and 2000. However, since 2018, the wines produced at Trotte Vieille have never been better! In fact, 2020 is the best vintage produced in the history of the estate!
When to Drink Chateau Trotte Vieille, Anticipated Maturity, Decanting Time
Chateau Trotte Vieille is much better with at least 7-9 years of aging in good vintages. Young vintages can be decanted for 1-2 hours or more. This allows the wine to soften and open its perfume.
Older vintages might need very little decanting, just enough to remove the sediment. Chateau Trotte Vieille offers its best drinking and should reach peak maturity between 8-25 years of age after the vintage.
Serving Chateau Trotte Vieille with Wine, Food, Pairing Tips
Chateau Trotte Vieille is best served at 15.5 degrees Celsius, 60 degrees Fahrenheit. The cool, almost cellar temperature gives the wine more freshness and lift.
Chateau Trotte Vieille is best served with all types of classic meat dishes, veal, pork, beef, lamb, duck, game, roast chicken, roasted, braised, and grilled dishes and hearty fish courses like tuna, pasta, risotto, and a wide variety of hard and soft cheeses.
Château Trotte Vieille Wine Tasting Notes
32 Vintages 120,836 Views Sort by Vintage-Rating
2022
Château Trotte Vieille (St. Émilion Grand Cru)

Almost opaque in color, the wine pops with black cherries, tobacco leaf, flowers, plums, smoke, and chocolate in the aromatics. The palate is silky, vibrant, and plush. The fruits are deep, intense, long, vibrant, and most importantly, pure. There is length, complexity, opulence, balance and a strong sensation of crushed stones, blackberries, chocolate, and plums in the finish you can taste and feel. TrotteVieille has been on an incredible roll lately. Perhaps, with the aid of their new cellars, this is the best vintage in the history of the estate! The wine blends 50% Cabernet Franc, 45% Merlot, and 5% Cabernet Sauvignon.14.5% ABV. The harvest took place September 8 - September 27. Yields were 30 hectoliters per hectare. Drink from 2027-2055. 96-98 Pts.

1,078 Views

Tasted

May 8, 2023

2022
Dame de Trotte Vieille (St. Émilion Grand Cru)

Floral, soft, fruity, medium-bodied, plummy wine with touches of spice, black cherries, and freshness is already a pleasure to enjoy. This is prefect to order in a bistro or café, as it it going to be ready to go on release. The wine blends 55% Merlot with 45% Cabernet Franc. Drink from 2025-2035. 89-91 Pts.

848 Views

Tasted

May 8, 2023

2021
Château Trotte Vieille (St. Émilion Grand Cru)

Deeply colored, you find flowers, cedar, forest leaf, espresso and dark red fruits. The palate offers richness, freshness, opulent tannins, and purity in the fruits. Elegant, bright and supple, the finish lingers and builds on your palate. The wine blends 54% Cabernet Franc, 45% Merlot, and 1% Cabernet Sauvignon. 14% ABV. The harvest took place September 27 October 14. This is the first vintage made in the new cellars, which allows for parcel by parcel vinification. Drink from 2025-2055. 95-97

2,261 Views

Tasted

May 20, 2022

2021
Dame de Trotte Vieille (St. Émilion Grand Cru)

Soft, medium-bodied, forward and fresh with loads of red plums and a touch of cocoa on the backend, this will be quite easy to enjoy on release while waiting for the Grand Vin to mature. Drink from 2023-2027. 87-89

1,515 Views

Tasted

May 20, 2022

2020
Château Trotte Vieille (St. Émilion Grand Cru)

With a serious depth of color, the wine pops from the glass with its array of flowers, black, red and blue fruits, chocolate, licorice, Indian spices and oceanic fragrances. The wine is full-bodied, rich, concentrated and intense, with lusciously-textured layers of perfectly black and red fruits, crushed rocks, chocolate and espresso on the mid-palate that stick with you through to the finish. This is simply stunning from start to finish. With all of its ripe fruits, it will be fabulous in its youth, but it has serious aging potential. Drink from 2025-2050.

1,364 Views

Tasted

Mar 21, 2023

Deeply colored, the wine jumps from the glass with flowers, licorice, chocolate, spice-box, black cherry, plum liqueur and crushed stone nuances in the perfume. Full-bodied, velvet-textured, silky and vibrant, the finish has real staying power, purity and energy, leaving you with layers of chocolate-coated plums, espresso, spice and herbs on the backend. Concentrated, long and deep, give this 7-8 years in the cellar and it is really going to rock. 95-97 Pts

2,914 Views

Tasted

May 20, 2021

2020
La Vieille Dame de Trotte Vieille (St. Émilion Grand Cru)

The wine is forward, bright, crisp, fresh, juicy and sweet. It is medium bodied with a core of red plums, licorice, cocoa and spicy kirsch with soft textures that is going to be just great on release. 88-90 Pts

2,041 Views

Tasted

May 20, 2021

2019
Château Trotte Vieille (St. Émilion Grand Cru)

Perfectly ripe black cherries, plums and blackberries show up with just a little bit of effort before you get to all the licorice, wet earth, mocha and chocolate subtleties. Medium/full-bodied, vibrant, lifted, long and elegant, there is the structure to age and evolve for decades, which is a good thing, because it will take some time for the wines mineral essences, spice and floral notes to fully develop. Drink from 2025-2050.

2,482 Views

Tasted

Mar 29, 2022

Dark garnet in hue, the wine is full-bodied, concentrated and intense. The unique sensation of minerality is on full display here with all its rocks, stones and oceanic character. The fruit is vibrant, round, sweet, long and clean. Everything is in harmony here. The complex aromatic's along with the richly textured, concentrated mouthfeel, silky tannins and long finish is just great. Give it 7-9 years of aging before pulling a cork and enjoy it over the next 20 years or so. Made from a blend of 49% Cabernet Franc, 48% Merlot and 3% Cabernet Sauvignon. 94-96 Pts

3,937 Views

Tasted

Jun 8, 2020

2018
Château Trotte Vieille (St. Émilion Grand Cru)

2018 marks the year Trottte Vieille really upped their game. From the initial floral centric notes on the nose, you move to the palate with its velvety textured, multiple layers of sweet, lush, pure, silky red fruits, touch of oak, herbs and licorice and a sensuous finish. This is just great in every way. Much better in bottle than in barrel, this is going to offer fabulous drinking for 2-3 decades with ease. I am certain this is the finest wine ever produced from Chateau Trotte Vieille. The wine was made from blending 54% Cabernet Franc, 44% Merlot and 2% Cabernet Sauvignon, 14% ABV.

2,644 Views

Tasted

Mar 9, 2021

Trottte Vieille has really upped their game this year. The wine is more distinctive with better concentration and focus. The ripe, lush plums, minerality, underbrush, spice, licorice and smoke show the aromatic complexity. On the palate the wine is elegant, rich and sensuous. I am certain this is the finest wine ever produced from Chateau Trotte Vieille. The wine was made from blending 54% Cabernet Franc, 44% Merlot and 2% Cabernet Sauvignon, reaching 14% ABV. The harvest took place September 20 - October 5. 94-96 Pts

2,499 Views

Tasted

Apr 19, 2019

2018
La Vieille Dame de Trotte Vieille (St. Émilion Grand Cru)

Medium bodied, fresh, bright and earthy, with soft textures, an open forward approach and a charming, cherry and licorice finish. 88-90 Pts

3,279 Views

Tasted

Apr 19, 2019

2017
Château Trotte Vieille (St. Émilion Grand Cru)

Elegant, soft, fresh and refined, there is an energy to the medium/full bodied layers of black cherries that stands out. Made from a blend of 56% Cabernet Franc, 43% Merlot and 1% Cabernet Sauvignon, the wine offers a distinctive note of flowers, red berries, espresso and forest notes. The slightly higher percentage of Cabernet Franc in the blend is due to the damage from the frost.

2,497 Views

Tasted

Apr 26, 2018

2016
Château Trotte Vieille (St. Émilion Grand Cru)

Elegant, fresh, lively, medium/full bodied and loaded with ripe, sweet, juicy, red and black fruits with staying power, this is one of the best vintages of Trotte Vieille ever produced. The wine is made from blending 53% Cabernet Franc, 45% Merlot and 2% Cabernet Sauvignon.

2,682 Views

Tasted

Sep 21, 2019

Fresh, sweet round fruits, licorice, juicy black cherries and silky polished tannins, this is the blend that works extremely well for Trotte Vielle. The wine was produced from 53% Cabernet Franc, 45% Merlot and 2% Cabernet Sauvignon, reaching 13.5% ABV. The harvest began October 6, finishing October 21.

3,470 Views

Tasted

Apr 29, 2017

2015
Château Trotte Vieille (St. Émilion Grand Cru)

Another wine that is better from bottle than the barrel, the wine has richness, chocolate covered red fruits, licorice, and espresso. The texture is soft, polished and caressing, the fruit has ripeness, elegance and flesh. There is length in the sweet, fruity finish. This is the best vintage of Trotte Vieille I have ever tasted!

4,860 Views

Tasted

May 21, 2018

Licorice, sweet cherries, flowers and bitter chocolate open the nose. On the palate, this wine is plush, polished and fruity with freshness and character. The wine was produced from a blend of 49% Merlot, 49% Cabernet Franc and 2% Cabernet Sauvignon. The harvest took place from September 28 to October 9. The is aged in 100% new, French oak barrels. If this puts on a bit more weight during the aging process, it could easily merit a higher score.

4,774 Views

Tasted

Apr 29, 2016

2014
Château Trotte Vieille (St. Émilion Grand Cru)

Medium-bodied, soft, red and dark fruits, flowers, and earthy notes on the nose. The wine is soft, forward and delicate, making it a candidate for early drinking.

2,131 Views

Tasted

Jun 25, 2017

2013
Château Trotte Vieille (St. Émilion Grand Cru)

Medium-bodied with an oak, red cherry and black raspberry nose, this lighter style of St. Emilion, produced from a blend of 50% Merlot, 45% Cabernet Franc and 5% Cabernet Sauvignon should offer pleasure on release. 88-90 Pts

2,365 Views

Tasted

Apr 29, 2014

2012
Château Trotte Vieille (St. Émilion Grand Cru)

Medium bodied, with a combination of leafy forest scents, flowers and plums, with a hint of tobacco and earth, the wine is on the elegant, refined, classic side, finishing with bright, red, earthy fruits.

3,485 Views

Tasted

Nov 14, 2017

Blending 49% Merlot, 48% Cabernet Franc and 3% Cabernet Sauvignon, the wine opens with earth, spice and black raspberries. Medium bodied and fresh, in a classic style, the wine ends with soft cherry fruits and a bright finish. 89-91 Pts

3,406 Views

Tasted

Apr 26, 2013

2011
Château Trotte Vieille (St. Émilion Grand Cru)

With a high percentage of Cabernet Franc at 48%, 50% Merlot and 2% Cabernet Sauvignon, this wine is light ruby in color with a lighter style of St Emilion featuring finesse and a kirsch-filled finish. 88-90 Pts

2,703 Views

Tasted

Apr 24, 2012

2010
Château Trotte Vieille (St. Émilion Grand Cru)

Medium bodied, elegant soft and silky, the plums and cherries are ripe, fresh and sweet. A few more years of aging will add even more secondary characteristics to the truffle, spice and floral notes already found here.

3,107 Views

Tasted

Nov 14, 2017

Dominated by Cabernet Franc at 58%, the rest of the is Merlot. This medium bodied, plum and black raspberry filled wine offers a spicy, floral personality that is probably more interesting on the nose than on the finesse styled palate. The wine reached 14% ABV and was the product over very low yields which added to the wines concentration and texture.

4,932 Views

Tasted

May 8, 2013

Trotteville, Using a high percentage of Cabernet Franc in the blend at 58%, with the remainder being Merlot, the perfume opens with floral, chocolate mint, fennel, stone and red with black fruit aromas. Medium bodied, the wine ends with an elegant, soft, licorice and red plum finish, 90-92 Pts

2,293 Views

Tasted

Apr 22, 2011

2009
Château Trotte Vieille (St. Émilion Grand Cru)

Medium-bodied and open for business, the floral nature comes out first, before moving to the fresh, earthy red fruits, licorice and truffle. Soft and fresh, with good energy from start to finish, you can drink this now and over the next decade easily.

1,168 Views

Tasted

Sep 26, 2019

The floral nose is packed with earth, spice, smoke, licorice and blackberry. Rich, deep, concentrated and fresh, there is a nice sense of purity to the fruit. The wine was produced from a blend of 60% Cabernet Franc and 40% Merlot.

3,494 Views

Tasted

May 19, 2013

2008
Les Vieilles Vignes du Château TrotteVieille (St. Émilion Grand Cru)

Medium bodied, with a spicy, floral, red berry personality, this scarce wine is soft, polished and filled with sweet cherries, earth and stone.

1,496 Views

Tasted

May 19, 2013

2008
Château Trotte Vieille (St. Émilion Grand Cru)

Blending 50% Merlot, 47% Cabernet Franc and 3% Cabernet Sauvignon produced a medium bodied, sharp, fresh wine which focuses on red berries and herbs ending with bright, sweet and tart fruits in the finish.

5,840 Views

Tasted

May 19, 2013

2007
Les Vieilles Vignes du Château TrotteVieille (St. Émilion Grand Cru)

Spicy, floral, leaf, herb, and raspberry notes open to a soft, fresh, tart, wine finishing with a bright, fresh, wild strawberry sensations.

1,256 Views

Tasted

May 19, 2013

2007
Château Trotte Vieille (St. Émilion Grand Cru)

Mature in the nose and the color, the wine is light and drinking at peak. The spicy red berries are already starting to fade.

4,593 Views

Tasted

May 19, 2013

2006
Les Vieilles Vignes du Château TrotteVieille (St. Émilion Grand Cru)

Flowers, earth, smoky tobacco and fresh berry notes open to a mineral driven wine with a lot of stone in the bright, fresh, red berry finish.

2,019 Views

Tasted

May 19, 2013

2006
Château Trotte Vieille (St. Émilion Grand Cru)

Light ruby in color, dominated by Cabernet Franc, the wine has tobacco, earth, herbs and red berries that make up its personality. Medium bodied and already showing well, the finish is marred by a dry sensation in the ending.

3,915 Views

Tasted

May 19, 2013

2005
Château Trotte Vieille (St. Émilion Grand Cru)

Medium bodied, with soft textures and a complex perfume set off by notes of licorice, earth, black cherries, plum and truffle notes, there is a nice sensation of mineral and herbs before you get to the soft, plum and cherry filled finish.

3,653 Views

Tasted

May 19, 2013

Filled with scents of licorice, plums, coffee, cocoa, spice and black raspberries, this soft textured, lush, sweet, St. Emilion ends with a long, fresh, supple, blackberry and spicy, red plum finish. A few more years will add a lot to this wine.

4,360 Views

Tasted

Sep 16, 2011

2005
Les Vieilles Vignes du Château TrotteVieille (St. Émilion Grand Cru)

Herbs, fresh raspberries, stone, forest and mineral notes create the nose. Medium/full bodied with spicy, red berries and earth in the mouth, this is a fascinating wine to taste as it was produced using 100% Cabernet Franc from pre phylloxera vines .

1,732 Views

Tasted

May 19, 2013

2004
Château Trotte Vieille (St. Émilion Grand Cru)

Showing maturity in the color, the wine offers earth, spice, forest and black cherry scents. Medium bodied and ready to drink, this easy to like, round wine should be enjoyed sooner than later to preserve its fruit.

2,828 Views

Tasted

May 19, 2013

2004
Les Vieilles Vignes du Château TrotteVieille (St. Émilion Grand Cru)

The debut vintage of this unique old vine project from Chateau Trotte Vieille pops with fresh herbs flowers, licorice and plum. Medium bodied, soft, sweet and mineral driven, this was a lot of fun to taste as it was produced from 100% old vine Cabernet Franc.

1,219 Views

Tasted

May 19, 2013

2003
Château Trotte Vieille (St. Émilion Grand Cru)

Light, soft and lacking a depth of fruit, this red fruit and jam dominated wine requires drinking.

4,914 Views

Tasted

Dec 18, 2013

2001
Château Trotte Vieille (St. Émilion Grand Cru)

Light, elegant, soft, fresh and fully mature, the wine focuses on its lifted red plums. white cherries, wet earth, flowers, thyme and cigar box profile. There is no reason to age this any longer.

1,939 Views

Tasted

Sep 17, 2020

2000
Château Trotte Vieille (St. Émilion Grand Cru)

Fully mature, simple, easy to like black cherry, earth stone filled wine that should be drunk up sooner than later.

4,070 Views

Tasted

May 19, 2013

1998
Château Trotte Vieille (St. Émilion Grand Cru)

Fully mature, medium bodied wine that focuses more on its earthy, floral, cherry and mocha inspired perfume, than on the lighter, palate presence, capped by the earthy, red berry notes in the soft textured finish.

2,773 Views

Tasted

Nov 15, 2017