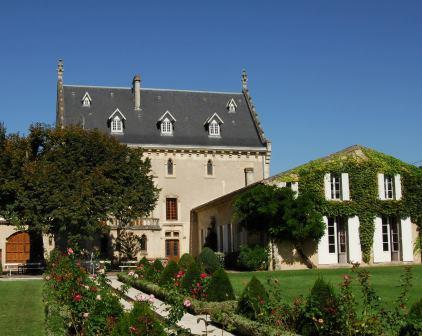 Learn everything about Chateau La Gaffeliere St. Emilion, with wine tasting notes, and wine with food pairing tips. Learn the best vintages, a history of the property, information on the vineyards, and winemaking. If you want to read about other important, Bordeaux Chateaux: Links to all Bordeaux Wine Producer Profiles
Chateau La Gaffeliere History, Overview
Before the modern era of Chateau La Gaffeliere took hold, from all the ruins left behind by the ancient Romans, it is clear vines were cultivated here thousands of years ago.
Chateau La Gaffeliere has the unique distinction of being one of the oldest, family-owned vineyards in the St. Emilion appellation of Bordeaux. The family can trace their roots in the Right Bank all the way back to the 1400s!
The fifteenth-century Bordeaux chateau of La Gaffeliere might not have always been a winery. In fact, the chateau could have been used for a completely different purpose. It is possible that the chateau might have been a gaffeliere. A gaffeliere is translated from ancient French to a leper colony.
While parts of the estate date back to the 11th century, the true beginnings of La Gaffeliere as a winery started with the arrival of the Comte de Malet-Roquefort in the 17th century. They are responsible for the unique, Gothic-styled chateau that is easily visible from the main road leading to the Saint Emilion village.
By the 18th century, Chateau La Gaffeliere had earned a reputation for producing high-quality, St. Emilion wine. At some point in time, the vineyard was split with some of the land shifting to what became Canon La Gaffeliere, located just down the road.
Under the Malet-Roquefort family, for a period of time, the estate was known as La Gaffeliere Naudes. Until 1961, the wines of La Gaffeliere Naudes were outstanding. For consumers seeking older Bordeaux, these can often be found at low prices in the marketplace. Eventually, the estate's name changed and was shortened to just Chateau La Gaffeliere.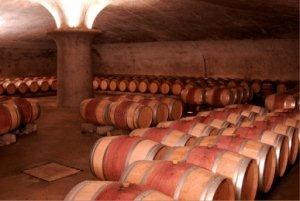 The wines of Chateau La Gaffeliere during the 1980s were moderate at best. It was not their best period, even though at some point during that decade, that is where a young Alexandre Thienpont learned his trade. Alexandre Thienpont is better known for the chateau he owns in Pomerol, Vieux Chateau Certan.
After 1964 the quality of the wines being produced at this Right Bank estate slipped and did not fully recover until Stephane Derenoncourt teamed with the Malet-Roquefort family.
In late 2014, Count Alexandre de Malet Roquefort purchased 13 hectares from the Cassatt family that included Chateau Mauvezin, Domaine de Peyrelongue and Chateau Haut Badon. From those 13 hectares of vines, it is thought that 3 – 4 hectares of vines are of Classified Growth quality. Also in 2014, Chateau La Gaffeliere removed three hectares of its vines for replanting.
On June 1, 2022, just a few months before the official results of the 2022 Saint Emilion classification were publically announced, surprisingly, Chateau La Gaffeliere withdrew their estate from the classification. This was surprising because they almost for sure would have retained their Premier Grand Cru Classe B ranking in the new classification.
Chateau La Gaffeliere Vineyards, Terroir, Grapes, Winemaking
The 38-hectare Saint Emilion vineyard of Chateau La Gaffeliere is planted to 70% Merlot and 30% Cabernet Franc. This is quite different than what you find as recently as the mid-1990s. In those days, the Merlot was only 65% and there was also 10% of the vines devoted to Cabernet Sauvignon. Those vines have since been ripped out and replaced. The Cabernet Franc has been increased as well.
The vineyard has a terroir of clay, limestone, chalk, and sandy soils. Underneath that, you find more clay and limestone on the hillsides. In the flats, you have more sand in the vineyard.
You can easily divide the vineyard of La Gaffeliere into 3 main sections. The best terroir is the 7 hectares of vines on the plateau close to Chateau Ausone and not far from Chateau Belair-Monange.
There is a smaller parcel on flatter land next to Moulin Saint Georges. They have one more parcel, which is their largest holding. It is located across the road from Chateau Pavie at the bottom of the slopes, where you find more gravel, rocks, and sand.
One of these days, I am going to have to ask if they ever make a parcel selection as an experimental wine. The vines are old at an average age of 40 years. The vineyard is planted to a vine density ranging from 6,000 vines per hectare to 9,615 vines per hectare for some of the newer plantings. During the early part of the 1980s, the owners experimented with machine harvesting. That practice has long since been discontinued.
To produce the wine of Chateau La Gaffeliere, vinification takes place in temperature-controlled, stainless steel tanks. The grapes are whole berry fermented. Malolactic fermentation takes place in French oak barrels.
The wine of Chateau La Gaffeliere is aged in an average of 70% to 80% new, French oak barrels, where the wine remains on its lees for about 12 months. In total, the wine spends between 18 to 20 months in barrel, depending on the character and quality of the vintage. On average, slightly more than 4,000 cases of Chateau La Gaffeliere are produced every vintage.
There is a second wine, Clos La Gaffeliere. Since 1995, the Malet-Roquefort family also produces Les Hauts de la Gaffeliere, which is sold as both a Saint Emilion and AOC Bordeaux wine through their Maison Malet Roquefort, negociant company.
Starting with the 2022 vintage, Chateau La Gaffeliere began producing a white Bordeaux wine for the first time in the history of the estate. Produced from 100% Chardonnay, and sold under the appropriately named G Chardonnay, the grapes are planted in one of the coolest sections of the vineyard and aged for 9 months in French oak barrels before bottling. Only 600 bottles are produced.
The Best Vintages of Chateau La Gaffeliere are: 2022, 2021, 2020, 2019, 2018, 2017, 2016, 2015, 2010, 2009 and 2005. I have also enjoyed truly older vintages from 1961, 1955, and even earlier. If you find old vintages, if they are in good shape, they could be worth taking a chance on.
When to Drink Chateau La Gaffeliere, Anticipated Maturity, Decanting Time
Chateau La Gaffeliere is much better with at least 8-12 years of aging in good vintages. Young vintages can be decanted for 2-3 hours or more. This allows the wine to soften and open its perfume.
Older vintages might need very little decanting, just enough to remove the sediment. Chateau La Gaffeliere offers its best drinking and should reach peak maturity between 9-30 years of age after the vintage.
Serving Chateau La Gaffeliere with Wine, Food, Pairing Tips
Chateau La Gaffeliere is best served at 15.5 degrees Celsius, 60 degrees Fahrenheit. The cool, almost cellar temperature gives the wine more freshness and lift.
Chateau La Gaffeliere is best paired with all types of classic meat dishes, veal, pork, beef, lamb, duck, game, roast chicken, roasted braised, and grilled dishes. Chateau La Gaffeliere is also good when matched with Asian dishes, and hearty fish courses like tuna, mushrooms, and pasta.
Château la Gaffelière Wine Tasting Notes
28 Vintages 130,626 Views Sort by Vintage-Rating
2022
Château La Gaffelière (St. Émilion Grand Cru)

Rich, lush, deep and concentrated, the wine is fresh rich and vibrant with layers of sweet, ripe, vibrant, plums, cherries, flowers and crushed stones from start to finish. Drink from 2023-2050. 96-98 Pts.

3,383 Views

Tasted

May 8, 2023

2021
Château La Gaffelière (St. Émilion Grand Cru)

Plummy, polished, soft, and fresh, the floral characteristics in the nose make an impression before you experience the multiple layers of sweet, ripe, juicy, dark plums, espresso, and chocolate in the mid-palate and in the round, soft, silky, long finish. Drink from 2023-2050. 93-95

2,341 Views

Tasted

May 20, 2022

2019
Château La Gaffelière (St. Émilion Grand Cru)

Showing better in the bottle than it did in the barrel, and it was already quite good in barrel, the wine pops with tobacco leaf, flowers, ripe red fruits, espresso, and thyme in the nose. Rich, fresh, vibrant, and with ample flesh and sweetness, the wine finishes with loads of sweet, ripe, dark red and black fruits. Give it a few years in the bottle, and it will really be rocking'! La Gaffeliere has really been on quite a roll since the 2015 vintage. Since 2015, each vintage seems to have gotten just a bit better, and 2019 clearly continues that trend. Drink from 2026-2050.

5,568 Views

Tasted

Jul 3, 2022

Rich, plush, silky-textured wine with layers of ripe, sweet, fresh, juicy, dark red fruits, licorice, earth, smoke and espresso notes. Full-bodied, concentrated and with a round, luscious, fruit-filled finish with ripe, fresh, plums, cherries, thyme, cocoa and crushed rocks in the endnote. The wine is a blend of 60% Merlot and 40% Cabernet Franc. 94-96 Pts

8,186 Views

Tasted

Jun 28, 2020

2018
Château La Gaffelière (St. Émilion Grand Cru)

Lush, polished and pure, the wine has a roundness to the fruit, flesh, silky tannins and a floral, licorice, espresso, cocoa and red pit fruit, plummy finish. 93-95 Pts

5,981 Views

Tasted

Apr 19, 2019

2017
Château La Gaffelière (St. Émilion Grand Cru)

You'll find the stony nature in the wine before moving to the lush, ripe, dark red fruits, licorice and espresso notes. Full bodied and lush, this is tasty now and it is going to be more tasty with six to eight years of bottle age.

2,775 Views

Tasted

Apr 26, 2018

2016
Château La Gaffelière (St. Émilion Grand Cru)

Deep ruby in color, the wine is round, lush, polished, concentrated and fruity, with these great, crushed rock and floral accents.

4,437 Views

Tasted

Sep 21, 2019

Medium bodied, soft polished and fresh, with an earthy, licorice, espresso, smoke and black cherry profile. The finish says as much about the silky tannins, as it does with its dark cherry finish has a nice, dark chocolate finish.

3,655 Views

Tasted

Apr 29, 2017

2015
Château La Gaffelière (St. Émilion Grand Cru)

Silky tannins, soft, polished, ripe sweet, red fruits, flowers, smoke, black licorice, espresso and wet earth are found easily. There is richness, character and length, with time in the cellar, this should add more complexity and nuance.

4,815 Views

Tasted

Mar 12, 2018

Softly-textured, with polished, tannins and a spicy core of dark red fruits, flowers, licorice, earth, juicy, fresh plums and minerality.

3,876 Views

Tasted

Apr 29, 2016

2014
Château La Gaffelière (St. Émilion Grand Cru)

Licorice, earth and dark, fresh plums, this wine is silky, limber and sweet with freshness and finesse in the finish. 91-93 pts

3,133 Views

Tasted

Apr 27, 2015

2013
Château La Gaffelière (St. Émilion Grand Cru)

Fresh blackberry, boysenberry, licorice and oak kick off the wine. Improved by the soft palate presence, the finish remains in the mocha and cherry mode. From a blend of 90% Merlot and 10% Cabernet Franc, the wine is aging in 50% new French oak. 88-90 Pts

3,227 Views

Tasted

Apr 28, 2014

2012
Château La Gaffelière (St. Émilion Grand Cru)

Blending 80% Merlot with 20% Cabernet Franc, the wine reached 13.8% ABV. On the palate, the mineral driven, oaky, blackberry filled wine is well made, but it lacks excitement. 89-91 Pts

4,892 Views

Tasted

Apr 26, 2013

2011
Château La Gaffelière (St. Émilion Grand Cru)

From 80% Merlot and 20% Cabernet Franc, the wine reached 13% ABV. Stone, coffee, black cherry and earthy scents are found in the perfume, while round tannins and a ripe, sweet and long cherry personality are the hallmarks of this wine. 90-93 Pts

2,636 Views

Tasted

Apr 24, 2012

2010
Château La Gaffelière (St. Émilion Grand Cru)

2010 La Gaffeliere From an assemblage of 80% Merlot and 20% Cabernet Franc, with its deep ruby color, licorice, smoke, jammy dark berry and coffee aromas is a treat. Rich, polished, tannic, black and red fruits are found in the finish. 93-95 Pts

3,104 Views

Tasted

Apr 22, 2011

2009
Château La Gaffelière (St. Émilion Grand Cru)

2009 La Gaffeliere opens with limestone, dark berries, spice, and smoke aromatics. Silky in texture, this merlot based wine ends with boysenberries and licorice. 92-94 Pts

6,155 Views

Tasted

Jun 28, 2010

2008
Château La Gaffelière (St. Émilion Grand Cru)

Juicy plums, spice, minerality, earth and espresso notes are found in this medium bodied Bordeaux wine. Elegant and refined, the wine ends with a blend of soft, polished red and black fruits.

3,613 Views

Tasted

Jan 25, 2011

2006
Château La Gaffelière (St. Émilion Grand Cru)

Much better on the earthy, red fruit, licorice and espresso bean nose than on the medium bodied, crisp, bright, crunchy, red fruit palate.

3,337 Views

Tasted

Aug 26, 2015

2005
Château La Gaffelière (St. Émilion Grand Cru)

Tight, but with air and extensive swirling, notes of boysenberry, blackberry and blue fruit, along with licorice, spice and minerals begin to show. Fat,concentrated and filled with juicy ripe, fruit, this plush, powerful wine ends with a blast of spicy, chocolate covered black raspberries.This wine needs at least another 5-7 years before everything comes together.

8,312 Views

Tasted

Aug 22, 2010

2004
Château La Gaffelière (St. Émilion Grand Cru)

Medium bodied, elegant, open and showing secondary notes of earth, truffle, tobacco, stone, herbs and cherries, this is ready for prime time drinking.

3,199 Views

Tasted

Nov 30, 2014

2003
Château La Gaffelière (St. Émilion Grand Cru)

At close to full maturity, the wine displays a nose with tobacco, truffle, flowers, fennel and black cherry notes. Medium bodied, soft, round and ready to go, the finish leaves you with plums, spice and cherries. The wine was made from a blend of 70% Merlot and 30% Cabernet Franc.

3,679 Views

Tasted

Aug 26, 2015

2001
Château La Gaffelière (St. Émilion Grand Cru)

Beautiful nose of licorice, cassis, tobacco, mint, smoke spice earth. Medium bodied, fully mature, soft and focused on the red berry side of the style range. There is a touch of herb and olive in the end note, along with some dryness in the red cherries. This is at full peak, or slightly past and should be consumed over the next 3-5 years.

3,560 Views

Tasted

Sep 25, 2014

2000
Château La Gaffelière (St. Émilion Grand Cru)

Fully mature, medium bodied, soft, and fresh, the wine offers a pleasant, black raspberry, earth, smoke and spicy profile. There is no reason to age this much longer.

3,904 Views

Tasted

Dec 10, 2014

1998
Château La Gaffelière (St. Émilion Grand Cru)

Fully mature, the nose, with its truffle, thyme, herb and smoke accents which accompany the fresh, sweet cherries is a bit more interesting than the soft, but not overly interesting or long palate presence.

4,386 Views

Tasted

Feb 9, 2019

1982
Château La Gaffelière (St. Émilion Grand Cru)

Already starting its slow decline into senility. I know, who isn't? Much more interesting on the completely tertiary nose, with its forest, floor, truffle, thyme, coffee bean and plummy nose, than on the medium bodied, soft, silky, polished, spicy, earthy, plum filled palate. I bet this was a much better wine 10 years ago.

4,663 Views

Tasted

Nov 15, 2016

1964
Château La Gaffelière (St. Émilion Grand Cru)

Much better than the previous bottle, this was rockin'! Luscious fruits, silky, earthy, ripe, soft fruits and a finish that lingers with its blend of plums, rocks, stones, tobacco and herbs. At the perfect level of maturity, if you can find a bottle, grab it!

2,208 Views

Tasted

Oct 10, 2018

Smoky dark cherries, licorice, earth, tobacco and plum characteristics, medium/full bodied, soft, and gently fading, the wine shows the charm of its age, while still providing pleasure. No decanting needed, just pop and pour. This is not a wine for further aging.

2,873 Views

Tasted

Mar 26, 2017

1961
Château La Gaffelière Naudes (St. Émilion Grand Cru)

This bottle rocked with its roasted plums, wet earth, herbs, dried flowers, tomato, and cigar box perfume. Silky, refined, and with alternating notes of sweet and tart, spicy, earthy, truffle-topped red berries and olives on the palate, this remains a nice treat. Drink from 2023-2030.

270 Views

Tasted

Sep 1, 2023

Still going strong the wine kicks off with coffee grounds, roasted plums, herbs, dried flowers, cigar wrapper and a hint of tomato. Medium-bodied, sweet and tart on the palate and in the finish, which ends with a savory edge.

2,310 Views

Tasted

Apr 8, 2022

Leafy with added complexities of spice box, cigar wrapper, cedar, leather and wet earth that adds to the red pit fruits. There is freshness, soft tannins and more, delicious, ripe, red fruits along with herbs and earthy notes in the finish. This is one of the better values from 1961 in the Right Bank, if you can find a bottle.

3,339 Views

Tasted

May 31, 2018

Explosive nose of flowers, black raspberry, thyme, sweet cherry, tobacco and fresh herbs. Silky, soft and smooth, with a sweet, fresh, sensuous red berry finish.

2,695 Views

Tasted

Dec 9, 2014

1961
Château La Gaffelière (St. Émilion Grand Cru)

1961 La Gaffeliere is filled with 5 spice, minerality, smoke, crushed stone, ash, dark berry and plum scents. With silky, fleshy textures, complicated by the patina of age, the wine finishes with coffee, spice, olive, black cherry and cocoa.

3,736 Views

Tasted

Oct 7, 2011

1955
Château La Gaffelière Naudes (St. Émilion Grand Cru)

A stellar example of fully mature, Merlot-based Bordeaux at its peak. Silky and soft in texture, the medium/full-bodied wine offers up tobacco leaf, cigar box, thyme, burning embers and mushrooms alongside the sweet, ripe, red cherries. With freshness and some sweetness remaining on the palate, this is well-worth seeking out in the auction market, as not everyone knows how good these wines are.

2,250 Views

Tasted

Nov 22, 2018

1950
Château La Gaffelière Naudes (St. Émilion Grand Cru)

It is hard to believe this is 70 years old. Just fabulous from start to finish. The is soft, lush and silky with that special patina that comes from age. The perfume, with its truffle, wet earth, forest floor, cigar box and red fruit hits all the right notes. On the palate, this is even better. I might not see this beauty again, but the memory still lingers.

1,470 Views

Tasted

Sep 17, 2020

1928
Château La Gaffelière (St. Émilion Grand Cru)

Complex aromatics made from intense scents of smoke, tobacco, cassis, cedar chest, black cherry, coffee, cigar leaf, spice, earth and truffle. Concentrated with flavor, with sweet patina of age that comes from decades of cellaring, the wine ends with bitter chocolate, sweet, red plums and spice.

2,658 Views

Tasted

Mar 29, 2012