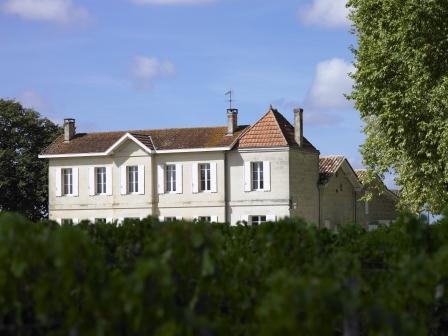 Learn everything about Chateau La Commanderie St. Emilion with wine tasting notes, wine and food pairing tips, best vintages, a history of the property, information on the vineyards and winemaking. If you want to read about other important, Bordeaux Chateaux: Links to all Bordeaux Wine Producer Profiles
Chateau La Commanderie History, Overview
Chateau La Commanderie is a semi-obscure St. Emilion chateau with a long history dating back all the way to the 13th century. At the time, the vineyards were planted to provide wine for the Commanderie of Knights and Monks of St. John of Jerusalem.
Skipping ahead several centuries, Chateau La Commanderie was obtained by the current owners, Thibaut Decoster and Magli Decoster who also own 2 more Saint Emilion estate, Clos des Jacobins, in 2004, when it was purchased by Bernard Decoster from Gerard Frydman. In 2017, the Decoster family added to their holdings in the appellation when they purchased Chateau de Candale.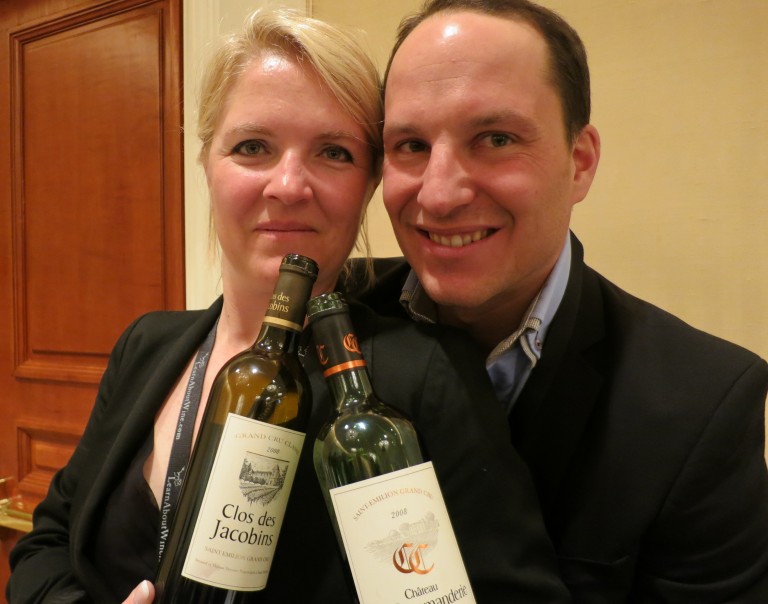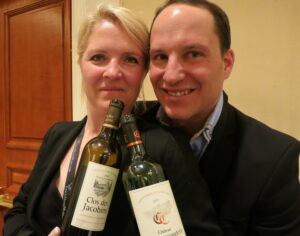 Once the purchase of Chateau La Commanderie was finalized, the Decosters conducted a complete renovation of the cellars and wine-making facilities.
They also changed how the vineyards were being tended. They began an organic, sustainable farming approach. The wine-making and vineyard management of Chateau La Commanderie is consulted by Hubert de Bouard of Chateau Angelus.
Chateau La Commanderie Vineyards, Terroir, Grapes, Winemaking
The 6 hectare Right Bank vineyard of Chateau La Commanderie is planted to 80% Merlot and 20% Cabernet Franc. The terroir is sand, gravel, and iron deposits in their soil. This is typical of that part of the St. Emilion appellation, located just before the village.
However, they also have about one-third of their vines located close to Chateau Figeac and Chateau La Dominique, which is not far from the border of Pomerol and St. Emilion.
There you find more gravelly soils. On average, the vines are 35 years of age. The vineyard is planted to a vine density of 8,500 vines per hectare.
To produce the wine of Chateau La Commanderie, vinification takes place in 80-hectoliter, concrete vats. The wine is aged in 50% new, French oak barrels for 18 months before bottling.
The best vintages of Chateau La Commanderie are: 2022, 2021, 2020, 2019, 2018, 2017, 2016, 2015, 2014, 2010 and 2009.
On average, the production is 2,500 cases of wine per year. There is a second wine, Les Chemins de la Commanderie.
When to Drink Chateau La Commanderie, Anticipated Maturity, Decanting Time
Chateau La Commanderie needs just a bit of time before it can be enjoyed. Young vintages can be decanted for an average of 1. This allows the wine to soften and open its perfume.
Older vintages might need very little decanting, just enough to remove the sediment. Chateau La Commanderie is usually better with at least 3-4 years of bottle age. Of course, that can vary slightly, depending on the vintage character. The wines offer their best drinking and should reach peak maturity between 4-12 years of age after the vintage.
Serving Chateau La Commanderie with Wine, Food, Pairing Tips
Chateau La Commanderie is best served at 15.5 degrees Celsius, 60 degrees Fahrenheit. The cool, almost cellar temperature gives the wine more freshness and lift.
Chateau La Commanderie is best paired with all types of classic meat dishes, veal, pork, beef, lamb, duck, game, roast chicken, roasted, braised, and grilled dishes. Chateau La Commanderie is also good when matched with Asian dishes, hearty fish courses like tuna, mushrooms, pasta, and a diverse array of both hard and soft kinds of cheese.
Château La Commanderie Wine Tasting Notes
16 Vintages 45,170 Views Sort by Vintage-Rating
2022
Château La Commanderie (St. Émilion Grand Cru)

Soft, silky, polished, and fresh, the fruits are sweet, creamy and supple. There is length, purity, as well as a nice polish to the tannins, and sweet, ripe fruits on the mid-palate, and in the finish. Drink from 2025-2037. 91-93 Pts.

1,264 Views

Tasted

May 8, 2023

2021
Château La Commanderie (St. Émilion Grand Cru)

Soft, supple, medium-bodied, fresh, bright, crisp and crunchy red fruits with a hint of peppery spice on the backend of the finish. Drink from 2023-2032. 88-90

1,143 Views

Tasted

May 20, 2022

2020
Château La Commanderie (Pomerol)

Showing much better in the bottle than it did in barrel, the wine is supple, creamy, fresh and silky with layers of chocolate, cherries, plums, and spices. Medium-bodied, vibrant and elegant, the wine leaves you with more of those gorgeous, supple red cherries that you cannot get enough of. This is already a treat in your glass, but a few more years of aging will add more secondary nuances. Drink from 2023-2040.

564 Views

Tasted

Mar 21, 2023

2020
Château La Commanderie (St. Émilion Grand Cru)

Medium-bodied, silky, elegant, fresh, forward and already simply delicious in your glass, the wine delivers its sweet, ripe, plums, licorice and cocoa easily. Pop, pour and enjoy this on release without hesitation. Drink from 2023-2036.

588 Views

Tasted

Mar 21, 2023

Medium-bodied, with smoky, licorice, herb, espresso and spice accents on the nose and palate. Soft and sweet, with a beautiful purity and elegance to the kirsch and red plums on your palate, you can drink this on release or give it a few years of age. 90-92 Pts

1,368 Views

Tasted

May 20, 2021

2019
Château La Commanderie (St. Émilion Grand Cru)

Roses, tobacco, herbs, forest floor, thyme and cherries permeate the perfume. On the palate, the wine is medium-bodied, fresh, sweet and vibrant with a polished, soft, black cherry and cocoa tinged, savory finish. Give this just a bit of time in the cellar and it will be even better. drink from 2022-2034.

661 Views

Tasted

Mar 29, 2022

Already open, medium-bodied, soft, sweet and fresh, the tannins are polished and the fruits are ripe, earthy, sweet and lifted. 90-921 Pts

2,664 Views

Tasted

Jun 8, 2020

2018
Château La Commanderie (St. Émilion Grand Cru)

Floral, soft and silky, the wine is medium-bodied, fresh, bright and lifted with ample sweet plums, licorice and espresso on the palate and in the finish. You can drink this with pleasure within a year or two of release.

636 Views

Tasted

Mar 9, 2021

You can taste the licorice laced plums on the palate and the nose will confirm it. Medium bodied and in an open style, the fruit is ripe, sweet and round. You can drink this with pleasure within a year or two of release. 90-92 Pts

1,273 Views

Tasted

Apr 19, 2019

2016
Château La Commanderie (St. Émilion Grand Cru)

Already open, medium bodied, fresh and juicy, the fruit offers lift and sweetness and plenty of juice in the finish. This is clearly the best vintage of La Commanderie ever produced!

1,942 Views

Tasted

Sep 21, 2019

Deeply colored, medium bodied with an earthy, licorice and black cherry character, the wine is fresh, vibrant and will be ready to drink with just a year or two of age.

1,424 Views

Tasted

Apr 29, 2017

2015
Château La Commanderie (St. Émilion Grand Cru)

Forward, medium bodied and already deceptively ready to drink, the soft textured, red fruits, licorice and floral character stands out. The wine can age for a decade or longer, but it's easy to enjoy this charmer on release.

2,041 Views

Tasted

Mar 12, 2018

Medium bodied, forward and already easy to drink, the wine shows its earthy, ripe, red fruits and licorice with ease. The wine is soft textured, forward and already drinkable.

2,189 Views

Tasted

Nov 22, 2017

Medium-bodied, forward, fresh and fruity with sweetness in the attack and soft, refined tannins in the finish.

1,926 Views

Tasted

Apr 29, 2016

2014
Château La Commanderie (St. Émilion Grand Cru)

A medium-bodied, soft, black raspberry and herb-filled wine for early drinking. 87-89 Pts

1,433 Views

Tasted

Apr 27, 2015

2013
Château La Commanderie (St. Émilion Grand Cru)

Soft and open in character, the wine is brimming with light red berries, while the finish is all about the bright red fruits and herbs. 85-86 Pts

1,445 Views

Tasted

Apr 28, 2014

2012
Château La Commanderie (St. Émilion Grand Cru)

Medium bodied, with some greeness to the bright, sweet and tart red fruits. This is going to best enjoyed on the young side.

1,702 Views

Tasted

Nov 8, 2015

Chalky, showing a bit too much oak and extraction at this stage, it should improve with age. 84-86 Pts

1,933 Views

Tasted

Apr 26, 2013

2011
Château La Commanderie (St. Émilion Grand Cru)

With its earth, truffle, smoke and cherry aromatics, this is better on the nose than the palate. Light in style, with soft textures, drink this red berry dominated wine on the yoing side.

1,729 Views

Tasted

Nov 17, 2013

Earth, stone, blackberry and raspberry aromas lead to a medium bodied, bright wine with a red berry dominated personality. 86-88 Pts

1,935 Views

Tasted

Mar 16, 2012

2010
Château La Commanderie (St. Émilion Grand Cru)

Early drinking, medium bodied, soft, wine with a core of black cherries, licorice and oak.

2,887 Views

Tasted

Mar 3, 2015

2009
Château La Commanderie (St. Émilion Grand Cru)

Earth, spice and cherries make up the perfume. Soft tannins and round textures are found in the sweet, black cherry and cocoa finish of this crowd pleasing, style of wine that will show best in its youth. This is showing much better than it did when it was tasted in barrel.

3,770 Views

Tasted

Mar 12, 2012

2009 La Commanderie, from 90% Merlot and 10% Cabernet Franc, is an easy drinking style of wine that does not demand time before showing its light, red and dark berry charms.

4,299 Views

Tasted

Jun 28, 2010

2005
Château La Commanderie (St. Émilion Grand Cru)

Hints of licorice, blackberry, earth and herbs. Medium bodied, soft, but a little short and tart in the developed finish. Drink this over the next few years.

2,645 Views

Tasted

Jul 4, 2013

2001
Château La Commanderie (St. Émilion Grand Cru)

Light in color, fruit and style, the fruit is already beginning to slowly fade. Fresh, bright, red berries, red plums, earth, tobacco and olive notes are driving this medium bodied wine. Drink up, as it is not going to improve from here.

1,709 Views

Tasted

Nov 10, 2016