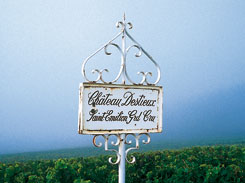 Learn everything about Chateau Destieux St. Emilion with wine tasting notes and wine with food pairing tips. Learn the best vintages, the history of the property, and information on the vineyards and winemaking. If you want to read about other important, Bordeaux Chateaux: Links to all Bordeaux Wine Producer Profiles
Chateau Destieux History, Overview
Chateau Destieux does not take its name from a former owner or the founder of the estate like so many chateaux. History is not exactly sure. But it is probably the amazing vistas that can be seen from the top of the slopes on the property that inspired the estate's name.
Destieux is an archaic, French term that can be loosely translated to "des yeux" or "eyes." From the Destieux vines, wine lovers get a bird's eye view of the Dordogne river all the way over to the neighboring appellation of Montagne St. Emilion. For a point in time, the wines were sold under the name of Destieux-Berger.
Chateau Destieux The Modern Era
The estate changed hands in 1971 when the vineyards were sold to the Dauriac family. The debut vintage of Chateau Destieux under Christopher Dauriac was produced in 1976.
Today, the Dauriac family also owns 2 other estates in the Right Bank, Chateau La Clemence in Pomerol as well as Chateau Montlisse, which is also located in the Saint Emilion appellation.
In 1999, the winemaking facilities of Chateau Destieux were greatly improved. To modernize their winemaking, they added eight new, temperature-controlled, 45 hectoliter wood vats which allowed for the wines to be vinified on a plot by plot basis. Chateau Destieux is consulted by Michel Rolland.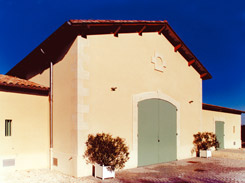 Chateau Destieux Vineyards, Terroir, Grapes, Winemaking
The 8-hectare vineyard of Chateau Destieux in Saint Emilion is planted to 70% Merlot, 20% Cabernet Franc and 10% Cabernet Sauvignon. The terroir is chalk and clay soils on a plateau, with slopes. At its peak, the vineyard rises to 100 meters, making it one of the highest elevations in the appellation.
The vineyard is in one single block of vines that can be divided into 8 separate parcels, which now match the 8, 65 hectoliter oak, fermentation vats, allowing for a parcel by parcel vinification.
Two interesting bits of trivia for you are that each of the 8 oak fermenters was produced by a different cooper. The vineyard boasts old vines, many of which are between 40 to 50 years of age. More interesting is that Chateau Destieux is perhaps the only remaining Bordeaux estate that uses people stomping on the grapes to break the skins.
Malolactic fermentation takes place in 100% new, French oak barrels. The wine of Chateau Destieux is then aged in 100% new, French oak for barrels between 15-24 months depending on the vintage.
The best vintages of Chateau Destieux are: 2022, 2021, 2020, 2019, 2018, 2017, 2016, 2015, 2010, 2009 and 2005.
On average, close to 3,2000 cases of Chateau Destieux are produced every year. There is a second wine, Reflets de Destieux, which was previously sold under the name of de Laubarede.
When to Drink Chateau Destieux, Anticipated Maturity, Decanting Time
Chateau Destieux is better with at least 3-5 years of bottle age. Of course, that can vary slightly, depending on the vintage. Chateau Destieux is best enjoyed in the first 5-18 years of life.
Young vintages can be decanted for about 1 hour to 90 minutes or so. This allows the wine to soften and open its perfume. Older vintages might need very little decanting, just enough to remove the sediment.
Serving Chateau Destieux with Wine, and FoodPairing Tips
Chateau Destieux is best served at 15.5 degrees Celsius, 60 degrees Fahrenheit. The cool, almost cellar temperature gives the wine more freshness and lift.
Chateau Destieux is best served with all types of classic meat dishes, veal, pork, beef, lamb, duck, game, roast chicken, roasted, braised, and grilled dishes. Chateau Destieux is a perfect match with Asian dishes, hearty fish courses like tuna, salmon, mushrooms, and pasta as well as cheese.
Aside from his 3 estates in Bordeaux, Christopher Dauriac also consults the Marianne Wine Estate, located in the Stellenbosch appellation in South Africa.
Château Destieux Wine Tasting Notes
20 Vintages 58,102 Views Sort by Vintage-Rating
2022
Château Destieux (St. Émilion Grand Cru)

Rich, creamy, dark, luscious-textured black, and deep red fruits with freshness is what's going here. You find those ripe berries in the nose, and on the palate where they are even better with their array of spices, espresso, licorice, and chocolate in the lingering, creamy finish. Drink from 2025-2042. 92-94 Pts.

1,074 Views

Tasted

May 8, 2023

2021
Château Destieux (St. Émilion Grand Cru)

Chocolate, espresso beans, cocoa, sweet, black cherries and licorice create the character of this round, polished, easy-going, lusciously-textured wine. This is a text-book example of a modern-styled Bordeaux. Drink from 2023-2035. 87-89

1,031 Views

Tasted

May 20, 2022

2020
Château Destieux (St. Émilion Grand Cru)

A rich, deep, lush, and luscious-styled wine that packs in layers of fleshy sweet, round, opulent fruits, toasty oak, chocolate, and espresso. This could be my favorite vintage of Chateau Destieux. Drink from 2024-2040.

454 Views

Tasted

Mar 21, 2023

Wet earth, licorice, smoke, espresso and dark red berries create the core of the character here. On the palate, the wine is lush, rich, fleshy sweet, round and opulent. Full-bodied, forward, hedonistic and packed with fruit and toasty oak, this will need some time to come together and integrate before it's at its best.. 91-93 Pts

1,158 Views

Tasted

May 20, 2021

2019
Château Destieux (St. Émilion Grand Cru)

Smoke, espresso, flowers, chocolate and plummy aromatics come through on the perfume with no effort. On the palate the wine is round, lush, sweet, fresh and opulent with loads of dark red fruits covered with coffee and cocoa that sticks with you from the mid-palate all the way through to the back-end. Drink from 2023-2034.

941 Views

Tasted

Mar 29, 2022

Black cherry, espresso and coffee bean are front and center here. The round, ripe, full-bodied, plush, juicy wine comes with intensity, and more than enough volume and energetic lift to deliver its dark plum, spice, smoke, licorice and dark cherry finish with ease. The wine is a blend of 66% Merlot, 17% Cabernet Franc and 17% Cabernet Sauvignon. 92-94 Pts

2,061 Views

Tasted

Jun 8, 2020

2018
Château Destieux (St. Émilion Grand Cru)

Espresso, smoke, licorice, toast and plums are what you initially notice. Modern in style, with round, fat textures, the wine is lush, shows good fruit and intensity, but it needs time for the oak to better integrate.

850 Views

Tasted

Mar 9, 2021

Round, forward and oaky with an assertive smoke, espresso and licorice accent, the wine is ripe, sweet and in a modernist style that will appeal to some more than others. You can drink this on release or age it for 4-5 years. 88-90 Pts

1,614 Views

Tasted

Apr 19, 2019

2017
Château Destieux (St. Émilion Grand Cru)

With just the right amount of licorice, ripe multicolored fruits and espresso beans to round things out, the wine is sweet and polished with salty tannins and a round textured finish. Give this just a few years and it will show even better

1,230 Views

Tasted

Apr 26, 2018

2016
Château Destieux (St. Émilion Grand Cru)

Truffle, licorice, smoke, espresso and cherries open the medium-bodied wine. Round and soft on the palate the fruit ripe and sweet. It is a good wine, but not for the oak averse.

1,198 Views

Tasted

Sep 21, 2019

Medium bodied with sweet black raspberry, vanilla, licorice and espresso, this wine is forward and fun with a crowd-pleasing style.

1,987 Views

Tasted

Apr 29, 2017

2015
Château Destieux (St. Émilion Grand Cru)

Licorice, juicy, sweet, black fruits and salty, polished tannins give this wine freshness and sweet, ripe fruits from start to finish.

2,556 Views

Tasted

Apr 29, 2016

2014
Château Destieux (St. Émilion Grand Cru)

Medium bodied with a clear blast of black raspberry, vanilla, licorice and espresso beans, this wine has an open, forward and approachable style. 88-90 Pts

2,773 Views

Tasted

Apr 27, 2015

2012
Château Destieux (St. Émilion Grand Cru)

Medium bodied, light in color, soft textured red plums and cherries in the short finish.

2,302 Views

Tasted

May 15, 2015

Light cherry tones, medium body and a soft, ready-to-drink red berry finish. 86-88 Pts

2,310 Views

Tasted

Apr 26, 2013

2011
Château Destieux (St. Émilion Grand Cru)

Short, medium bodied, bright and filled with red fruits and new oak, drink this on the young side.

2,608 Views

Tasted

Nov 17, 2013

2010
Château Destieux (St. Émilion Grand Cru)

Open, forward and round in texture, the wine is filled with licorice, espresso beans, ripe black cherries and earth.

4,095 Views

Tasted

Nov 14, 2014

2009
Château Destieux (St. Émilion Grand Cru)

Licorice, black plums, blueberry, chocolate, coffee, vanilla and smokey notes create the perfume, Full bodied, rich, round and packed with layers of sensuous, ripe, sweet, dark berries, cherry and cocoa, this is the best wine I have tasted from Chateau Destieux.

5,879 Views

Tasted

Jul 7, 2012

2008
Château Destieux (St. Émilion Grand Cru)

Medium bodied and ready to go, the earthy cherry, red plum, thyme, forest leaf and tobacco notes shine through the nose and carry through to the round, fresh, palate. The wine was made from a blend of 66% Merlot, 17% Cabernet Franc and 17% Cabernet Sauvignon.

3,168 Views

Tasted

Dec 27, 2017

2006
Château Destieux (St. Émilion Grand Cru)

From an assemblage of 66% Merlot, 16% Cabernet Sauvignon and 16% Cabernet Franc, the wine offers red and black fruit, stone, earth and coffee scents. Medium/full bodied, soft in texture, the wine ends with black raspberry and licorice notes.

2,606 Views

Tasted

Dec 15, 2011

2005
Château Destieux (St. Émilion Grand Cru)

Licorice, blackberry espresso, smoke and boysenberry aromas lead to a powerful, sweet, round textured St. Emilion that will be drinking great with another 2 - 5 years of bottle age.

5,472 Views

Tasted

Aug 1, 2011

2003
Château Destieux (St. Émilion Grand Cru)

Opulent, round, ripe fruits, licorice, dark cocoa, black cherry liqueur and fig notes are all over the place, on your palate and in the perfume. This is drinking about as well as it's going to get.

2,431 Views

Tasted

Dec 13, 2017

2001
Château Destieux (St. Émilion Grand Cru)

Short and sweet, easy to drink, with its soft, open, medium bodied, cherry, licorice, earth and smoky character, this requires drinking over the near term.

1,867 Views

Tasted

Feb 9, 2019

2000
Château Destieux (St. Émilion Grand Cru)

Fully mature, round and fleshy in texture, with licorice, truffle, earth, black cherries, mocha and espresso to create its character. Easy to drink, no decanting required.

3,749 Views

Tasted

Jan 7, 2017

1998
Château Destieux (St. Émilion Grand Cru)

Fully mature, medium bodied and showing just as much, earthy, dark red fruits as it does thyme, tobacco and espresso, the wine is soft and easy to drink. If you have a bottle hanging around, pop a cork as it is only going to drop fruit from here.

2,688 Views

Tasted

Aug 2, 2017