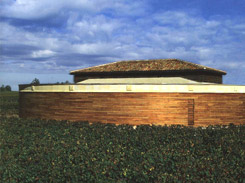 Learn everything about Chateau La Clemence Pomerol with wine tasting notes and wine with food pairing tips. Learn the best vintages, a history of the property, information on the vineyards, and winemaking. If you want to read about other important, Bordeaux Chateaux: Links to all Bordeaux Wine Producer Profiles
Chateau La Clemence History, Overview
Chateau La Clemence was purchased by the Dauriac family in 1996. Christian Dauriac was already an experienced Bordeaux winemaker by that point, as he already owned property in St. Emilion.
Christopher Dauriac settled on Chateau La Clemence on the advice of his consultant, Michel Rolland. Chateau La Clemence was in a state of almost complete disrepair at the time of the purchase. In fact, the cellars were in such poor condition, they could not be used.
So, the first few vintages for the new owner had to be made at Chateau Bon Pasteur, which was the home estate of Michel Rolland at the time. The debut vintage produced completely at Chateau La Clemence in their renovated, thoroughly modern, circular cellars was 2002.
The cellars are on the border of Pomerol and St. Emilion, not far from Chateau La Tour Figeac. Today, the Dauriac family also owns Chateau Destieux and Chateau Montilisse. Both of those Right Bank estates are located in Saint Emilion.
Chateau La Clemence Vineyard, Terroir, Grapes, Winemaking
The small vineyard of Chateau La Clemence has 2.8 hectares planted to 85% Merlot and 15% Cabernet Franc. The terroir is sand, clay, and gravel soils. The vines are old, with an average age of more than 50 years. The vineyard is planted to a vine density of 6,000 vines per hectare. The yields are some of the lowest in Pomerol. Often, they are close to 20 hectoliters per hectare.
While the style of wine at Chateau La Clemence is on the modern side of the style range, it is interesting to note that Chateau La Clemence is one of the few Bordeaux estates that still crushes grapes the old fashioned way, by people stomping on them! Vinification takes place in 6 small, temperature-controlled, wood vats, one for each parcel.
Malolactic fermentation takes place in barrels. The wine of Chateau La Clemence is aged in 100% new, French oak barrels for 18 months before bottling. On average, Chateau La Clemence produces about 600 cases of wine per vintage.
The best vintages of Chateau La Clemence are: 2022, 2021, 2020, 2019, 2018, 2017, 2016, 2015, 2014, 2012, 2010 and 2009.
When to Drink Chateau La Clemence, Anticipated Maturity, Decanting Time
Chateau La Clemence can be enjoyed on the young side with an hour or so decanting. This allows the wine to soften and open its perfume. Older vintages might need very little decanting, just enough to remove the sediment.
However, I find the wine is usually better with 3-7 years of bottle age. Of course, that can vary slightly, depending on the vintage character. In the best years, Chateau La Clemence will be best between 5 and 14 years of age after the vintage.
Serving Chateau La Clemence with Wine, Food, Pairing Tips
Chateau La Clemence is best served at 15.5 degrees Celsius, 60 degrees Fahrenheit. The cool, almost cellar temperature gives the wine more freshness and lift. Chateau La Clemence is best paired with all types of classic meat dishes, veal, pork, beef, lamb, duck, game, roast chicken, roasted, braised, and grilled dishes.
Chateau La Clemence is also good with Asian dishes, hearty fish courses like tuna, mushrooms, and pasta.
Aside from his 3 estates in Bordeaux, Christopher Dauriac also consults the Marianne Wine Estate, located in the Stellenbosch appellation in South Africa.
Château La Clémence Wine Tasting Notes
17 Vintages 44,679 Views Sort by Vintage-Rating
2022
Château La Clémence (Pomerol)

Black fruits, chocolate, coffee bean, licorice, and spice notes create the character here. The wine is creamy, the fruits are ripe, but, there is a strong, smoky, oaky edge to the fruit on the palate that needs time to integrate. Drink from 2025-2037. 89-91 Pts.

652 Views

Tasted

May 8, 2023

2021
Château La Clémence (Pomerol)

Coffee beans, wet earth, licorice, incense and cherries form the core of the round, forward, fruity, polished wine. The finish shows a strong oak influence. Drink from 2023-2029. 87-89

1,118 Views

Tasted

May 20, 2022

2020
Château La Clémence (Pomerol)

Dark, plummy fruit, espresso, black cherries and licorice nuances open the wine. On the palate the wine is concentrated, round, polished and glossy, with an oaky edge to the ripe, showy fruits. Drink from 2023-2038.

462 Views

Tasted

Mar 21, 2023

Deep in color, the wine is round, plump and fruity, with a liberal dose of oak, ripe, dark red fruits and espresso on the palate and in the finish. 89-91 Pts

2,368 Views

Tasted

Jun 3, 2021

2019
Château La Clémence (Pomerol)

Showing quite a bit of oak at the moment, the wine is all about its chocolate, espresso, smoke, plum and spice character. Forward, easy to drink, but oaky and not overly complex, you can taste it on release, or age it for a few years hoping that the oak becomes more integrated. Drink from 2024-2035.

577 Views

Tasted

Mar 29, 2022

Forward, medium-bodied, round, straight-ahead plummy, fruity Pomerol that can be enjoyed early in its evolution. 88-90 Pts

2,624 Views

Tasted

Jun 8, 2020

2018
Château La Clémence (Pomerol)

Dominated by oak, licorice and smoke, it takes effort and coaxing to find the fruits. On the palate, the wine is however quite tasty with round textures and sweet berries. The finish is drying on the end notes.

586 Views

Tasted

Mar 9, 2021

Medium bodied, round and loaded with espresso and cherry notes, the red fruit is ripe but the oak at the moment is the dominant character. 85-87 Pts

1,144 Views

Tasted

Apr 19, 2019

2017
Château La Clémence (Pomerol)

A medium bodied, forward, fruity style of Pomerol with an earthy, cherry and espresso character, this wine is round textured and will be easy to drink on release.

1,407 Views

Tasted

Apr 26, 2018

2016
Château La Clémence (Pomerol)

Fleshy, with a strong dose of ripe plums, dark chocolate, truffle and black raspberry, the wine is forward, plush and with time, which is needed for the oak to better integrate, this could be a better tasting experience.

1,444 Views

Tasted

Sep 21, 2019

Flowers and black raspberry combine to produce a forward, early drinker with black cherry and earth in the endnotes.

1,512 Views

Tasted

Apr 29, 2017

2015
Château La Clémence (Pomerol)

Forward, medium bodied, soft, fruity, oaky style of modern Pomerol that can be enjoyed on the young side.

1,777 Views

Tasted

May 21, 2018

A medium-bodied, forward, round, direct style of Pomerol, with a soft, fruity character for early drinking. 87 - 89 Pts

1,526 Views

Tasted

Apr 27, 2016

2014
Château La Clémence (Pomerol)

Medium-bodied, uncomplicated, round, plummy, bright wine with notes of espresso, wet earth, smoke, licorice, and thyme.

1,562 Views

Tasted

Aug 25, 2021

2013
Château La Clémence (Pomerol)

Light in color, this medium bodied, simple wine is focused on fresh red berries and herbs. 85-87 Pts

1,972 Views

Tasted

Apr 25, 2014

2012
Château La Clémence (Pomerol)

Sweet, ripe cherries, with a touch too much oak on the palate for the plummy finish.

2,254 Views

Tasted

May 15, 2015

Rich in color with spicy berries, licorice and wood scents open to a lush, silky and polished wine that ends with fat, ripe cherries and liqueur. 89-91 Pts

2,276 Views

Tasted

Apr 26, 2013

2011
Château La Clémence (Pomerol)

Truffle, earth, minerality, flowers, ripe cherries and coffee with round textures and ripe tannins are followed by a ripe plum and cocoa finish. 88-90 Pts

2,163 Views

Tasted

Apr 21, 2012

2010
Château La Clémence (Pomerol)

La Clemence Plums, flowers, chocolate, licorice and ripe, sweet jammy boysenberry scents pair well with chocolate covered plums, fennel and rich, opulent textures. 91-93 Pts

2,847 Views

Tasted

Apr 21, 2011

2009
Château La Clémence (Pomerol)

With a blast of licorice, espresso, dark chocolate, black cherry and plum on the nose, the wine is round, plush and open. Produced in a modern style, it's already offering its fleshy, flashy charms. If the oak dissipates, this will be a better wine. The wine was made from a blend of 86% Merlot and 14% Cabernet Franc.

2,478 Views

Tasted

Feb 17, 2016

2008
Château La Clémence (Pomerol)

Not for the oak averse. This example of a modern styled Bordeaux is round, fleshy and flashy. The dark plummy fruit is ripe. There is enough freshness and interesting aromatics, but the espresso notes are still quite noticeable.

1,714 Views

Tasted

Oct 25, 2016

2005
Château La Clémence (Pomerol)

Rich, lush and plush, once past the oak, which is evident, the wine is filled with plums, licorice, earth and chocolate covered, black cherries. Hopefully, the oak will fade in a few years, making this a much better wine.

7,816 Views

Tasted

Jul 30, 2013

2000
Château La Clémence (Pomerol)

Fully mature, the wine offers, polished, round textures and loads of ripe, dark, plums, cherry, truffle, coffee bean, and black licorice. The fruit is ripe, and full of flavor that is perfect for the finish.

2,400 Views

Tasted

Dec 13, 2017