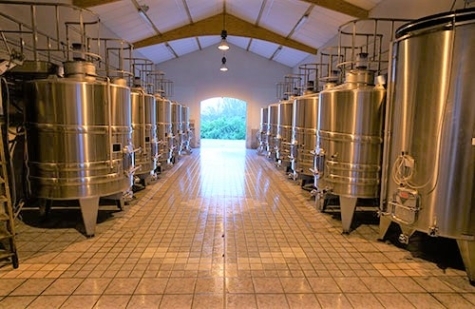 Learn everything about Montlisse St. Emilion with wine tasting notes and wine-with-food pairing tips. Learn the best vintages, a history of the property, information on the vineyards, and winemaking. If you want to read about other important, Bordeaux Chateaux: Links to all Bordeaux Wine Producer Profiles
Chateau Montlisse Vineyards, Terroir, Grapes, Winemaking
The 7-hectare vineyard of Chateau Montlisse is planted to 82% Merlot, 13% Cabernet Franc and 5% Cabernet Sauvignon over clay and limestone terroir with some sand. The vines are old, with an average age of close to 40 years.
The Right Bank vineyard is relatively contiguous as the majority of the vines are in one large parcel. The vineyard is well placed as they are just due-east of the picturesque Saint Emilion village and not too far from Chateau Fleur Cardinale, Valandraud, Chateau Faugeres, and Chateau Fombrauge.
The grapes are whole-berry fermented, meaning the skins are left intact and the berries are crushed under their own weight. Vinification takes place in stainless steel tanks. Malolactic fermentation takes place in French oak barrels. The wines are then aged in 25% new, French oak barrels for between 12-18 months before bottling. Michel Rolland is the consultant.
The best vintages of Chateau Montlisse are: 2022, 2021, 2020, 2019, 2018, 2017, 2016, and 2015.
On average the production is 2,800 cases of wine per year. In 1984 Chateau Montlisse was purchased by the Dauriac family. Christian Dauriac also owns other Bordeaux vineyards including Chateau Destieux in Saint Emilion and Chateau La Clemence in Pomerol. However, starting with the 2015 vintage, Montlisse has upped its game, and the wines are markedly better.
When to Drink Chateau Montlisse, Anticipated Maturity, Decanting Time
Chateau Montlisse is better with at least 3-5 years of bottle age. Of course, that can vary slightly, depending on the vintage. Chateau Montlisse is best enjoyed in the first 4-18 years of life.
Young vintages can be decanted for up to 1 hour or so. This allows the wine to soften and open its perfume. Older vintages might need very little decanting, just enough to remove the sediment.
Serving Chateau Montlisse with Wine, and Food Pairing Tips
Chateau Montlisse is best served at 15.5 degrees Celsius, 60 degrees Fahrenheit. The cool, almost cellar temperature gives the wine more freshness and lift.
Chateau Montlisse is best served with all types of classic meat dishes, veal, pork, beef, lamb, duck, game, roast chicken, roasted, braised, and grilled dishes. Chateau Montlisse is a perfect match with Asian dishes, hearty fish courses like tuna, mushrooms, and pasta as well as cheese.
Château Montlisse Wine Tasting Notes
7 Vintages 13,422 Views Sort by Vintage-Rating
2022
Château Montlisse (St. Émilion Grand Cru)

Deeply colored, the wine is soft, supple, fresh, and refined, with layers of lifted, sweet, fruits, toasty oak, mint leaf, and cocoa, with the essence of crushed rocks, and stones coming in at the end of the finish. You can enjoy this in its youth, as well as age it for more complexities. 2026-2042. 92-94 Pts.

621 Views

Tasted

May 8, 2023

2020
Château Montlisse (St. Émilion Grand Cru)

It is still a bit oaky on the nose at this point, once past the oak you find a medium-bodied palate chocked of chocolate-coated cherries, licorice, spice and espresso. There is a burnt coffee edge to the finish here that could dissipate with a few years in the bottle. Drink from 2023-2034.

675 Views

Tasted

Mar 21, 2023

Smoked fruits, chocolate, flowers and spice create the perfume. Medium-bodied, soft, polished and fresh, with a silky, red berry, spice, coffee bean and mocha toned finish, this is going to be quite nice with just 3-5 years of aging. 90-92 Pts

1,685 Views

Tasted

May 20, 2021

2019
Château Montlisse (St. Émilion Grand Cru)

Medium-bodied, silky and fresh, the red cherries, flowers, black raspberry and espresso notes come through on the nose and on the palate with ease. Vibrant and already easy to taste, this will be easy to enjoy in its youth, yet it should also age quite nicely. Drink from 2022-2033.

718 Views

Tasted

Mar 29, 2022

Dark with purple accents, the nose of flowers, licorice, spice, smoke and dark red pit fruits resonate. Rich, round, lush and plush, with silky tannins and a blast of sweet chocolate covered fruits taste and feel great. 92-94 Pts

2,857 Views

Tasted

Jun 8, 2020

2018
Château Montlisse (St. Émilion Grand Cru)

Blackberries, cherries, flowers, herbs and espresso form the core of this medium-bodied, elegant, fresh, sweet, supple and silky wine. This is already showing well now and will only get better with a bit of age.

1,997 Views

Tasted

Mar 9, 2021

2017
Château Montlisse (St. Émilion Grand Cru)

Medium-bodied, early drinking, round, soft and fresh, with a nice balance between its oaky underpinnings and all of its sweet, ripe, dark red fruits and leafy, herb accents. Drink from 2023-2034.

1,757 Views

Tasted

Dec 23, 2022

2016
Château Montlisse (St. Émilion Grand Cru)

Medium-bodied, fresh, bright, vibrant, earthy red fruits with touches of herbs, flowers, espresso, and thyme that is already easy to taste and enjoy. Drink from 2022-2028.

1,510 Views

Tasted

Sep 15, 2022

2015
Château Montlisse (St. Émilion Grand Cru)

Medium-bodied, fresh, and floral, the wine offers its core of red and black plums, thyme, and earth with ease, finishing with softness, finesse, and a dash of salt in the endnote. Drink from 2022-2032.

1,602 Views

Tasted

Oct 12, 2022