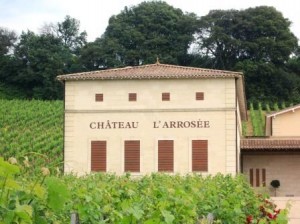 Learn everything about Chateau L'Arrosee St. Emilion with wine tasting notes, wine and food pairing tips, a history of the property, and information on the vineyards and winemaking. If you want to read about other important, Bordeaux Chateaux: Links to all Bordeaux Wine Producer Profiles
Chateau L'Arossee History, Overview
The inspiration for L'Arrosee rose out of the ground, literally. Chateau L'Arrosee took its name from an underground spring located on their Bordeaux wine property in St. Emilion.
In 1868, L'Arrosee belonged to the minister and a member of the Council of Napoléon III, Pierre Magne. Magne sold Chateau L'Arrosee to the French Ambassador to Austria. Chateau L'Arrosee was obtained by the Dupuch family in the early part of the 20th century.
Under their tenure, the wines were not at their best. Until 1956, Chateau L'Arrosee was made at the local cooperative. That is the reason why you never see or hear about the wine of Chateau L'Arrosee from the famous vintages of the early part of the 20th century.
In 2002, Chateau L'Arrosee was bought by the Caille family. The Caille family made numerous investments in the vineyards and their wine-making facilities to bring the chateau and its vineyards back up to speed.
The renovations were extensive. They also hired Gilles Pouquet as their consultant at their St. Emilion wine-making estate. Gilles Pouquet has a lot of experience in St. Emilion having worked at Cheval Blanc, Figeac, and numerous other Right Bank properties.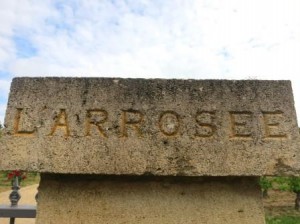 In July 2013, the future and fate of Chateau L'Arrosee were changed forever when it was purchased by Domaine Clarence Dillon, the owners of Chateau Haut Brion in Pessac Leognan from the Caille family.
This was the second recent purchase in St. Emilion by Clarence Dillon as they recently purchased Tertre Dugay, which was promptly renamed and re-branded as Chateau Quintus.
At the time of the purchase, most people assumed that Chateau L'Arrosee would be folded into Quintus at some point, probably sooner than later, which turned out to be the case following the 2012 vintage.
Chateau L'Arrosee Vineyards, Terroir, Grapes, Winemaking
The 9.5 hectare St. Emilion vineyard of Chateau L'Arrosee is planted to 60% Merlot, 20% Cabernet Franc and 20% Cabernet Sauvignon, with an average age of 35 years for the vines.
The terroir is limestone and clay soil located on the southern edge of the slopes of Saint Emilion. They have vines on both sides of the small road. However, you find more sand on the other side, away from the chateau and closer to the cooperative.
Those vines are used for their second wine. In the cellars at Chateau L'Arrosee, they utilize gravity-fed grape chutes, a vibrating sieve, and temperature-controlled vats. The other recent improvements include a new first and second-year aging cellar.
The wine of Chateau L'Arrosee is aged in 100% new, French oak barrels for 12 to 18 months. Chateau L'Arrosee has an average annual production of close to 3,500 cases of Bordeaux wine a year.
Chateau L'Arrosee is an elegant St. Emilion wine. It's a traditionally-styled Bordeaux wine that is not the most concentrated, deeply colored, or ripest wine produced today. But what it lacks in power, it more than makes up for that with its soft textures, purity of fruit, and refined personality.
When to Drink Chateau L'Arrosee, Anticipated Maturity, Decanting Time
Chateau L'Arrosee needs some time before it can be enjoyed. Young vintages can be decanted for an average of 1 – 2 hours. This allows the wine to soften and open its perfume. Older vintages might need very little decanting, just enough to remove the sediment.
Chateau L'Arrosee is usually better with at least 4-6 years of bottle age. Of course, that can vary slightly, depending on the vintage character. Chateau L'Arrosee offers its best drinking and should reach peak maturity between 5-20 years of age after the vintage.
Serving Chateau L'Arrosee with Wine and Food Pairings
Chateau L'Arrosee is best served at 15.5 degrees Celsius, 60 degrees Fahrenheit. The cool, almost cellar temperature gives the wine more freshness and lift.
Chateau L'Arrosee is best paired with all types of classic meat dishes, veal, pork, beef, lamb, duck, game, roast chicken, roasted, braised, and grilled dishes. Chateau L'Arrosee is also good when matched with Asian dishes, rich fish courses like tuna, mushrooms, and pasta.
2012 marked the official end to Chateau L'Arrosee. 2012 was the last vintage produced by the estate. In 2013, as was expected, it was announced that the vineyards of Chateau L'Arrosee would be merged into Quintus as they were both owned by Domaine Clarence Dillon.
Château L'Arrosée Wine Tasting Notes
9 Vintages 39,563 Views Sort by Vintage-Rating
2012
Château L'Arrosée (St. Émilion Grand Cru)

The final vintage for this wine, before it was integrated into Quintus is a beauty. Elegant, medium bodied, fresh, lively, sweet, earthy, red plums, cherry and floral tones, with a light of oak, that will continue receding as the wine ages. Another 4-5 years will add a lot here. The wine was produced from blend of 60% Merlot, 20% Cabernet Franc and 20% Cabernet Sauvignon.

4,456 Views

Tasted

Jan 2, 2018

2011
Château L'Arrosée (St. Émilion Grand Cru)

Blending 53% Merlot, 24% Cabernet Franc and a high percentage of Cabernet Sauvignon (for St. Emilion) at 23%, the wine reached 13.5% ABV and will be aged in 100% new oak. Smoke, earth and sweet red berry aromas create the perfume. Delicate, but not light, the wine is round, sweet and filled with ripe kirsch. 91-93 Pts

5,071 Views

Tasted

Apr 24, 2012

2010
Château L'Arrosée (St. Émilion Grand Cru)

Clearly on the light, elegant, fresh side of the style range, the wine offers floral, cherry and spice, with refined textures and a soft, forward personality. I'd drink this in the first 10-15 years of life.

5,995 Views

Tasted

May 7, 2013

2009
Château L'Arrosée (St. Émilion Grand Cru)

A nice blend of elegance, soft textures and ripe fruit delivers a medium bodied, fresh wine with black raspberries, cherry, earth, oak and spicy characteristics.

7,201 Views

Tasted

Jan 26, 2013

2008
Château L'Arrosée (St. Émilion Grand Cru)

Medium bodied, soft textured and elegant in character, the wine is filled with ripe red fruits, fresh herbs and spice box characteristics. This is already starting to drink well and is probably a St. Emilion to be consumed on the young side.

3,149 Views

Tasted

Feb 21, 2012

2005
Château L'Arrosée (St. Émilion Grand Cru)

Flowers, licorice, black raspberry, spice and earthy with a hint of oak make up a nice perfume. Never the most concentrated St. Emilion, this medium bodied wine is all about finesse and elegance, with soft, supple textures and a long, silky, red and black fruit filled finish. Give it a few more years to develop more aromatic complexity.

4,646 Views

Tasted

Oct 10, 2011

2000
Château L'Arrosée (St. Émilion Grand Cru)

Light, bright, fresh red berries, spice and earth make a nice, but short, soft impression. There is not enough there, there for long term aging.

2,665 Views

Tasted

May 8, 2014

1982
Château L'Arrosée (St. Émilion Grand Cru)

Quite charming, with its fresh, strawberry, floral, black raspberry, cherry and tobacco nose. Medium bodied, with a finesse style, this is fully mature and should be consumed ove the next 3-5 years.

3,714 Views

Tasted

May 8, 2014

1961
Château L'Arrosée (St. Émilion Grand Cru)

From a magnum, this bottle was super. Silky, soft and smooth, with an earthy, floral and sweet cherry character, the wine had freshness, medium body and refined, elegant, refined stylings.

2,666 Views

Tasted

Nov 13, 2016