This page is a guide to Chateauneuf du Pape offering an in-depth look at all the top Chateauneuf du Pape wineries, with wine tasting notes, images, details on the wines, styles and characteristics of each estate, history of the top properties, soils, terroir and wine making with links to producer profiles for all the top wineries in the Chateauneuf du Pape appellation.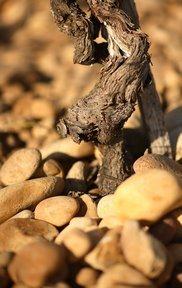 Chateauneuf du Pape takes its name from the time when the Pope moved to Avignon in 1305. The pope, Clement V, was an avid wine lover. He also spent time in Bordeaux at what is now called Chateau Pape Clement in Pessac Leognan.
In 1936, the INAO, Institut National des Appellations d'Origine officially created the Chateauneuf du Pape appellation and created  laws and rules that growers needed to follow, if they chose to sell their wines under the now, official Chateauneuf du Pape designation. It was agreed that the appellation would be created based on terroir and perforce, to a limited extent geography for vines planted in Chateauneuf du Pape and some areas of Orange, Courthezon, Sorgues and Bedarrides.
A total of 15 grape varieties are allowed by AOC laws, Grenache, Syrah, Mourvèdre, Picpoul, Terret Noir, Counoise, Muscardin, Vaccarèse, Picardan, Cinsault, Clairette, Roussanne, Bourboulenc, red Grenache Picpoul and white Grenache Picpoul. As you can see in the chart below, Grenache remains the dominant grape in the region. However, very few producers make Chateauneuf du Pape from 100% Grenache. Most feel the wine lacks complexity without a blend. Plus some growers also claim Grenache becomes too hot, or alcoholic if it's not blended with any of the other allowable grapes in Chateauneuf du Pape.  With that in mind, blending is of key importance in Chateauneuf du Pape.
Variety % 1989 – ——– – % 2004
Grenache 79.25 – ——– – 72.00
Syrah 5.66 – ——– – 10.50
Mourvedre 4.76 – ——– – 7.00
Cinsault 3.33 – ——– – 2.50
Clairette 2.34 – ——– – 2,50
Grenache Blanc 2.02 – ——– – 2.00
Bourboulenc 1.02 – ——– – 1.00
Roussanne .50 – ——– – 1.20
Counoise .43 – ——– – .50
Muscardin .33 – ——– – .40
Vaccarese .13 – ——– – .15
Picpoul .11 – ——– – .15
Picardan .10 – ——– – .05
Terret Noir .02 – ——– – .05
While most Chateauneuf du Pape wines are produced from blends, there are some wineries that use 100% Grenache, while others feature as much as 90% or more Grenache in the blend.
Domaine la Barroche Pure, Domaine la Barroche Terroir, Bonneau Marie Beurrier, Bonneau Celestins, Bosquet Des Papes, La Glorie de Mon Grand Pere, Chapoutier Barbe Rac, Chapoutier Croix de Bois Domaine de la Charbonniere Vieille Vignes,Clos Saint Jean Sanctus Sanctorum, Domaine Crista, Domaine Ferrand, Isabel Ferrando Colombis, Domaine de la Janasse Chaupin, Domaine de la Mordoree La Plume de Peintre, Domaine de Marcoux Vieille Vignes, Domaine Pegau da Capo, Chateau Rayas, Domaine de la Solitude CDP "Cornelia Constanza, Tardieu-Laurent Cuvee Speciale, Pierre Usseglio Mon Aieul, Pierre Usseglio Deux Freres, Raymond Usseglio Imperiale and Vieille Julienne Reserve are a few examples of Chateauneuf du Pape producers using an overwhelming portion of Grenache in their blend.
The soils found in Chateauneuf du Pape, with its combination of rocks, stone, sand, limestone and clay terroir would be poor for most living things, But it's perfect for the grapes grown in the appellation. The soils are not the only thing shaping the character of the wines. Chateauneuf du Pape is generally speaking, a hot, dry region. The mistrals, the name for the strong, cold winds that blow from north to south are a major factor in the character of the wines. These winds help keep the fruit clean, removes excess water, insects and disease.
Today, there are hundreds of growers in the region. More producers than ever are committed to making the best wines possible. This was not always the case. Much of the credit for the growth in quality and popularity in the region belongs to the wine critic Robert Parker. His constant championing of the wines from the Rhone earned the area fame and a lot more fortune.. Prior to Parker, very few producers from the region made great wine. In the 21st century, 50-100 domaines make fabulous wines at a myriad of different price points.
Of course people bought some wines from the region prior to Parker. But prices were low and producers did not have the money to reinvest in their estates. In a conversation with a well known vintner, they said, "We were fine before Robert Parker. We did not have much money, We were happy, but we could not buy new cars and even our bicycles were handed down from our older brothers or sisters. These days, we can afford to buy new things and most importantly, we can invest in the equipment and make the choices needed to produce the best wines possible."
A myriad of styles exist from Chateauneuf du Pape that range from earthy, spicy, rich, jammy, concentrated, light, traditional or modern. Starting in 1989, a trend that further made stylistic differences count was the advent of making special cuvees.  Prior to the Hommage to Perrin from Beaucastel, which made its debut in 1989, not many wineries made a separate, high end wine. That is not the case today. In fact, over 150 special wines are now made in the region. Many of the new, special cuvee's from Chateauneuf du Pape are made in a more modern style.
Much of the difference between traditional and modern, is the ripeness of the grapes, effective yields and the percentage of new oak barrels used in aging the wine. Producers making wines in a more traditional style do not use oak, preferring to age the wine in older, neutral, massive barrels or cement lined vats, that are widely used in the region. Some of the wine makers producing Chateauneuf du Pape in a modern style include a percentage of new oak, to age the wine in.  The use of oak adds soft textures, giving the wines a lush, polished texture. But the drawback seen by some people is the overt vanilla of coffee smell that can become apparent.
To me, at the end of the day, the creation of special cuvees are a positive development. It helped raise the image and race for quality in the appellation.  Chateauneuf du Pape is an exciting wine region making great character filled red wines that age for fair prices.