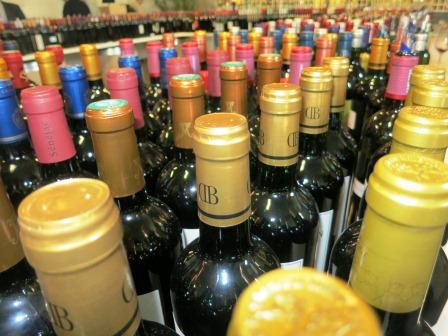 The UGCB, Union Grand Crus Bordeaux returns to North America January 2014 to show the current vintage, 2011. Now that Olivier Bernard of Domaine de Chevalier from Pessac Leognan has assumed the Presidency of the UGCB, the group has extended their touring schedule covering more cities over a longer period of time with their 2014 UGC Bordeaux tastings. For the first time, the UGCB will be in North America for 10 days starting January 16. The group will kick off the tour in Toronto, Canada finishing January 25 in San Francisco.
If you have not attended a UGCB tasting before, the 2014 UGC tastings allows Bordeaux wine lovers the chance to sample over 125 different Bordeaux wines as well as meet and talk with the owners of the chateaux that produce the wines. As a tip for this year, make sure you do not miss sampling the 2011 dry, white Bordeaux wine from Pessac Leognan and the sublime, 2011 sweet white Bordeaux wines from Sauternes and Barsac. These wines are very strong in the 2011 vintage.
For a look at the 2011 Bordeaux wines tasted in barrel: 2011 Bordeaux wine tasting notes To read detailed interviews on the vintage and harvest with the top winemakers and chateau in Bordeaux 2011 Bordeaux Harvest and Vintage Report
We will be at the Los Angeles tastings and will publish a detailed article with tasting notes and reviews from the event. If anyone else catches the event in LA, or in any of the other cities, we'd like to hear from you and your notes and comments on the event and on all the wines you tasted as well.
This is the list of cities the UGC wll visit in the United States and Canada in January, 2014.
January 16 Toronto Canada – Sponsored by LCBO, the tasting is open to the public. Tickets are available from : LCBO
January 17 Washington DC
January 18 Montreal Canada – The SAQ is hosting a tasting which is open to consumers. Tickets are available from: SAQ
January 20 New York – There is a trade tasting at the Waldorf Hotel in the afternoon which is followed by a consumer event held at Espace in the evening. For information on the consumer event, contact Sherry Lehman.
January 22 Chicago Drake Hotel
January 23 has two tastings taking place in Denver and Las Vegas.
January 24 Los Angeles Hyatt Regency Century Plaza Hotel – A tasting is taking place for members of the trade which is followed by a consumer tasting. Just before the consumer tasting of the 2011 Bordeaux, Wallys is hosting a special charity event featuring some of the top Bordeaux winemakers in the UGC. The annual, charity event benefits the worthy, Horatio Alger Association Scholarship Fund. 100% of all monies collected are earmarked for the charity. The charity tasting begins at 5pm sharp.
Tickets for the UGC Bordeaux tastings in Los Angeles are available from Wallys You can also call 310-475-0606
Not all members of the UGC will attend every event. This is a list of the 2011 Bordeaux wines being poured by the various Chateaux for the 2014 UGC Bordeaux tastings:
Château Batailley
Château Clerc Milon
Château d'Armailhac
Château Grand Puy Ducasse
Château Haut Bages Liberal
Château Lynch Bages
Château Lynch-Moussas
Château Pichon Baron
Château Pichon Lalande
Château Brane Cantenac
Château Cantenac Brown
Château du Tertre
Château Durfort Vivens
Château Giscours
Château Kirwan
Château Labegorce
Château Lascombes
Château Malescot St. Exupery
Château Siran
Château Rauzan-Segla
Château Bouscaut
Château Carbonnieux
Domaine de Chevalier
Château de Fieuzal
Château de France
Château Haut Bailly
Château La Louviere
Château La Tour Martillac
Château Les Carmes Haut Brion
Chateau Malartic Lagraviere
Château Olivier
Château Pape Clement
Château Smith Haut Lafitte
Château Beauregard
Château Bon Pasteur
Château Clinet
Château La Cabanne
Château La Conseillante
Château Gazin
Château Petit Village
Château Beau-Sejour Becot
Château Canon
Château Canon La Gaffeliere
Château Clos Fourtet
Château Dassault
Château Figeac
Château Franc Mayne
Château Grand Mayne
Château La Couspaude
Château La Dominique
Château La Gaffeliere
Château Larcis Ducasse
Château Larmande
Château Pavie Macquin
Château Troplong Mondot
Château Cos Labory
Château Lafon Rochet
Château Ormes De Pez
Château Phelan Segur
Château Beychevelle
Château Branaire Ducru
Château Gruaud Larose
Château Lagrange
Château Langoa Barton 
Château Leoville Barton
Château Leoville Poyferre
Château Talbot
Sauternes / Barsac
Château Bastor Lamontagne
Château Climens
Château Coutet
Château de Fargues
Château Doisy Daene
Château Guiraud
Château La Tour Blanche
Château Lafaurie-Peyraguey
Château Sigalas Rabaud
Château Suduiraut
Château Beaumont
Château Belgrave
Château Camensac
Château Cantemerle
Château Chasse Spleen
Château Clarke
Château Coufran
Château La Lagune
Château Poujeaux
Château Greysac
Château La Tour de By
Graves
Château de Chantegrive