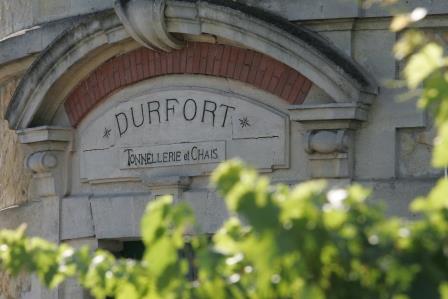 Learn everything about Chateau Durfort Vivens Margaux Second Growth with wine tasting notes and wine-with-food pairing tips. Learn all the best vintages, a history of the property, information on the vineyards, and winemaking. If you want to read about other important, Bordeaux Chateaux: Links to all Bordeaux Wine Producer Profiles
Chateau Durfort Vivens History, Overview
Chateau Durfort Vivens, like many Bordeaux wine producers, is named after a previous owner. In this case, it was the Durfort de Duras, a well-connected family from southwest France. Several hundred years later, in 1824, Chateau Durfort took the second part of its name from the owner at the time, the Viscount of Vivens, and became Chateau Durfort Vivens.
In those days, the wines of Chateau Durfort Vivens were popular. In fact, the 1844 vintage was priced higher than every other Bordeaux wine in the appellation, except for Chateau Margaux of course.
Thomas Jefferson, the American ambassador to France and the future president of the United States, was a Bordeaux wine connoisseur and ranked it directly after Chateau Lafite Rothschild, Chateau Latour, and Chateau Margaux in his fascinating travel diaries.
To show the tasting acumen of Thomas Jefferson, the 1855 classification ranked Durfort Vivens as a Second Growth. Not exactly just behind Lafite Rothschild, but not that far from that ranking either.
Durfort Vivens The Modern Age
Today the property is owned and managed by the Lurton family who purchased Durfort Vivens in 1961. Prior to the Lurton era, for a period of time, the wines were made at Chateau Margaux.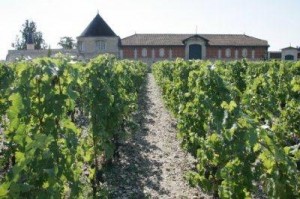 Gonzague Lurton, who took over the estate in 1992, runs the property today. Under his stewardship, Durfort Vivens has been modernized with new cellars and new fermentation vats of both cement and wood in their Left Bank cellars.
Starting with the 2009 vintage, Gonzague Lurton has begun striving to produce a riper and more concentrated style of wine at Durfort Vivens.
For the 2009 vintage, the Medoc estate changed its label to an antique rendering in order to reflect a design that was previously used by the estate ages ago. Another change took place in 2009 for Chateau Durfort Vivens. They began to experiment with organic farming techniques.
According to Gonzague Lurton, they farmed 20% of their Margaux vineyards using organic methods. By the 2013 harvest, the estate became 100% organically and Biodynamically farmed. They received their certification for biodynamic and organic farming in 2016 from Ecocert and Biodyvin. This made Chateau Durfort the first classified growth in the Margaux appellation to be Demeter certified as being 100% biodynamic.
In 2018, Durfort Vivens completed a full renovation and modernization of the cellars and the chateau.
Gonzague Lurton and his wife Claire Villars-Lurton are now making wine from Bordeaux varietals in Sonoma, California at their Trinite Estates vineyard.
Chateau Durfort Vivens Vineyards, Terroir, Grapes, Winemaking
The 55-hectare Margaux vineyard of Durfort Vivens is planted with 85% Cabernet Sauvignon, 13% Merlot, and 2% Cabernet Franc. This shows a marked increase in the amount of Cabernet planted in the vineyards and a decrease in the Merlot, which has led to better wine.
The terroir is gravel, clay, and sandy soil. The vines are planted to a density that varies from 6,600 to 8,300 vines per hectare. The higher levels of vine density are for the newer plantings. Their vines are old with an average age of 50 years. All the work in the vineyards is 100% biodynamic.
To produce the wine of Chateau Durfort Vivens, the wine is vinified in a combination of wood and concrete, temperature-controlled vats, and amphora. Durfort Vivens began using amphora in 2017, with only 2 clay amphora jars as an experiment. By 2022, they aged much of their Cabernet Sauvignon in amphora, utilizing over 160 clay jars ranging in size from 320 liters up to 750 liters. Malolactic fermentation takes place in vat. The wine of Durfort Vivens is aged in a combination of about 40% new French oak barrels and clay amphora for an average of 18 months, depending on the quality and character of the vintage.
There is a second wine that is sold under two names, Vivens, and Le Relais de Durfort Vivens. The estate also produces a unique label that is specific to the Chinese market for their second wine which is called Jardin de Durfort.
Starting with the 2019 vintage, Chateau Durfort Vivens added 3 additional wines from diverse terroirs to its portfolio. Les Plantes, Le Hameau and Le Plateau. Durfort Vivens Les Plantes comes from the estate's youngest vines.
Durfort Vivens Le Hameau comes from a 10-hectare parcel of vines in the Cantenac sector. The blend of Cabernet Sauvignon and Merlot is almost 50/50. The wine is aged in a combination of 70% clay amphora and French oak barrels for an average of 16 months before bottling.
Durfort Vivens Le Plateau is produced from vines planted in the commune of Soussans, which is at the northern end of the estate's vineyard. The Cabernet Sauvignon dominated blend is aged in a combination of 70% clay amphora and French oak barrels for about 16 months before the wine is blended and bottled.
Durfort Vivens began producing a white Bordeaux wine with the 2021 vintage. Durfort Vivens Blanc de Noir is produced from a blend of 50% Cabernet Franc and 50% Muscadelle. The wine is sold as a Vin de France.
In addition, the family also produces Chateau La Gurgue from the Margaux appellation as well as Chateau Domeyne from vines they own in the St. Estephe appellation.
When to Drink Chateau Durfort Vivens, Anticipated Maturity, Decanting Time
Chateau Durfort Vivens can be enjoyed on the young side with decanting. Young vintages should be decanted for an average of 1-2 hours, give or take. This allows the wine to soften and open its perfume. Older vintages might need very little decanting, just enough to remove the sediment.
Chateau Durfort Vivens is usually better with at least 6-9 years of bottle age. Of course, that can vary slightly, depending on the vintage character. Chateau Durfort Vivens offers its best drinking and should reach peak maturity between 10-20 years of age after the vintage.
Serving Chateau Durfort Vivens, with Wine, Food, Pairing Tips
Chateau Durfort Vivens is best served at 15.5 degrees Celsius, 60 degrees Fahrenheit. The cool, almost cellar temperature gives the wine more freshness and lift.
Chateau Durfort Vivens is best served with all types of classic meat dishes, veal, pork, beef, lamb, duck, game, roast chicken, roasted, braised, and grilled dishes. Chateau Durfort Vivens is a perfect match with Asian dishes, hearty fish courses like tuna, mushrooms, and pasta as well as cheese.
Château Durfort-Vivens Wine Tasting Notes
16 Vintages 62,245 Views Sort by Vintage-Rating
2021
Château Durfort-Vivens (Margaux)
Red currants and cassis with a touch of flowers are in the nose. Medium-bodied, bright, fresh and juicy, there is a crispness to the red berries on the crunchy palate. The wine is a blend of 97% Cabernet Sauvignon and 3% Merlot, representing the highest percentage of Cabernet ever placed in the blend in the history of the property. 12.9% ABV. Drink from 2024-2039. 91-93
1,779 Views
Tasted

May 20, 2022
2019
Château Durfort-Vivens (Margaux)
Flowers, cherries, and tobacco show easily on the nose. The wine is medium-bodied, elegant, fresh, clean, and pure, with silky tannins and a vibrancy that give the perfect amount of lift for the sweet, soft, red fruits. Give this a few years in the cellar and it will be just great to enjoy for 2 or more decades. The wine is a blend of 90% Cabernet Sauvignon and 10% Merlot. The wine is aged in a combination of new and used French oak barrels with 30% of the wine aged in clay amphora. Drink from 2025-2050.
5,222 Views
Tasted

Jul 8, 2022
2017
Château Durfort-Vivens (Margaux)
Better in the bottle than in cask, the wine is forward, medium-bodied, elegant, fresh, forward and expresses a nice sense of purity in its red fruits.
3,578 Views
Tasted

May 14, 2020
This is an elegant, lighter styled, red berry-oriented wine with good purity of fruit, a lot of bright acidty and leafy, floral notes.
1,762 Views
Tasted

Apr 26, 2018
2016
Château Durfort-Vivens (Margaux)
What a difference a vintage makes! Showing deep color with lush, supple textures, flesh and finesse, the wine is wrought with sweet, polished, ready berries, freshness, length, complexity and depth. Produced from a blend of 70% Cabernet Sauvignon, 25% Merlot and 5% Cabernet Franc, this is best wine I've ever tasted from Durfort Vivens!
4,266 Views
Tasted

Apr 29, 2017
2015
Château Durfort-Vivens (Margaux)
Medium-bodied, elegant, fresh and forward with sweet, fresh, dark cherries and cassis from start to finish. 88 - 90 Pts
3,803 Views
Tasted

Apr 21, 2016
2014
Château Durfort-Vivens (Margaux)
Medium-bodied with a bright, red berry piquancy, this wine has multifaceted character of salty, soft, sweet and tart red fruits. 86-88 Pts
2,197 Views
Tasted

Apr 22, 2015
2013
Château Durfort-Vivens (Margaux)
With oak and dark berries, this medium-bodied wine offers more concentration than expected with a slightly dry, spicy finish filled with dark cherries. 87-89 Pts
2,847 Views
Tasted

Apr 20, 2014
2012
Château Durfort-Vivens (Margaux)
Elegant in style with medium body, cherries and earth in the profile, this is a lighter, classic style of wine that should drink well on release. 87-90 Pts
2,599 Views
Tasted

Apr 25, 2013
2011
Château Durfort-Vivens (Margaux)
From an assemblage of 75% Cabernet Sauvignon, 20% Merlot and 5% Cabernet Franc, the wine will be aged in 45% new oak. Medium-bodied with cassis and cherry, the wine is fresh, but short and drying in the red berry finish. 87-89 Pts
3,178 Views
Tasted

Apr 19, 2012
2010
Château Durfort-Vivens (Margaux)
Durfort Vivens From an assemblage of 70% Cabernet Sauvignon, 26% Merlot and 4% Cabernet Franc, (Which is almost identical to the blend in 2009) this medium bodied, soft, cassis and red plum wine is elegantly styled and should drink well within a few years of release. 89-91 Pts
3,113 Views
Tasted

Apr 22, 2011
2009
Château Durfort-Vivens (Margaux)
2009 Durfort Vivens is medium ruby. Blackberry and cassis scents fill the nose of this medium bodied wine. Although it has fresh, attractive flavors, the wine lacks concentration and structure. Made from a blend of 74% Cabernet Sauvignon, 21% Merlot and 5% Cabernet Franc, this should drink well young. 88/90 Pts
4,434 Views
Tasted

Aug 26, 2010
2008
Château Durfort-Vivens (Margaux)
Medium-bodied, round, fresh, bright and lifted, the nose is more interesting with its ripe berry, earth and floral notes than on the palate, which is a bit short in the finish.
2,294 Views
Tasted

Aug 20, 2020
2006
Château Durfort-Vivens (Margaux)
Medium-bodied, firm, bright, fresh and crisp, the wine is better on the earthy, cherry, currant, tobacco and leafy nose, than on the sharp, bright, savory, crunchy palate.
3,036 Views
Tasted

Oct 28, 2021
2005
Château Durfort-Vivens (Margaux)
A lighter style of Margaux, with a focus on fresh red fruits, this is medium bodied, soft textured, bright, earthy and ready to drink.
4,684 Views
Tasted

Aug 3, 2014
2004
Château Durfort-Vivens (Margaux)
Bright, crisp, red fruits, light in color and concentration, this fully mature wine is better on the nose than the palate.
6,896 Views
Tasted

Jan 4, 2015
2000
Château Durfort-Vivens (Margaux)
Light ruby in color, this delicate style of Margaux shows spice, earth and tobacco note, ending in a light cherry finish. Already fully mature, this requires drinking.
6,557 Views
Tasted

Jun 24, 2010