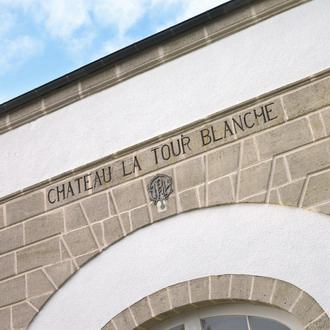 Learn everything about Chateau La Tour Blanche Sauternes, Premiers Crus with wine tasting notes, and wine with food pairing tips. Learn the best vintages, the history of the property, and information on the vineyards and winemaking. If you want to read about other important, Bordeaux Chateaux: Links to all Bordeaux Wine Producer Profiles
Chateau La Tour Blanche History, Overview
Chateau La Tour Blanche, following in the tradition of the times, takes its name from the founder of the estate, Jean Saint Marc du Latourblanche. Skipping ahead about 100 years, give or take, the next important chapter in the history of Chateau La Tour Blanche takes place during the 1855 Classification of Bordeaux wine.
In fact, in those days, the estate was one of the most respected in the Sauternes appellation, not that far behind Chateau d'Yquem! At the time, the estate was the property of a German citizen, Frederic Focke.
Frederic Focke is known for trying to take credit for introducing the concept of making sweet wines that had been infected by noble rot, better known as botrytis in Sauternes. Of course, that is not correct as the region has a long history of producing sweet wine that dates back to at least the mid to early 1700s.
The modern era of Chateau La Tour Blanche really begins thanks to Daniel Osiris Iffla. Daniel Osiris gifted the chateau and vineyard to the French Government with the condition that a Bordeaux Wine School be created on the Sauternes property.
In 1909, The Ministry of Agriculture finally agreed and created the La Tour Blanche School of Viticulture and Enology. Construction was completed two years later in 1911. To commemorate this gift, the name of Osiris is still seen on the label of Chateau La Tour Blanche which states "Donation Osiris".
Despite its unusual status, Chateau La Tour Blanche is run by people experienced in the Bordeaux wine business.
Chateau La Tour Blanche Vineyards, Terroir, Grapes, Winemaking
The 44 hectare Sauternes vineyard of Chateau La Tour Blanche has 40 hectares of vines planted to 83% Semillon, 12% Sauvignon Blanc and 5% Muscadelle. That gives La Tour Blanche one of the higher concentrations of Muscadelle in all of Bordeaux.
The terroir is a mix of gravel, clay, sand, and limestone soil. The vine density is 6,200 vines per hectare. The vineyard is in one, large parcel of vines, in a prime location, not far from the Ceron river. There are good elevations here, as at the top of the slopes are close to 67 meters at their peak.
They also maintain 4 hectares of vines for red wine grapes planted to 100% Merlot.
To vinify the wine of Chateau La Tour Blanche, vinification takes place in a combination of 100% new, French oak barrels and one-year-old, French oak barrels and steel vats. The Semillon is aged in 35% new, French oak barrels for 16 to 18 months, while the Sauvignon Blanc and the Muscadelle are aged for 16-18 months in stainless steel vats before blending and bottling.
The best vintages of Chateau La Tour Blanche are: 2022, 2021, 2020, 2019, 2018, 2017, 2016, 2015, 2014, 2013, 2011, 2010, 2009, 2007, 2005, 2001, 1997, 1990, 1989 and 1988.
On average, the annual production of Chateau La Tour Blanche is close to 6,000 cases per year. There is a second wine, Les Charmilles de La Tour Blanche. The estate also makes 4 dry white Bordeaux wines, DUO de La Tour Blanche, Isis, Osiris, and Jardins de Thinoy. Additionally, La Tour Blanche also produces Cru du Cinquet, a red Bordeaux wine from 100% Merlot.
When to Drink Chateau La Tour Blanche, Anticipated Maturity, Decanting Time
Chateau La Tour Blanche can be enjoyed on the young side with no decanting. In fact, it is delicious and quite a treat young, even on release! However, like all great wines, Chateau La Tour Blanche is much better with age and does not reach full maturity until it's between 12-30 years of age, or in some years, perhaps even longer in the best vintages! That is when the magic happens!
But that is unrealistic for 99% of the world's wine drinkers. So, enjoy it at any special occasion that calls for it.
Of course, the wine is sweet, but there is so much, incredible, racy acidity, the wine always feels fresh, and never cloying, which makes it quite fun to enjoy young. With Chateau La Tour Blanche and frankly, all Sauternes, the temperature is more important than decanting.
Serving Chateau La Tour Blanche with Wine and Food Pairings
Chateau La Tour Blanche is best served at 14 degrees Celsius, 57 degrees Fahrenheit. The cool, almost cellar temperature gives the wine more freshness and lift. The wine will naturally warm in the glass, while it develops more aromatic complexities and fleshes out.
Chateau La Tour Blanche can be served with seafood dishes, especially shellfish, lobster, crab, and oysters on the half shell. Foie gras is a perfect pairing with its natural sweet, salty and savory characteristics. Chateau La Tour Blanche can also be paired with roasted chicken, veal, and pork dishes that are either spicy or prepared with a touch of sweetness.
Spicy Asian cuisine, raw fish, like sushi or sashimi, and cheese, both hard and soft also make great pairings with Chateau La Tour Blanche.
Château La Tour Blanche Wine Tasting Notes
21 Vintages 74,179 Views Sort by Vintage-Rating
2022
Château La Tour Blanche (Sauternes)

Candied lemon, pineapple, and honey with floral accents, apricots, and hints of white peach on the nose, and on the sweet, medium/full-bodied, fresh, mango, and pineapple-infused palate. Drink from 2025-2045. 92-94 Pts.

796 Views

Tasted

May 8, 2023

2021
Château La Tour Blanche (Sauternes)

Honeyed tropical fruit with floral accents, apricots and hints of white peach on the nose and on the sweet, medium/full-bodied, fresh, mango and pineapple infused palate. Drink from 2023-2045. 91-93

1,302 Views

Tasted

May 20, 2022

2020
Château La Tour Blanche (Sauternes)

Honey coated pineapple, buttery candied orange, lemon zest, flowers and apricots seek and get your attention. Rich, lush, sweet and fresh with ripe and overripe pineapples slathered with honey on the palate, but with enough acidity to maintain freshness. 92-94 Pts

1,768 Views

Tasted

May 20, 2021

2019
Château La Tour Blanche (Sauternes)

Candied orange rind, flowers, spice, overripe pineapple, honey and roasted toffee nuts are on display on the nose and palate. Fresh, sweet, vibrant, racy and honeyed, with long, lemon-tinged, honeyed pineapple finish. Drink from 2023-2045.

1,722 Views

Tasted

Mar 29, 2022

2018
Château La Tour Blanche (Sauternes)

With a strong floral character, the wine exudes candied orange rind, tangerine, lemon curd and pineapple on the nose and palate. Sweet, fresh and with macadamia nut honey riding on top of all the fruits, this is a solid sweet treat.

859 Views

Tasted

Mar 9, 2021

Floral, apricot, candied orange and tangerine rind with macadamia nut honey is what you will find on the nose and palate in this easy going, sweet treat.

2,278 Views

Tasted

Apr 19, 2019

2018
Château La Tour Blanche DUO de la Tour Blanche (Bordeaux)

Crisp waxy lemons, grapefruit, spring flowers and a touch of bright, orange tropical fruit all wrapped up in a lush, creamy, fresh and fruity finish.

848 Views

Tasted

Mar 9, 2021

2017
Château La Tour Blanche (Sauternes)

With distinctive orange and tangerine accents on a superfluity of tropical fruits, there is a richness here that is tough to resist. The sultry, fruit-filled finish with its refreshing attitude is incredible. La Tour Blanche is one of the few Bordeaux cha

2,888 Views

Tasted

Apr 26, 2018

2016
Château La Tour Blanche (Sauternes)

Focused on the buttery pineapple with tropical fruits and vanilla all coated with honey, you find a rich, lushly textured, honey soaked treat.

2,951 Views

Tasted

Feb 11, 2019

Flowers, vanilla, buttered pineapple and assorted tropical fruits drizzled with honey gets you going. Sweet, rich and lush in the mouth, with an apricot and honey oriented finish.

2,705 Views

Tasted

Apr 29, 2017

2015
Château La Tour Blanche (Sauternes)

Loads of sweet, tropical fruit, apricot, orange rind and nectarine all coated with honey. Rich, sweet and fresh, the spice and vanilla in the end add to all that sweet, lush fruit. La Tour Blanche is one of the few Bordeaux chateaux that still includes a percentage of Muscadelle in the blend. 91 - 93 Pts

3,231 Views

Tasted

May 3, 2016

2014
Château La Tour Blanche (Sauternes)

Apricot, candied orange, honeysuckle, spice and pineapple, all soaked in honey let you know what you're in store for. Add in the vibrant acidity and you have a winner here. Freshness paired with sweetness, from a blend of 82% Semillon, 12% Sauvignon Blanc and 5% Muscadelle.

2,918 Views

Tasted

Feb 4, 2017

2013
Château La Tour Blanche (Sauternes)

Tightly wound at the moment and not giving up much. The wine is on the mineral driven, honeyed citrus, spice and orange marmalade side of the style range, with a honeyed, lemon fresh and vanilla finish. This will probably develop well, especially for tasters looking to pair sweet wines with savory and spicy dishes.

2,982 Views

Tasted

Feb 1, 2016

2011
Château La Tour Blanche (Sauternes)

A solid preformance in this vintage. One of the few Bordeaux chateaux to include Muscadelle in the blend, the wine serves up vanilla tinged, tropical fruits, honey, flowers and spicy scents. The finish is sweet, fresh and offers good intensity.

4,229 Views

Tasted

Feb 12, 2014

2010
Château La Tour Blanche (Sauternes)

Quite floral, with a nice mix of yellow and orange tropical fruits, a hint of vanilla, honey, apricots and overripe pineapple. Fresh, sweet, lush and lifted, this is delicious right now and should improve with ease for at least another 10-15 years.

2,428 Views

Tasted

Aug 29, 2020

2009
Château La Tour Blanche (Sauternes)

Lemon curd, pineapple, candied orange, spice, vanilla, mango, burnt sugar and a sprig of mint are at the center of this wine. Fresh, honeyed, spicy, and with a lemon chiffon note in the lifted finish, with a slight bitter note at the end of the finish, this is good to go. Drink from 2022-2040.

3,766 Views

Tasted

Oct 13, 2022

Citrus, vanilla, apricot, nectarine, pear and honey scents produce the aromatics. With ample concentration and acidity, the wine ends with a rich layer of spice and honey coated tropical fruits.

4,082 Views

Tasted

Jan 25, 2012

2007
Château La Tour Blanche (Sauternes)

Thick, rich, sweet, fat and intense, the wine displays a beautiful, nutty, tropical fruit, pineapple, apricot, vanilla custard and honeyed character. Sweet, juicy and delicious, there is good length found in the finish.

3,430 Views

Tasted

Aug 24, 2013

2005
Château La Tour Blanche (Sauternes)

On the orange tropical side of the style range with loads of sweet, honey-coated apricots, spice and flowers, the wine balances all that juicy, luscious, honeyed sweetness with the right amount of racy acidity. This is drinking just great today.

5,030 Views

Tasted

Mar 28, 2021

2003
Château La Tour Blanche (Sauternes)

This lusty beauty of a wine is packed with ripe and over ripe tropical fruit drenched in honey, pineapple, apricot, vanilla and spice. Fat, rich and lush, there is good depth and enough brightness to keep the wine vibrant.

5,065 Views

Tasted

Feb 7, 2013

2001
Château La Tour Blanche (Sauternes)

With an explosive nose packed with assorted tropical fruits slathered in honey, toasted nuts, vanilla, orange, spice, apricot and floral notes, this rich, thick, intense, sweet Bordeaux wine ends with layers of fruit, honey and acidity.

5,482 Views

Tasted

May 11, 2012

1990
Château La Tour Blanche (Sauternes)

Starting to fade, the fruit is lighter than I recall. There is more complexity in the honeyed, tropical, apricot and orange nose, than you are going to find in the medium bodied palate and its bright, citrus and apricot, sweet finish. This is not a wine to age further.

3,940 Views

Tasted

Jul 27, 2015

This is a nice Sauternes that is clearly at, or slightly past its peak. The sweet honey fruit and rich textures are fading. I'd drink any remaining bottles sooner than later.

4,969 Views

Tasted

Dec 21, 2013

1937
Château La Tour Blanche (Sauternes)

Amber in color, with the dark chocolate covered orange notes that pop up in very old Sauternes, the wine was still sweet, fresh, and lively, with loads of butterscotch, caramel, burnt vanilla, apricot and orange rind, with honeysuckle from start to finish.

2,155 Views

Tasted

May 9, 2016

1935
Château La Tour Blanche (Sauternes)

More acid than fruit, with a distinctive orange, tangerine and not fully ripe apricot accent, this was clearly on the downhill side of life.

2,355 Views

Tasted

Nov 10, 2017