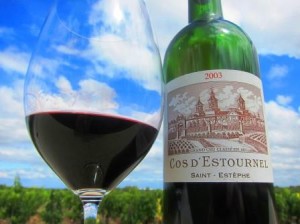 2003 Bordeaux is perhaps the most controversial vintage in modern times. Due to the once in a lifetime characteristics of the vintage, the wines offered unique character ranging from exotically textured masterpieces at their best, to prune filled, dried out wines with fruit that can well be describes as raisins.
2003 Bordeaux was never a vintage of the century. I am confident no serious writer ever made that statement. However, there are some extraordinary 2003 Bordeaux wines that offer some of the most interesting tasting experiences available in wine. Others are already well past their prime as they matured at a pace that was much faster than originally anticipated.
Clearly, the best 2003 Bordeaux wine comes from the Northern Medoc. Pauillac and St. Estephe were quite successful. A handful of wines from St. Emilion also offer stunning drinking. But make no mistake, 2003 Bordeaux is a vintage you need to choose and more importantly, choose wisely. If you are looking for help with anything and everything Bordeaux, including choosing wisely: Please see the All About Bordeaux Wine Guide
It's not just the red 2003 Bordeaux wines that are worth commenting on, 2003 is a great vintage for the sweet, white Bordeaux wine from Sauternes and Barsac. The wines are sweet, lush, fat and intense, plus they continue to develop nicely.
What made 2003 Bordeaux wine unique? For a detailed overview on the weather and harvest please read : 2003 Bordeaux Wine
2003 Bordeaux wine is the product of a scorched, hot, dry growing season. The torrid temperatures remained sky high, day and night. There was no getting away from the intense, dry heat. It seldom cooled down. Record setting temperatures were recorded in June with 10 days in a row that reached over 86 degrees.! More than 50 days during the growing season endured temperatures over 86 degrees. On the hottest days, it was close to unbearable. On one afternoon at Chateau Lafite Rothschild, close to the chateau, record setting temperatures were recorded at close to 120 degrees!
The weather was hot and incredibly dry. The vines were stressed and suffered from the drought. Some shut down and stopped feeding. The September rains that fell September 6, 7 and 9 helped the vintage in the Northern Medoc. Select growers knew the moment the harvest was finished, that 2003 Bordeaux wine would be a very special vintage for them.
On the other side of the coin, much of the Pomerol crop burned and dried out. Pessac Leognan was not a success. Selective buying in St. Emilion can lead to some sublime wines from deep, limestone soils. While Chateau Margaux is stunning, Margaux is the least consistent appellation in the Left Bank.
The following wines were tasted from April 2013 to August 2013. Most were tasted in Bordeaux and from bottles provided by the chateau, allowing me pristine bottles. The remaining wines were pulled from my own cellar. Those bottles were all bought as futures and stored in a cold, dark cellar. These tasting notes are for 2003 red Bordeaux wine. Tasting notes are also available for Sauternes. If you're interested, please use the search function for either just the tasting notes, or look up them up by chateau under the article text search.
2003 d'Armailhac displays a developed color older than its decade of life should feature. Tobacco, dark red berries, earth and spice notes pair well with the medium bodied, soft, slightly drying finish. This requires drinking over the next 5-8 years. 91 Pts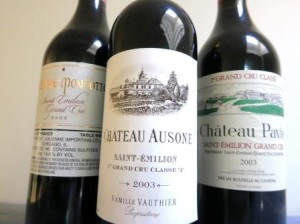 2003 Angelus – Maturing at a more rapid pace than originally anticipated, the wine is soft, fleshy and round, offering jammy plum, dark cherry, truffle, cocoa and smoke on the nose. The supple textured finish delivers sweet fruits and jam. This is close to mature. There is probably no hurry to drink it yet, there is not much reason to wait before popping a cork. 92 Pts
2003 Ausone – The wine of the vintage from the Right Bank is relatively youthful, concentrated, and rich, with a really depth of raw materials, ripe fruits and minerality. The exotic textures are perfectly matched by the complex earthy, licorice, floral, plum, black cherry and crushed rock filled nose. The incredibly long, expansive, mineral drive finish must last for close to 60 seconds on your palate. 99 Pts
2003 Beau-Sejour Becot – Close to fully mature, with a sensuous style coupled with juicy ripe plums, cocoa powder, tobacco, stone and truffle notes that ends with a plummy, spice filled, sweet finish. 92 Pts
2003 Beausejour Duffau – The aromatics are light, but there is a nice sweetness and silky texture to the fruit. The wine is not deep. This is all about the texture. It was a nice surprise to find this showing this well. 89 Pts
2003 Berliquet – Light in color, with cooked berry notes, the wine ends with a hint of strawberry in the declining finish. 83 Pts
2003 Beychevelle – Ruby with slight bricking at the edge, jammy black raspberry, forest floor, cigar box, cedar and earthy scents create the nose. On the palate, the wine is soft, silky and offers sweet, ripe roasted black cherries and plums. 90 Pts
2003 Bellevue Mondotte – Deep in color, with lightening at the edges, the wine is powerful, concentrated and deep. There is an intense mineral element to the layers of perfectly ripe, exotic fruits. This is another 2003 that will enjoy a long life. 97 Pts
2003 Brane Cantenac – With flowers, tobacco, earth and blackberry aromas, this medium bodied wine has retained some freshness on the mid palate, ending with a slightly dusty, red berry finish. 90 Pts
2003 Branaire Ducru – Tobacco, spearmint, spice, cassis and earthy notes are the first thing that hits you. On the palate, the wine is silky, plush and round. There is good sweetness to the soft, polished black cherry core of fruit. This is drinking great today. While there is no hurry to drink it, if you have a bottle, pop a cork. 93 Pts
2003 Canon – Medium bodied, with a jammy, earthy, red fruit nose, the wine is soft, bright and ready to drink. 89 Pts
2003 Canon La Gaffeliere – Probably fully mature, with a plum, black raspberry, smoke, herb and truffle filled character, the wine is soft, round and smooth delivering most of what it has to offer today. 90 Pts
2003 Calon Segur – Like most 2003 from the St. Estephe appellation, this has developed nicely. The tannins have a nice polished feeling to them that coupled with the earthy, tobacco, cassis and dark berry filled personality, it really delivers on the pleasure meter. This is one of the few vintages of Calon Segur that does not require decades of aging. 93 Pts
2003 Cheval Blanc – From a blend of 56% Cabernet Franc and 44% Merlot, the wine is medium bodied and delivers more in its aromatics than on the palate. The perfume serves up a nose of fresh herbs, plum, earth, toast, coconut and dark cherry. The wine is soft and polished in texture, but lacks the density of material and complexity found in many of the best vintages. This is probably close to fully mature today. 92 Pts
2003 Clerc Milon – With the patina of age in the color, tobacco, forest floor and fresh herbs dominate the perfume in this cassis filled wine. Medium bodied, with some dryness in the cherry dominated finish, if you own any, drink up as this wine is not going to get better. 90 Pts
2003 Clos Fourtet – Showing an advanced color, with cooked, jammy berries, forest floor, smoke and tobacco notes, this needs to be consumed sooner than later before the rest of the fruit fades away. 90 Pts
2003 Domaine de Chevalier – More interesting with its perfumed scents of tobacco, earth, cigar box, dark cherry and spicy nose than the medium bodied, refined, soft, dark cherry filled palate. There is no sensation of jam or over ripeness in the character. This is probably close to fully mature and is already delivering most of its charm. 90 Pts
2003 Clos Dubreuil – The first vintage for Benoit Trocard opens with tobacco, cigar box, smoke and cherries. Close to fully mature, I'd drink this sooner than later to preserve the plush, sweet plum and cherry fruits. There is a slight dryness to the tannins in the finish. 89 Pts
2003 Cos d'Estournel – Explosive notes of truffle, cedar chest, minerality, smoke, mint, tobacco leaf, coffee, licorice, plum and black cherry. The wine offers massive concentration with perfect balance, harmony and charm. With textures of silk and velvet, your palate is coated with sweet, ripe black and red fruits that remain for close to 60 seconds. If you enjoy great wines that are starting to open, pop a bottle now. If you want to wait, it's only going to get better and better! 98 Pts
2003 Le Crock – Fully mature with a nose of cigar box, herbs, earth and dark red cherries. The wine is soft round and open, leaving with fresh cherries in the finish. 89 Pts
2003 Duhart-Milon – Light in color with noticeable bricking , scents of cigar box, forest floor and dark berries are easy to find. Medium bodied, with no tannin remaining, the wine is drinking at full maturity. 90 Pts
2003 Ducru Beaucaillou – Smoke, black raspberry, cherries, forest, wet earth aromas open to a soft, medium/full bodied wine with lush textures and roasted red berries. With time, the wine morphed to olive tapenade, fat and density, losing some of its richness with time. The wine is better with only a short decant. 93 Pts
2003 Fleur Cardinale – Fully mature, the plush, dark cherry, chocolate and truffle filled personality is delivering its all today. I'd opt for drinking this over the next 3-5 years. 91 Pts
2003 Franc Mayne – Aromas of smoke, earth, red berries and fennel open to a medium bodied, tart red berry finish. This is the last vintage produced from 100% Merlot. The new owners took over the following year, changing the label, vineyard cepage and blend. 84 Pts
2003 Giscours – Light ruby in color, smoke, truffle, earth, cigar box, fennel and jammy black cherry scents create the complex aromatics. Medium bodied, silky, sexy and filled with black raspberry and spice. This is not a wine that requires more age. I'd drink this over the next 7 to 10 years. 91 Pts
2003 Goulee – Still showing some its licorice, black cherry, coffee bean and earthy personality, this wine has lost some of its vibrancy and juicy fruits with time. However, the round textures are still present in the finish. 89 Pts
2003 Grand Mayne – Better on the nose than the palate with its earthy, black raspberry and cherry tones. Medium bodied, with a cherry filled finish, this is offering all of its pleasure today. 89 Pts
2003 Grand Puy Lacoste – Light in style, character and density, this is more than fully mature. Tasters should drink up before its remaining cassis, earth and tobacco essence fades away. 89 Pts
2003 Haut Bailly – With aromas of forest floor, earth, smoke, leaf, fresh herbs and spicy cassis, this medium bodied wine has soft, silky textures and cherries at its center. But the finish is dusty, with hints of dryness on the palate. I'd drink this sooner than later. 89 Pts
2003 Haut Brion – Like many wines from Pessac Leognan in 2003, this has developed at a rapid pace. You can see it in the color, note it in the perfume and feel it on the palate. There is complexity, but the fruit is slowly starting to fade before its time. This should be drunk up before the wine hits 20 years of age, if not a few years sooner. 93 Pts
2003 Haut Batailley is completely mature sending out a nose of tobacco, cedar chest, forest floor and blackberry notes. Soft in texture, with a nice cassis filled finish, there is no reason to hold this any longer. 88 Pts
2003 d'Issan – Blending 69% Cabernet Sauvignon with 31% Merlot produced a wine that reached 12.9% alcohol. The wine was aged in 50% new, French oak, which is now completely integrated into the wine. Wet earth, tobacco, forest floor and blackberry fruits play well with the soft, plush, ripe, red and black cherries, ripe tannins and sweet plums. Supple and round, this is drinking perfectly now, yet it can age for at least another decade. 92 Pts
2003 Larcis Ducasse – While the textures are soft, the fruit is rapidly fading. Drink up. 86 Pts
2003 Lafon Rochet – Dropping its fruit, the wine has taken on more of a tart, sweet and sour red berry character on the palate. I'd opt for drinking this sooner than later. 88 Pts
2003 Lafite Rothschild – With the color of a wine that is at least 15-20 years older than its true chronological age, the fully mature wine offers truffle, cigar box, cedar wood, tobacco, earth and dark, roasted berries. The wine is open, silky and sensuous, with an exotic texure on the palate that is sublime. There is no sensation of jammy flavors. But there is not a lot of stuffing here. This is not a wine to age for decades. 95 Pts
2003 Carruades de Lafite – Tobacco and earth in the nose, not much fruit remains, but it's still interesting to drink at 10 years of age. 87 Pts
2003 Lagrange – Starting to dry out a bit, there is still plenty of tobacco, cassis, cranberry and earthy notes in the nose, but the tannins are firm and drying. 89 Pts
2003 La Lagune – Quite charming, with its supple textures, floral, earth, tobacco and cherry filled nose ending with soft, sweet, black raspberries. This is drinking in the sweet spot today. 91 Pts
2003 Lascombes – Oaky from start to finish. Once past the espresso and vanilla notes, the wine is fat, lush and serves up a healthy dose of sweet, fleshy, jammy black raspberries and cherries. This is a specific style of wine that is not going to work for traditionalists. 90 Pts
2003 Latour – Dark in color, with a flamboyant nose of licorice, espresso, blackberry, jam, earth, plums and spice in the nose. Rich, full bodied, fat, deep and intense, with air the wine continued to soften, becoming, silky and exotic in texture. You can sense the alcohol, but there is such a wealth of fruit and ripe tannins, it does not matter, the lengthy finish fills your palate. 2003 Latour is a bit of a head scratcher. I've tasted this wine at least half a dozen times this year, with varying results. Some bottles like this wine have been stunning. Others have been much drier and more austere on the palate. 98 Pts
2003 Forts de Latour – Soft, sweet, lush and fully developed, this blackberry, earth and plummy wine is round, open and accessible, with lots of spicy, earthy dark red cherries in its core. However, this is note a wine for aging, it's already delivering most of its charm today. 91 Pts
2003 Langoa Barton – Licorice, earth, tobacco, blackberry and cigar notes open to a soft wine that has developed rapidly. The end note is a bit dry in the otherwise, warm, black cherry finish. 90 Pts
2003 Leoville Barton – Tobacco, forest floor, truffle, cigar box, ash, blackberry and fresh herb notes create the complex set of aromatics. On the palate, the round, black cherry and spicy sensations are a treat. Probably close to mature, there is no reason to wait to pop a cork. But there is no hurry either. Drink this delicious wine over next 10-15 years. 94 Pts
2003 Leoville Las Cases – Ruby in color with lightening at the edges, a mature nose of smoke, truffle, herbs and roasted blackberries open to a rapidly developing vintage of Leoville Las Cases. There is a roasted, herb quality to the dark, red fruits. Coupled with soft, opulent textures displaying the patina of age, you end up with an enjoyable to drink today, and over the next 5-10 years. However, this is not a wine to lay down for decades. 93 Pts
2003 Clos de Marquis – Earth, cigar box, roasted berries, fennel, smoke and mushroom scents create the perfume. The wine is developed and does not require additional aging. Medium/full bodied and polished in texture, the wine ends with sweet cherries. 91 Pts
2003 Leoville Poyferre – Light ruby in color, the wine sings with a nose packed with tobacco, black and white cherries, mocha, smoke, licorice and truffle. Soft, plush, round tannins, layers of voluptuous, ripe, sexy dark fruits and spicy, sweet candied cherries create a long, opulent, enticing finish. This is a winner and one of the stars of the vintage in the Medoc! 96 Pts
2003 Moulin Riche – Cherry, smoke, tobacco, bright, medium bodied and past its prime, this requires drinking. 84 Pts
2003 Lynch Bages – Forest floor, cedar wood, fennel, smoke and cherry liqueur scents start off the concentration of flavor, supple, round tannins and a sweet, finish filled with ripe cherries and crème de cassis. 93 Pts
2003 Malescot St. Exupery – Deep ruby in color, reticent aromas of smoke, licorice, wet earth, tar, blackberry, coffee and tree bark lead to a sweet, ripe, round, medium bodied, plush, black raspberry and spice filled wine. This is drinking very nice today. I'd opt for finishing any remaining bottles over the next decade. 92 Pts
2003 Magrez Frombrauge – This has matured far too rapidly. The nose of licorice, espresso bean, smoke, truffle, black cherry and jam is a treat, as are the supple textures, but the loss of fruit is worrisome. I'd drink this sooner than later. 90 Pts
2003 Margaux – Truffle, coffee bean, licorice, spice, roasted blackberries and cherry blossoms. Pure , sensuality, with fruit drenched in velvet and silky tannins, with a long, fresh, sweet black cherry finish. This is still young and while the wine is delicious to drink today, this is going to get better and better with time. This is a contender for the wine of the Left Bank and of the vintage! 99 Pts
2003 La Mission Haut Brion – This tastes much older than it should at age 10. The wine is stylish, silky and offers pleasure, but the rapid pace of maturity forces the taster to finish their remaining bottles sooner than later so as not to lose any of the fruit. 92 Pts
2003 Monbousquet – Advanced in color, with a smoky, coffee, licorice jammy nose, the wine is past its prime and lost much of its intensity. Drink up. 88 Pts
2003 La Mondotte – Earthy, smoky, plummy, stone filled aromatics, plush, soft, round textures and a sweet, ripe, mineral driven finish are delivered with this wine. This has developed quickly for La Mondotte, which normally takes quite a while to show its charms. 93 Pts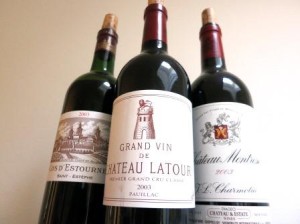 2003 Montrose – Still showing a lot of color, smoke, licorice, truffle, forest floor, fresh herbs, leafs, cigar wrapper, Asian spice and cedar chest make a compelling perfume. On the palate, the wine is powerful, dense and mouth filling, yet equally balanced, supple and rich. Everything is exactly where it should be. This is not a candidate for 50 years of aging like 1989 or 1990, but in its own way, it's close to the same level of quality. The finish remained alive for more than 60 seconds. Bravo! This could be the wine of the vintage! 100 Pts
2003 Mouton Rothschild – Cigar box, jammy black raspberry, mint, ash, tobacco, cedar wood, cloves, cinnamon and wet forest floor notes start the fireworks. On the palate, the rich, sensuous, flamboyant, showy wine is a hedonistic treat for the senses from start to finish. 96 Pts
2003 Ormes de Pez – Light ruby in color, tobacco, earth and cigar box notes dominate the aromatics. On the palate, the wine is fully developed with a spicy, strawberry and cherry liqueur finish. This requires drinking sooner than later. 88 Pts
2003 Palmer – With an advanced color for its age, the wine displays cooked berries, earth and spice flavors in the aromas. The wine is medium bodied ending with a light, sweet and tart, earthy, cherry finish. 89 Pts
2003 Pavie – Intense, thick, lush, rich, fresh and packed with intense levels of sweet, pure fruits, minerality, oak, and frankly, pleasure, this is still young and is only going to get better with age. 97 Pts
2003 Pavie Decesse – Oak, licorice, coffee and jammy berries open to a lush, plush, polished, sensuous wine that is close to maturity, yet there is no real hurry to drink it. 93 Pts
2003 Pavie Macquin – Fresh, sweet, sexy and silky, the wine is filled with ripe, fresh, velvety fruit. There is no reason to wait to pop cork. This is one of the better 2003 St. Emilion wines. 95 Pts
2003 Phelan Segur – Light, soft, open and ready for prime time with its tobacco, earth and cassis character. 89 Pts
2003 Pibran – The color of dark, strawberry tea, herb, forest and dark red berry fruits are at the forefront of the wine. Dusty, starting to tire and lacking in freshness, this is past its prime and needs to be drunk up sooner than later. 82 Pts
2003 Pichon Baron – Roasted black cherries, pie crust, cedar chest, licorice, spice box and crème de cassis produce an inviting set of aromas. On the palate, the wine is soft, supple, round and plush. The tannins are ripe, the fruit is sweet and rich, finishing with layers of sweet, delicious fruit. Over the past few years, this has started to mature at a slightly more rapid pace. There is no hurry to drink it. But I would not hold it for decades. 94 Pts
2003 Les Tourelles de Longuevlle – Over the hill and past its prime. Drink up. 80 Pts
2003 Pichon Lalande – Tobacco, licorice, earth, cedar, roasted dark berries, herbs, black cherry and spice, open to a lush, sexy, plush, opulently textured wine of pleasure, finishing with sensuous, sweet, ripe, milk chocolate covered cherries. 95 Pts
2003 Pontet Canet – The first truly outstanding wine produced since Alfred Tesseron took over managing the estate. Soft, smooth tannins pair perfectly with the tobacco, cassis, earth, smoke and blackberry profile, leaving the tasters with the desire for sip after sip of this beauty. 94 Pts
2003 Poujeaux – Fully mature, with a tobacco, herb, earth and cassis character, the wine offers all it has today and is not going to get better with aging. 85 Pts
2003 La Prade – Clearly fading, the nose is better than the palate with its truffle and tobacco scented perfume. I'd drink this sooner than later. 86 Pts
2003 Puygueraud – With bricking to the color, the wine display's cigar box and forest floor notes with hints of berry in the aromatics. While the fruit is starting to fade, some sweetness remains in the short red berry, earth and tobacco finish. 87 Pts
2003 Potensac – Tobacco, wet earth, cigar box and blackberry notes open to a big wine that offers some fruit, without much complexity and a stern, drying finish. 86 Pts
2003 Rauzan Segla – Light in color, the wine expresses earth, tobacco and cedar scents. The fruit has started to fade. It's time to drink up. 89 Pts
2003 Domaine de Cambes – Truffle and cigar box notes dominate the nose. On the palate, the wine is all about the cherries. The fruit is not overripe, but it is fading. 87 Pts
2003 Roc de Cambes – Like opening a jar of truffles and tasting ripe cherries, this was quite a nice surprise. 89 Pts
2003 Smith Haut Lafitte – Gently entering its state of decline. With air, the wine loses its freshness and soft textures. This is best consumed sooner than later. 90 Pts
2003 Sociando Mallet – The drying tannins, jammy berries and herbal notes are not the best combination for a wine. Fans of this estate will probably enjoy this wine much more than I did. 88 Pts
2003 du Tertre – Developed in color, tobacco, cigar box, strawberry, cherry and leafy notes lead to a sweet, soft, supple, round and drinking at what is close to peak, I'd opt for drinking this over the next 5-8 years. 90 Pts
2003 Tertre Roteboeuf – Silky, ripe wild strawberries, cherry and raspberry sensations with sensuous textures with just a hint of dryness in the finish. This is still showing well, but there is no reason to hold it any longer as the fruit is only going to fade from here. 91 Pts
2003 Tronquoy-Lalande – Jammy black and red fruits, licorice, pie crust, spice and cedar chest aromas open to a soft, polished, supple textured, sweet, spicy, red and black fruit filled wine that is drinking great today. 91 Pts
2003 Troplong Mondot – Fully mature, this medium bodied wine is more interesting on the nose and texture than with its palate presence. The wine has developed pre maturely and needs to be drunk up. 91 Pts
2003 Trotte Vieille – Light, soft and lacking a depth of fruit, this red fruit and jam dominated wine requires drinking. 85 Pts