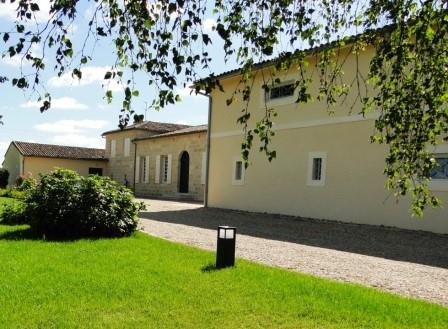 Learn everything about Chateau La Cabanne Pomerol with wine tasting notes and wine-with-food pairing tips. Learn the best vintages, a history of the property, and information on the vineyards and winemaking. If you want to read about other important, Bordeaux Chateaux:Links to all Bordeaux Wine Producer Profiles
Chateau La Cabanne History, Overview
Chateau La Cabanne takes its name from the tiny sector where the property is located, La Cabane. The estate is one of the older properties in the appellation, as it dates back to the mid-1700s. During the early 1900s, the property was purchased by the Audy family, who were negociants and vineyard owners in Pomerol with Clos du Clocher.
Chateau La Cabanne was sold to the Estager family in 1952. The Estager family was already well known in Bordeaux due to their active business as negociants in Libourne since 1912. Francois Estager manages everything that goes on with the estate today.
Much of Chateau La Cabanne is new. Although, renovations took place sadly because circumstances forced them to. A huge fire destroyed much of their property in 2010. The tragic fire also destroyed the entire 2008 vintage, which was still in the vat at the time.
Chateau La Cabanne Vineyards, Terroir, Grapes, Winemaking
The 8.84-hectare vineyard of Chateau La Cabanne is planted to 94% Merlot and 6% Cabernet Franc. The terroir is clay with gravel soils. The vineyard of Chateau La Cabanne is in a great location, not far from Chateau Trotanoy and Chateau Clinet.
On average, the vines are 30 years of age. The vineyard can be divided into 9 separate parcels, with the oldest parcel of vines being close to 40 years of age. Their best vines are placed just behind the chateau, where they have blue clay in the soil. The vineyard is planted to a vine density of 6,500 vines per hectare. In 2023, Chateau La Cabanne was certified as being 100% organic in their farming and vineyard management.
The wine of Chateau La Cabanne is vinified in 8 traditional, temperature-controlled, small, conical-shaped, stainless steel vats that vary in size from 70 hectoliters to 80 hectoliters.
Malolactic fermentation takes place in barrels. The wine is aged in 60% new, French oak barrels for close to 15 months before bottling. Chateau La Cabanne produces close to 2,500 cases per year.
Chateau La Cabanne produces a second wine, Domaine de Compostelle. Prior to 2010, the second wine was only produced in select vintages, but starting with 2010, Domaine de Compostelle is now produced in every vintage, which has helped improve the quality of the Grand Vin.
The heart of the Chateau La Cabanne vineyard is situated right on the edge Pomerol plateau. Yet, even with that amazing terroir, Chateau La Cabanne continues to produce wines below the level of their terroir.
The best vintages of Chateau La Cabanne are: 2022, 2021, 2020, 2019, 2018, 2017, 2016, 2015, 2014, 2012, 2010, 2009, 2006, 2005, 2001, and 2000.
However, with the strong 2015 La Cabanne, it clearly looks like they are on the right track at the estate, as their 2015 vintage is clearly the start of a great run of vintages at Chateau La Cabanne continuing through today.
When to Drink Chateau La Cabanne, Anticipated Maturity, Decanting Time
Chateau La Cabanne can be enjoyed on the young side with 1 hour to 90 minutes of decanting. This allows the wine to soften and open its perfume. Older vintages might need very little decanting, just enough to remove the sediment.
The wine is usually better after 4-7 years of bottle age. Of course, that can vary slightly, depending on the vintage character. In the best years, the wine will be best, between 5 and 15 years of age after the vintage.
Serving Chateau La Cabanne with Wine, Food, Pairing Tips
Chateau La Cabanne is best served at 15.5 degrees Celsius, 60 degrees Fahrenheit. The cool, almost cellar temperature gives the wine more freshness and lift.
Chateau La Cabanne is best paired with all types of classic meat dishes, veal, pork, beef, lamb, duck, game, roast chicken, roasted braised, and grilled dishes. Chateau La Cabanne is also good with Asian dishes, and hearty fish courses like tuna, mushrooms, and pasta.
The Estager family owns other Right Bank properties. The best known are Chateau Haut Maillet and Chateau Plincette, which are both in Pomerol. Chateau La Paperterie is located in the St. Emilion satellite commune of Montagne Saint Emilion, and Chateau de Gachet is in the Lalande de Pomerol appellation.
Château La Cabanne Wine Tasting Notes
22 Vintages 97,176 Views Sort by Vintage-Rating
2022
Château La Cabanne (Pomerol)

Flowers, and sweet cherries initially bring you into the wine. From there, it is the silky, refined, elegant plums, chocolate, red pit fruits, and truffles that flow easily over the medium-bodied, mid-palate, and finish that get you going back for another sip. Drink from 2025-2042. 92-94 Pts.

1,390 Views

Tasted

May 8, 2023

2021
Château La Cabanne (Pomerol)

Floral in nature, with red plums and sweet, red cherries that offer soft-textures, silky tannins, sweetness and an earthy, creamy, medium-bodied finish with a dusty note that comes in on the end. Drink from 2023-2037. 89-91

1,239 Views

Tasted

May 20, 2022

2020
Château La Cabanne (Pomerol)

With a distinctive, floral nature, the wine is soft, silky and fresh, with a gorgeous purity to the fruits, elegant textures, medium-body and a fresh, sweet, silky creamy, red fruit, filled finish. This is my favorite vintage of La Cabanne since the gorgeous 2015. Drink from 2023-2045.

658 Views

Tasted

Mar 21, 2023

Floral in character, with additional nuances of earth, cherries, plums, licorice and kirsch start things off nicely. The wine is sexy, silky, soft and sweet, with a refined textural finish. Since 2015 La Cabanne has been upping their game and the 2020 is no exception. 91-93 Pts

1,642 Views

Tasted

May 20, 2021

2020
Domaine de Compostelle (Pomerol)

flowers, cherries, espresso and cocoa with touches of herbs open the wine. Medium-bodied, fresh, bright, crisp and chewy, with a touch of peppery spice that comes along with the juicy plums in the endnote. Drink from 2023-2035.

1,178 Views

Tasted

Mar 21, 2023

Medium-bodied, softly textured, early drinking plummy wine with notes of red fruits and herbs that will be at its best in its forward, fruit-filled, exuberant youth. 88-90 Pts

2,189 Views

Tasted

May 20, 2021

2019
Château La Cabanne (Pomerol)

Flowers intermingled with wet earth and cherries and a touch of cocoa hit all the notes here. Medium-bodied, elegant, refined, soft and silky, with freshness and energy to all the black plums and mocha on the mid-palate that carry all the way through to the ripe, lusciously-textured finish. Since 2015 La Cabanne has been getting better and better and 2019 is clearly the best vintage produced here yet. Drink from 2024-2040.

2,452 Views

Tasted

Apr 9, 2022

Silky, sexy and earthy, with velvet tannins, medium-body and that ocean of ripe, luscious, fresh plum essence with chocolate that you find in Pomerol. Give it 6-8 years before popping a cork and enjoy it over the next 10-15 years after that. Since 2015 La Cabanne has been getting better and better. 91-93 Pts

3,760 Views

Tasted

Jun 8, 2020

2019
Domaine de Compostelle (Pomerol)

Medium-bodied, soft, forward and fruity with a strong, savory, herbal component to all the sweet, soft-textured, juicy plums, you can enjoy this on release and for at least a decade or longer. Drink from 2022-2031.

760 Views

Tasted

Mar 29, 2022

2018
Château La Cabanne (Pomerol)

The flowers, truffle and dark cocoa notes show nicely on the nose. Silky, soft and loaded with ripe, juicy, fresh, sweet, earthy plums and freshness on the palate, give this a few years in the cellar and enjoy it over the following 15 years or more with ease.

924 Views

Tasted

Mar 9, 2021

Richly colored, the wine pops from the nose with flowers, cocoa, thyme and red fruits. Soft, polished, fruity and silky, this is a solid wine from La Cabanne. 91-93 Pts

2,155 Views

Tasted

Apr 19, 2019

2018
Domaine de Compostelle (Pomerol)

Herbs, truffle, licorice and red fruits, soft textures and sweet, bright plums in a fresh finish with a touch of olive on the back end. This will be best in its youth.

1,234 Views

Tasted

Mar 9, 2021

2017
Château La Cabanne (Pomerol)

Medium-bodied, fresh, round, soft and forward, this 100% Merlot comes on strong with a nice blast of licorice, sweet, dark cherries, earth and flowers. All of this makes for a very nice Pomerol.

2,469 Views

Tasted

May 15, 2020

2016
Château La Cabanne (Pomerol)

It is easy to find all the ripe, sweet, round, fresh cherries surrounded by cocoa, black plums and earth on the nose and mouth. Soft and smooth, this will start showing really well with 3-4 years of age.

4,391 Views

Tasted

Sep 21, 2019

I like this even more than the last time I tasted this, due to all the ripe, polished, lushly textured, dark red fruits, licorice, flowers and earth. The wine is soft and polished, with a fruity, silky finish.

2,779 Views

Tasted

Feb 9, 2019

Chocolate-covered plums dusted with cayenne arrive on the palate, they bring along flowers, black raspberry and a little more spice on the nose. Medium bodied with a freshness, this wine was made from a blend of 94% Merlot and 6% Cabernet Franc and is 14.8% ABV with a pH of 3.65.

1,758 Views

Tasted

Apr 29, 2017

2015
Château La Cabanne (Pomerol)

At just 5 years of age, this is drinking great! Medium-bodied, soft, round and lush, with a beautiful mix of wet earth, cherry and plum on the nose and palate, ending with silky textures and earthy pit fruits. I am sure this will be enjoyable to taste for at least another 15 or more years.

3,864 Views

Tasted

May 31, 2020

Much better from bottle than it was in barrel, which is always a good thing. Right? Medium/full bodied, with soft, elegant textures and a beautiful purity to the plums and cherries, that are perfectly blended with all the wet earth, thyme and cocoa you could ask for. The finish is soft, fresh and filled with ripe fruits.

4,954 Views

Tasted

Mar 12, 2018

A bowl of sun-ripened, hand-polished plums adorned with spice and cherry notes, this wine exhibits earthy complexities, soft tannins and freshness, making this the best vintage of La Cabanne I have ever tasted. 90-92 Pts

2,455 Views

Tasted

Apr 27, 2016

2014
Château La Cabanne (Pomerol)

Pretty wine, ready to go, with soft, sweet red fruits and earthy accents. The wine is on the light side, with good freshness, but not a lot of weight. Drink this over the next 5 - 7 years or so is the best bet.

2,852 Views

Tasted

Jan 16, 2021

Blending 94% Merlot and 6% Cabernet Franc produced a medium bodied, slightly firm, classic styled, cherry and plum dominated wine with a wild strawberry note in the almost, crisp finish.

3,469 Views

Tasted

Feb 4, 2017

Earthy red fruits in a medium-bodied wine, which is bright, spicy and fresh. 86-88 Pts

1,594 Views

Tasted

Apr 24, 2015

2013
Château La Cabanne (Pomerol)

Lots of easy to taste, crisp, bright red fruits, herbs and spice in this open, medium bodied wine.

2,430 Views

Tasted

Feb 9, 2016

Pale in color with forward style, but without much complexity or volume, the wine ends with an open cherry finish. 86-88 Pts

1,707 Views

Tasted

Apr 25, 2014

2012
Château La Cabanne (Pomerol)

Ready to go, the wine has put on weight in the bottle. Now you find an elegant, medium-bodied, soft, chocolate-covered dark red pit fruit nose and palate with a supple, silky-textured finish.

3,442 Views

Tasted

Mar 28, 2021

Medium bodied, with bright, red fruits, plum and earthy cherry notes, this will drink well young.

2,274 Views

Tasted

Mar 11, 2015

2011
Château La Cabanne (Pomerol)

Medium bodied and short, there is ample red plums, spice and earth, but the finish shows tart flavors and some dryness in the end notes. From a blend of 92% Merlot, 8% Cabernet Sauvignon, drink this wine young.

3,788 Views

Tasted

Feb 16, 2014

Medium bodied with kirsch and earth, this is a Pomerol to enjoy young. 85-87 Pts

2,074 Views

Tasted

Apr 21, 2012

2010
Château La Cabanne (Pomerol)

Medium-bodied, fully mature, soft, elegant-charmer, with a deft touch of cherries, plums, wet earth and a hint of truffle on the nose and palate. Instead of density, you find a light, refined, earthy, plummy wine that is fully ready to go. I'd opt for drinking this over the next 5 years or so for maximum pleasure.

3,601 Views

Tasted

Jun 30, 2020

Medium bodied, easy to drink, red and black plum filled wine with a slightly rustic finish. The nose, with its floral, cocoa and fresh fruit aromatics is more interesting that what you find on the palate.

4,797 Views

Tasted

Aug 3, 2013

2009
Château La Cabanne (Pomerol)

Time has been good to this wine. Showing much better than it did 7 years ago, today, you find a mature, silky, elegant, medium-bodied, earthy, plummy wine with a bit of truffle and a soft, refined finish. This is not a long ager, so I would opt for drinking this over the next 7 years or so. No decanting needed. Just pop, pour and enjoy.

3,848 Views

Tasted

Jun 4, 2020

Black raspberries, wild strawberry and herbs, medium bodied and soft, but not silky, with a cherry dominated finish. This is best enjoyed in its youth as the wine does not have the stuffing for long term aging.

4,923 Views

Tasted

Aug 14, 2013

2006
Château La Cabanne (Pomerol)

This has developed better than expected. Medium-bodied, elegant, soft and refined, you find flowers, earth, fennel and red fruits on the nose. Light in weight, the soft-textured red fruits finish nicely on the palate. This is close to fully developed.

2,973 Views

Tasted

Nov 1, 2020

2005
Château La Cabanne (Pomerol)

Mature, easy drinking, plummy wine, with a light truffle accent to the red plum core of fruit. Round, with a bit of rusticity in the texture, this medium bodied wine shows a touch of green leafy notes in the red berry finish. Drink this over the next few years, as it is only going to fade from there.

1,973 Views

Tasted

Feb 9, 2019

2001
Château La Cabanne (Pomerol)

Much better than the previous bottle, this is quite nice with all the ripe, red fruits, herbs, tobacco leaf and earthy nuances. Medium-bodied, soft and fully mature, the finish combines sweet and tart red fruits. It is time to drink this if you are sitting on any.

2,035 Views

Tasted

May 10, 2020

Medium bodied, light in color, with a bright, red berry center of fruit, paired with spice and earthy aromatics. Simple and already mature, this is not a wine for further aging, as more time will only lighten the fruit, and exacerbate the acidity.

2,943 Views

Tasted

Oct 25, 2016

2000
Château La Cabanne (Pomerol)

With its truffles, tobacco leaf, plums and red cherries, soft textures and medium body, this is fully ready to go. Popped and poured, I'd opt for drinking this over the next 3-5 years.

2,601 Views

Tasted

May 10, 2020

1989
Château La Cabanne (Pomerol)

Bricking in color, the perfume is the best part of the wine due to its blend of tobacco, herbs, forest leaf and smoky red berries. Medium-bodied, with a red cherry dominated finish that was accompanied by metallic notes. Drink this sooner than later.

1,601 Views

Tasted

May 10, 2020