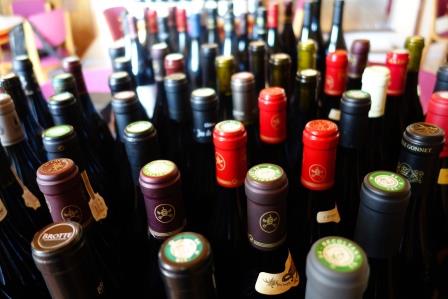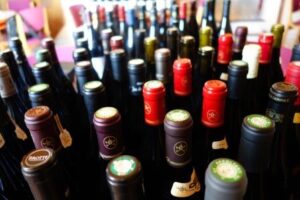 The 2011 UGCB (Union des Grand Cru Bordeaux) North American Tour is almost here.  Officially, the tour kicks off in Los Angeles, January 20. That is followed by stops in San Francisco, Saturday, January 21, Miami, January 23, New York, January 25, Chicago, January 26, Toronto January 27 and winds up in Montreal, January 28.  That is a busy week for thirsty, curious Bordeaux wine lovers, chateaux owners and winemakers.
For Bordeaux wine lovers and consumers who just like wine, this is the best wine event of the year! This year, the focus is on the extremely highly regarded 2009 Bordeaux vintage. Having tasted these wines multiple times from barrel to bottle, (most recently last June in Bordeaux) 2009 is an outstanding vintage for Bordeaux wine.
The wines are sensuous, supple, opulent and silky. Due to the economy and prices, not much of the vintage was purchased by American retailers. This is the best opportunity to taste this many great wines from the 2009 Bordeaux vintage. To read our buying guide and tasting notes for the top wines from the 2009 Bordeaux vintage: 2009 Bordeaux Wine Buying Guide for the top 200 wines
If you have not attended a UGCB tasting before, this event awards guests the opportunity to taste over 100 different wines, as well as meet and talk with the owners of the chateaux that produce the wine.
We will be at the Los Angeles event and will publish a detailed article on the wines tasted with tasting notes and reviews. If anyone else catches the event in LA, or in any of the other cities, we'd like to hear from you and your notes and comments on the event and on all the wines you tasted as well.
The tastings are a combination of trade and consumer events.
Friday, January 20 – Los Angeles is hosting both trade and consumer tastings.  The trade tasting will be held at the The Fairmont hotel in Santa Monica  from 1pm-5pm. This will be followed by two consumer tastings hosted by Wallys Wines.  Wallys is kicking off the night with a unique, charity, tasting event beginning at 6pm with 100% of the proceeds going to the Horatio Alger Association Scholarship Fund. That will be followed by the main event which takes place from 7-10 pm at The Peterson Automotive Museum. 6060 Wilshire Boulevard, Los Angeles, CA.
Tickets for the charity function can be purchased at www.wallywine.com/p-82909-ugc-pre_event-reception-admission-_-6pm-jan-20-2012-plus-7pm-general.aspx
Or from Wallys. www.wallyswines.com Or call 310-475-0606
Saturday, January 21, San Francisco – Hosted by K & L Wine Merchants the event is open to the public and will be held at the Palace Hotel.  For tickets and information – www.sherry-lehmann.com/events
Wednesday, January 25, New York is a trade tasting being held at the Marriott Marquee.
Thursday, January 26, Chicago – Trade tasting from 1-5pm at The Sheraton Hotel and Towers. A consumer event takes place later that night from 6-8 pm at the same location. The event is hosted by Binnys. http://binnys.com/blogs/post.cfm/union-des-grands-crus-de-bordeaux-2009-vintage-tasting
Friday, January 27, Toronto, Canada is a consumer event presented by the LCBO. Metro Toronto Convention  Centre, South Building 222 Bremner Blvd. 6pm-8:30 pm.
www.vintages.com/events/ugc_event.shtml
Saturday, January 28, Montreal,  Canada
Not all producers will attend every event. This is a list of the 2009 Bordeaux wines being poured by the various Chateaux for the UGC 2009 Bordeaux tastings:
Pauillac
Château Batailley
Château Clerc Milon
Château d'Armailhac
Château Grand Puy Ducasse
Château Haut Bages Liberal
Château Lynch Bages
Château Lynch-Moussas
Château Pichon Baron
Château Pichon Lalande
Château Pontet Canet
Margaux
Château Brane Cantenac
Château Cantenac Brown
Château du Tertre
Château Durfort Vivens
Château Giscours
Château Kirwan
Château Labegorce
Château Lascombes
Château Malescot St. Exupery
Château Siran
Château Rauzan-Segla
Château Bouscaut
Château Carbonnieux
Domaine de Chevalier
Château de Fieuzal
Château de France
Château Haut Bailly
Château La Louvière
Château La Tour Martillac
Château Les Carmes Haut Brion
Chateau Malartic Lagraviere
Château Olivier
Château Pape Clement
Château Smith Haut Lafitte
Pomerol
Château Beauregard
Château Clinet
Château La Cabanne
Château La Conseillante
Château Gazin
Château Petit Village
St. Emilion Grand Cru
Château Angelus
Château Beau-Sejour Becot
Château Canon
Château Canon La Gaffeliere
Château Clos Fourtet
Château Dassault
Château Figeac
Château Franc Mayne
Château Grand Mayne
Château La Couspade
Château La Dominique
Château La Gaffeliere
Château Larcis Ducasse
Château Larmande
Château Pavie Macquin
Château Troplong Mondot
Château Cos Labory
Château Lafon Rochet
Château Ormes De Pez
Château Phelan Segur
St. Julien
Château Beychevelle
Château Branaire Ducru
Château Gruaud Larose
Château Lagrange
Château Langoa Barton
Château Leoville Poyferre
Château Talbot
Sauternes et Barsac
Château Bastor Lamontagne
Château Climens
Château Coutet
Château de Fargues
Château Doisy Daene
Château Guiraud
Château La Tour Blanche
Château Lafaurie-Peyraguey
Château Sigalas Rabaud
Château Suduiraut
Haut Médoc
Château Beaumont
Château Belgrave
Château Camensac
Château Cantemerle
Château Coufran
Château La Lagune
Moulis en Médoc
Château Chasse Spleen
Château Poujeaux
Listrac Médoc
Château Clarke
Médoc
Château Greysac
Château La Tour de By
Graves
Château de Chantegrive