Run, do not walk and taste this wine! Jean-Luc Zuger is on fire at this Margaux winery. The wines being made at the property today are stunning! Perhaps because they have only been on a hot streak for a few years, (since 2000) for a Bordeaux wine of this quality, they remain fairly priced. This wine is no shrinking violet. It is thick, rich, pure and aromatic. The tannins are soft and the texture is elegant. 2009 is a stunning wine and is even better than the sublime 2005! The 2010 is strong enough that it will give both those vintages a run for the money as it might be their best wine yet!
To read wine tasting notes of Malescot St. Exupery from 1961 through today: Malescot St. Exupery
While the estate is on top of their game today, Chateau Malescot St. Exupery has a long history in the Bordeaux wine region. The property can be traced all the way back to 1616. At that time, the estate was owned by the Escousses family. The Escousses were best known as notaries for the King.
Near the close of the century, in 1697 the Bordeaux wine estate was sold to Simon Malescot. Malescot followed the practice of many owners of the day. He changed the name of the property. As he was te current owner, he did not look far for is inspiration, he started calling it Malescot. Like the previous owner, Malescot also had a connection to royalty. He was the attorney-general to Louis XIV. The chateau remained with with the Malescot family until the French revolution. At that point in time, the large estate was divided between three family members.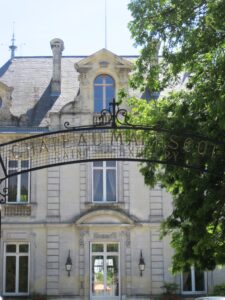 In 1900 Malescot was sold at auction. The new German owner Herr Lerbs of Bremen, passed it to another German Seignitz. During World War 1, the French ordered it to be confiscated. In 1917, It was reaquired by a M. Fouquet in 1917 who sold in 1919 to a British wine firm, W. H. Chaplin and co. The Zuger family bought it in 1955. The Zugers continue to own and manage the Bordeaux wine estate today.
The vineyard of Malescot St. Exupery is planted with a terroir of gravel, chalk, clay and iron deposits is planted to 50% Cabernet Sauvignon, 10% Cabernet Franc, 35% Merlot, and 5% Petit Verdot. This Bordeaux wine is aged in 100% new oak barrels for 14-16 months.
Chateau Malescot St. Exupery Margaux Third Growth, Bordeaux wine producer profile, with wine tasting notes, wine ratings, a history of the property, information on wine making and terroir, along with wine tasting reviews. If you want to read about other important, Bordeaux Chateaux: Links to all Bordeaux Wine Producer Profiles