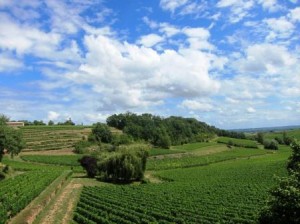 A look at the Bordeaux wine trade with Ireland starts in the 18th century.  That was when several famous Bordeaux wine producers made the move from Ireland to Bordeaux. Tom Barton emigrated from Ireland in 1772. His family eventually made Leoville Barton and Langoa Barton famous. Jean Baptiste Lynch created Chateau Lynch Bages. Chateau Kirwan was founded by Sir John Collingwood. Bernard Phelan created Chateau Phelan Segur and Chateau Boyd Cantenac, which was founded by James Boyd from Belfast. You can add Chateau Mc Carthy in St. Estephe, Chateau Clarke in the Listrac commune in the Medoc and Chateau Dillon from the Haut-Medoc appellation to that list. As you can see, there is a long history between and deep linkage between the Bordeaux wine trade and Ireland.
A recent discovery of letters unearthed by Professor Thomas M. Truxes of New York University sheds new light on, amongst many other things, the  Bordeaux wine trade with Ireland starting with the trading between Bordeaux and Ireland in the 18th century. This is an exciting find as the letters hold a window into a forgotten world within their pages – a time before the French Revolution, a golden age of Bordeaux as a City and as a centre of fine wine.
In January 2011, while working in an 18th century legal archive, Professor Truxes unearthed a collection of documents that had been seized aboard an Irish trading vessel in March 1757. Captain John Dennis, master of the Two Sisters of Dublin, was returning home from Bordeaux to Ireland with a cargo of 218 tuns of wine and 5 tons of cork when his vessel was intercepted by a British privateer, the Caesar of Bristol. King George II had declared war against the French King Louis XV in May 1756, and this meant that all vessels engaged in trade with the enemies of the Crown were subject to confiscation.
Among the documents taken off the Two Sisters of Dublin was a packet of 123 letters, most of them written by members of the Irish community in the Bordeaux region to family, friends, and business associates in Dublin, Cork, Limerick, Galway, and other places in Ireland. Nearly all of the letters date from mid-February through the first week of March 1757, a time of high anxiety in an ethnic community that had been cut off from its homeland by war. About eighty-five of the letters were unopened at the time of discovery. Twenty-five of the letters are in French.
Bordeaux owes a great deal of its wine heritage to Ireland; Irish emigrants in the 18th century established many prestigious chateaux (all but two of the great First Growth Chateaux have Irish links), several leading Negociant firms were set up by Irish wine merchants, most notably the Lawton and Johnston families. In fact, the very bottle used for Bordeaux wines was in fact designed by an Irishman. Wine flowed back to Ireland from these families and in its day, 18th century Ireland, actually imported four times more fine wine from Bordeaux than England!
The breadth and scope of material in the 1757 Bordeaux-Dublin collection — just what happened to be in the captain's mailbag when the vessel was captured — is truly remarkable and speaks eloquently of the strong connections linking Ireland and the Irish expatriate community in France. Taken as a whole, the letters provide an extraordinary window into a long-vanished world. Correspondents range from wealthy merchants in the Irish wine trade to young Irishmen being educated in France to British and Irish prisoners of war incarcerated in the notorious Bayonne Castle. Most of the letters were written by ordinary people. Particularly striking is the strong presence of women.
Professor Truxes and his colleagues are preparing the letters for publication and plan to mount an exhibition of this material in New York City as part of Glucksman Ireland House's 20th anniversary in 2013 (Glucksman Ireland House is the Centre for Irish and Irish-American Studies at NYU). There is a possibility that the exhibition will travel to Ireland, Great Britain, and, of course, Bordeaux. In addition, Glucksman Ireland House will host an academic conference in October 2013 that will bring together leading scholars from Europe and the United States whose work touches on issues raised in the 1757 letters.