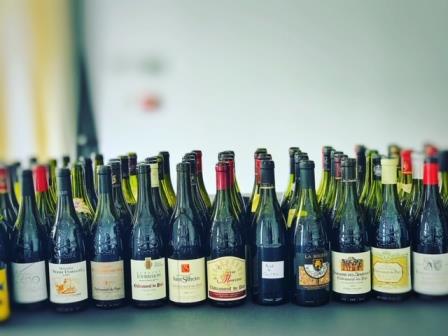 The 2017 Chateauneuf du Pape Report
In 2017, Chateauneuf du Pape scored another very good vintage, although, it is behind the stunning 2016 and the sensuous 2015. Though many of the best 2017 Chateauneuf wines are not that far behind. For lovers of Southern Rhone wines, 2017 merits your attention.
Unlike the 2 previous vintages, 2017 was not an easy year. Nature was not quite as cooperative. 2017 is a year forever marked by drought conditions and uneven flowering, which in turn brought about lower yields than usual.
The 2017 Chateauneuf du Pape growing season started off with a dry, mild winter with 1 rare day of snow, which is more than unusual for the region. Another very important point to remember is the vintage did not see an abundance of rain.
Spring was dry and relatively mild. In April, temperatures varied with warmer days advancing the growth cycle and you also experienced colder weather, which had an adverse effect on the flowering, due to coulure. Late May and for much of June, the weather was warm and sunny. But there was also 25 mm of much needed rain coupled with a massive hailstorm causing widespread damage, June 28.
The trend of low moisture continued during much of the year. The lack of water brought vine stress, further lowering potential yields.
The Grenache, which is the dominant Southern Rhone grape variety suffered the most. Some producers lost 50% of their harvest or more! So, with 2017, you see more Mourvedre, Syrah and Cinsault in the blends than normal.
The harvest was a little earlier than usual. The grapes were small, with a good skin to juice ratio, providing nice concentration, elegant tannins and sweet fruits, but growers were not able to produce as much wine as in previous vintages.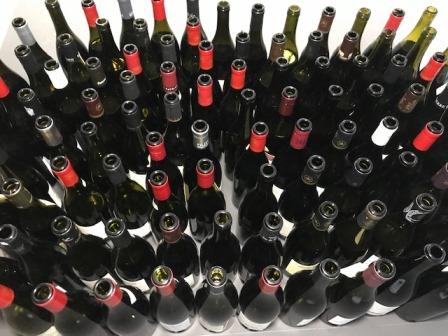 The following 2017 Chateauneuf du Pape wines were tasted in non-blind conditions in late June in Chateauneuf.
2017 – 3 Cellier Chateauneuf-du-Pape Alchimie – Licorice, black cherry and spice with a hint of smoke on the nose. The wine is medium bodied, forward, fresh sweet and tart, with plenty of spiced, dark red fruits in the finish. The wine is made using 60% Grenache and various other, assorted grape varieties. 92 Pts
2017 – Albin Jacumin a Aime – The licorice, smoke, herbs and red fruits on the nose melds perfectly with the soft, round, juicy sweet cherries that hit your palate. Sweet, fresh and lively, with a blast of peppery black cherries in the finish, you can enjoy this on the young side. The Grenache dominated blend includes most of the allowable grape varieties. 91 Pts
2017 – Albin Jacumin La Begude Des Papes – Licorice, mint, garrigue and cherries pop in the glass. The wine is medium bodied, polished, soft and refined, with ample red fruits in the silky, elegant finish. The wine was made from blending 70% Grenache, 15% Syrah, 12% Mourvedre and 3% Cinsault. 90 Pts
2017 – Andre Mathieu Chateauneuf-du-Pape – Herbs, leaf, strawberry and cherry notes pop with no effort. On the palate the wine is round, soft, lush and fruity, with good freshness in the slightly dusty finish. The blend is 60% Grenache, 15% Syrah, 15% Mourvedre and 10% Cinsault. 91 Pts
2017 – Andre Mathieu La Centenaire – Earthy, with mushroom accents along with spice, thyme and black raspberries hit your nose and palate. Juicy, vibrant and fresh with loads of peppery kirsch in the finish. This should be even better with a few years of age. The wine has been blended using 80% old vine Grenache, 10% Mourvedre, 5% Syrah with the remaining 5% comes from other AOC allowed grape varieties. 93 Pts
2017 – Andre Mathieu L'Emphemere – Deep in color, the nose pops with dark, black cherries, smoke, licorice, pepper and spice. Juicy dark fruits with licorice and herbs hit your palate in all the right spots in the finish. The wine is produced from 100% Syrah, which is not so common in the Southern Rhone. 93 Pts
2017 – La Barroche Pure – Licorice, spice, herbs and red fruits galore. On the palate, there is a nice sensation of purity in the luscious, silky red cherries. Long, sweet and velvety, this is quite nice for the vintage. The wine, as you probably already know by now, takes its name from the fact that it's made from 100% pure, old vine Grenache. 96 Pts
2017 – La Barroche Signature – Spice, herbs, olives and peppery red fruits pop straight from the bottle. On the palate the wine is soft, silky and fresh with sweetness to the fruits. In the end you find polished tannins and black plums, cherries, licorice and pepper in the lush finish. The wine is made from 60% Grenache, 20% Mourvedre, 12% Syrah and various other allowable grape varieties. 94 Pts
2017 – Lucien Barrot et Fils Chateauneuf-du-Pape – Medium bodied, light, bright, fresh, red berries with a nice, spicy, crisp, red note character. The wine was made from blending, 80% Grenache, 15% Syrah and various other varieties. 87 Pts
2017 – La Bastide Saint-Dominique Chateauneuf-du-Pape – Medium-bodied, soft and fresh, with a sweetness to the kirsch accompanied by gentle textures on the palate. The spicy fresh, sweet cherry, pepper finish is already in the right spot. The wine was made with a blend of 50% Grenache and 50% Mourvedre. 93 Pts
2017 – La Bastide Saint-Dominique Les Hesperides – Nosing this wine is like placing your nose in a spice drawer. The wine is soft polished, energetic and loaded with sweet, ripe, juicy, fresh peppery kirsch and wild cherries. Everything is in the right place in this elegant, fresh, peppery red berry filled wine. The wine was made with a blend of 50% Grenache and 50% Mourvedre. 95 Pts
2017 – La Bastide Saint-Dominique Les Secrets de Pignan – Spicy kirsch with fresh herbs on the nose and pure silky cherries on the palate hits all the right notes. Elegant and lifted, fresh and sweet, this is refined and pure. A bit of time in the cellar will add even more character and complexity. The wine is always produced using 00% old vine Grenache. 96 Pts
2017 – Beaucastel – Spicy, meaty, earthy, rich and lushly textured, the wine has depth of flavor, complexity and lift. The wine balanced, concentrated and the fruit shows ripeness with lift that works. The spicy essence to the red fruits is on the nose and in the deep, dark, spicy red fruits on the palate and finish. The wine is a blend of 40% Mourvedre, 20% Grenache and 20% Syrah, with the remainder of the blend coming from all the other red and white wine grape varieties. 95 Pts
2017 – Beaucastel Blanc – White peach, honeysuckle, pears and orange rind pop with no effort. On the palate, the wine is ripe, round and fat. Not as fresh as the 2016, and a bit sweeter, this is going to drink well young, as be able to age for decades. The wine was made from a blend of 85% Roussanne and 15% Grenache Blanc. 91 Pts
2017 – Beaucastel Blanc Cuvee Roussanne Vieilles Vignes – Citrus, rocks, stones, peach and floral notes create the perfume. The wine is dense, rich and yet, elegant. There is freshness and a beautiful purity of fruit, with a spicy, fruity, slightly honeyed, long finish. This should age extremely well. 95 Pts
2017 – Beaucastel Hommage a Jacques Perrin – Almost opaque in color, the wine is equally dark in its fruit. The wine is not as powerful as expected. Instead you find more aromatics, elegance and precision. Lush, soft and juicy, the dark red fruits olives, spice and raw meat leave an impression that sticks with you. Long, intense and expansive, the feels great as it graces you palate, before leaving you with dark red fruits, olives, peppery spice and barbecue notes. The wine was made from a blend of 85% Mourvedre, 5% Syrah, 5% Grenache and 5% Counoise. As the vines continue aging, there will probably more Mourvedre in the blend in future vintages Even though there is a softness to the tannins, this is not a wine to drink young You will need to lay this down for perhaps 15 years or so, before all the secondary nuances kick in. This is quite close to the level of the mind-blowing, perfect 2016. In the future, this is going to be great to compare them both, similar to the 89 & 90 duo! 99 Pts
2017 – Beauchene Grande Réserve – Medium-bodied, soft and fresh, the elegantly styled wine is ripe, spicy and lifted, leaving you with delicate sweet red cherries in the finish. This will be delicious on release. The wine was made with 80% Grenache, 15% Mourvedre and 5% Syrah. 90 Pts
2017 – Beauchene Hommage à Odette Bernard – Round, soft, supple, elegant, ripe, sweet red fruits with a peppery accent are found on the nose and in the medium-bodied, easy to like finish. The wine was made blending 80% Grenache, 15% Syrah and 5% Mourvedre. 91 Pts
2017 – Beauchene Hommage à Odette Bernard – Flowers, Maraschino cherries and spice notes open the wine. On the palate the wine is energetic, fresh and sweet, with a focus on the kirsch in the finish. The wine was made blending 80% Grenache, 15% Syrah and 5% Mourvedre. 90 Pts
2017 – Beaurenard (Paul Coulon et Fils) Chateauneuf-du-Pape – Garrigue and hints of smoke accompany the sweet, red fruits on the nose. Soft, round and forward, with a hint of tapenade in the finish and some dust in the tannins, give this a few years to round out and it will be even better. While dominated by Grenache, the wine includes various percentages of most, or all of the AOC allowable grapes. 91 Pts
2017 – Beaurenard Boisrenard – Smoky black cherries, licorice and spice, with espresso on the back end create the perfume. In the mouth the wine is round, lush, rich and supple. The fruit, with its basket of black cherries, smoke and lush textures should perform well young, yet age gracefully as well. The wine was made from a Grenache dominated blend with close to 70% Grenache, that also utilizes old vine Mourvedre, Syrah and all the other allowable grape varieties in the appellation. 94 Pts
2017 – Berthet-Capeau Elixir des Papes – Spicy, smoky berries create the perfume The wine is soft, lush and polished with a fruity, polished core of spicy black cherries in the finish. The wine was produced using 100% Grenache. 91 Pts
2017 – Berthet-Rayne – The earthiness in the kirsch comes quickly in the nose. Medium bodied with soft, round, juicy, sweet, red cherries helps finish this off quite nicely. The wine was blended using 65% Grenache, 20% Mourvedre, 10% Cinsault and 5% Syrah. 91 Pts
2017 – Berthet-Rayne Cuvee Cadiac – Deep in color, the wine is lush and polished with meaty dark red fruits, spice, earth and florality. The wine is plush, dark and round, with loads of dark berries in the finish. The wine is produced from a blend of 50% Grenache and 50% Mourvedre. 93 Pts
2017 – Berthet-Rayne Vieille en Fut de Chene – Black cherry, licorice, smoke and herbs permeate the nose. On the palate the wine shows its fruity side with its soft, lush, polished, peppery cherry character. You can definitely enjoy this charmer in its youth, or age it a few years for more complexity. The wine was made from a blend of 65% Grenache, 30% Mourvedre and 5% Counoise. 92 Pts
2017 – Domaine Bois de Boursan Chateauneuf-du-Pape – Smoke and cherries come easily in the nose. On the palate, the soft, juicy fruit falls easily on your palate, leaving you with sweet kirsch in the finish. The wine was made using 70% Grenache, 10% Syrah, 10% Mourvedre, 3% Cinsault and 2% Counoise. 91 Pts
2017 – Bois de Boursan Cuvee des Felix – The black cherries, licorice and smoked dark red fruits pop with little effort. On the palate, the wine soft round, fruity and fresh, with a blast of peppery kirsch in the spicy finish. The wine was made using 60% Grenache, 30% Mourvedre and various other allowable grape varieties. 92 Pts
2017 – du Bois de Saint-Jean – From 100% Grenache, the wine offers a round, spicy, peppery, earthy, dark, sweet cherry filled blast in your glass. This is going to be delicious on release. 90 Pts
2017 – Jean-Pierre Boisson Domaine du Pere Caboche – Soft, round and fruity, with sweet, ripe red fruits in a forward style, make this already quite nice to enjoy, while waiting for the 2016 to develop. The wine is made from blending 80% Grenache, 15% Syrah and 5% Mourvedre. 91 Pts
2017 – Jean-Pierre Boisson Domaine du Pere Caboche Vieille Vignes Elisabeth Chambellan – Medium-bodied, soft, elegant and fruity, the fruit delivers a nice spicy, peppery kick in the plum and cherry finish. The wine is made from blending 88% Grenache, 10% Syrah and 2% Mourvedre. 91 Pts
2017 – Jean-Pierre Boisson Domaine du Pere Caboche Creation d'Emilie – With a nice floral note in the perfume to start things off, the wine is medium-bodied, elegant, soft and fresh, focusing on its sweet kirsch and herbal notes. The wine is made from blending 80% Grenache, 15% Syrah and 5% Mourvedre. 91 Pts
2017 – Bosquet des Papes A la Gloire de mon Grand-Père – Silky, refined, floral, round, lush and intense, the fruit is ripe, supple, spicy and fresh. The kirsch offers a nice pop of red fruit in the long, elegant, kirsch dominated finish. The wine was produced blending 98% old vine Grenache, with 1% Cinsault and 1% Clariette. 96 Pts
2017 – Bosquet des Papes Chante Le Merle Vieilles Vignes – Silky, soft and refined, this elegant blast of sweet, ripe cherries is just great. The red berries are soft, polished and refined, showing a fabulous sense of purity and grace. The wine was made using 86% old vine Grenache, 7% Syrah and 7% Mourvedre. 97 Pts
2017 – Bosquet des Papes Tradition – Soft, juicy, fresh and with a cherry and herb filled center, the wine is loaded with extra complexities of olives garrigue and spice. The wine was blended from 75% Grenache, 11% Mourvedre, 11% Syrah, 1% Vaccarese and 1% Counoise and 1% Cinsault. 92 Pts
2017 – Bouachon Dedication – Medium bodied with a spicy, earthy core of red fruits on the nose and palate. The wine blends Grenache with Syrah. 87 Pts
2017 – Maison Bouachon La Tiare du Pape – Pepper, licorice, smoke, oak and cherries on those nose are slightly more interesting than the ripe, red cherry filled, simple palate. This will be fine to drink on release. The wine is blend of Grenache, with Syrah and Mourvedre. 87 Pts
2017 – Boutiniere Chateauneuf-du-Pape – There is a strong herbal note in the nose, which works well with the medium-bodied, fresh, red fruits in the finish. The wine blends 70% Grenache, 10% Mourvedre, 10% Syrah and 10% Cinsault. 88 Pts
2017 – Boutiniere Grande Reserve – The old vine Cuvee from La Boutiniere is spicy, floral, fruity and fresh with hints of smoke and thyme. Soft, round and juicy, you find black cherries and plums in the finish. The wine blends 78% old vine Grenache, 16% Mourvedre and 6% Syrah. 90 Pts
2017 – Brotte Chateauneuf du Pape Domaine Barville – Medium bodied, with notes of fresh herbs, spice and red fruits, the wine is soft, approachable, and seals the deal with sweet red fruits on the backend. The wine is made from a blend of 70% Grenache, 15% Mourvedre and 15% Syrah. 89 Pts
2017 – Brotte, Chateau de Barville, Les Hauts de Barville – Fresh, bright and crisp, with a medium-bodied raspberry and kirsch profile, this will be best in its youth. 89 Pts
2017 – Cabrieres Chateauneuf-du-Pape – Soft, forward, round and juicy with ample red plums, cherries and kirsch, the wine is fresh and lively, with sweetness in the spicy finish. The wine was made from a blend of 50% Grenache, 20% Syrah, 20% Mourvedre and 10% Cinsault. In time, this could be even better when it all comes together. 92 Pts
2017 – Le Clos du Caillou La Reserve – Deep, dark and spicy, with lush, fresh, dark cherries, earth, herbs and peppery kirsch. The wine is fresh, concentrated, lush and full, with layers of dark spicy, earthy, peppery fruits in the finish. The wine is produced from a blend of 55% Grenache and 45% Mourvedre. 97 Pts
2017 – Le Clos du Caillou Les Safres – Juicy, sweet, peppery, spicy fruits and herbs rock the nose and palate. Lushly textured with freshness and density, the, sweet, peppery cherries in the finish really hang with you. The wine is made using 75% Grenache and 25% Syrah. 95 Pts
2017 – Le Clos du Caillou Quartz – With a blast of garrigue, pepper, red fruits, spice and meaty aromas, the wine is earthy, fresh, round and fruity. The wine is made using 70% Grenache, 15% Mourvedre and 15% Syrah. 94 Pts
2017 – Les Cailloux (Lucien et Andre Brunel) Chateauneuf-du-Pape – Medium-bodied, soft, sweet, fresh with a nice vibrancy to the cherries and kirsch, you can enjoy this elegant wine early in life, while waiting for its more powerful 2016 wines to develop. The wine is made using a blend of 60% Grenache, 25% Mourvedre, 10% Syrah and 5% Cinsault. 90 Pts
2017 – Les Cailloux (Lucien et André Brunel) Cuvee Centenaire – Refinement, elegance and charm is what you find here among all the sweet, luscious, ripe, spicy cherries, kirsch and licorice. Silky and pure, this is not about power. Here the wine is focused on the freshness and purity in the fruit from start to finish. The wine is made from 80% old vine Grenache, 15% Mourvedre and 5% Syrah. 95 Pts
2017 – Calcernier a Aime – Medium-bodied, forward, soft and fresh, with a nice, sweet, bright, juicy, kirsch filled approach. You can drink this charming wine on release. The wine is made from blending 50% Grenache, 30% Mourvedre and 20% Syrah. 89 Pts
2017 – Calcernier Les Notes d'Aline – Medium-bodied, spicy and fresh the red fruits pop in the nose and in the bright, spicy, kirsch filled finish. The wine is made from blending 60% Grenache and 40% Cinsault. 91 Pts
2017 – CellierDesPrinces Chateauneuf-du-Pape – Medium bodied with a strong garrague accent the forward, soft red fruits, this is going to offer nice drinking on release. The Grenache dominated blend includes 5% Mourvedre and 5% Syrah. 84 Pts
2017 – Cellier des Princes Domaine le Mourre – Medium bodied, crisp, bright and fresh, the red berry dominated wine is lean in the finish. The wine is always produced from 100% Grenache. 85 Pts
2017 – Cellier des Princes Domaine Les Escondudes – Bright, fresh, juicy, red berries and garrigue are found in this medium-bodied, lively, crisp, forward wine. The finish focuses on the lively side of Grenache with a strong herbal component. The wine is 100% Grenache. 87 Pts
2017 – Cellier des Princes Heredita – Medium-bodied, bright fresh and juicy with a strawberry and bright cherry filled character from start to finish. The wine is a blend of 90% Grenache 5% Syrah and 5% Mourvedre. 88 Pts
2017 – Chante Perdrix – Fresh, earthy, juicy, with soft, round textures. The wine is open and fruity, with a nice core of cherries and plum in the finish. The wine is a blend of 65% Grenache, 15% Mourvedre, 15% Syrah and 5% Muscardin. 91 Pts
2017 – Chapelle St. Theodoric La Guigasse – Luscious, spicy, fresh, sweet dark, red fruits, pepper, herbs and olives are on the nose and palate. The finish offers freshness with tapenade stained cherries. The wine is made using 100% old vine Grenache. 95 Pts
2017 – Chapelle St. Theodoric Le Grand Pin – Earthy, smoky red fruits and garrigue open the nose. On the palate the wine is soft, polished sweet and juicy with a refined , polished and freshness. The wine is made using 100% old vine Grenache. 93 Pts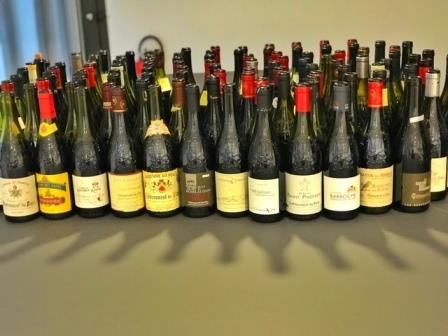 2017 – Chapoutier Barbe Rac – The top of the line Southern Rhone wine from Chapoutier blasts off with pepper, kirsch, herbs and earth. Sweet, soft and polished, with an elegantly texture in the cherry filled finish, this will drink well young. 96 Pts
2017 – Chapoutier Croix de Bois – Forward, soft and approachable, the fruit is ripe, silky and sweet. The kirsch is peppery, round and lush. Opulently textured and needing time to show its all, give it a few years to come around. 94 Pts
2017 – Charvin – Hints of licorice, ripe, dark red fruits, earth and herbs start off the wine. On the palate, the wine is sweet, juicy, fresh and fruity and a nice, soft, elegance to the finish. The wine was made blending 82% Grenache, 5% Syrah, 5% Mourvedre, 4% Counoise and 4% Vaccarese. 94 Pts
2017 – Clef de Saint Thomas La Clef de St. Thomas – Medium-bodied, spicy, juicy fresh kirsch and wild strawberries are found on the nose and in the spicy, fresh, red berry finish. The wine was made from a blend of 50% Grenache, 30% Syrah and 20% Mourvedre. This is best enjoyed in its youth. 88 Pts
2017 – Domaine Clef de Saint Thomas Pierre Troupel – Spicy, fresh, red fruits, kirsch and garrigue open the nose. The wine is medium bodied, bright, fresh and juicy, with a freshness to the kirsch in the sweet finish. The wine was made from a blend of 50% Grenache and 50% Syrah. 89 Pts
2017 – Clos des Brusquieres – Pepper and herbs de Provence open the show, which is soon followed by soft, earthy red fruits, with a solid, sweet, juicy, kirsch finish. The wine was produced using 70% Grenache, with various other allowable varieties. 91 Pts
2017 – Clos des Papes – On the nose you find a spicy blend of dark cherries, strawberry, Asian spice, cloves and licorice. On the palate, the wine soft, elegant, fresh and juicy, with sweet, peppery kirsch in the finish. The wine is a blend of 45% Grenache, 40% Mourvedre, 10% Syrah and the remaining 5% consists of various, allowable grape varieties. The grapes are as always 100% destemmed. The production is quite low this year at only 15 hectoliters per hectare. 97 Pts
2017 – Clos du Mont Olivet – Soft, forward and juicy, with licorice and herbal accents to the sweet, slightly spiced fruits, this is already delicious and it's going to get better from here. The wine is a blend of at least 70% Grenache and various other allowable grape varieties. 91 Pts
2017 – Clos Saint Jean Chateauneuf-du-Pape – Medium/full-bodied, forward, ripe, lush, fresh, sweet and juicy, the red cherries, thyme and herb nuances taste and feel great. You can drink this as soon as it hits the shelf while waiting for its bigger stablemates to evolve and mature. 92 Pts
2017 – Clos Saint Jean Deus-Ex Machina – One of the darkest, most powerful, concentrated wines of the vintage, with just a pop and pour you easily find a wall of inky, deep, lusciously textured, dark red fruits, spice, wet earth and black pepper. Full-bodied and richly textured, the wine demands at least 7 years or so before it really starts to show its true essence. This is one of the wines of the vintage. The wine is made from blending 60% Grenache and 40% Mourvedre. 97 Pts
2017 – Clos Saint Jean La Combe des Fous – Deep in color, the wine explodes with its dark red fruits, fresh cracked black pepper, earthy garrigue, crushed rocks and flowers. Rich and intense, with ample, sweet, ripe, kirsch and cherries that go on and on, this supple blend of 70% Grenache, 20% Syrah, 5% Cinsault and 5% Vaccarese is quite strong, especially considering the vintage. 96 Pts
2017 – Clos Saint Jean Vieilles Vignes – Dark cherries, black raspberry, juicy plum and black pepper nuances get you focused on the round, lush, fruity, rich wine. Forward, with the ability to age for at least 12 years or more. There is a slight touch of heat in the finish, but there is so much fruit, it doesn't really stand out that much. This is already starting to show well. 93 Pts
2017 – Clos Saint Michel Chateauneuf-du-Pape – Supple, round and fruity, with loads of sweet, fresh, cherry, plum, smoke, fennel and peppery black raspberry fruits from start to finish. The wine is a blend of 40% Grenache, 30% Mourvedre and 30% Syrah. 91 Pts
2017 – Clos Saint Michel Reservée – Rich, opulently textured, ripe, spicy, fresh cherries, kirsch, licorice and herbs hit you and stay with you from start to finish in the perfume and on the palate. The wine is a blend of 40% Grenache, 30% Mourvedre and 30% Syrah. 94 Pts
2017 – Clos Saint Michel Grand Vin – Juicy, deep, sweet, lush and long, the dark red fruits, herbs and spice linger long after the wine has gone where it is supposed to be. The wine is made from 50% Grenache and 50% Syrah. 94 Pts
2017 – Cristia Chateauneuf du Pape – Round, sweet, soft and forward, the fruit is ripe, red and fresh, with an easy drinking charm. The wine was made using a blend of 85% Grenache and 15% Syrah. 92 Pts
2017 – Cristia Renaissance – Medium bodied, soft, lush, concentrated and refined, with a blast of ripe, red fruits, freshness and purity in the finish. The finish elegant finish shows off its pure kirsch with ease. The wine is made from 60% Grenache and 40% Mourvedre. 93 Pts
2017 – Cristia Vieilles Vignes – Deep in color, the wine pops with licorice, dark cherries and garrigue. Soft, round and elegant with a nice pop of lusciously textured red fruits and freshness in the finish. This is going to drink well early, and age nicely. The wine was made using 100% old, vine Grenache. 95 Pts
2017 – Crous St. Martin Hommage a L'an 1879 – Medium bodied with a soft, elegant approach, the red fruits are sweet, polished and show a nice, spicy kick in the finish. The wine blends 80% Grenache with 10% Mourvedre and 10% Syrah. 89 Pts
2017 – Delas Freres Chateauneuf-du-Pape Haute Pierre – Dark black raspberries, garrigue, thyme and pepper pop easily in the nose. With a hint of dust in the tannins, the wine is fresh, juicy, fruity and reserved. You can drink this young with pleasure. 91 Pts
2017 – Fines Roches Cuvée des Fines Roches – Medium bodied, spicy, peppery, red fruits, garrigue and earth with a blast of green olive are found on the nose and on the forward, fresh, dark, red berry and pepper filled palate. The wine was produced from 34% Mourvedre, 33% Grenache and 33% Syrah. 91 Pts
2017 – Fines Roches – Medium bodied, soft, herbal and olive filled, easy going, red berry dominated wine that is already fun to taste. The wine was produced from 70% Grenache, 15% Syrah, 8% Mourvedre, 5% Cinsault and 1% Muscardin. 89 Pts
2017 – Fines Roches Forget Me Not – The nose opens with flowers, licorice and smoke topped red fruits. Medium bodied, spicy, peppery, red fruits get even spicier as the wine rests on your palate. The wine could be the only 100% Vaccarese I have ever tasted. 89 Pts
2017 – Domaine de La Presidente – Medium-bodied, fresh, ripe and fruity the wine is all about its core of cherry fruit. The wine is made from 70% Grenache, 15% Cinsault, 10% Syrah and 5% Mourvedre. 91 Pts
2017 – Domaine de La Presidente Nonciature – Medium-bodied, sweet and focused on its core of red cherry fruit, the wine is ripe, sweet, forward and easy to drink. The wine is made from 60% Grenache, 30% Syrah and 10% Mourvedre. 91 Pts
2017 – Lou Frejau – On the fruity side, the wine focuses on its center of round textured, sweet cherries and plums. You can enjoy this on release. The wine is blend of 50% Grenache, 20% Mourvedre, 20% Syrah, 5% Cinsault and 5% Terret Noir. 88 Pts
2017 – La Fagotiere – Medium bodied, soft, forward, and with a hint of pepper and garrigue to the red berries, this is going to fine to drink on release. The wine was produced from 50% Grenache, 30% Syrah and 20% Mourvedre. 89 Pts
2017 – Fargueirol – Medium bodied, forward, direct and in-between sweet and tart, the garrigue and olive component here is strong. The wine is produced using as the name implies 100% Grenache. 87 Pts
2017 – Fargueirol 100% Syrah – Dark, spicy and smoky with a touch of oak, caramel and cherry on the nose and on the round, concentrated, fruity, dark red fruit and spice filled palate. If a name is selected to identify a wine, this clearly works as the wine produced using 100% Syrah. 91 Pts
2017 – Fargueirol Cuvée Antonin – Medium bodied, with a strong olive note to the red fruits, the wine is fruity earthy, forward and leaves with a nice blast of garrigue filled, kirsch. The wine is made from 100% Grenache. 90 Pts
2017 – Fargueirol – Spicy, earthy, earthy, sweet and fresh, the wine offers lift and sweet, peppery, red fruits. The wine is produced from 100% Mourvedre, but I think you knew that already. 88 Pts
2017 – Ferrando Colombis – Garrigue, plum, kirsch and cherries are made even better with their spicy, peppery kick. Rich, fresh, juicy clean and pure, the red cherries pop with energetic freshness and purity. The finish, which shows more of that beautiful sense of purity feels as good as it tastes on the palate. The wine is made from 100% old vine Grenache. 97 Pts
2017 – Font de Courtedune – Juicy, ripe, sweet, fresh, round layers of black raspberry and peppery cherries are on the nose and palate. The kirsch notes in the finish are quite nice. The wine was produced from 99% Grenache and assorted other allowable grape varieties. 91 Pts
2017 – Fortia Cuvee du Baron – Peppery black raspberries, spice, and tannins greet you in the initial sip. Medium-bodied, this is going to require some time in the bottle to soften and better come together. The wine is made from a blend of 50% Grenache, 35% Syrah and 15% Mourvedre. 90 Pts
2017 – Fortia Tradition – Peppery, earthy and filled with loads of Herbs de Provence, with a background note of wood, the wine is classic, juicy and with time, should be an even better experience. The wine is made from 45% Grenache, 45% Mourvedre and 10% Syrah. 89 Pts
2017 – Fortia Reserve – Floral and pepper red fruits pop in the nose. The wine is fresh, meaty, juicy and long on the palate with loads of dark, peppery, black raspberries and olives in the finish. The wine is made from 85% old vine Grenache and 15% Syrah. 93 Pts
2017 – Gardine Cuvee de Generations – A big jolt of dark red fruits, spice, pepper and herbs hit your nose and palate and hangs in there with you. 92 Pts
2017 – Gardine Cuvee de Generations – Powerful layers of dark, spicy, intense fruits soak your palate and hit your nose. This is going to need time to develop, allowing the layers of peppery fruits, herbs and tapenade to come together. The wine is always a bit of a chance as there is never any SO2 used during bottling. The wine is a blend of 40% Grenache, 30% Mourvedre and 30% Syrah. 92 Pts
2017 – La Genestiere – Soft, round textured red fruits with spiced accents along with earthy, thyme filled side notes. Supple, forward and medium bodied, this will be quite easy to enjoy on release, due to its open, forward style. The wine was produced from blending 49% Syrah, 36% Grenache, 7% Mourvedre and assorted other varieties. 90 Pts
2017 – Giraud Cuvee les Grenaches de Pierre – Elegant, soft, polished and pure, the sweet, kirsch and floral notes are in full force here. Medium bodied, fresh and lifted, there is a gorgeous sense of purity to the red fruits from start to finish. The stunning wine is made from 100% old vine Grenache. 97 Pts
2017 – Giraud Tradition – Camphor, herbs, licorice and spicy red fruits are over the place. The wine is soft, forward and with a nice depth of flavor, plus a generous kirsch and peppery finish. It's hard to believe this is their entry level wine, because it's so good. The wine was produced from blending 80% Grenache, 15% Syrah and 5% Mourvedre. 93 Pts
2017 – Giuliana – Medium-bodied, soft, forward and approachable, the black raspberries, garrigue and spice notes come through easily, due to its early drinking approach. 89 Pts
2017 – Grand Tinel Chateauneuf-du-Pape – Elegant, medium-bodied, fresh, juicy and sweet, the soft, ripe red fruits start off nicely, leaving you with sweet kirsch notes in the finish. The wine blends 60% Grenache with 40% Syrah. 90 Pts
2017 – Grand Tinel Chateauneuf-du-Pape – Elegant, medium-bodied, fresh, juicy and sweet, the soft, ripe red fruits start off nicely, leaving you with sweet kirsch notes in the finish. The wine blends 60% Grenache with 40% Syrah. 90 Pts
2017 – Grand Tinel Alexis Establet – Smoky garrigue, licorice and cherries are on the nose and in the medium-bodied, elegant soft, peppery, fresh, juicy raspberry and kirsch filled palate. The energetic finish is silky, fruity and finesse driven. The wine is made from 100% old vine Grenache. 93 Pts
2017 – Grand Veneur Le Miocène – Elegant, soft sweet, red fruits come along with thyme, pepper and herbs. Medium-bodied, fresh, and with a kirsch filled finish, this is quite nice now and will only get better with a few years of age. The wine was made using a blend of 70% old vine Grenache, 20% Syrah and 10% Mourvedre. 93 Pts
2017 – Grand Veneur Les Origines – Smoky, earthy, spicy, peppery, olive, thyme and dark red fruits are all over the place here. The fruit is ripe, round, sweet, fresh and tannic, so allow it time in the cellar before pulling a cork. The wine is made in a full-bodied, hedonistic style that I think is great! The wine was made with a blend of 50% old vine Grenache, 30% Mourvedre and 20% Syrah. 95 Pts
2017 – Grand Veneur Vieilles Vignes – Long, rich, intense and palate filling, long and intense, the wine has concentration, juiciness and layers of dark, earthy cherries, pepper, spice and thyme. The wine was made from blending 45% Grenache, 45% Mourvedre and 10% Syrah. 96 Pts
2017 – Les Grandes Serres La Cour des Papes – Medium bodied, forward, fruity, elegant and soft, the red berries are evident in the nose and the soft, easy to like finish. The wine is a blend of 70% Grenache, 20% Mourvedre and 10% Syrah. 88 Pts
2017 – Jas de Bressy Chateauneuf-du-Pape – Round, sweet, juicy red fruits with freshness and a nice spicy note are just delicious from start to finish in this already open, wine. The wine was made from 80% Grenache, 15% Syrah and 5% Mourvedre. 91 Pts
2017 – Jean Royer Cuvee les Sables de la Crau – Elegant, ripe, fresh, sweet and focused on its purity and energy, the wine is medium bodied, silky and loaded with sweet, red pit fruits. The wine was made from 100% old vine Grenache from vines located in the La Crau lieu-dit. 93 Pts
2017 – Jean Royer Prestige – Medium bodied and loaded with ripe, sweet, juicy, red fruits, the silky textures and purity here really make the wine. The wine is supple and sensuous in texture. The wine was made blending 80% Grenache with 10% Mourvedre and 10% Syrah. 91 Pts
2017 – Jean Royer Chateauneuf-du-Pape – Ripe, juicy, sweet kirsch, licorice and herbs are all over the place from start to finish. The wine is soft, lush and approachable, with a load of ripe red pit fruits in the finish. The wine was made using 90% Grenache, 5% Syrah and 5% Cinsault. 92 Pts
2017 – Jerome Gradassi – With notes of licorice, oak, smoke and ripe, red pit fruits, the wine is medium-bodied, round, soft, forward, and modern in style. This is going to be just great on release. 89 Pts
2017 – Domaine Julien Masquin Memora – Round and juicy with notes of licorice and plums, the wine is open, medium bodied and ready to go with a fruity finish. The wine is blended from at least 75% Grenache and various other assorted grape varieties. 88 Pts
2017 – Domaine Julien Masquin Montplaisir – Medium-bodied, forward, elegant, fresh, vibrant sweet, kirsch, black raspberry and pepper are on the nose and palate. This will be just great on release due to all its easy to like, fresh red fruits. The wine is blended from at least 75% Grenache and various other assorted grape varieties. 89 Pts
2017 – Consonniere – Medium bodied, soft forward, easy drinking, with freshness and elegance to the lightly spiced, red fruits. The wine was produced blending 80% Grenache with 20% Mourvedre. 88 Pts
2017 – La Nerthe Chateauneuf-du-Pape – Smoke, plums, cherries and herbs start things off nicely. On the palate, the fruit is round, sweet, fresh and soft, with an easy going, peppery and olive note along with the kirsch in the finish. 93 Pts
2017 – La Nerthe Cuvee des Cadettes – Juicy, sweet and fresh, here you find ripe, soft cherries, thyme, and kirsch with elegant, round textures, peppery spices and the ability to age and evolve. The wine was made from blending 47% Grenache, 29% Syrah and 24% Mourvedre. 94 Pts
2017 – La Sousto Lucien Gabriel Barrot – Medium bodied, fresh, bright red fruits and herbs with pepper are found on the nose and red berry filled, spicy palate. The wine blends 80% Grenache, 10% Syrah, 8% Mourvedre, 1% Cinsault and 1% Vaccarese. 90 Pts
2017 – LAbbe Dine La Reserve des Cieux – Round, supple, ripe, juicy and medium-bodied, the soft black cherries, licorice and herbs in the finish come through with little effort. The wine is always produced using 100% old vine Grenache. 91 Pts
2017 – LAbbe Dine – Leafy, earthy cherries, with an animalistic bent to the fruit. Medium bodied, elegant and fresh, you can enjoy this young. The wine was made from 90% Grenache, 8% Mourvedre and 2% Syrah. 90 Pts
2017 – LArnesque – A distinctive nose of garrigue and cherry, the wine is open, medium-bodied, elegant, soft and round on the palate. Juicy and fresh, this ends with sweet, spicy fruit in the finish. 91 Pts
2017 – Lavau Chateauneuf-du-Pape – Medium bodied, forward, early drinking charmer with a shot of licorice and cherry on the nose and in the soft, likable finish. You can enjoy this on release. The wine was produced using 50% Grenache, 40% Syrah and 10% Mourvedre. 88 Pts
2017 – Le Caillou – The wine pops with ripe, juicy, sweet, spicy cherries and freshness that linger. The herbs and red fruits in the finish are soft, fruity, refined and juicy. The wine was made from 70% Grenache, 15% Mourvedre and 15% Syrah. 93 Pts
2017 – Le Moulin des Saints – A new wine for me, from the daughter of the owner of Cuvee de Sommeliers, the wine is forward, medium-bodied, soft and fruity, with a polished, sweet, earthy cherry filled character. The wine was made using 70% Grenache, 10% Syrah, 10% Mourvedre and 10% Cinsault. 89 Pts
2017 – LHarmas – Spicy cherries in a forward, soft, round style with sweetness in the kirsch and a hint of pepper in the finish. The forward styled, open wine was made from a blend of 80% Grenache and 20% Mourvedre. 88 Pts
2017 – Maison la Berthaude Vieilles Vignes – Dominated by old vine Grenache, the wine offers flowers, red fruits galore, earth, olives and garrigue on the nose. Soft, refined, juicy and pure, with silky tannins and a forward, cherry filled finish, this is just great. And you can enjoy this with just a year or two of aging. 93 Pts
2017 – Maison La Berthaude Tradition – Medium bodied, soft, fresh, ripe and forward, you can enjoy this on release for all its, up-front, forward sweet, ripe kirsch fruits on the nose and palate. 90 Pts
2017 – Maison La Berthaude Vignes Centenaires – With a nice sense of purity in the sweet, ripe, cherries, the medium-bodied, forward styled wine is soft, polished and fresh. 91 Pts
2017 – Maravilhas Espirito – Loads of dark, spicy, smoky, sweet and just a bit sharp red fruits here, coupled with earth, pepper and garrigue. One of the few Chateauneuf du Pape wines made from 100% Syrah, give it a few years to soften and develop. 90 Pts
2017 – Mas de Boislauzon Chateauneuf-du-Pape Tintot – One of the wines of the vintage, this is just great in every sense. The wine is rich, plush and polished. Complex and concentrated, with layers of dark, spicy, meaty fruits, the wine hits your palate in all the right spaces and places. The velvety old vine fruit sticks with you in the finish. This is a contender for one of the wines of the vintage. The wine was made using 90% old vine Mourvedre and 10% Grenache. 98 Pts
2017 – Mas de Boislauzon Chateauneuf-du-Pape – Leafy, earthy, garrigue filled wine with dark spicy red fruits at its core. Rich, concentrated with lots of peppery spice in the fruity, round, deep finish, the wine will be better with just a few years of age. The wine was made from blending 50% Grenache with 50% Mourvedre. This remains one of the best bargains in Chateauneuf du Pape for character and quality today. 92 Pts
2017 – Mas Grange Blanche Chateauneuf-du-Pape La Font des Bessounes – Forward, soft, round and fruity, with a sweetness to the berries that carries through from start to finish. This will drink just fine on release. The wine is blended with 65% Grenache, 20% Syrah and 15% Mourvedre. 89 Pts
2017 – Mas Saint Louis Chateauneuf du Pape – Flowers, cherries, herbs and earth on the nose and medium-bodied, forward, soft textured palate. This will be just fine on release. The wine was made from blending 80% Grenache, 10% Syrah, 5% Cinsault and 5% Syrah. 88 Pts
2017 – Mas Saint-Louis Chateauneuf-du-Pape Les Arpents des Contrebandiers – Ripe, juicy, sweet and tart fruits with a mineral driven, spicy note in the finish, along with more of those, sweet juicy cherries are what you will find here. The wine was made with 75% Grenache and assorted, other allowable, grape varieties. 92 Pts
2017 – Mas Saint Louis Grande Reserve – Spice, flowers, cherry and garrigue open the nose and keep on coming through the palate. The wine has lift and a spicy, medium-bodied, red berry filled finish. The wine was made blending 80% Grenache with 20% Mourvedre. 91 Pts
2017 – Maucoil Chateauneuf-du-Pape – Round, supple and juicy, with a soft, peppery, kirsch, cherry and plum filled finish. I like the spicy, pepper end note that accompanies the black raspberries and kirsch. The wine was blended with 60% Grenache, 15% Syrah, 15% Mourvedre and 10% Cinsault. 90 Pts
2017 – Maucoil l'Esprit de Maucoil – Spicy dark cherries and herbs with lush, soft, round textures and a long, ripe core of sweet, cherries and earth come through easily with the wines round, forward, juicy, peppery style, The wine was produced using a Grenache dominated blend with Syrah, Mourvedre and various other allowable grape varieties. 92 Pts
2017 – Maucoil Privilege – Dark, spicy, red fruits, licorice and smoke come alive in the nose On the palate the wine is lush, sweet, juicy, deep, fresh and lively, with soft tannins and a blast of black, peppery cherries in the finish. The wine was produced using a Grenache dominate blend that includes Syrah, Mourvedre and several other assorted red and white grape varieties. 95 Pts
2017 – Mayard Cuveè Alex – Medium-bodied, soft, refined and juicy, with a nice core of sweet, peppery red cherries on the nose and palate. The wine was made using 65% Grenache, 15% Mourvedre, 15% Syrah and 5% Cinsault. 91 Pts
2017 – Mayard La Crau de Ma Mère – Soft, silky, juicy and fresh, with an appealing jolt of cherries, spice, garrigue and earth, the finish is all about the fresh, juicy, cherries that linger. The wine was made using 70% Grenache, 20% Mourvedre and 10% Syrah. 92 Pts
2017 – Mayard Clos du Calvaire – Spicy dark red fruits, spice and earthy notes with a nice sweetness to the fruits, herbs and olives, along with early drinkability make this quite a spicy, little charmer. The wine is made from a blend of 70% Grenache, 15% Syrah, 10% Cinsault and 5% Mourvedre. 90 Pts
2017 – Mayard Domaine du Pere Pape – The garrigue is strong here, and so are the sweet, dark, plush cherries and spice on the lushly textured palate and perfume. The wine was made from a blend of 60% Grenache, 20% Mourvedre, 10% Syrah and 10% Cinsault. 91 Pts
2017 – Mont Thabor – With a nice shot of ripe, spicy plums in the opening note, the wine is soft, fresh and lively, with a nice kick of sweet black raspberries in the elegant, medium-bodied finish, The wine was made from blending 80% Grenache with Syrah, Mourvedre and Cinsault. 91 Pts
2017 – Mont Redon – With meaty dark cherries, spice and herbs on the nose, the wine is medium/full bodied, with sweet, ripe, cherry and fennel-oriented finish. The wine blends 57% Grenache, 30% Syrah, 12% Mourvedre and various other allowable grape varieties. 90 Pts
2017 – Mordoree Chateauneuf-du-Pape Cuvee de la Reine des Bois – Incense, smoke, a touch of wood, wet earth and cherries comes through in the nose. On the palate, the wine is plush, round and polished with a spicy edge to the lifted, cherries in the finish. The wine was produced from a blend of 80% Grenache, 10% Mourvedre, 5% Syrah and 5% Vaccarese. 94 Pts
2017 – Mordoree La Dame Voyageuse – Medium-bodied, the soft, round, ripe and juicy red fruits are all over the place. It is hard to believe this is only a second wine! The wine is made from blending 90% Grenache, 4% Syrah, 4% Mourvedre, 1% Vaccarese and 1% Counoise. The wine will be enjoyable on release. 91 Pts
2017 – Mourre-du-Tendre Tres Vieilles Vignes – Smoky cherries and red polished pit fruits with touches of licorice and flowers stand out, leaving you with fresh, juicy, sweet and soft kirsch notes in the finish. The wine was made from blending 90% old vine Grenache with 10% Mourvedre. 91 Pts
2017 – Olivier Hillaire Chteauneuf-du-Pape – Medium bodied, soft and juicy with a dark cherry core of fruits and spice notes in the finish. 90 Pts
2017 – Olivier Hillaire Les Petits Pieds d'Armand – There is a lot to like here starting with all the sweet, black raspberries, cherries, kirsch, flowers and spice on the nose and palate. The wine is medium-bodied, lifted, soft and silky, with a nice dose of concentrated peppery red fruits in the finish 95 Pts
2017 – Olivier Hillaire Les Terrasses – Fresh and floral, with sweet, ripe, spicy red fruits, with accents of thyme and herbs in a medium-bodied, elegant style. 93 Pts
2017 – Olivier Ravoire Chateauneuf-du-Pape – Medium bodied, forward, soft and approachable, the wine is on the sweet, refined cherry side of the style range, with a hit of spice in the soft, kirsch-oriented finish. This should be easy to like on release. The wine was produced from blending 80% Grenache with 10% Syrah and 10% Mourvedre. 90 Pts
2017 – Panisse Confidence Vigneron – Fresh, bright and juicy with a blast kirsch and spice on the nose and palate, the wine is soft, medium-bodied, bright, forward and fruity, with ample red berries in the finish. The wine was made from a blend of 80% Grenache, 10% Syrah and 10% Mourvedre. 90 Pts
2017 – Pegau Reservee – Deep in color, the wine offers one of the most concentrated sensations of the vintage. Here, you find a dark, spicy, ripe, sweet, fleshy, peppery intense wine that develops and expands on the palate. Long, fresh and juicy, the wine is going to require time before it is ready for drinking. . The wine is a blend of close to 80% Grenache along with various other AOC allowed grape varieties. 95 Pts
2017 – des Peres de L'Eglise Heritage – Round, lush, ripe and rich, with layers of licorice, black cherry, kirsch, spice and herbs, there is a nice polish and softness to the fruits in the finish, along with lift and length. The wine is produced from 100% old vine Grenache. 93 Pts
2017 – Roger Perrin Les Galets de la Berthaude – Spicy, round, juicy sweet fruits, garrigue and cherry notes are on the nose and on the fresh, fruit filled palate. The wine is made from 80% Grenache and 20 Syrah. 92 Pts
2017 – Roger Perrin Chateauneuf-du-Pape Reserve des Vieilles Vignes – The mix of cocoa, espresso and sweet cherry is going to please some over others with its modern leaning. The wine is round, soft, fleshy and juicy, with a shot of ripe, dark fruits in the, lush, polished finish. The wine is made from 70% Grenache, 20% Syrah and 10% Mourvedre. 91 Pts
2017 – Roger Perrin Chateauneuf-du-Pape Reserve des Vieilles Vignes – The oak is still a bit pronounced, so you need to give this time before enjoying the fresh, ripe, sweet, cherries and silky, spicy, kirsch with its round textures and freshness. The wine is made from 90% Grenache, 5% Syrah and 5% Mourvedre. 91 Pts
2017 – Pignan Chateauneuf-du-Pape – The sweet, juice filled ripe cherries on the nose palate are a hit. The wine delivers freshness, sweet red berries and herbs in the finish. The wine is a blend of 64% Grenache, 13% Mourvedre, 12% Syrah and other various allowable grape varieties. 90 Pts
2017 – Pignan Cuvee Speciale Coralie et Floriane – Spicy, fresh and juicy, with a black raspberry and jam character, the wine is bright, sweet and fresh. The wine is made from 34% Grenache, 33% Mourvedre and 33% Syrah. 92 Pts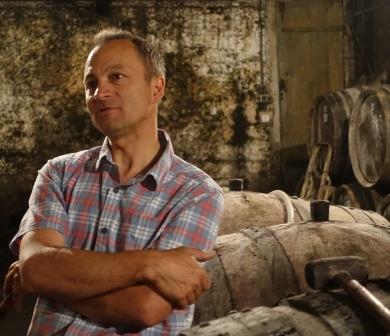 2017 – Rayas – Elegance, refinement and a remarkable purity of fruit are the hallmarks of this vintage at Rayas. The kirsch is silky, fresh, juicy, long and sensuous, with length and complexity. The parade of ripe, red fruits in the finish stays with you for close to 60 seconds. The wine is not yet bottled. But it is quite clear this is going to be one of the top vintages for Rayas. 99 Pts
2017 – Reveirolles Chateauneuf-du-Pape – A strong shot of garrigue comes along with the sweet kirsch from start to finish. Soft, forward, medium-bodied and easy to drink, you can enjoy this on release. The wine blends 85% Grenache, 10% Mourvedre and 5% Syrah. 89 Pts
2017 – Reveirolles Selection Gabriel – Herbs, cherry, thyme and spice are easily found in the sweet, ripe, kirsch filled medium-bodied, open wine. The wine blends 65% Grenache, 25% Mourvedre and 10% Syrah. 90 Pts
2017 – Roger Sabon Les Olivets – Soft, round, sweet and fresh with lush textures and a blast of ripe deep cherries, plums, earth and thyme in the end notes. The wine was made blending 80% Grenache, 10% Syrah and 10% Mourvedre. 92 Pts
2017 – Roger Sabon Cuvee Prestige – Soft, polished, silky and fresh the wine is elegant, earthy and shows a lot of purity in the kirsch on the mid-palate and finish. The wine was made blending 70% Grenache, 20% Mourvedre and various other grape varieties. 94 Pts
2017 – Roger Sabon Le Secret des Sabon – With a beautiful symmetry to the elements, the wine displays fabulous purity, elegance, silky tannins and freshness. The kirsch on the palate that remains on continuous display is elegant, refined and pure. This will age quite nicely. The wine is produced from 95% old vine Grenache with 5% coming from various grape varieties. 97 Pts
2017 – Roger Sabon Reserve – Soft, sweet, supple and fresh, with layers of ripe, cherries and black raspberries, the wine is silky and polished, with ample lift in the red berry filled finish. The wine was produced blending 80% Grenache, 10% Mourvedre and 10% Syrah. 93 Pts
2017 – Saint Laurent Chateauneuf-du-Pape – Medium-bodied, soft, forward, easy to like and even easier to drink. Here you find ripe, sweet, red pit fruits from start to finish with a hint of spice in the end note. Drink this on the young side. The wine is made from 90% Grenache and 10% Syrah. 88 Pts
2017 – Saint Prefert Chateauneuf-du-Pape – Black raspberries, cherries, plums, flowers and spice hits your nose. On the palate, the wine is vibrant, juicy and open, with softness, fruit and tannins along with olives and herbs in the finish. The wine blend 85% Grenache, 5% Mourvedre, 5% Syrah and 5% Cinsault. 93 Pts
2017 – Saint Prefert Collection Charles Giraud – Luscious, peppery, fresh, sweet ripe dark, pure red berries are all over the place. The wine is juicy, fresh and intense. You find length, purity and energy. The black raspberries and peppery cherries just keep on going in the end note. The wine was made blending 60% old vine Grenache with 40% Mourvedre. This stunner is one of the wines of the vintage! 98 Pts
2017 – Saint Prefert Reserve Auguste Favier – Black raspberries, wet earth, spice, cherry and garrigue aromatics get the wine going. On the palate you find sweet, peppery red fruits, spice and freshness. Medium-bodied with lift and energy, the wine leaves you with a long blast of sweet, juicy peppery red fruits in the finish. The wine was produced from a blend of 85% Grenache and 15% Cinsault. 96 Pts
2017 – Saint Siffrein Chateauneuf-du-Pape – Floral and spicy, with freshness and garrigue to accompany all the ripe, sweet cherries from start to finish, the wine is forward, spicy and lush, with a lifted juicy red berry finish. The wine was made from blending 65% Grenache, 15% Syrah, 15% Mourvedre and 5% Cinsault. Give it a few years in the cellar as there is potential for aging here. 92 Pts
2017 – Domaine de Saje 1600 – Earthy, peppery, floral, polished and fresh, the wine is loaded with spicy kirsch on the nose and palate. The wine is produced from mostly Grenache with portions of all the other, various, allowable red and white grape varieties. 91 Pts
2017 – Domaine de Saje – Medium bodied, soft, bright and fresh, with a red berry center and a finish that leaves you with a spiced, kirsch after taste. The wine was produced from mostly Grenache along with all 13 of the major, AOC allowable, red grape varieties. 88 Pts
2017 – Domaine de Saje Marquis Anselme Mathieu – Luscious, juicy and loaded with dark, sweet red fruits, the wine is peppery, fresh, spicy and comes with a nice kick of thyme, garrigue and mint leaf in the finish. The wine is made from blending Grenache with various amounts of all the other allowable grape varieties. 93 Pts
2017 – Domaine Santa Duc Habemus Papam – Black pepper, herbs, red pit fruits and floral notes pop with little effort. On the palate the wine is soft, silky and polished with layers of sweet, ripe, juicy, fresh red fruits. The wine was made from blending 64% Grenache 25% Syrah, 10% Mourvedre and 1% Counoise. 94 Pts
2017 – Domaine Santa Duc La Crau Ouest – Layers of ripe, sweet, fresh, lush, soft, polished, juicy red fruits paired purity, length and freshness. The wine is elegant, cherry filled and a pleasure to drink. The wine was made from 100% old vine Grenache from the La Crau lieu-dit and was aged in terra cotta, Amphora jars. 94 Pts
2017 – Domaine Santa Duc Les Saintes Vierges – Silky, fresh and pure defines the wine. The red fruits are sweet, lively, long and polished, with purity and depth of flavor. The wine was produced from blending 90% Grenache, 9% Mourvedre and 1% Counoise. 95 Pts
2017 – Saumades Chateauneuf-du-Pape – Medium bodied, fresh, bright and focused on its soft, light red berry and spice profile. This is already starting to show well. The wine is made from 100% Grenache. 88 Pts
2017 – Semelles De Vent Pur Mourvedre – Dark in color, the wine is meaty, ripe, spicy, dark, rich and loaded with deep red fruits, earth, pepper and fruit. There is length, freshness and peppery spice on the palate that keeps on going. Give this time to develop as this will morph into a very special wine. The wine as the name implies was produced from 100% Mourvedre. 95 Pts
2017 – Senechaux Chateauneuf-du-Pape – Medium bodied, refined, elegant, soft and fresh, with spicy red fruits on the palate and juicy, bright kirsch in the soft, elegant, earthy finish. The wine is made 48% Grenache, 30% Syrah and 22% Mourvedre. 92 Pts
2017 – Le Serre des Mourres Chateauneuf-du-Pape – Medium-bodied, bright, fresh, clean and juicy, the wine focuses on its red fruits and silk textures. The wine is a blend of 60% Grenache, 20% Mourvedre, 10% Syrah, 8% Cinsault and 2% Vaccarese. 89 Pts
2017 – Simian Le Traversier – The Herbs de Provence kicks in early here. From there you find spicy, peppery red fruits and a finish that shows a strong olive tapanade and red berry profile. The wine was made blending 65% Grenache, 20% Syrah, 5% Mourvedre, 5% Cinsault and 5% Counoise. 90 Pts
2017 – Simian Chateauneuf-du-Pape les Grandes Grenachieres d'Hippolyte – With a strong herbal component to the red fruits, you also find spearmint, oregano and olives. On the palate the wine is spicy, dense, fresh and comes with a basket of olives and herbs in the finish. The wine was produced using 100% old vine Grenache. 94 Pts
2017 – Sixtine Chateauneuf-du-Pape – Spicy, fruity and rich the wine has a fabulous shot of earth, grilled meat and herbs with good concentration of flavor. Give it a few years in the cellar before popping a bottle. Made with a blend of 50% Grenache, 30% Mourvedre and 20% Syrah. 92 Pts
2017 – Solitude (Lançon Pere et Fils) Cornelia Constanza – Made from 100% old vine Grenache, and when I say old, all the vines are more than 100 years of age. The wine pops with spring flowers, kirsch, raspberries, red plums and a hint of smoke and espresso bean. Elegant, round and earthy, there is a nice peppery pop to the sweet red fruits in the finish. It will take a few years for the oak to fully integrate into the wine. 94 Pts
2017 – Solitude Chateauneuf du Pape – Medium bodied, with a lean to the floral side, the wine is made better by the wild red berries, spice and fresh cherries. Medium-bodied, elegant, refined and silky, the fruit has a very nice peppery note in the Grenache based finish. 91 Pts
2017 – Solitude (Lançon Pere et Fils) Cuvee Barberini – With a good depth of color, the wine is bright, fresh, juicy earthy and filled with an assortment of sweet, peppery cherries, herbs, smoke and earthy nuances. Made from a blend of 45% Grenache, 45% Syrah and 10% Mourvedre, give this a few years in the cellar to come around. 93 Pts
2017 – Solitude (Lançon Pere et Fils) Vin de la Solitude – Dark in color, the wine is floral, herbal, spicy, full, rich and deep. The wine is fruity, fresh and expresses itself on the nose and in the mouth, with a lush palate feel. This is only the second time this wine has been produced. It's not going to be easy to find as the production is limited to less than 1,000 bottles and 100 magnums. The wine is made from a blend used at the estate in the 18th century, 30% Counoise, 25% Grenache, 15% Syrah, 15% Mourvedre, 5% Clairette, 5% Bourboulenc, 5% Roussanne and the remainder coming from Clairette Rose and Grenache Blanc and is only available in an antique shaped bottle. 95 Pts
2017 – St. Patrice Viellie Vignes – Spiced black cherries, licorice and garrigue kick things off in the nose. Round, soft, sweet and fresh, the black cherries and herbs in the finish are quite nice. The wine was made from 75% old vine Grenache, 15% Mourvedre and 10% Syrah. 92 Pts
2017 – St. Paul Chateauneuf-du-Pape – Espresso, spice, sweet cherries and herbs on the nose quickly lead you to a soft, fruity, medium bodied, easy to like, early drinking, soft textured finish. Produced from a blend of 90%Grenache and 10% Syrah. 89 Pts
2017 – St. Paul L'Insolite – Meaty, juicy, smoky and spicy, you find ripe, earthy cherries, herbs and pepper on the nose and palate. The wine is fresh, rich and long, with a tannic backbone that demands some time in the cellar. Made from 100% Syrah, this is an interesting wine to taste, as there are only a handful of Chateauneuf du Pape wines made using Syrah exclusively. 92 Pts
2017 – Tour-Saint-Michel du Lion – Lush, rich, ripe and layered with juicy dark red fruits, olives, licorice and spice, the wine is deep and concentrated. The peppery dark fruits in the finish have not fully overtaken the oak, so you will need to give this a few years in the cellar for everything to come together. The wine is produced blending 75% Grenache, 20% Syrah and 5% Mourvedre. 94 Pts
2017 – Tour-Saint-Michel Feminessance – With a dark hue, the wine opens with smoke, espresso, licorice, spice, incense and dark, red fruits. There is a nice depth of flavor here as the wine fills your palate with all of its dark, ripe, rich fruits. But there is a modern leaning here. So, some are going to like it more than others. With all of its power and discernible oak influence, this is going to demand at least 5 years in the cellar, or more for everything to come together and fully integrate. The wine was made from 50% Grenache and 50% Syrah. 94 Pts
2017 – Tourbillon Vieilles Vignes – With a lean to its floral side, the wine is medium bodied, sweet, juicy and fresh. The blast of spicy, sweet kirsch in the finish is really nice. Drink this on release, or age it for more complexity and nuance. The wine is blend of 60% Grenache, 15% Syrah, 15% Mourvedre, 7% Cinsault and 3% Muscardin. 92 Pts
2017 – Pierre Usseglio Chateauneuf-du-Pape – Medium bodied, soft, spicy and fresh, with a nice peppery slant, the wine is forward, elegant and ends with a pure note of ripe, juicy kirsch. The wine was made blending 55% Grenache with 25% Syrah, 15% Mourvedre and 5% Cinsault. 90 Pts
2017 – Pierre Usseglio Chateauneuf-du-Pape Blanc – Flowers, honeysuckle, citrus, stone and lemon peel are all over the place. On the palate, the wine is juicy, fresh and leaves with you tropical, citrus notes. 91 Pts
2017 – Pierre Usseglio Cuvee de mon Aieul – The black raspberries and garrigue in the nose start the show. But it is on the full, lush, deep, spicy, opulent palate that you find the wines true, black raspberry, pepper, jam, licorice and herb filled character. There is length, freshness and complexity found here. This should age quite well. The wine is made with 100% old vine Grenache. 96 Pts
2017 – Vaudieu LAvenue – Ripe, intense, full, rich and fruity, the wine is loaded with Herbs de Provence, fresh red pit fruits, spice and licorice. The wine has depth of fruit and flavor with freshness and purity. Made from 100% old vine Grenache in vines located not far from Rayas. 97 Pts
2017 – Vaudieu Chateauneuf-du-Pape – Fresh juicy, sweet cherries, black raspberry and spice fill the nose. On the palate, the wine is soft, polished, elegant, sweet and pure. Medium bodied and forward, this is already just great to taste, leaving with you a blast of peppery, red fruits. The wine blends 80% Grenache with 20% Syrah. 92 Pts
2017 – Vaudieu Amiral G – The wine is long, ripe, juicy and fruity. The fruit has left and persistency with energy, depth of flavor and layers of spice, garrigue, kirsch, plum and black raspberry. The wine is made from 100% old vine, Grenache planted in sandy soils not too far from Chateau Rayas. 97 Pts
2017 – Vaudieu Val de Dieu – Dark in color, the wine is smoky, floral, earthy and intense with layers of ripe, spicy red fruits. The texture is soft, refined and you find freshness along with purity in the sweet red berries with their herbal, olive accent. Give it a few years for the tannins to soften and allow things to come together and this should be an even better wine. The wine was made blending 64% Grenache and 28% Syrah with 8% Mourvedre. 96 Pts
2017 – Vidal-Fleury Chateauneuf-du-Pape – Medium-bodied, elegant, sweet and fresh, with a core of ripe, soft, polished, red, peppery fruits, the wine is round, supple and fruity, with a ripe black cherry, silky textured finish. The wine blends 85% Grenache, 10% Syrah and 5% Mourvedre. 92 Pts
2017 – Vieille Julienne Les Hauts Lieux – The wine is silky, lush, fresh and peppery. The fruit has lift, tannin, crushed stones, spice and sweet, energetic dark red berries. Offering a juicy wave of peppery red fruits with vibrancy, minerality and freshness, you also find a long, spicy, kirsch note that lingers in the finish. The wine was produced from a blend of 60% Grenache, 20% Mourvedre, 10% Cinsault and 10% Counouise. 97 Pts
2017 – Vieille Julienne Les Trois Sources – Spicy floral, ripe, red fruits, pepper, jam, licorice and black raspberries open the perfume. On the palate, the wine is soft, with freshness and a juicy, peppery kirsch end note. There is good concentration of flavor, fruit and freshness from start to finish. The wine was made from 60% Grenache,10% Cinsault, 5% Syrah, 5 % Mourvedre and small amounts of all the other various other allowable grape varieties. 96 Pts
2017 – Vieille Julienne Reserve – The bouquet is on the floral side, with wild cherries, licorice, spice, stone, earth and herbs to complicate matters. Full-bodied, round, rich and juicy, with a gorgeous sense of purity, concentration and energy, the wine is long, deep and tannic. You should lay this down for 7-8 years before pulling a cork. The wine is usually made from 90% Grenache, 5% Syrah and 5% Counoise. If this seems like your thing, grab a few bottles. 98 Pts
2017 – Vieux Clocher Symphonie des Galets – Medium bodied, soft, forward and on the red berry fruity, earthy side, this Grenache focused wine will be ready to go on release. 89 Pts
2017 – Villeneuve Les Vieilles Vignes – Medium-bodied, soft, sweet and polished, the wine offers sweet, dark red fruits, licorice and floral notes, with a fruit filled, spicy, black raspberry and peppery finish. The wine is produced with 70% Grenache, 16% Mourvedre, 7% Syrah, 4% Cinsault and 2% Clairette. 93 Pts