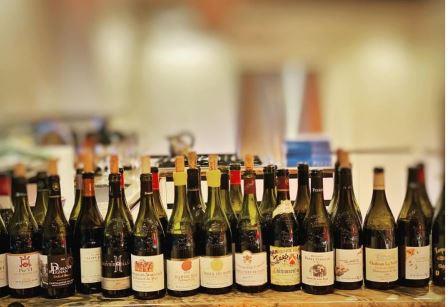 It has been quite a year for all of us. Tasting close to two hundred 2018 Chateauneuf du Pape wines has certainly made the year much more bearable.
Overall, I was surprised at how much I liked the vintage. Having been in Chateauneuf in June 2018, I saw the incredible toll the mildew was having in the vineyards. Growers with the ability to do the work on their vines and enforce stringent selections after harvest produced exceptionally fine, elegant, silky textured, fresh wines with good purity and reasonably low alcohol levels.
It is important to note that not every wine shows clean, pure flavors. There are also wines displaying excessive, olive and strong herbal essences that might be more than you are used to. So, it is important to pay attention to the notes as well as the scores for all the wines tasted. 2018 Chateauneuf du Pape, with few exceptions will drink well, and offer pleasure early.
Another important point is that several producers did not release special cuvees. Instead, all of those grapes were included in their traditional wines, which really added a lot to those wines.
2018 Chateauneuf du Pape as a growing season was a bit schizophrenic. At the beginning of the season, conditions were mild, though moist. But by the time spring rolled around, it started to rain and it seemed like it was never going to stop. This much water had Noah looking for his Ark.
By June, due to all the moisture and warming temperatures, growers experienced high levels of humidity which caused massive attacks of mildew, which was especially hard on the Grenache. Exacerbating the situation was the lack of Mistral winds, which would have helped dry the grapes.
Fortunately, as the summer progressed, conditions improved all over the Southern Rhone and by harvest time, the warm, sunny months of August and September saved the day and the harvest.
While several fine wines were produced, there is not going to be a lot of 2018 Chateauneuf du Pape to buy. Some growers lost over 50% of their crop! On top of low yields from 2017, there is not a lot of wine to go around. It is interesting that with all the issues Grenache experienced, there are 100% Grenache wines that are quite good. However, the Mourvedre and Syrah were quite successful, so consumers should find several blends interesting to taste.
2018 Chateauneuf du Pape is a drinker's vintage. Most of the wines are going to be delicious on release. With few exceptions, it is not a vintage to lay down for extended aging. Enjoy it now and over the next decade or so while waiting for the 2016 and 2019 vintages to develop.
I am grateful for the all the producers in Chateauneuf du Pape that graciously sent me their wines and for the Federation for helping put this tasting together. With luck, I can return in 2021! I'd like to give a big shout out to Cristie Norman who helped me with these tastings. It really helped make my life so much easier.
The following 2018 Chateauneuf du Pape wines were tasted at home over a few weeks in August and September in non-blind conditions.
2018 – 3 Cellier Chateauneuf-du-Pape Alchimie – Black cherry, pepper, licorice and garrigue fill the nose. On the palate, the wine is round, lush, sweet and fruity with a spicy pop of red fruits and clay in the finish. The wine is made using 60% Grenache and various other, assorted grape varieties. 93 Pts
2018 – 3 Cellier Chateauneuf-du-Pape Marceau – Showing good color, the juicy dark, red berries, forest leaf, spice, pepper and herbal notes combine to produce an intoxicating nose. On the palate the wine is forward, earthy and meaty with loads of peppery red fruits. The finish, with its garrigue tinged, spicy red berries works perfectly with this full, rich, deep wine. The wine is made from 50% Mourvedre, 30% Grenache, 10% Counoise and other assorted grape varieties is perfect for 2018. A few years of cellaring will add a lot to the wine. 94 Pts
2018 – Albin Jacumin a Aime – Spicy and fresh with a blast of garrigue on the nose and palate to complicate the medium-bodied core of sweet, red, spicy fresh fruits. Elegant and ready to go, this will be just great on release. 91 Pts
2018 – Albin Jacumin La Begude Des Papes – Medium-bodied, soft, forward, fresh and sweet with a nice juicy, pure red cherry presence on the palate and in the finish. You can enjoy this on release. 90 Pts
2018 – Albin Jacumin My Grenache – Medium-bodied, with a roasted sweetness to the fruits, the wine is light in color showing nice purity to the red fruits, a touch of spice and an elegant, soft, refined character. 92 Pts
2018 – Andre Mathieu Chateauneuf-du-Pape – Smoky, herbal, leafy and spicy, with sweet red cherries, black raspberries and kirsch on the nose and palate. There is good richness, freshness and a nice pop in the thyme coated red berry finish. 91 Pts
2018 – Beaucastel – You can taste and feel the intensity from the low yields here. At its core you find layers of earth, garrigue and peppery kirsch, black raspberry, cherry and spicy red plums. Richly textured with soft, silky tannins and a finish that resonates with spice box, kirsch, dark red berries and olives, this is going to offer great drinking early, yet should last for at least 2 decades. 96 Pts
2018 – Beaucastel Hommage Perrin – The wine of the vintage. Compelling in every sense of the word, the wine is incredibly dark in color. The aromatics kick off with an amazing display of spices, herbs, wet earth, leaf, pepper, grilled meat, black raspberry, kirsch and plum notes. The weight, density and intensity on the palate coats your taste receptors, yet retains its lush, silky texture. The seamless finish leaves the 60 second mark in its wake. This should age for decades. 100 Pts
2018 – Beaucastel Blanc – White peach, orange rind, flowers and honey pop on the nose. From there, on the palate you find fresh, bright, juicy apricots, peach, and sweet Mandarin oranges. The wine has flesh and freshness. Yields were quite low, so this is going to be quite difficult to find. The wine was made from a blend of 85% Roussanne and 15% Grenache Blanc. 91 Pts
2018 – Beaucastel Blanc Cuvee Roussanne Vieilles Vignes – White peach, honeysuckle, pear, spice and crushed stones. The wine is full-bodied, lush, sweet and fresh with a parade of white fruits and peach in the finish. The wine is always made from a 3 hectare of old vine 100% Roussanne planted in 1909. 97 Pts
2018 – Beauchene Grande Réserve – Medium-bodied, earthy, herbal and fresh with an olive, mint and cherry filled, spicy finish. The wine blends 80% Grenache, 10% Syrah and 10% Mourvedre. 89 Pts
2018 – Beauchene Hommage à Odette Bernard – Forward, plush, round and supple, the wine is filled with fruit, pepper, herbs, spice and red berries. 90 Pts
2018 – Beaurenard (Paul Coulon et Fils) Chateauneuf-du-Pape – Character filled, sweet, juicy, fresh kirsch and herbs are all over the place. Soft textured, medium-bodied, elegant and just a pleasure to imbibe, this will be delicious on release. While dominated by Grenache, the wine includes various percentages of most if not all of the AOC allowable grapes. 91 Pts
2018 – Beaurenard Boisrenard – With a touch of oak on the entry, the wine delivers plushly textured cherries, plums, herbs and spice on the nose and soft textured palate. The wine was made from a Grenache dominated blend that also utilizes old vine Mourvedre, Syrah and all the other allowable grape varieties in the appellation. 93 Pts
2018 – Berthet-Capeau Elixir des Papes – Ripe cherries, flowers, cocoa and herbal aromatics dominate the nose. On the palate the wine is round, lush and soft, finishing with sweet, dark red cherries and dusty tannins in the finish. The wine was produced using 100% old vine Grenache. 92 Pts
2018 – Berthet-Rayne – The garrigue, licorice and spicy cherries hit you right off the bat before you jump into the medium-bodied, spicy, kirsch and tart raspberries. Soft and energetic, silky and refined, the addition of Mourvedre, Cinsault and Syrah adds a lot to the wine. 91 Pts
2018 – Bosquet des Papes A la Gloire de mon Grand-Père – Oh yes was the first words that came to mind once this spicy wine hit my palate. With good concentration of flavor, you find opulent, silky red fruits and spice that perfectly combines sweetness and purity on the palate. This is one of the more successful wines of the vintage. The wine was produced blending 98% old vine Grenache, with 1% Cinsault and 1% Clariette. 96 Pts
2018 – Bosquet des Papes Chante Le Merle Vieilles Vignes – Elegant, plush, soft and fresh, with a strong floral essence which is accompanied with a nice sweetness to all the red fruits. Silky, refined, soft and generous with a gorgeous sense of purity to the fruits in the finish. The wine blends 85% Grenache with 15% Mourvedre. 95 Pts
2018 – Bosquet des Papes Tradition – Focused on its strawberry, cherry and red plum notes, the fruits are soft, sweet and pure. Refined, elegant, forward, juicy and fresh, with touches of herbs and a chalky finish, this is quite nice. Give it a year or two in the cellar. 92 Pts
2018 – Boutiniere Chateauneuf-du-Pape – Light in color, with a cool, spice and lavender note on the nose, the wine is medium-bodied, soft, forward, bright and fresh with a red plum finish. The wine blends 70% Grenache, 10% Syrah, 10% Mourvedre and 10% Cinsault. This will drink well on release. 88 Pts
2018 – Boutiniere Grande Reserve – The old vine Cuvee from La Boutiniere is round, juicy, lush and filled with cherries and garrigue. Medium-bodied, soft textured and forward in nature, with a nice little kick of spice in the finish, this will be quite easy and fun to taste on release. 90 Pts
2018 – Brotte, Chateau de Barville, Les Hauts de Barville – Medium-bodied, light in color, with a touch of incense that sits on top of all the sweet red fruits. The wine is forward, light on the palate and ready to drink. 87 Pts
2018 – Brotte, Chateau de Barville, Les Hauts de Barville – Medium-bodied, bright, fresh and juicy, there is a crispness to the red fruits on the palate and in the finish. 90 Pts
2018 – Cellier des Dauphins – Forward, round, soft, lush and loaded with dark red cherries, garrigue, a hint of cocoa and herbs. This will be fine to enjoy as soon as it hits the stores. 89 Pts
2018 – Chanssaud Chateauneuf-du-Pape – Soft, round, polished and fresh, with an early drinking, medium-bodied, kirsch and herb filled character that will be great for early drinking pleasure. 89 Pts
2018 – Chante Perdrix – The juicy kirsch pops right up as soon as it hits your nose. The wine is medium-bodied, elegant, sweet and fresh with gorgeous refined character. 91 Pts
2018 – Chapelle St. Theodoric La Guigasse – The sweet, ripe cherries pop as soon as the wine hits the glass. From there, leaf, thyme and fresh herbs join in. On the palate, the wine is round, plush, polished and juicy, with a purity to the fruit that carries through to the well-defined, kirsch oriented finish. The wine is made using 100% old vine Grenache. 95 Pts
2018 – Chapelle St. Theodoric Le Grand Pin – Medium-bodied, elegant, fresh, and refined, with a nice purity to the fruits. On the palate, the wine is soft textured, silky and sweet, with ample notes of juicy kirsch in the finish. The wine is made using 100% old vine Grenache. 92 Pts
2018 – Chapoutier Barbe Rac – The purity in the old vine Grenache really stands out. It takes no effort to dig into the sweet, juicy, ripe black raspberries and cherries. Elegantly textured, the wine is rich, full, fleshy and refined, leaving you with layers of, sweet, juicy, red berries that linger. This will drink well young and it will age for years. 96 Pts
2018 – Chapoutier Croix de Bois – Elegant, sweet and fresh, the wine is vibrant, floral, pure and clean with fabulous balance and lift on the palate leaving you with loads of sweet, red fruits in the finish. The wine is made using 100% old vine Grenache. 95 Pts
2018 – Chapoutier Pie VI – Lusciously textured, rich and fruity, this is delicious right out of the gate. The ripe cherries and plums are accompanied by a touch of smoke, thyme and garrigue. This is a rich, full wine that is good now and promises to be even better with just a bit of aging. 93 Pts
2018 – Château de Manissy Trinite – Spicy, fruity and fresh with a forward, early drinking , red berry character for early drinking pleasure. Chateau de Manissy is better known as one of the top producers of Rose' in Tavel. 90 Pts
2018 – Christophe Mestre – Medium-bodied, light in color with a soft textured, forward, cherry filled peppery nose and palate. This will be just great on release. 88 Pts
2018 – Clef de Saint Thomas La Clef de St. Thomas – Earthy, spicy and fruity, the wine is medium-bodied, forward, round and soft, with a nice sweetness to the peppery red fruits and herbs on the palate and in the finish. The wine blends 50% Grenache, 30% Syrah and 20% Mourvedre, which helped this year. This is best enjoyed in its youth. 90 Pts
2018 – Clos des Papes Blanc – Made from close to equal percentages of all 6 allowable, white wine grape varietals, the wine leads off with aromatics of roasted nuts, orange, peach, flowers and spice. Luscious, opulent and richly textured, the wine is sweet, fresh and fruity. The wine was produced from yields of only 10 hectoliters per hectare. 94 Pts
2018 – Clos du Mont Olivet – Silky, soft, refined and sweet, this medium-bodied, fresh wine is filled with chalky tannins, olives, herbs, red berries and garrigue on the nose and palate. This will be delicious on release. 91 Pts
2018 – Clos du Mont Olivet La Cuvee du Papet – Plush, rich, silky and fresh, with loads of ripe, sweet, delicious red fruits, flowers, spice, earth, herbs, olives and pepper. Medium-bodied, soft and refined, this will offer pleasure almost on release. 95 Pts
2018 – Clos Saint Michel Chateauneuf-du-Pape – Fleshy, spicy and rich with ample licorice, kirsch and earthy nuances to keep any taster busy. The wine is round, supple and peppery in the fruit filled finish. The wine is a blend of 40% Grenache, 30% Mourvedre and 30% Syrah. 91 Pts
2018 – Clos Saint Michel Homage to Heritage – My first time with this wine which shows off its floral sense easily. The wine is medium-bodied, bright, fresh lusciously textured. On the palate, the wine is filled with fresh, juicy red fruits with a sweetness that resonates in the finish. 93 Pts
2018 – Clos Saint Michel Reservée – Smoky, mineral driven, herbal and packed with spicy red fruits, lush textures and thyme, this is already showing well. The blend of Grenache, Mourvedre and Syrah really works well this year. 93 Pts
2018 – Clos St Antonin – Produced from 100% Grenache, the wine is forward, medium-bodied, soft and herbal with a sweet, garrigue, raspberry and kirsch finish. 90 Pts
2018 – Comte Christophe de Courten – Medium-bodied, soft, forward, early drinking, lighter styled, kirsch filled wine that will offer a lot of delicious, up-front, early drinking pleasures. 88 Pts
2018 – Comte de Lauze – There is a cool minerality essence that shines through here, followed by lavender, herbs and cherries. On the palate the wine is soft, sweet and fresh, medium bodied, elegant and frankly, already charming. 91 Pts
2018 – Consonniere – Light in color, medium bodied, forward, spicy, sweet and fresh, with a refined core of kirsch and olives that will be perfect for soft-textured, elegant, early drinking pleasure. 90 Pts
2018 – Cote de lAnge Chateauneuf-du-Pape – Earthy, herbal, peppery red fruits pop on the nose. On the palate, the wine is ripe, long and deep with a hint of cocoa that comes along with all spicy, black cherries. 91 Pts
2018 – Cristia Vieilles Vignes – Deeply colored with a touch of smoke, wild cherry, herbs, pepper, oak and mint, the wine is juicy, sweet, rich, long and focused. The wine was made using 100% old, vine Grenache. 94 Pts
2018 – Cristia Chateauneuf du Pape – Deep in color, the wine is sweet, fruity, fresh, spicy and long. The cherries and black raspberries are fresh, vivacious and feel great on the palate, with a nice peppery kick in the endnote. 91 Pts
2018 – Cristia Renaissance – Ripe, rich, juicy and fresh, there is a strong sense of purity, sweetness, length and intensity and minerality to the spicy, peppery, red fruits on the palate and in the long finish. The wine is made from 60% Grenache and 40% Mourvedre. This is one of the success stories of the vintage. 95 Pts
2018 – Crous St. Martin – Spicy with a strong herb and olive component to the peppery red berries, you find those same sensations on nose and on the medium-bodied, spicy palate. The wine blends 80% Grenache with 10% Mourvedre and 10% Syrah. 90 Pts
2018 – Crous St. Martin Hommage a L'an 1879 – Earthy, spicy, herbal and showing a cornucopia of olives and red fruits, the wine Medium bodied with a soft, elegant approach, the red fruits are sweet, polished and show a nice, spicy kick in the finish. The wine blends 80% Grenache with 10% Mourvedre and 10% Syrah. 91 Pts
2018 – Cuvee du Vatican Réserve de l'Abbé – Medium-bodied with an earthy, herb filled nose to accompany all those sweet, spicy red berries, the wine is soft, elegant and with a nice purity to all its red fruits. The tannins show a bit of chalky dust that I like in the finish. 91 Pts
2018 – de Ferrand Chateauneuf du Pape – Lush, round, fruity and fresh, this is already showing well. The dark cherries are ripe, sweet, spicy and fleshy with loads of fruit on the nose, palate and end. The wine blends 90% Grenache, 8% Syrah and 2% Mourvedre. 93 Pts
2018 – de la Croze-Granier des Pontifes – Dark in color and in fruit, the wine is packed with deep black cherries, wet earth, minerality, salty tannins, peppery spice and garrigue. Round, concentrated and lush, this has the goods to age quite well. The wine is made from blending Grenache with Mourvedre, which worked quite well this year. 91 Pts
2018 – de la Plaud – Sweet red fruits that blend well with all the herbs and garrigue are what you will find here. Medium/full bodied, soft, forward, fresh and fruity, with a touch of dryness in the finish, this will drink well on release. 88 Pts
2018 – des Peres de L'Eglise Heritage – Produced from 100% old vine Grenache, the wine shows depth of flavor, round textures and a sweetness to the luscious red fruits. There is nice lift and length to the fruits in the finish. 92 Pts
2018 – des Peres de L'Eglise Le Calice de Saint-Pierre – Floral, with a shot of juicy, fresh, peppery, cherry and black raspberry aromatics on the nose, the wine offers good sweetness, silky tannins and a forward, early drinking, kirsch filled approach. 91 Pts
2018 – des Peres de L'Eglise Le Calice de Saint-Pierre – Soft, round and fruity, with a nice shot of dark, spicy cherry, black raspberry and a hint of cocoa in the finish. With freshness, fruit and energy in the finish, this is quite nice. The blend is made from 85% Grenache, 10% Mourvedre and 5%. 92 Pts
2018 – Domaine de Saje – Soft and fruity, the wine is medium bodied, with a forward and fresh, with a sweet and spicy, fresh, sweet cherry core of fruit. The wine was produced using all 13 of the major, AOC, allowable, red grape varieties. 89 Pts
2018 – Domaine de Saje Marquis Anselme Mathieu – Medium-bodied, floral, elegant, fresh, sweet, ripe and juicy with a nice spicy touch to the refined cherries and plums on the palate and in the finish. This will be even better with just a few years of aging. 92 Pts
2018 – Domaine des Relagnes Clef de Saint Thomas Pierre Troupel – Light in color, medium-bodied, fresh and clean, with a red cherry center, this is going to be best in its youth. 87 Pts
2018 – Domaine Santa Duc Habemus Papam – Round, lush, fresh and fruity, the peppery red berries, with their floral accents on the nose, is just great. And the show is even better on the palate with its ripe, sweet, silky, round, spicy, pepper red fruits. You can enjoy this in its youth, or age it a few years for more complexity. 94 Pts
2018 – Domaine Santa Duc Le Pied de Baud – One of the wines of the vintage, this is just great with all its layers of sweet, lush, ripe, juicy red fruits, flowers and kirsch. The wine offers concentration as well as refined elegance and a vibrant, lifted, pure red fruit character in the finish. The wine is a blend of 80% Grenache, 15% Mourvedre and 5% Cinsault. 96 Pts
2018 – Domaine Santa Duc Les Saintes Vierges – This gem hits all the right notes. The floral, spice, kirsch, herb and thyme nose lets you know something is really going on here. But the it is the silky, soft, lusciously textured, sweet, red fruits and refined textures that seals the deal! 97 Pts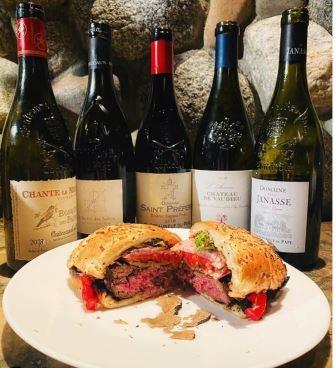 2018 – du Bois de Saint-Jean – Medium-bodied, soft, juicy and with a strong garrigue, herb, leafy green, olive profile. The wine was produced from 100% Grenache. You can drink this on release. 85 Pts
2018 – Durieu Cuvee Lucile Avril – Jammy kirsch and pepper is the first thing you notice on the palate. The wine is sweet, fresh, elegant and refined with a good sense of purity in the sweet cherry packed finish. 92 Pts
2018 – Duseigneur Catarina – Medium-bodied, soft, forward, elegant and fresh, with an easy to like core of red fruits, green olives and herbs. The finish is focused on its blend of sweet and spicy red fruits with their herbal accent. 90 Pts
2018 – Ferme Chabran – Light in color and on the palate, the wine is going to be best for early drinking, cherry filled pleasure. 87 Pts
2018 – Ferrando Colombis – In any vintage this would be a serious wine, but in a difficult vintage like 2018, this is stunning. With a rich hue, the wine is all about the silky, plush layers of ripe, sweet, pure, raspberries, kirsch and cherries that are there right from the start and never want to quit. The strong floral notes are perfect for the wines elegant charm. Produced from 100% old vine Grenache, for a wine at this level of quality and character, it is one of the steals of the vintage! 97 Pts
2018 Ferrando F601 – No F601 is not the latest supercar from Ferrari. It is the most recent offering from Isabel Ferrando. From 100% Cinsault planted in 1928, the parcel is named F601. This stunning wine offers a beautiful perfume packed with flowers, spice box, wild cherries, kirsch, underbrush, and red plums. Soft, silky, fresh, clean and pure, with spicy top notes that fit perfectly with all those sweet raspberries and kirsch notes, the wine, aged in demi-muids and is going to be close to impossible to find as only 800 bottles were produced. Each bottle comes in its own display box, so if you find a bottle, grab it. 97 Pts
2018 – Font du Loup Chateauneuf-du-Pape – Elegant, silky, soft and sweet with a beautiful freshness and energy to the kirsch on the nose and palate. Medium-bodied, refined and sweet, this is already showing well. 91 Pts
2018 – Font du Loup Le Puy Rolland – Strong notes of flowers, citrus and kirsch are all over the place. The wine is soft, round and loaded with sweet, juicy kirsch in the, elegant, refined finish. The wine is made from 100% old vine Grenache wine. 94 Pts
2018 – Font du Loup Legend – Meaty, spicy, earthy and herbal with cherries, black plums and thyme on the nose. The wine is soft, round and polished with a spicy, herbal, cherry finish. 92 Pts
2018 – Fontavin Cuvee David et Goliat – Lusciously textured, all the old vine Grenache feels great on your palate. The wine is soft, round and polished with notes of thyme, spice, olives and herbs to round things out. 92 Pts
2018 – Fontavin Cuvee Tradition – Floral, forward, fresh and fruity, the wine is medium-bodied, earthy, herbal and delivers a strong, peppery olive kick in the finish. 89 Pts
2018 – Fortia Cuvee du Baron – The Syrah and Mourvedre add a strong pepper, floral, grilled meat note to the perfume. On the palate the wine is medium-bodied, soft and fresh when a nice blast of kirsch and herbs in the finish. 91 Pts
2018 – Fortia Tradition – Medium-bodied, soft, floral and with a nice sweetness to the kirsch, texturally, the wine is elegant with a touch of olives, pepper and herbs in the cherry filled finish. This should be ready to drink on release. 90 Pts
2018 – Gabriel Meffre Laurus – Medium-bodied, forward, early drinking, lighter expression of Grenache. This will be best in its red plum and bright cherry filled youth. 88 Pts
2018 – Gabriel Meffre Saint-Theodoric – Medium-bodied, approachable, early drinking, soft textured kirsch, spice and bright red plum filled wine that is ready to go. 87 Pts
2018 – Gardine Chateauneuf du Pape – Oaky with a hint of espresso along with the fat cherries on the palate. The wine is round, sweet, forward and focused on its core of spicy, red berries. This decidedly modern styled wine is already fun to taste. 90 Pts
2018 – Gardine Cuvee de Generations – With a strong, smoke, espresso note to start things off, the fruit is deep, fleshy, round and flashy. The wine is powerful, ripe and sweet, with a lot of flesh and flash. Give this modern styled, bodacious wine time for the oak to integrate and it will be a much better wine. 93 Pts
2018 – Georges-Lombriere Cuvée Marie – Elegant, silky, soft and forward, with loads of kirsch on the front and backend. Her you also enjoy a hint of peppery spice in the refined, sweet, fruity finish. Drink this young for all those sweet, ripe red fruits. 92 Pts
2018 – Gigognan Clos du Roi – Flowers and spice join all the herbs, red fruits and smoked meat character. Fresh, round and medium-bodied, with a peppery, red berry, herb and green olive finish. 88 Pts
2018 – Giraud Cuvee les Grenaches de Pierre – Incredibly silky, elegant, and fresh, the wine exudes its floral character with ease. The soft, pure red fruits on the palate and in the refined finish seal the deal. This beauty was produced from 100% old vine Grenache. 97 Pts
2018 – Giraud Tradition – The juicy, sweet ripe kirsch jumps out in the nose with ease. From there you find peppery cherries, black raspberries, round, soft, lush textures and a sweet, fresh, fruity finish that tastes as good as it feels. It's hard to believe this is their entry level wine, because it's so good. 93 Pts
2018 – Grand Tinel Alexis Establet – Medium-bodied, soft, silky, fresh, pure cherry and spicy kirsch notes fill the wine. You also find lift and a slice of herbs in the finish. The wine is elegant, refined and shows a nice sense of purity in the red fruits on the palate. The wine is made from 100% old vine Grenache. 92 Pts
2018 – Grand Tinel Chateauneuf-du-Pape – Spicy, sweet and juicy with a nice purity and energy to all the luscious cherries and strawberries, Elegant, medium-bodied, forward and alluring, this is going to be great with just a bit of age. The wine blends Grenache with healthy dose of Syrah. 91 Pts
2018 – Grand Veneur Le Miocène – Floral, minty, peppery and with a meaty edge to the red fruits on the nose. The wine is round, lush, sweet, pure and leaves you with good energy in the kirsch filled finish. 93 Pts
2018 – Grand Veneur Les Origines – Rich, lush, juicy and fruity, with a freshness, energy and a spicy, black raspberry, herb and thyme finish. The wine was made with a blend of 50% old vine Grenache, 30% Mourvedre and 20% Syrah. 94 Pts
2018 – Janasse Chateauneuf du Pape – With a touch of oak, smoke, espresso, plum, cherry, earth and herbs, the wine is soft, elegant, sweet and spicy. Forward and fresh, this is going to be delicious on release, yet it should age well for about a decade. The Syrah, Mourvedre and Cinsault add a lot to the blend. 92 Pts
2018 – Janasse Cuvee Chaupin – Produced from 100% old vine Grenache, the wine is spicy, medium-bodied, smoky, elegant, round and loaded with lush, but refined red fruits. Give this a few years in the cellar and it should fill out nicely. 94 Pts
2018 – Janasse Vieilles Vignes – The nose, with its pepper, oak, smoke, earth and dark red fruits is attention seeking. On the palate, the wine is plush, sweet, ripe, fresh and with depth of flavor. Yet it is also elegant, sweet, rich and lusciously textured, ending with loads of fruit in finish, This is one of the wines of the vintage. 95 Pts
2018 – Jean-Pierre Boisson Domaine du Pere Caboche – Elegant, refined, soft and fresh, the wine offers layers of sweet, round, ripe red fruits with an early drinking charm that will be just great to enjoy on release. 90 Pts
2018 – Jean-Pierre Boisson Domaine du Pere Caboche Vieille Vignes Elisabeth Chambellan – Soft, forward, medium-bodied and already showing off its sweet, red berry core of fruits with its nice spicy kick in the rich, ripe, lusciously textured endnote. 92 Pts
2018 – la Barroche – Black raspberries, grilled meat, Herbs de Provence and forest notes work well on the nose. On the palate, the wine is soft, silky, elegant and pure, with a sweet, juicy kirsch note in the finish. 93 Pts
2018 – la Barroche Pure – Lush, long, rich and floral, with accents of thyme, pepper, cherries and black raspberries. Suave and silky soft and sweet, with silky textures and beautiful purity to the kirsch in the finish. The wine, as you probably already know by now, takes its name from the fact that it's made from 100% pure, old vine Grenache. 96 Pts
2018 – La Bastide Saint-Dominique Chateauneuf-du-Pape – Earthy, peppery, fresh, medium-bodied, soft and fruity, here you find loads of lusciously textured cherries, kirsch and ripe strawberries with a cool spicy note. This is very successful this year, thanks in part to all the Mourvedre in the blend. 92 Pts
2018 – La Bastide Saint-Dominique Les Hesperides – Medium-bodied, soft, fresh and showing a meaty, peppery, herbal, thyme and cherry filled nose. The wine has depth of flavor, but not the elegance found in the estates other wines this year. The wine was made from blending 50% Grenache with 50% Mourvedre. 93 Pts
2018 – La Bastide Saint-Dominique Les Secrets de Pignan – Silky, elegant, floral and fresh, the sweet kirsch notes come through loud and clear on the nose and palate. Refined and pure, this beautiful wine was produced from 100% old vine Grenache. 96 Pts
2018 – La Ferme du Mont Cotes Capelan – Full-bodied, lush, round and with a good depth of flavor, the wine is packed with sweet, ripe, dark cherries, plums and black raspberries, licorice, herbs, spice and pepper. Round, opulent and rich and loads of sweet fruit from start to finish is found here. This is one of the top wines this year. 95 Pts
2018 – La Ferme du Mont Vendanges d'Octobre – Medium bodied, bright and fresh with crisp, fresh red berries, herbs, olive and spice on the nose and palate. You can enjoy this just about on release. 91 Pts
2018 – La Milliere Vieilles Vignes – Soft, medium-bodied, herbal and fruity, the wine is forward, easy to like and loaded with kirsch on the nose and palate. Fresh and lively, soft and refined, this will drink well young. The wine is a blend of 60% Grenache,10% Syrah, 10% Mourvedre, 10% Cinsault and 10% Counoise. 91 Pts
2018 – La Nerthe Chateauneuf-du-Pape – On the palate, the wine is round, soft, sweet and fruity with a touch of oak, spice, green olives and red pit fruit. Medium-bodied, forward and already delicious, give it a few years in the cellar and it will be a better wine. 91 Pts
2018 – La Nerthe Cuvee des Cadettes – Round, sweet, lush and juicy, the fruit feels great on your palate, leaving with a lush kirsch, smoke, licorice and dark raspberry finish. 93 Pts
2018 – LAbbe Dine La Reserve des Cieux – Round, supple, juicy and spicy with cherries, licorice, earth and herbs in the finish. The delicious wine will be ready on release. The wine is always produced using 100% old vine Grenache. 90 Pts
2018 – LAbbe Dine La Reserve des Cieux – Flowers, licorice and juicy, luscious deep cherries really hits the spot. The wine has lift and purity with a nice elegance to the mouth feel, leaving you with more cherries, licorice and herbs in the finish. The wine is always produced using 100% old vine Grenache. 92 Pts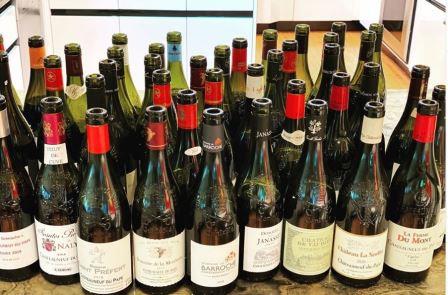 2018 – Le Clos du Caillou La Reserve – Rich, deep, meaty, peppery, powerful and packed with dark red berries, spice and herbs. One of the densest wines of the vintage, due to the preponderance of Mourvedre in the blend, this full-bodied, concentrated wine is in contention for the wine of the vintage. 98 Pts
2018 – Le Clos du Caillou Les Quartz – Spicy, floral, peppery, polished and energetic, the medium/full-bodied, lush wine has good concentration, freshness, purity and lift. The finish is loaded with ripe, sweet, juicy kirsch in an elegant style. 95 Pts
2018 – Le Clos du Caillou Les Safres – Peppery, spicy and fresh, with a big blast of red cherries, plum liqueur and wild strawberry on the palate, the wine leaves you with a round, fruit-filled impression as the finish really sticks with you. The wine is made using 95% Grenache, 2% Mourvedre, 2% Cinsault and 1% Vaccarese. 93 Pts
2018 – Le Serre des Mourres Chateauneuf-du-Pape – Medium-bodied, forward, floral and fruity, you can enjoy this young for al its upfront, sweet, ripe, cherries, plums and strawberry essences. 88 Pts
2018 – Les Cailloux (Lucien et Andre Brunel) Chateauneuf-du-Pape – Medium-bodied, soft, sweet, tart and fresh. The cherries are stained with peppery spice, olives, thyme and garrigue on the palate and in the finish. 91 Pts
2018 – Les Grandes Serres La Cour des Papes – Earthy, herbal, peppery red fruits and flowers come to the front on the nose. On the palate, the wine is forward, soft and sweet, with a medium-bodied, herbal, leaf and olive tinged finish. 88 Pts
2018 – LHarmas – Earthy, herbal, garrigue notes mesh with green olives and light red fruit aromas on the nose. Medium-bodied, forward with a strong olive, garrigue and spicy, silky, kirsch finish. 88 Pts
2018 – Lou Devet – Forward, early drinking, soft, approachable, medium-bodied, sweet, plum and cherry filled wine that will be just great to enjoy on release. 90 Pts
2018 – Louis Bernard – Medium-bodied, early drinking, soft, approachable, charmer with a nice dose ripe, soft textured fruits and a strong herbal and leafy component in the endnote.. 87 Pts
2018 – Maison la Berthaude Vieilles Vignes – Fruity, juicy and with a nice stony essence to its sweet, lush, fruits, there is a touch of smoke, spice and earthiness to the peppery red fruits on the palate and in the finish. You can drink this on release. 90 Pts
2018 – Maison la Berthaude Vignes Centenaires – Spicy and fresh with nuances of mint, pepper, earth, spice, smoke and espresso, the fruit displays an elegance and purity on the nose and palate. The wine is medium-bodied, round, forward and ready to go. 91 Pts
2018 – Maravilhas Espirito – Produced from 100% Syrah, the wine is spicy, brisk and fresh with a grilled meat, herb, leaf, licorice and peppery red berry character. Spicy and lifted, give it some time in the cellar to develop. 90 Pts
2018 – Marcoux – Sweet, juicy kirsch, flowers, black raspberry, herbs and a touch of pepper create the perfume. Round, juicy, fresh and sweet, the purity of kirsch in the medium-bodied finish is a total turn on. Because no VV was produced this year, this is especially strong and worth seeking out. 94 Pts
2018 – Mas Grange Blanche la Font de Bessounes – Medium-bodied, earthy, forward and fresh, the wine is bright, energetic and fruity with soft, lush, richly textured, round layers of kirsch, black pepper and plums. The finish is lifted and a bit spicy in the end note. This will drink just fine on release. The wine blends Grenache, Syrah and Mourvedre. 92 Pts
2018 – Maucoil Chateauneuf-du-Pape – Olives, thyme, garrigue and spice come along with the with sweet and sour cherries. Medium-bodied with a distinctive olive edge to the fruits on the palate, the wine finishes with a sharp, peppery edge with a tinge of chocolate in the finale. 89 Pts
2018 – Maucoil Privilege – Ripe, dark, spicy, sweet, lush, round and fruity, with layers of deep, fleshy cherries, black raspberries and pepper. Round, plush, lively and long, this is going to age quite nicely. Give it a few years in the cellar for the oak to better integrate. The wine was produced using a Grenache dominate blend that includes Syrah, Mourvedre and several other assorted red and white grape varieties. 93 Pts
2018 – Mayard Clos du Calvaire – Fruity and fresh with black raspberries, herbs, cherries and earthy notes, the wine is medium-bodied, herbal, olive-stained and leafy, ending with a sweet, juicy, silky kirsch note in the finish. 92 Pts
2018 – Mayard Domaine du Pere Pape – Round, fruity, lush and forward, all the luscious red fruits and spice here taste as good as they feel thanks to all the ripe Grenache, Mourvedre, Syrah and the large amount of Cinsault in the blend. 91 Pts
2018 – Mayard La Crau de Ma Mere – Medium-bodied, spicy and fresh, with an earthiness and touch of brett on the nose, clearly the wine offers depth, richness and layers of ripe, red, peppery fruit on the palate and in the finish to end things quite nicely. 93 Pts
2018 – Mont Redon – With good color, the wine is spicy, round, fresh and shows chalky tannins to all the sweet cherries in the medium-bodied, refined finish. The wine averages 60% Grenache, 30% Syrah and various assorted red grape varietals. 90 Pts
2018 – Mont Thabor – Round, rich and fruity, the wine shows olives, herbs, red cherries, spice box and leafy notes on the nose and palate. Ripe, round, sweet, medium-bodied and fresh, this Grenache and Syrah dominated blend will be quite easy to enjoy on release. 91 Pts
2018 – Mordoree Chateauneuf-du-Pape Cuvee de la Reine des Bois – With a nice depth of color, the wine pops with its smoke, oak, olive, cherry and earthy core of fruits. There is a good depth of flavor, round texture and incense with a dab of spice as well as a touch of oak in the lushly textured fruity finish. Give this a few years in the cellar to develop, soften and integrate. 94 Pts
2018 – Mordoree La Dame Voyageuse – With a strong sensation of garrigue, olives, forest leaf and herbs, the wine is medium-bodied, spicy, fresh, sweet and filled with kirsch on the nose and palate. You can drink this on release. 90 Pts
2018 – Moulin Tacussel Chateauneuf-du-Pape – Earthy with a touch of brett, along with Provencal herbs and cherries, the wine is round, earthy, and displays a touch of rusticity. But in a good, old-school classic way. Give it a few years and this is going to be just great to drink. The wine was produced from mostly Grenache blended with various, assorted, AOC allowed varietals. 90 Pts
2018 – Mourre-du-Tendre Vieilles Vignes – Licorice, flowers, black raspberries and cherries are out in front there. On the nose the wines are soft, elegant medium-bodied, spicy and fresh with a nice shot of peppery kirsch in the finish. 91 Pts
2018 – Nalys Grand Vin – Lush, round, ripe, juicy and fruity, the wine explodes with waves of dark cherries, kirsch and cherry griotte. Richly textured with good concentration of flavor, followed by length and purity on the palate, this should age and evolve quite well. 94 Pts
2018 – Nalys Saintes Pierres – With good concentration, depth of flavor, richness and lift, the wine is full-bodied, fruity, fresh and filled with sweet, dark red fruits, cherries, herbs and earth. The wine is made from a Grenache dominated blend with Mourvedre and various assorted allowable grape varieties. 92 Pts
2018 – Olivier Hillaire Chateauneuf-du-Pape – Medium bodied, forward, soft and already deceptively easy to taste, the wine is fruity, soft, round, sweet and juicy with a nice, peppery, kirsch kick in the finish. The wine is a blend of 90% Grenache and 10% Syrah. 91 Pts
2018 – Olivier Hillaire Les Petits Pieds d'Armand – The floral notes really sing here. From there you find ripe raspberries, kirsch and freshness on the nose and medium-bodied palate. The end notes are all about the silky textures and refined, elegant stylings. 94 Pts
2018 – Olivier Ravoire Chateauneuf-du-Pape – With a strong herbal tone to the red fruit, the wine is round, lush and fruity. The tannins are ripe, the wine is rich, but the garrigue and green olive tone is quite strong this year. 88 Pts
2018 – Paul Autard Chateauneuf-du-Pape – Vanilla, espresso, smoke, wet earth and dark red berries are the first thing you notice. From there, you find a blast of round, lush, sweet, ripe, juicy red fruits with a dose of oak in the finish. Give this time to integrate and it should be a much better wine. 90 Pts
2018 – Paul Autard Cuvee Juline – With a good depth of color, the wine starts off with a strong note of oak, wet earth, spice and grilled meat. The wine is no shy little sister. Big, rich, powerful and full-bodied, with a blast of fruit and oak on the palate, this is going take some cellaring for all the parts to come together. Made from an equal blend of Grenache and Syrah, the wine is aged in 100% new, French oak barrels for 19 months before bottling. Juline, takes it name from the names of Jules Autard and Pauline Autard, the children of the Autard family is one of the most modern styled wines in all of Chateauneuf du Pape.. 92 Pts
2018 – Paul Autard La Cote Ronde – Sporting one of the deepest hues of the vintage, the wine greets you with strong notes of espresso, vanilla, black cherry, licorice, smoke and plum. Full-bodied, round, fleshy and flashy, this is going to take time in the cellar to soften and allow the oak to integrate. If you are seeking the best expression of a modern, styled Chateauneuf du Pape, you came to the right place. The wine was made from blending 50% Grenache and 50% Syrah and was aged in 100% new, French oak barrels. 92 Pts
2018 – Pegau Reservee – Earthy, robust, animalistic, meaty, fruity and fresh, this is already a delight. The ripe berries are accompanied by layers of herbs, pepper, spice and garrigue. Full-bodied with layers of ripe plums and cherries, the wine is long, fresh and intense, with the ability to age and evolve for years. This is not a vintage that will require years of cellaring. Just a few years will add a lot to the wine. The wine is a blend of 80% Grenache and various other AOC allowed grape varieties. Because no Cuvee da Capo was produced in 2018, those grapes were added to flesh out the Reservee. 95 Pts
2018 – Pere Caboche Creation d'Emilie – Medium-bodied, floral, fresh, sweet and spicy with a nice red fruit character. The wine is forward, soft, lifted and focused on its core of ripe, sweet, red pit fruits. 90 Pts
2018 – Pierre Usseglio Chateauneuf-du-Pape – Dark cherries, plum and peppery spices hit your nose as soon as the wine is poured. Soft, elegant, medium-bodied, fresh and clean with a juicy, round kirsch filled finish to boot. You can enjoy this with pleasure on release. 91 Pts
2018 – Pierre Usseglio Cuvee de Mon Aieul – Sweet, lush, juicy, peppery and concentrated, the wine is lush, fruity, rich and intense. Here you find layers of kirsch, black raspberries, spice and garrigue with a touch of mint and pepper in the finish. This should age quite well. The wine is made with 100% old vine Grenache. 95 Pts
2018 – Pignan Chateauneuf-du-Pape – Medium-bodied, sweet and lush, here you find a sensual texture to all the spicy, peppery ripe cherries and plums. The finish feels great with its layers of red berries, herbs and black pepper. 91 Pts
2018 – Pignan Cuvee Speciale Coralie et Floriane – Elegant, silky and fresh, there is a gorgeous sense of purity here on the nose and on the refined, spicy, peppery, meaty, red berry, medium-bodied palate. The wine blends roughly 34% Grenache, 33 % Mourvedre and 33% Syrah. 93 Pts
2018 – Porte Rouge Chateauneuf-du-Pape – Medium bodied, spicy and focused on its thyme and cherry core with its additional notes of strawberry and red cherries. The wine is fresh, pure and clean with sweet kirsch in the endnote. This will definitely be best in its youth. 90 Pts
2018 – Raymond Usseglio Chateauneuf-du-Pape – Floral, fresh and forward, with a juicy, fresh, bright red fruit character on the nose and mouth. You can enjoy this on release for its open, juicy red cherry charm and medium-bodied, silky textures. 92 Pts
2018 – Raymond Usseglio Cuvee Imperiale – From vines close to 120 years of age, the old-vine intensity shines through here, loud and clear. Concentrated, lush, rich and floral, the beautiful, ripe kirsch notes shine on the nose. Silky and rich on the palate, the finish, with its fresh, sweet cherries, strawberry and kirsch go on and on. The fruit displays good purity and vibrancy. 96 Pts
2018 – Raymond Usseglio La Part des Anges – Meaty, earthy, lush, round, full-bodied, spicy and fleshy with a focus on its dark red fruits, pepper, barbecue and espresso notes. The wine is concentrated, full and deep, as well as lusciously textured and tannic. Give it 6-8 years in the cellar and this could be even better. With its blend of 70% Mourvedre, 20% Grenache and 10% Syrah, this should age quite nicely. 95 Pts
2018 – Reveirolles Chateauneuf-du-Pape – Wet earth, clay, garrigue and red fruit aromas fill the nose. Medium-bodied, easy to like and already delivering a fruity, sweet finish. This will be just great on release. 90 Pts
2018 – Roger Perrin Chateauneuf-du-Pape Reserve des Vieilles Vignes – Espresso, flowers, cocoa and cherries are found with ease here on the nose and palate. The wine is forward, soft, round and fresh with a polished finish. 91 Pts
2018 – Roger Perrin Chateauneuf-du-Pape Reserve des Vieilles Vignes – Here you find a nice blend of flowers, cherries, cocoa and smoke on the nose. The wine is medium-bodied, bright, lifted, soft, round and forward, with a dusty, tannic finish. Give it a few years in the cellar. 93 Pts
2018 – Roger Sabon Le Secret des Sabon – Elegance is the key word here. Refined, fresh and with a beautiful silky, pure character, this is soft, sensuous and shows a gorgeous purity to the, ripe red fruits. For any vintage, this is a very good wine. But for 2018 this is clearly one of the stars of the vintage. This is made with mostly old vine Grenache. 97 Pts
2018 – Roger Sabon Les Olivets – Peppery with green olives, herbs, cherries, raspberries and spice, the wine is medium-bodied, soft, forward and fresh, with a nice blast of kirsch in the finish. This will deliver loads of early drinking pleasure. 92 Pts
2018 – Roger Sabon Prestige – Medium-bodied, soft and fresh, the nose, with its blend of fresh picked flowers, herbs, earth, spices and red berries hits the spot. Soft, fruity, sweet and fresh, the wine is forward, open and just about ready to drink. 94 Pts
2018 – Roger Sabon Réserve – The spicy red cherry notes stand out here. Medium-bodied with soft, silky textures, and sweetness to the fruits, here you find a forward approach. In fact, this luscious, fruit-filled wine will be just great on release and should even better with age. 93 Pts
2018 – Saint Prefert Chateauneuf-du-Pape – With a strong floral, herb, licorice and spice note that accompanies all the sweet cherries and black raspberries, the wine gets off to a good start. On the palate, the wine is fresh, juicy, fruity, soft and refined, with a spicy, herbal end note on top of the kirsch in the finish. 92 Pts
2018 – Saint Prefert Collection Charles Giraud – Deep and dark, which is hard to find this year, the fruit combines black cherries, plums, kirsch and black raspberries with a blast of spice. Rich, but not out of balance, the wine sits perfectly on the corner of full and balanced. Length, purity and elegance are the cornerstone here in the finish. I really like the depth of flavor, spice and expansiveness in the finish which comes from all the Mourvedre. 97 Pts
2018 – Saint Prefert Reserve Auguste Favier – The nose, with its blend of herbs, strong floral notes and sweet kirsch hit all the right notes. On the palate the wine is medium-bodied, offering energy and lift to the elegant, silky, red berries and spice. This is going to be great with just a bit of age, though I cannot blame you if you can't wait to pop a cork. 95 Pts
2018 – Saint Prefert Vieilles Vignes Clairette – Rich, lush, opulent, slightly oily in texture, the wine explodes with white peach, vanilla, lemon curd, tropical fruits and honeysuckle. This is quite long, intense and leaves a big impression. Only produced in magnum, this is probably going to be better and perhaps deserving of a higher score when it matures. 96 Pts
2018 – Saint Prefert Blanc – Round, creamy white peaches, tropical fruits and lemon zest with honeysuckle and a touch of orange rind in the finish are ready to go. 91 Pts
2018 Senechaux – Medium-bodied, soft, elegant, refined, spicy, bright red berry filled charmer with an elegant, silky, red cherry and kirsch-filled finish. Give this just a year or 2 in the cellar and it should be fully ready to go. 91 Pts
2018 – Simian Le Traversier – Medium-bodied, elegant, silky, refined and soft, the wine is ripe, floral and juicy with a beautiful purity to the sweet, ripe red fruits. The wine was made blending 70% Grenache, 15% Syrah, 5% Mourvedre, 5% Cinsault and 5% Counoise. 91 Pts
2018 – Sixtine Chateauneuf-du-Pape – Showing good color, the nose offers sweet red fruits, meat, pepper, earth and spice. Fruity, luscious, round and ripe, this is very successful for the vintage, in part due to all the Mourvedre and Syrah in the blend. 93 Pts
2018 – Sixtine Manus Dei – Medium-bodied, earthy, dusty and fruity, with a nice spicy kick and a hint of licorice in the raspberry oriented finish. This is ready to drink on release. 88 Pts
2018 – Solitude – Medium bodied, with a mineral edge to the sweet, ripe, juicy, ripe, fresh cherries, Soft, round and polished, with an elegant, medium-bodied refined, silky finish, this is already quite nice. 91 Pts
2018 – Solitude (Lançon Pere et Fils) Cornelia Constanza – Floral, fresh and pure, the wine pops the moment it hits your glass. The complex nose, with its slight hint of espresso and smoke moves quickly to its floral side before hitting on its sweet red fruits. Round, juicy, spicy and fat, with a richness to all the peppery kirsch, give it a few years to fully integrate the wood and it will be an even better wine. The wine made from 100% old vine Grenache, and when I say old, all the vines are more than 100 years of age. This is one of the stars of the vintage. 95 Pts
2018 – Solitude Vin de Solitude – From an interesting blend that includes a large percentage of white wine grape varietals, the wine is surprisingly deeply colored. On the nose you find flowers, spice box and peppery black raspberries. Fresh, bright and juicy with loads of sweet kirsch and herbs on the rounded, fleshy palate seals the deal. 93 Pts
2018 – Vaudieu Amiral G – Powerful, full-bodied, intense and rich, the wine pops with flowers, smoke, vanilla, spice and dark cherries. You find a lot of lift, along with a wall of sweet, deep, dark red jammy fruits, energy and round, lush textures. Give it time in the cellar before pulling a cork. There is a lot going on here and it needs time to come together. The wine is made from 100% old vine, Grenache planted in sandy soils not too far from Chateau Rayas. 95 Pts
2018 – Vaudieu Chateauneuf-du-Pape – Filled with herbs, earth, thyme and sweet cherries on the nose, the wine is round, soft, silky and fresh, The fruits are sweet, juicy and lifted. There is a wealth of spicy, sweet red fruits in the earthy finish. 92 Pts
2018 – Vaudieu Val de Dieu – Showing good color, the floral, smoke filled wine provides the perfect amount of ripe, fresh, spicy red fruits on the nose and palate. Round, plush and silky, this should drink well with just a year or two of age. The wine was made blending 60% Grenache and 25% Syrah with 15% Mourvedre. 94 Pts
2018 – Vidal-Fleury Chateauneuf-du-Pape – Loads of olives, garrigue, meat and pepper mix with the layers of red fruits, soft, silky textures and kirsch filled finish. The wine is medium-bodied, elegant, fresh and should drink well on release. 90 Pts
2018 Vieille Julienne Reserve – A great success in any vintage, but a marvel in a difficult year, this superb wine offers a deep, dark, red hue. The perfume, with its blend of flowers, licorice, garrigue, spices, cherries and plums is gorgeous. Richly textured, concentrated, long and with depth and complexity, the lusciously textured finish lingers on your palate. Give it 3-5 years of aging and it will be even better! 98 Pts
2018 Vieille Julienne Les Trois Sources – Spicy, fresh, sweet, ripe red fruits, herbs, thyme, flowers and pepper open the medium-bodied, kirsch packed wine. The soft, inviting palate delivers ripe, red cherries, kirsch and spicy black raspberries from start to finish. This will be just great on release and should deliver the goods for at least decade or longer. 94 Pts
2018 Vieille Julienne Les Hauts Lieux – Meaty, deep, dark, rich and concentrated, the wine is lush, spicy, intense, long, complex and finishes with peppery, fresh, red fruits, olives and herbs that feel just great on your palate and in the long finish. 96 Pts
2018 – Vieux Clocher Symphonie des Galets – Soft, floral and fruity with a nice sense of freshness and charm to the wine. Easy drinking, fruity and fun, this will be great on release. 89 Pts