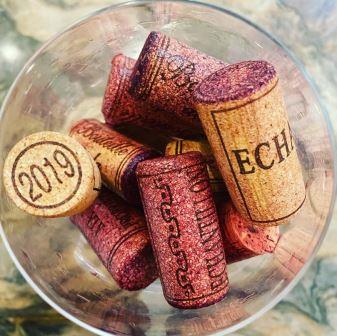 After tasting 700 wines from the 2019 vintage. I can assure you that there is an array of 2019 Bordeaux wines worth buying from all over the entire appellation.
There are wines at all price levels. At the top of the 2019 Bordeaux range of wines, if you are seeking the best of the best, you can buy a First Growth, or the top, glamor wines from Pomerol or St. Emilion. That's easy to do. If you have the coin.
But one of the advantages of great vintages is the ability for wine lovers to buy wines with character and style that almost anyone can afford to purchase by the case. One of my goals in tasting a vintage is helping consumers find the best wines at prices everyone can afford.
Generic AOC Bordeaux is literally an ocean of wine. Much of it is frankly not that interesting. At best, many of those wines are quite simply, easy, daily quaffers without definition or character. They are wet and alcoholic, without much else to talk about. However, if you look, there are a few 2019 AOC Bordeaux value wines that are worth looking into purchasing.
The top 2019 AOC Bordeaux wines are perfect for early drinking, pleasure. They are usually quite inexpensive as well as being interesting to taste. They might come from less heralded terroirs, or use blends not authorized in their appellation, which is why they are sold as simple Bordeaux designated wines, but they can offer a good tasting experience at a very friendly price.
They can come from all over the Bordeaux appellation, though many of these wines emanate from the Left Bank. Though a few are from the Right Bank as well.
Any of the following 2019 Bordeaux wines listed below are worth purchasing by the case when they are available at your local stores. The following wines were all tasted from mid-May to Mid-June at my home office in non-blind conditions.
2019 Auguste – Medium-bodied, bright, fresh, sweet and tart red fruits in a straight-forward style, without much complexity is what you find here. 84-86 Pts
2019 Belle-Vue (Haut Medoc) Petit Verdot – Jammy, juicy, spicy and fresh, as well as full-bodied and concentrated, you experience a strong, powerful tart-mouth presence from start to finish here. Some tasters are going to like this more than others. This is a rarity in Bordeaux as it is one of the few wines made from 100% Petit Verdot. 86-88 Pts
2019 Curton La Perriere – Round, dark red fruits, chocolate-covered plums and licorice with round textures and layers of fruit in the finish. 89-91 Pts
2019 Domaine de Cambes – Garnet with a touch of brick in the color, mint with a shot of smoked cherries, the wine is quite earthy in nature, in its fruit and nose and on the palate. Concentrated, round and fruity, you can drink this young or age it for more complexity. 88-90 Pts
2019 Hubert de Bouard Cabernet Franc – Floral, earthy and fresh, with ripe red pit fruits, soft, round textures, a medium-body and a smooth finish. This is already quite tasty and it's quite interesting to taste one of the few Bordeaux wines made from 100% Cabernet Franc. 87-89 Pts
2019 Hubert de Bouard Cabernet Sauvignon – Medium-bodied, fresh, soft, forward, open and accessible, this lifted, earthy, red fruit and tobacco-filled wine deliver an already delicious tasting experience, letting you know what wines produced from 100% Cabernet Sauvignon in Bordeaux can do. 87-89 Pts
2019 Hubert de Bouard Merlot – Forward, juicy, sweet and fresh, this already open, ripe, round, soft plummy wine is perfect for near term drinking. 87-89 Pts
2019 La Fleur-Mongiron – Medium-bodied, fruity and fresh, this charming, early drinker is all about its up-front, forward approach and sweet cherry finish. 87-89 Pts
2019 La Fontaine de Genin – Soft, round and fruity with freshness and loads of sweet, ripe plums, cherries and licorice in the finish. 89-91 Pts
2019 Leroy-Beauval – Dark in color, with tobacco leaf, cassis and blackberry on the nose, while the palate has ample, ripe, soft, dark red fruits, elegant tannins and a forward approach. This is a very strong Bordeaux value wine. 89-91 Pts
2019 Mauvais Garçon (Bad Boy) – Good color, forward, easy to like and drink with loads of smoke, espresso, licorice, cherries and plums in every sniff and sip. This will be just great on release. 87-89 Pts
2019 Mongiron – Easy drinking, medium-bodied, floral, sweet cherry-filled charmer with loads of fruity, sweetness and freshness. 88-90 Pts
2019 Monolithe – Round, fruity, juicy, full-bodied and packed with fruit, this is a big blast of berries and oak in a forward style. 87-89 Pts
2019 Pabus – Lush, round, plush and loaded with layers of sweet, ripe, fresh fruits. The fruits are ripe, the tannins are soft and the juicy, plummy, chocolate finish carries it all through quite nicely. 89 – 90 Pts
2019 VirginieThunevin – From Jean-Luc Thunevin and Murielle Andraud, this is a beautiful wine for the money. Medium-bodied with a smoky, licorice and cherry vanilla nose. Quite fruity, with loads of red fruit and herbs in the finish. Forward in nature, you can enjoy this on release, or age it for a bit. 88-90 Pts