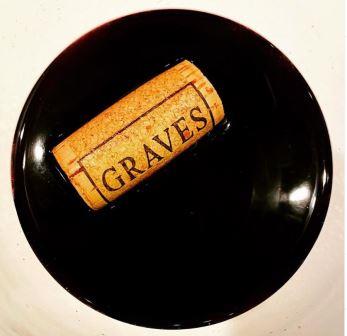 2019 Graves red and white wines at their best are aromatic, soft, smoky, medium-bodied, forward and refined. They should all deliver pleasure early. In fact, most will be delicious on release. Plus, almost every wine in this report sells for $15 or less! These well-priced early drinkers offer a lot of value for the money.
Red wines and white wines are successful, depending on the estate. The trick for 2019 Bordeaux in the Graves region was to be able to retain enough water in the soils during the hot, dry summer months.
The 2019 Graves vineyards enjoyed the same climatic conditions as found in its neighbor to the north, Pessac Leognan. The first 3 months of the growing season were moderate and easy for growers. Things changed in April as the month was cooler and wetter than usual. This was good for the vintage in the Graves appellation, which can be warm and precocious. April's cooler climatic conditions slowed the vintage down a bit.
Prior to the summer, the biggest potential issue growers faced was when fears of frost struck the region twice. The first time happened on April 13 and April 14 when freeing, icy temperatures dipped below zero for a few nights. Frost conditions returned a second time, May 5 and May 6.
From there, the summer however was warm, sunny and very dry. Though the nights were often cool, allowing acidites to build. July and August continued the summery conditions. Fortunately, two July rain storms helped added much needed moisture to the vines.
Most vignerons were busy harvesting Sauvignon Blanc grapes by late August and by mid September they were busy picking their Semillon and young Merlot vines. The majority of September was mostly warm, sunny and very dry until the last part of the month, which delivered water to the thirsty soils helping the red wine grapes to reach maturity. By the middle of October, almost every grower in the appellation had completed picking their Cabernet Sauvignon under good, easy to harvest in conditions.
The following tasting notes focus on 2019 Graves red and white Bordeaux wine. We covered tasting notes on more than 70 red and white 2019 Pessac Leognan wines in a separate report published just a few days ago. All of the following 2019 Graves wines were tasted in my home office from mid-May until early June in non-blind conditions.
2019 Brondelle – Medium-bodied, soft, approachable with a core of red pit fruits and an herbaceous, earth and olive accented, red berry finish. 86-88 Pts
2019 Cerons – Light, bright, cranberry and strawberry oriented, medium-bodied wine with a lean, herbal and crisp red berry finish. 83-85 Pts
2019 Cerons Blanc – Early drinking citrus filled wine for early drinking consumption. 83 Pts
2019 Chantegrive – Medium-bodied, elegant, forward and easy to drink, the fruit is sweet and ripe with a hint of smoke and soft textures. This will be fun to drink on release. 87-89 Pts
2019 Chantegrive Cuvee Caroline – White peach, green apple, vanilla and lemon wax permeate the nose. On the palate, the wine borders between lush and fresh, with a creamy, lemon peel finish. 90 Pts
2019 Clauzots Blanc – Fresh, juicy and crisp, with nice shot of pomelo on those nose and palate, making this a fun, summer pool-side sipper. 86 Pts
2019 Clos Floridène – Medium-bodied, fresh, energetic, forward wine with a core of sweet, red fruit made for early drinking pleasure. 86-88 Pts
2019 Clos Floridène Blanc – Flowers and yellow citrus with a touch of green apple come forward in this fresh, forward, crisp wine. 87 Pts
2019 Crabitey – Medium-bodied, fresh, early drinker with a fruity, earthy, dark cherry essence ending with a touch of dust in the finish. 86-88 Pts
2019 Haura – Fresh, forward and easy to like, the wine is all about the lifted, earthy, red pit fruits, its medium-body and soft textures. This should be great to drink on release. 88-90 Pts
2019 Lesparre – With an herbal accent to the bright red fruits, the wine is forward, medium-bodied and ready to drink, with a soft, cherry finish. 85-87 Pts
2019 Lesparre Blanc – Light summer quaffer with a focus on its core of yellow citrus notes. Drink this over the next year or two. 84 Pts
2019 Liber Pater – Showing more volume and roundness than the 2018, the wine focuses on the purity in the fruits. Flowers, cherries and plums resonate along with earthy, spicy nuances. There is nothing between you and the fruit. Soft, fresh, lively and nuanced, this is really an interesting wine. Liber Pater is a unique expression of Bordeaux you will not find in other vineyards. In part, it is due to the blend, no oak in the aging and the thought process of the "Go His Own Way" owner of Liber Pater, Loic Pasquet.
The wine was produced from a unique blending of 70% Cabernet Sauvignon, 15% Petit Verdot, 11% Castet, 2% Tarnay Coulant and 2% Saint Macaire. The blend represents what you could have found in Bordeaux at the time of the 1855 Classification. The wine is made from some of the lowest yields in Bordeaux at 15 hectoliters per hectare. The wine reached 13.5% alcohol. The wine is not aged in barrel. 100% of the wine is aged in clay amphora for about 30 months before bottling. The purpose for not using oak is to allow for a pure expression of the soil, according to the owner, Loic Pasquet. All of this makes for a truly unique wine tasting experience. The only issue is finding a bottle, as perhaps as little as 1,000 bottles are going to be produced this year. 94-96 Pts
2019 Roquetaillade La Grange – Loaded with earthy plums, cherries and a hint of oak on the nose, the medium-bodied wine ends with a bright, red strawberries and a touch of herbs in the endnotes. 86-88 Pts
2019 Saint-Robert – With a hint of smoke, the wine is a soft-textured, easy-to-drink, uncomplicated wine that will best in its first 3-5 years of life. 85-87 Pts
2019 Saint-Robert Blanc – Honeysuckle, orange peel and lemon wax aromas come on nicely. But here, the nose is a bit better than the lush, fruity, citrusy palate. 88 Pts
2019 Villa Bel-Air – Fresh, sweet berries surrounded by earth on the nose, the wine is medium-bodied with a fruity, soft textured, easy to like finish. You can drink this early for its fruity character. 86-88 Pts
Tomorrow we wrap our our coverage on 2019 Left Bank wines with our writeup on the 2019 Medoc wines.
If you have any questions or comments, please feel free to post.