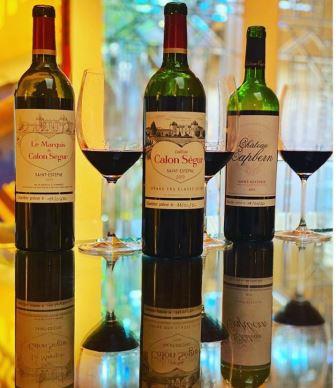 The best 2019 Saint Estephe wines make this a truly unique vintage for the appellation, and in many ways, for all of Bordeaux and me too! Not only does this mark the only time I have tasted barrel samples at home in bulk, and occasionally over Zoom with the directors, it is also the first time I have published my Bordeaux tasting notes before the articles!
Consistency is one of the hallmarks of a good vintage. 2019 St. Estephe is remarkably consistent. Every producer I tasted made strong wines. As you will easily note, I did not get the opportunity to taste Chateau Montrose, or their sister property, Chateau Tronquoy Lalande. To the best of my knowledge, they did not send samples to any journalist, so while I wish I could have tasted it, they treated everyone equal and I understood. Herve, if you are reading this, please feel free to send me samples anytime you wish.
All that being said, the Left Bank wines in the northern part of the Medoc are stylish, full-bodied, ripe, classic, floral and soft textured.
2019 Saint Estephe is not a vintage of power, it is about purity and finesse. Plus, many of the 2019 St. Estephe wines will be relatively forward, so consumers will not need to age them as long as they do in other high-quality vintages.
2019 Saint Estephe for the most part shared the same growing conditions as experienced by the other appellations in the Medoc. The vintage got off to a slow start with April, May and June having problems due to a lack of sun and too much moisture.
However, things began improving by the start of the summer, which kicked in with dry, warm, sun-filled conditions. Things continued well through much of August. Growers started thinking 2019 Bordeaux was going to be a good year.
There was a lack of water in some soils which made it difficult for the young vines and in terroirs lacking the ability to retain ample moisture in the soils. Late September rains helped even things out and the harvesting took place in optimal conditions for many vignerons.
A bit about the samples and the process of how they were received and tasted. The majority of 2019 Saint Estephe wines were shipped overnight. Most arrived in 2-3 days time and almost every wine was cool to the touch. Although a few producers managed to ship true overnight, arriving the next day!
When the wines arrive, they were placed in a wine cellar overnight to relax and cool to cellar temperatures. All the bottles were opened and poured into glasses roughly 15 minutes prior to tasting. All the wines were tasted in the same size Riedel glasses. Wines were served in flights of 3-4 wines from the same appellation the day after they arrived.
The top 2019 Saint Estephe wines in this report were tasted starting in mid-May-through mid-June in the comfort of my home office in non-blind conditions.
2019 Beau-Site – Clearly the best vintage of Beau-Site ever produced! The wine pops with loads of fresh, ripe, sweet, elegant spicy cherries, flowers, Asian spices, cassis and blackberry. Fresh, concentrated, long and clean, with a beautiful purity of fruit, espresso, earth, spice and cocoa in the finish. This is going to age and evolve for at least 20 years or more. 91-93 Pts
2019 Calon Segur – Dark in color, not quite opaque, but close to it. The wine sports Asian spices, cedar, mint, charcoal, blackberry and espresso in the nose. On the palate, the wine is opulent, bordering on decadent, silky, velvety and rich. The fruit glides over your palate displaying its purity with back notes of chocolate, black cherry, tobacco and herbs. This is a very textural wine that is clearly one of the stars of the vintage. The wine was made from blending 73% Cabernet Sauvignon, 14% Merlot, 12% Cabernet Franc and 1% Petit Verdot, reaching 14.5% alcohol, which is a good thing so all my American friends can buy this beauty! 96-98 Pts
Calon Segur came out June 11 at 62 Euros from the negociant, which was marked down 13% from their 2018.
2019 Marquis de Calon Ségur – Deep in color, the wine already expresses blackberry, cassis, spice, cigar wrapper and cedar. Polished, lush and rich, with a beautiful elegance to the fruit, the wine tastes and feels just great, with all its layers of fruit and ripe, slightly dusty tannins. You drink this young, while waiting for the Grand Vin to come around. The wine was made from blending 54% Cabernet Sauvignon, 44% Merlot and 2% Cabernet Franc, reaching 15.1% alcohol. 91-93 Pts
2019 Capbern – Spicy black raspberries, cassis and blackberry fruits with just a touch of oak, wet earth and forest leaf aromas on the nose smell great. On the palate, the wine is lush, round and opulently textured, with length and purity in the fruits. Clearly, this is a new level for Capbern. The wine is a blend of 69% Cabernet Sauvignon, 30% Merlot and 1% Petit Verdot, reaching 15.1% alcohol. 92-94 Pts
2019 Cos dEstournel – The wine opens with exotic notes of incense, 5 spice, potpourri, leather and deep red with dark black fruits. Perfectly balanced with concentration, silky tannins, lush, sensuous textures, freshness and a remarkable sense of purity, this is a flawlessly refined vintage for Cos. The finish remains with you surpassing the 60 second mark. If you're a lover of COS, this is an incredible wine not to be missed! In comparison with recent great vintages of COS, with 2019, the wine exchanges the power and concentration found in 2018 and 2016 for a greater sense of elegance and purity. The wine was made from blending 65% Cabernet Sauvignon and 35% Merlot at 14.2% alcohol with a pH of 3.7. The harvest took place September 23 to October 7, with the Merlot finishing up October 2 and the Cabernet Sauvignon picking taking place October 1 to October 7. From yields of 43 Hectoliters per hectare, the Grand Vin was made from only 50% of the harvest. 96-98 Pts
Chateau Cos d'Estournel was the first major estate to release their 2019 wine as it came out June 3. Priced at 110 Euros per bottle from the negociant, the wine was discounted 23.6% from the 2018 vintage.
2019 Les Pagodes de Cos – Flowers, chocolate mint, spice, smoke, blackberry, cherry and thyme create the aromatic profile. Elegant, silky, fresh and showing gorgeous symmetry on the palate with its display of sweet, pure, red fruits and refined tannins, this is just fabulous. Clearly, Pagodes de Cos is now in competition for the top second wine in Bordeaux. Drink this young while waiting for the Grand Vin to develop. The wine blends 55% Cabernet Sauvignon, 36% Merlot, 5% Cabernet Franc and 4% Merlot. 92-94 Pts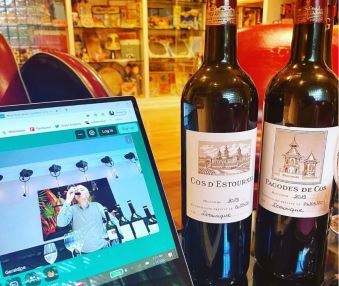 It is interesting to note that my first Zoom tasting was with Dominique Arangoits, Technical Director at Cos d'Estournel. I quickly discovered that while in many respects, it was not that much different than tasting together in person, in some ways, there were differences. Once the tasting was over, I had more questions. Of course, in Bordeaux I could easily just ask Dominique questions before, during and after the tasting. However, now, once the tasting was over, I submitted a few question the next and had to wait patiently for his response.
2019 Cos d'Estournel Blanc – Lemon, lime, grapefruit and orange peel pop from the glass. Round, lush, juicy and fresh, with a myriad of ripe, sweet, fleshy citrus notes and a dab of honeysuckle in the finish. The wine was made using 65% Sauvignon Blanc and 35% Semillon. This is the finest white wine yet from Cos d'Estournel. 95 Pts
2019 Les Pagodes de Cos Blanc – Sweet, juicy, zesty yellow citrus with a touch of mango and white flowers carry through from the nose to the palate, leaving with plenty of round, crisp, citrus zest in the finish. 91 Pts
White Bordeaux wine was quite successful this year and as you can see by my notes and scores, Cos d'Estournel produced some of their best white wines ever.
2019 de Come – Medium-bodied, lifted and fresh, with a core of soft, bright, sweet red fruits in an early drinking style. 87-89 Pts
2019 de Pez – Flowers, spice, wet earth, cigar box and black currants on the nose work perfectly with the round, medium/full-bodied, rich wine on your palate. The blast of spicy currants and espresso on the mid-palate and finish makes this a stellar vintage for de Pez. The wine blends 56% Cabernet Sauvignon, 42% Merlot, 1% Cabernet Franc and 1% Petit Verdot reaching 14.3% alcohol. 92-94 Pts
2019 Haut Marbuzet – With a nice dark color, the wine is lush, round and generous. The espresso bean, dark red berry and earthy character shows well here. The oak is still quite present, so give it time to come around and if it integrates, this will be a better wine. 91 – 93 Pts
2019 Haut-Beausejour – Medium-bodied, forward, soft and ready to deliver its herbal, cedar, spicy red berry, olive and thyme charms. 88-90 Pts
2019 Laffitte-Carcasset – A big bite of ripe, sweet, fresh, black and red juicy fruits with freshness and soft tannins. 89-91 Pts
2019 Laffitte-Carcasset The Corsair – Fresh, round, ripe, sweet juicy dark red fruits that taste as good as they feel. The spicy, peppery fruits have loads of lift and length. 91 – 91 Pts
2019 Lafon Rochet – Dark ruby in color, the wine is lush, soft, rounded and concentrated with layers of perfectly ripe, black, red and blue fruit complicated by crushed rocks, stones, smoke and spice-box aromas. Rich, lusciously textured and full-bodied, this is a beautiful expression of Saint Estephe and Lafon Rochet. 93-95 Pts
Chateau Lafon Rochet was released at 27 Euros ex-negociant, 13.5% less than 2018.
2019 La Haye – Medium-bodied, forward and already drinkable, the wine is soft, round, polished and delivers an easy to like core of ripe, red fruits, spice and a touch of herbs in the finish. This should be fine to enjoy on release. 89-91 Pts
2019 Le Boscq – With good color, the wine is fresh, fruity, round and deep. The finish is all about the ripe, juicy, earthy, blackberries, cigar wrapper, spice and espresso notes that carry. This is another top vintage for Chateau Le Boscq and will age quite nicely. The wine is blended from 46% Cabernet Sauvignon, 46% Merlot and 6% Petit Verdot with 2% Cabernet Franc. 91-93 Pts
2019 Le Crock – With good color, you also find richness, lush fruits, round tannins and a gorgeous finish of earthy, leathery, fresh fruits, espresso, smoke and cocoa. Give this just a year or two and enjoy it over the next 12-15 years. The wine was produced from 45% Merlot, 40% Cabernet Sauvignon, 10% Cabernet Franc and 5% Petit Verdot. Value seekers should be all over this one. 90-92 Pts
2019 Les-Ormes-de-Pez – Medium-bodied, earthy, spicy and fresh, the wine serves up a juicy bolt of ripe, sweet, pure cassis, cherries and spice. Forward in style, this should drink quite well with just a few years of aging. 91-93 Pts
2019 Lilian Ladouys – Leafy aromas with thyme, mint, tobacco leaf, cassis, spice and smoke are easy to find. On the palate, the wine is medium/full-bodied, fresh and vibrant. The energetic finish, with its dusty tannins, lifted red fruits and spicy chocolate is exactly what you were hoping to find. The wine was made from blending of 59% Merlot, 37% Cabernet Sauvignon, 3% Petit Verdot and 1% Cabernet Franc. 92-94 Pts
2019 Meyney – Dark garnet in color, with a healthy sweetness to the cherry and raspberry fruits on the nose and palate. The wine is medium-bodied, fresh and energetic. 90-92 Pts
2019 Petit-Bocq – Sweet and juicy, the ripe fruits, soft, round tannins, earth tobacco and oak all work together well here. Give it a few years in the cellar and it should fill out quite nicely. 89-91 Pts
2019 Phelan Segur – The nose grabs you with its cedar chest, forest floor, earth, herb, tobacco, spice, cigar box, and smoke aromas coupled with a load of just-picked blackberries. Round and smooth, with finesse, a big juicy blast of fruit and roasted coffee beans, this could be the best vintage of Phelan Segur yet. The wine blends 56% Cabernet Sauvignon, 42% Merlot and 2% Cabernet Franc, reaching 14.5 alcohol, with no sensation of heat or overripe sensations. 93-95 Pts
2019 Phelan Segur came out at 26 Euros from the negociant, which came out to 15% less than the 2018.
2019 Phelan Segur Frank Phelan – A success for the second here, the wine exudes ripe fruits and tobacco. There is ample volume and character to make all the deep black fruits fun to taste. Drink this on release. 89-91 Pts
2019 – Serilhan – With a dark hue, the wine is filled with layers of ripe, juicy, deep red fruits, salty tannins, round textures and a fresh, lifted, earthy, red berry finish. 90-92 Pts
2019 Tour de Pez – Easy drinking, fresh, sweet, ripe red fruits, soft round tannins and a juicy, sweet and tart, red berry finish in a medium-bodied, early-drinking style. 87-89 Pts
2019 Tour des Termes – Deep in color, with layers of sweet, concentrated, fleshy, ripe, dark juicy fruit, with round tannins and freshness that lingers. 91-93 Pts
2019 Tour Saint-Fort – With a nice touch of minerality, the wine is juicy, fruity and fresh with a soft core of ripe, red fruit on the palate and in the finish. 88-90 Pts
The next article to be published is on 2019 Pauillac wines with tasting notes, ratings and more.