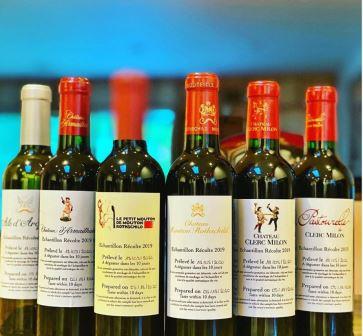 2019 Pauillac competes for the appellation of the 2019 Bordeaux vintage! The top 2019 Pauillac wines as you can see from my notes and comments are stunning! In fact, the best 2019 Pauillac wines are picture-perfect examples of what Pauillac does best, combining power, firm tannins, the structure to age and a refined character that is unequaled by any other wine region.
There are several important markers all great vintages share, starting with consistency. 2019 Pauillac is consistent, from top to bottom. The First Growths made prodigious wines and so did the Cru Bourgeois estates. Tasting through all the 2019 Pauillac wines was a pleasure. In fact, several of the better wines were so good, we had them with dinner later that night.
As you will see, I tasted the majority of Pauillac wines I always taste in Bordeaux. We did not receive Chateau Latour, which is understandable as they do not release their wines for at least about a decade, give or take. Chateau Pontet Canet was also not shipped to us, which is why you will not see tasting notes for their wine. Perhaps they will send samples at a later date? I hope so.
I spent more time Zooming in Pauillac than with appellations. I tasted online with two First Growth estates and two Second Growth chateau. In both cases they were neighbors. By the time the Zoom conferences were arranged, I got used to the semi-cold nature of teleconferences. I missed the instantaneous conversation that naturally ensues in person and used Email the following day for questions.
While the entire Left Bank produced solid wines, the level of quality and consistency with 2019 Pauillac stands out. Quintessentially Pauillac, they have everything needed to provide regal tasting experiences for decades. The wines are incredibly aromatic with floral touches.
More than just power, they have a beautiful sense of purity in the fruits, silky tannins, vivacity, and a rich quality that creates a fabulous, sensuous textural experience. 2019 Pauillac wines are worth considering for your cellar.
As you know, most of the great vintages in the Medoc require decades of aging for the top wines before they truly begin showing their essence. The best 2019 Pauillac wines should drink well much earlier due to their sensuous character that exchanges concentration and power for refinement. Do not be lulled by their early drinking possibilities into thinking the wines will not age. The top 2019 Pauillac wines should age and evolve for decades.
2019 Pauillac shared many of the same growing conditions as experienced by the other appellations in the Medoc. However, here, there was a bit less rain,coupled with the ability for the best terroirs to retain moisture when needed that made a big difference.
The vintage got off to a slow start with April, May and June having problems due to a lack of sun and too much moisture. Night temperatures dropped low enough to provide sleepless nights for vignerons as fears of frost were all they could think about on 6 different occasions.
Flowering began at the end of May. June did not look as though it was going to help the growing season as much of the month was cool and rainy. By the start of the summer, (late June) things began turning around and the grapes enjoyed heat, dry conditions, sunshine and cool nights.
Small amounts of precipitation in late July, August and again in September, arriving at the perfect moment, allowed the grapes to achieve phenolic ripeness. The final piece of the puzzle came through when harvesting took place under very good conditions.
A bit about the samples and the process of how they were received and tasted. The majority of 2019 Pauillac wines were shipped overnight. Most arrived in 2-3 days' time. Although a few producers managed to ship true overnight, arriving the next day! Almost every wine was cool to the touch on arrival.
A special note goes out to the AXA group that shipped their wine in heavily insulated boxes with ice packs and digital thermometers attached to the bottles! Very cool, in every sense of the word.
When the wines arrived here, they were quickly placed in a wine cellar overnight to relax and cool to cellar temperatures. The following day, the bottles were opened and poured into glasses roughly 15 minutes prior to tasting. All the wines were tasted in the same size Riedel glasses. Wines were served in flights of 3-4 wines from the same appellation.
If you have any question or comments, please feel free to post.
The top 2019 Pauillac wines in this report were tasted starting in mid-May-through mid-June in the comfort of my home office in non-blind conditions.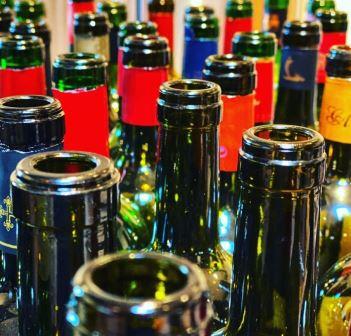 2019 dArmailhacq – The nose, with its floral, cedar chest, tobacco leaf, blackberry and cassis aromatic profile is inviting. Medium-bodied, soft, round and fruity, the finish, with its soft-textured, elegantly styled blackberry endnote lets you know this needs about 5 years or so in the cellar before it starts letting loose. The wine was made from blending 62% Cabernet Sauvignon, 27% Merlot and 9% Cabernet Franc. 92-94 Pts
2019 Batailley – Cassis, vanilla, cigar smoke, tobacco and forest leaf scents kick off the perfume. On the palate, the wine is full-bodied, concentrated and tannic. The tannins are ripe, round and refined, allowing the wine to build and expand while it lingers. If it continues to develop along these lines, it will prove to be an even better wine, deserving a higher score. The wine was made from blending 74% Cabernet Sauvignon, 25% Merlot and 1% Petit Verdot. 94-96 Pts
2019 Bellegrave – With a tobacco, cedar and cassis nose, the wine is medium-bodied, fruity, forward and offers a juicy, round, black currant, olive and herb filled finish. 87-89 Pts
2019 Clerc Milon – Flowers, chocolate, tobacco, blackberry and cassis are just some of the nuances you experience before reaching the silky, polished, refined core of fruit on the palate and in the finish. The wine blends 72% Cabernet Sauvignon, 22% Merlot and a mix of Petit Verdot and Cabernet Franc. It is interesting to note that 1986 was the last time Clerc Milon had this much Cabernet in the blend. 93-95 Pts
2019 Pastourelle de Clerc Milon – The blend of 66% Merlot, 23% Cabernet Sauvignon and 11% Cabernet Franc provide all the elements needed to produce a forward, elegantly-styled, soft, medium-bodied wine with vibrant red fruits, a hint of cocoa and silky textures. This will be ready to go on release and should be perfect for restaurants. 90-92 Pts
2019 Duhart-Milon – Cedar, herbs, tobacco, flowers, cocoa dust and red fruits open the wine. On the palate the wine is fresh, crisp, earthy, spicy, soft, and medium-bodied, leaving you with sweet, pure, ripe cassis notes. The wine blends 70% Cabernet Sauvignon with 30% Merlot. What I really like here is that the wine straddles between classic and modern Pauillac. 93-95 Pts
2019 Fonbadet – Chocolate covered blackberry and cassis is the top note to the perfume here. Full-bodied, chunky, herbal, fresh and spicy, with juicy berries, chewy tannins and a fruity finish. Give it 7-9 years in the cellar before pulling a cork. The wine blends 70% Cabernet Sauvignon with 30% Merlot. 91-93 Pts
2019 Grand Puy Ducasse – Fleshy, ripe and loaded with cassis, blackberry and espresso, the wine is medium/full-bodied, round and juicy, which is perfect for all the fruit and mineral essences in the long, vibrant finish. 92-94 Pts
2019 Grand Puy Lacoste – Black currants, flowers, cedar, cigar wrapper and cassis meld together on the nose. On the palate, the wine is full-bodied, round, concentrated, lush, deep and packed with sweet, juicy cassis and blackberries, ripe tannins, and a finish marked by the purity in the fruit with the structure of Pauillac. This will age gracefully for at least 3 decades or longer. 95-97 Pts
2019 Grand Puy Lacoste was released June 16 at 42 Euros Ex Negociant, 22% less than the 2018.
2019 Lacoste Borie – Pepper, flowers and red fruits open the wine before finding the soft, medium-bodied, fresh, sweet red berries on the palate and in the refined, spicy finish. Enjoy this while waiting for the Grand Vin to develop. It will offer pleasure early. 89-91 Pts
2019 Haut-Bages Monpelou – Forward, fresh and juicy with a concentration of freshness, fruit and refinement I have not seen here before. The cassis is pure, lifted and long, with nuances of tobacco, earth and cigar box. This is going to a very fine, well-priced Pauillac with just 5 years or so in the cellar. 89-91 Pts
2019 Haut Batailley – Showing a rich color, the wine pops with cedar, tobacco leaf, peppery herbs, blackberries and black currants on the nose. Full-bodied, with loads of that stern/regal character that defines Pauillac, the wine end with a creamy textured finish resonating with sweet, ripe, black currants. 93-95 Pts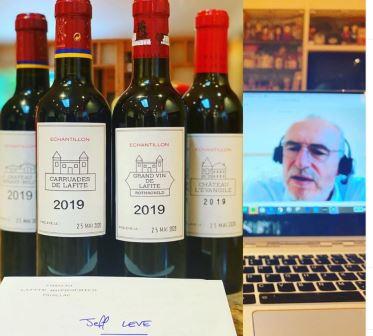 2019 Lafite Rothschild – A memorable experience tasting 2019 Lafite Rothschild at home over Zoom with the Technical Director Eric Kohler.
2019 is a beautiful example of what Chateau Lafite Rothschild does best. Dark garnet in color and aromatic, you find lead pencil, cedar, forest, tobacco wrapper, mint and black with red fruit scents. The most elegant of all the First Growths, the wine, classic in nature, is refined, pure, bright, focused, precise and long. There is an intensity that expands as the wine graces your palate, before moving to the finish that is all about the extraordinary purity in the fruits. The wine blends 94% Cabernet Sauvignon, 5% Merlot and 1% Petit Verdot. The Merlot was harvested September 19-September 25. Cabernet Sauvignon was picked September 22-October 7. The wine reached 13.4% alcohol with pH of 3.9. The Grand Vin was produced from only 40% of the harvest with yields of 38 hectoliters per hectare. 98-100 Pts
2019 Lafite Rothschild was offered June 5 at 396 Euros per bottle ex-negociant, close to 16% under the original pricing for the 2018. Consumers complained at the discount, but quickly bought everything they could, causing prices to rise in the secondary market.
2019 Carruades de Lafite – Flowers, cocoa, earth, cherries and tobacco leaf on the nose. The medium-bodied wine is refined, elegant and lifted, with a focus on the sweetness and purity in the fruits. Bright, polished, and classic in nature, this is a definitive look at the stylings of Lafite Rothschild. The wine was made from blending 68% Cabernet Sauvignon, 27% Merlot and 5% Cabernet Franc. 93-95 Pts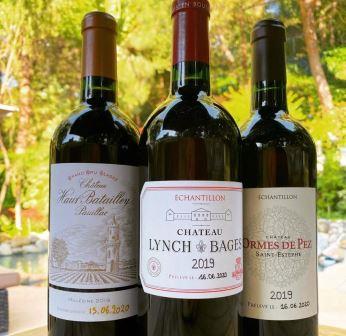 2019 Lynch Bages – Inky in color, with purple around the edges, the nose grabs you with its showy perfume of peppery black fruits, cassis, forest floor, mushroom, cedar, and cigar wrapper. Concentrated, full-bodied and mouth-filling, the wine hits every pocket of your palate. The ripe, soft, vibrant fruits come in layers. The berries are dark black and energetic. There is a touch of dust in the endnote with more of those juicy, sweet, seemingly never-ending black fruits. This hangs with the best vintages ever produced at Lynch Bages! 96-98 Pts
2019 Lynch Bages came out June 10 at 66 Euros, more than 26% less than their 2018.
2019 Lynch-Moussas – Celebrating 100 years of ownership by the Casteja family, the 2019 vintage for Lynch-Moussas hits all the right notes. Full-bodied, concentrated and with a big, juicy blast of peppery, tobacco-stained cassis and blackberry, the wine is firm, classic, structured long and intense. With a dynamic finish, this is the finest vintage of Lynch-Moussas I recall ever tasting. This will age, so let it rest for a decade before popping a bottle and enjoy it over the following 20-30 years, or longer. 92-94 Pts
2019 Mouton Rothschild – Deeply colored, the intoxicating, aromatic profile provides essences of mint, Asian spice, blackberry, cassis, cigar box, smoke and lead pencil. On the palate, the wine is rich, lush, round, full-bodied and concentrated, with layers of lusciously textured, ripe, sweet, fresh, pure dark red pit fruits and blackberries. Classically styled, but classic in a good way, the wine is showy, but not flamboyant. The finish here just keeps on going. With a high proportion of Cabernet in the blend, the wine is produced from 90% Cabernet Sauvignon, 9% Merlot and 1% Petit Verdot, reaching 13.5 alcohol. The harvest took place September 18-October 5. The Grand Vin was produced from 51% of the crop with yields of only 40 hectoliters per hectare. 98-100 Pts
2019 Mouton Rothschild came out June 9 at 282 Euros, which was almost 31% less than their 2018 was priced at. Consumers could not buy the wines fast enough!
2019 Petit Mouton de Mouton Rothschild – Truffle, flowers, tobacco leaf, spice-box and blackberry aromas permeate the perfume. Round and richly textured, with a beautiful blast of black and red, ripe, sweet fruit and freshness on the palate, everything comes together in the supple textured finish. It is interesting to note that today, the second wine is superior to every vintage of Mouton Rothschild produced in the 70s and most of the 80s! The wine blends 68% Cabernet Sauvignon and 32% Merlot. 93-95 Pts
Tasting Chateau Mouton Rothschild and all the Baron Philippe wines over Zoom with Philippe Dhalluin and Jean-Emmanuel Danjoy was about as good as you can get, without being in person. There was ample time for questions and followup by Email over the next few days. I gave the wine a lot of thought. Part of what brought me to the potential 100 Pt score was the ability to taste the wine throughout the day and over dinner. The wine kept getting better and better in ways I was not expecting.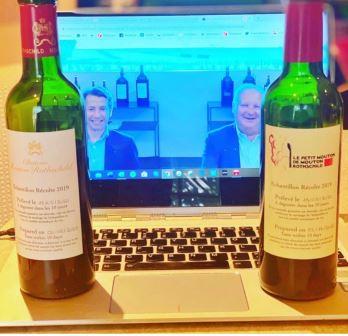 2019 Chateau Pauillac – Dark in color, full-bodied, concentrated, rich and round, what you really discover here is all the ripe, fleshy, chewy, sweet dark red fruits. The tannins are soft, allowing everything to feel rounded. The fruit is ripe, long and clean, giving you a lengthy, almost polished finish. 92-94 Pts
2019 Pedesclaux – Tobacco leaf, licorice, cedar and forestry aromatics combine with cassis, red plum, pepper and cherry fruits on the nose. The medium-bodied palate offers a refined, red berry, spice-and-tobacco-tinged experience exuding freshness and purity of fruit. The wine blends 72% Cabernet Sauvignon, 20% Merlot, 6% Cabernet Franc and 2% Petit Verdot. The continually increasing percentage of Cabernet Sauvignon adds more character and complexity that is easy to taste. 92-94 Pts 92 – 94 Pts
2019 Pibran – Dark ruby in color, the wine is medium/full-bodied with a blast of cocoa, cassis, tobacco leaf and blackberry on the nose and mouth. Round and resting on the corner of finesse and rusticity in the endnote, with a blend of green olive, pepper, herbs and black currants in the finish. Made from a blend of 53% Merlot and 47% Cabernet Sauvignon, reaching 14% alcohol, you should give this 5 years or so in the cellar and enjoy it over the following years or more. 90-92 Pts 90 – 92 Pts
The lineup of wines from Pichon Longueville Baron is extensive and it takes time. However, it was effortless tasting with the long-time Technical Director Jean-Rene Matignon.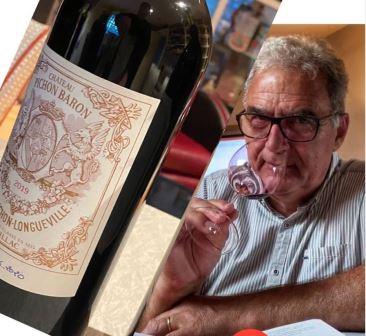 2019 Pichon Baron – The dark inky hue makes it impossible to see though the glass! The nose is like walking into a flower market located next to a fruit stand as those two scents permeate the air. Vanilla bean, earth, forest leaf, pepper and cedar come next. Rich, luscious, concentrated and with a remarkable purity of fruit, the wine coats your mouth, palate, teeth and gums with layers of black, red and blue fruit, velvety tannins and a finish that doesn't want to leave. Blended from 87% Cabernet Sauvignon and 13% Merlot, representing the highest percentage of Cabernet in the blend in the history of the estate. At 14% alcohol with a pH of 3.74, the Grand Vin represents only 45% of the harvest, which took place between September 18 – October 9. 98 – 100 Pts
2019 Pichon Baron was offered June 17 at 95 Euros ex-negociant, discounted almost 17% from their 2018.
2019 Les Tourelles de Longueville – Deep ruby in hue, floral, tobacco, cedar, spice, and red fruits come through on the nose easily. The medium-bodied, wine is silky, fresh and elegant. The fruits are ripe, sweet, and spicy, with lift and plenty of red berries that last through the finish. Made from a parcel selection and produced from a blend of 68% Merlot, 19% Cabernet Sauvignon, 8% Cabernet Franc and 5% Petit Verdot reaching 14.3% alcohol. 91-93 Pts
2019 Les Griffons dePichon Baron – Espresso, roses, cocoa, black plums and currants pop up in the nose. On the palate, the wine is rich, round, lush and silky. Full-bodied, vibrant, juicy and lifted, the endnote repeats all those black currants with a dab of dark chocolate again and again. The wine is a blend of 59% Merlot with 41% Cabernet Sauvignon reaching 14.1% alcohol. 92-94 Pts
2019 Pichon Lalande – With a complex nose of mint, tobacco leaf, roses, spice, crème de cassis, blackberry, cigar box and spice box, everything is off to a good start. On the palate, the wine is pure silk and velvet. Rich, full-bodied and concentrated, the decadently textured finish, with all its multiple layers of sweet fruits, spice and tobacco stay with you for close to 50 seconds. Comparing the 2016, 2018 and 2019 side by side is going to be an incredible experience over the next several decades. The wine combines 71% Cabernet Sauvignon, 23% Merlot, 6% Cabernet Franc reaching 14.1% alcohol with a pH of 3.7. Picking took place September 16-October 8 with yields of 42 hectoliters per hectare. The Grand Vin was made from 50% of the harvest. 98-100 Pts
Pichon Lalande was released June 22 at 104 Euros per bottle, a 21% discount from 2018.
Chateau Pichon Lalande was the last of the Pauillac wines to arrive. Clearly, it was worth the wait! It took only sniff and sip to realize this is mind-blowing juice! The online tasting session with the Director, Nicolas Glumineau ended far too quickly. In part because we spent a bit of our session chatting about music!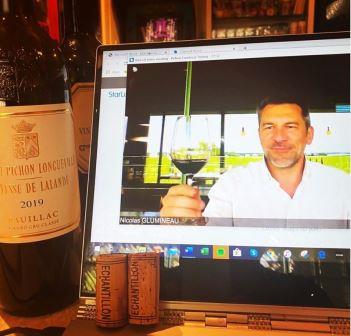 2019 Pichon Comtesse Reserve – Elegant, refined, fresh and floral, the medium-bodied wine is silky in texture with a gorgeous sense of purity in the fruit. This was made from blending 51% Cabernet Sauvignon, 41% Merlot and 3% Cabernet Franc, reaching 14.3% alcohol. This is a nice, forward, scaled-down version of the Grand Vin that you can enjoy while waiting for Pichon Lalande to mature. Also, please not the name change starting with the 2019 vintage. 91-93 Pts 91 – 93 Pts
The next article to be published is on 2019 St. Julien wines with tasting notes, ratings and more.