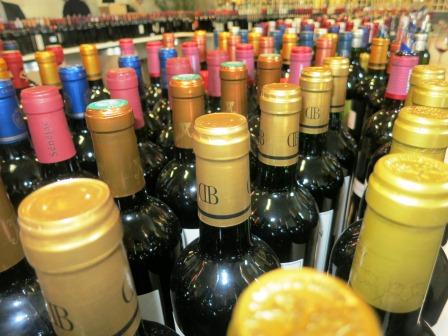 The wine world is about to descend on Bordeaux for the annual En Primeur tasting events. If you have not not beem, trust me, there is nothing like it. Over 1,000 different 2017 Bordeaux wines are available for members the trade, journalists, negociants, wine buyers, and more than a few hangeroners.
Is there such a word? If not, there should be! With all those wines available, if you are wondering where is the best places to taste 2017 Bordeaux, you came to the right place!
There are several chateaux that insist you taste their wine at the property. The list continues growing, making it much harder for working journalists to taste all the wines.
Yes, I know the wines at the chateau are served in perfect condition. The temperature is correct, the glassware is usually good and there is an easy place to sit, taste and write in a serine environment.
But the problem of available time comes in. Personally, I can only go to so many estates, because sooner or later, I am going to run out of available time. As a journalist, it is more important for me to taste as many wines as possible, and miss out on a few gems, than taste all the gems and fall short on 100-200 other wines.
This is an open letter to the chateau because it hurts the entire campaign when journalists have to pick and choose. I visit over 60 vineyards. I taste with several negociants and attend tastings held by consultants.
And with all that, I have a hard time finding the time to taste 500-600 wines each vintage. I really hope the growing trend of removing your wine from open tastings does not continue growing, because it really does make things difficult.
Now that I am off my soapbox, I'm putting this list together as I get read to jump the pond tomorrow. I have been hearing comments on 2017 ranging from, the wines are showing much better to anticipated, to it is a challenging vintage, and of course, this will be surprising, but there are a few stating their neighbors did not succeed with 2017, but they did!
2015 Bordeaux is still available. I tasted about 550 wines in barrel and so far, there are about 150 in bottle notes already published in The Wine Cellar Insider. Just use the tasting note search, or the Advanced Wine Tasting Note search, if you are curious. I hope to add another 150 in barrel tasting notes from this trip.
As a tip, especially for Americans using dollars, buy the 2015 and 2016 wines now. The dollar has lost 20% of its buying power and once stores reload, the same wine is going to be at least 20% more expensive.
As for the 2017 Bordeaux vintage, where can you taste these wines during the official week of En Primeur?
The official start of the annual En Primeur 2017 Bordeaux tasting is slated for Monday, April 9. However, if you're in Bordeaux as early as Saturday, April 7, you should be able to keep quite busy tasting wine.
The majority of the 2017 Bordeaux tasting opportunities will terminate Thursday, April 12. But for those remaining in the region, there will a few tastings open early in the day, Friday, April 13. There are tastings all over Bordeaux with various negociants, appellations, trade groups, consultants and organizations.
If you are planning on attending any of these events, you should make a reservation in advance, as some of these tastings are very well attended.
If tasting all that 2017 Bordeaux makes you hungry and you're wondering about where to go for dinner in Bordeaux, in the vineyards or the city, our Guide to Where to Eat in Bordeaux should tell you what you need to know with some great tips for dining in Bordeaux ranging from small cafes to high-end, Michelin starred restaurants. If you have not booked where you're staying yet, Where to Stay in Bordeaux is filled with tips on hotels in all price ranges in the city and in the vineyards.
What are my plans for tasting 2017 Bordeaux? As a guess, I'll taste over 500 different wines at all price points from the majority of the appellations over 2 weeks. This includes wines from all the top chateaux, The First Growths, and hundreds of small value Bordeaux wines and petits chateau. We will publish detailed tasting notes and ratings on the wines by late April.
I do not list most of the week long negociant tastings that take place in Bordeaux in this article,. However, most of the top negociants provide great tastings for the wine they sell. Also, almost every chateau hosts tastings of their wine from Monday through Thursday. While most chateau hold open tastings that do not require appointments, that is not always the case. Remember, plan ahead and book your visit in advance.
The guide for where to taste 2017 Bordeaux wines En Primeur.
Union des Grands Crus de Bordeaux 2017 Bordeaux En Primeur tastings Under the direction of Olivier Bernard of Domaine de Chevalier, the UGC is trying the find the right formula to satisfy the needs of close to 140 chateaux, and countless journalists and wine buyers.
For the 2017 tastings, the UGC is holding 2 days of tastings in the negociant district, on the waterfront better known as the Quai des Chartrons at Hangar 14. The tastings will be divided over days.
Tuesday, April 10 is Graves, Pessac Leognan, St, Emilion, Pomerol and Sauternes.
Wednesday, April 11 features Pauillac, St. Estephe, St. Julien, Margaux, Medoc and Haut Medoc in Hangar 14
During the week, the UGC will also hold daily tasting for the public and the professional trade on Tuesday and Wednesday, April 10 and April 11.
Pessac Leognan and Graves – Chateau Malartic Lagraviere
St. Emilion – Chateau La Couspaude
Pomerol – Chateau Gazin
Haut Medoc, Listrac and Moulis Chateau Citran
Margaux – Chateau Siran
St. Julien Chateau Beychevelle
St. Estephe Chateau Lafon Rochet
Sauternes and Barsac – Chateau La Lagune
Association Grand Cru Classe Classified wines of St. Emilion Tuesday April 10 – Thursday, April 12 Chateau Villemaurine St. Emilion.
Tasting Saint-Emilion – Pomerol – Fronsac Starting Tuesday, April 10 to Thursday, April 12. Contact www.vins-saint-emilion.com/
Cercle Rive Droite tasting has moved to Chateau La Dauphine in Fronsac. Tastings are being held starting Saturday, April 7. For more information, [email protected]
Pessac-Leognan 2017 Bordeaux En Primeur tastings April 10 to April 12. Contact and registration: [email protected]
Ulysse Cazabonne Sunday, April 8 – Friday, April 13, located next to Rauzan-Segla in Margaux. Contact – www.ulysse-cazabonne.com
THE GRAND VINTEX TASTING Sunday, April 8 only at Chateau Ripeau in Saint Emilion. For registration or information, please send Email to: [email protected]
Dourthe is hosting their annual trade only tasting at Chateau Belgrave, Monday, April 9 to Friday April 13, 9am – 6pm. For more information, [email protected]
Stephane Derenoncourt 2017 Bordeaux La Grappe En Primeur From Monday, April 9 to Thursday, April 12, 10am to 7pm at La Gaffeliere in St. Emilion Contact www.derenoncourtconsultants.com
Michel Rolland Team 2017 Bordeaux En Primeur tastings Wines produced by the team of Michel and Dany Rolland and the Michel and Dany Rolland owned wines, better known as The Rolland Collection will also be available at Chateau La Dominique in Saint Emilion, Monday, April 9 to Thursday, April 12. [email protected]
Hubert-de-Bouard 2017 Bordeaux En Primeur tastings There is a trade only tasting, beginning Saturday, April 7. But the official start date is Monday, April 9 to Friday, April 13 at Chateau de Pressac in St. Emilion. However, Friday is a short day as they will only be open a few a few hours Friday morning. The tasting features only the de Bouard consulted wines.
To taste Chateau Angelus and Chateau Bellevue, you will need to make an appointment at Chateau Angelus.
Jean-Luc-Thunevin 2017 Bordeaux En Primeur tastings The wines of Jean Luc Thunevin and Murielle Andraud has and the other family owned wines along with wines from all various estates they work with as consultants and as negociants. The comprehensive tasting has not only wines from Bordeaux, but really good wines from the Rhone Valley, especially Chateauneuf du Pape, Spain and other wine regions as well. The tastings are from Monday April 9 to Thursday, April 12 from 9am to 6pm, 3-7 rue Vergnaud Saint Emilion. Contact: [email protected]
The wines of Stephan von Neipperg and Silvo Denz Starting Monday, April 9 through Thursday, April 12 at Chateau Canon La Gaffeliere St. Emilion.
Wines of ETS Moueix are available for tasting by appointment only at their offices in Libourne, Monday, April 9 to Friday, April 12.
Chateau d'Yquem For tasting 2017 Chateau d'Yquem, you have two opportunities. You can taste it at the chateau by appointment, or by invitation April 10 from 6pm to 9pm at the Bordeaux Opera House. The wine will not be available at Chateau Cheval Blanc for tasting.
Lettres de Chateaux Sunday, April 2 at Chateau Guiraud you can taste the wines of Canon La Gaffeliere, Domaine de Chevalier and Chateau Guiraud. By invitation only.
Bordeaux Oxygene April 10 and April 11 at Clos des Jacobins in Saint Emilion.
Nicolas Thienpont consulted wines are being shown at Pavie Macquin in Saint Emilion, April 9 to April 12 by apppointment.
AXA Group All the wines in the AXA group will be available April 9 to Friday, April 13 at Pichon Baron in Pauillac.
Wines of Denis Durantou will be available for tasting at Chateau l'Eglise Clinet in Pomerol by appointment, Monday, April 9-Thursday, April 12.
Vignobles Garcin Monday, April 9 to Friday April 13 from 9.00am. to 6 pm at Chateau Barde Haut in St. Emilion. The entire lineup of wines from St. Emilion, Pomerol, Pessac Leognan, Cotes de Castillon and Mendoza Argentina will be available.
The wines of Bernard Magrez 2017 Bordeaux En Primeur tastings Ap9 through Thursday, April 12 at Chateau Chateau Pape Clement 9 am to 7 pm. Registration reserved for professionals www.bernard-magrez.com
Pomerol Seduction Tuesday, April 10 – April 12, 10am-6pm at Chateau La Conseillante in Pomerol.
Artemis Group Right Bank Wines At Chateau Siaurac in Lalande de Pomerol, the wines of the Artemis Group and Goldschmidt Family, Saturday, April 7 and Sunday, April 8.
Jonathan Maltus The wines of Jonathan Maltus will be will be available April 9 through Thursday, April 12 at Chateau Teyssier in St Emilion by appointment. The wines of Jonathan Maltus will also be available in St. Emilion at Le Pavillon Villemaurine the same dates. For information, Contact Myriam Carrre [email protected]
Chateau Trotte Vielle is only available at the chateau. You will also be able to taste Domaine de l'Eglise and La Croix du Casse from Monday, April 9 to Friday, April 13, starting at 8am.
Lalande de Pomerol tasting Monday, April 9 to Thursday, April 12 at the Grand Hotel de Bordeaux. Contact Nathalie Diffi: [email protected]
Tasting Bordeaux and Bordeaux Superieur Futures Starting April 3 – Contact Planet Bordeaux.
Tasting Cotes de Bourg Starting Monday, April 9 Contact Didier Gontier [email protected]
Wine tasting Union Graves More than 50 different producers of red and white wine will be presenting their wine. Contact [email protected]
Sweet white Bordeaux Wine Tasting Contact Maitena Idiart [email protected]
Listrac Medoc 2015 Contact: [email protected]
Expression de Fronsac From Saturday April 1 to Thursday April 6 at Chateau La Grace Fonrazade in St. Emilion Contact: Contact: Fonroque in Saint Emilion. The Syndicat des Vignerons en Culture Bio-Dynamique will be showing 2017 Bordeaux as well as older vintages. Additional winemakers from Alsace, Champagne, Bordeaux, Corse, Sud-Ouest, Loire et Cotes du Rhone will also be showing their wines made from grapes that come exclusively from Bio Dynamically farmed vineyards. For more information: www.biodyvin.com
Crus Bourgeois tasting Alliance From Monday, April 9 to Thursday, April 12. Contact: [email protected]
Wines of CA Grand Crus From Monday April 9 to Friday April 13, between 9.30am and 6.00pm daily at Chateau Meyney in St. Estephe.
Biturica Vignerons du Sud-Medoc Sunday, April 2 at Chateau Cambon La Pelouse in Haut Medoc.
Vinaria Thierry Jouan Bernard Crebassa At Chateau Pindefleurs in St. Emilion. Tuesday, April 5 – April 7. For more information, Contact: Du Glana in Saint Julien.
Jeffrey Davies Signature Selections The wines of Jeffrey Davies Signature Selections can be tasted in Bordeaux by appointment.
Stephane Toutoundji, Thomas Duclos, Julien Belle, Oenoteam Consultants From Monday, April 9 to Thursday, April 13 at their lab in Libourne by appointment.
Jean Philippe Janoueix Wines are available to taste at Chateau La Confession from April 9 to April 12.
Cru Artisians du Medoc April 9 – April 12 at Chateau des Graviers
There are also numerous chateau that are not available at various public tastings. Please contact the chateaux you wish to taste to make sure you know where the wines are available.
Please, if you know of other 2017 Bordeaux En Primeur wine tastings, please either add them to the comments box, or send me an Email and I will add the information to the post.