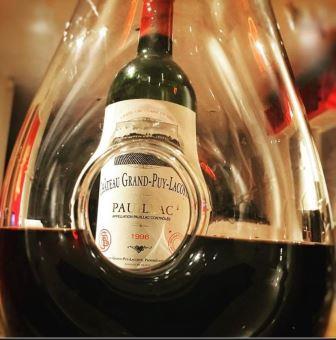 I know, it looks like I have not been keeping up with The Wine of the Week. Well, I suppose it is more accurate to say, I have dropped the ball on these posts for a bit. That does not mean we have not been adding content to the site.
In fact, we have added more content than ever! There are more winery profiles, wine tasting notes and images. Most of the pages on the site have been updated with new, detailed information.
Plus the functionality of the entire site has been vastly improved! There is a new Advanced Wine Search function. Try it! It is now even easier for readers and all users to post reviews directly to Facebook, or download them. The wine tasting notes display better than before. And those are just the main areas of improvement.
I am in now Bordeaux to taste 2017. I am more than ready. To get in the mood, not that it takes much to get me going, we enjoyed a beautiful, text book Pauillac before leaving home.
I remember buying this wine about 20 years ago, when it first hit the stores. I think it was a whopping $20, or so. At 22 years of age, this is showing great today! I was quite surprised at how young the wine remains. With a juicy, grilled chop, it really hit the spot.
That being said, if you have a few bottles in your cellar and are thinking of popping a cork, either give it 2 hours of air, or wait another 5 years or so. As you can see from my tasting note below, there is a lot to like here that makes 1996 Grand Puy Lacoste, The Wine of the Week.
With air, and just a little coaxing, you found the cassis, cedar chest, burnt wood, cherry and tobacco notes in the nose. emerge. The wine is full bodied, concentrated, masculine and a bit stern. There is also there is a muscular, refined quality ti the tannins that is hard to miss.
This is a super example, of a textbook Pauillac wine. With luck, I will hold on to my last few bottles for another decade or so. I would not be surprised to see this drinking well at 40 years of age. 94 Pts