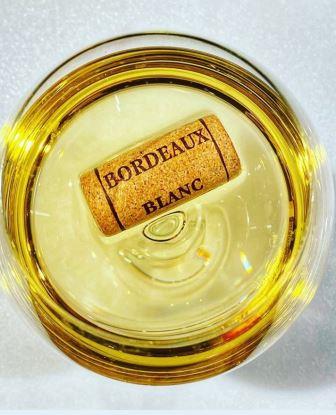 2021 Dry white Bordeaux wines are superb. In fact, this is the best vintage for white Bordeaux wine in years. The wines offer everything fans of Bordeaux Blanc could ever want in a wine. They exude purity, freshness, lift, and vibrancy. The fruits are aromatic, sweet, ripe, and sizzling with the racy acidities that are unique to Bordeaux. It is interesting to note that only one wine this year garnered a perfect 100 Pt score, and it is white wine!
With 2021 white Bordeaux, it is not just the wines from Pessac Leognan and the Graves appellations that are great this year. Left Bank white wines are strong, as are the wines from Entre Deux Mers. In fact, some of the rebels in the Right Bank making white wines in St. Emilion and in the Cotes de Bordeaux have also turned out some exciting wines to taste!
It is interesting to see how many experimental producers are breaking the rules these days and producing very good wines from non-traditional Bordeaux grapes. Looking at some of the blends in the tasting notes below you will see more vignerons are making wines from Chardonnay and other grapes as well. Chateau Bridane started production of Le Chardonnay de la Bridane in 2021, which I hope to taste. However, for a real change of pace, Jean-Luc Thunevin harvested white wine grapes in Pomerol this year!
With Bordeaux Blanc, you need to remember the best white wines are not always produced in the same vintages that favor the red wines. The reason is simple. Bordeaux is often just a bit too warm and dry for white wines and a little too cool for the red wine grapes to reach maturity. This partially explains why 2021 is a stronger year for the white wines. For an overview of the entire Bordeaux region in 2021, please read 2021 Bordeaux Complete Guide to the Vintage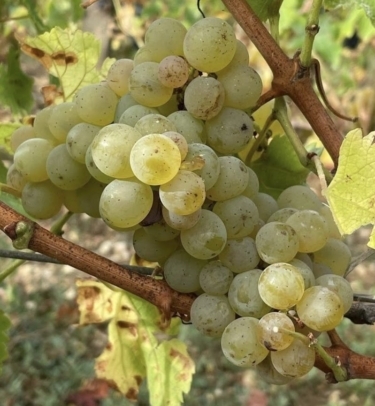 2021 White Bordeaux Wine Growing Season and Harvest
The year was difficult for white wine growers. Many estates suffered crop losses from the frosts when temperatures dipped to below freezing levels multiple times in April and May, especially in the Graves and Sauternes appellations.
Along with frosts, at times the rains were seemingly non-stop. Overall, conditions improved, and close to the end of May flowering began to appear. Summer maintained its cool, wet, weather conditions along with its lack of sunshine. By the end of August, growers were ready to start picking.
Harvesting of the white wine grapes began at the end of August under moderately cool to reasonably warm days with cold, refreshing nights finishing between early September to about September 25. For a more detailed report on the weather that shaped the vintage: 2021 Bordeaux Growing Season and Harvest Report
All of the following 2021 dry white Bordeaux wines were tasted in Bordeaux in April in non-blind conditions.
2021 Ad Francos Blanc – Bordeaux Côtes de Francs – Early-drinking, citrus-filled, sharp, bright, crisp, and fresh, this is already fun to drink on a hot summer afternoon. Drink from 2023-2027. 90 Pts
2021 dAiguilhe Blanc – Bordeaux – Lemon curd, honeysuckle, spice, green apple, and a touch of vanilla in the deep background create the perfume. On the palate, the wine is fresh, crisp, and packed with Pippin apples, pomelo, and chalky, yellow citrus with a crisp finish. The wine is produced from 100% Sauvignon Blanc. Drink from 2023-2032. 92-92 Pts
2021 Blanc de Coralie Boüard – Atlantiques – White peach, mango, orange rind, and a touch of pineapple with just a baby hint of vanilla are what you find here. Fresh, juicy, crisp, yellow citrusy fruits make up the endnote. The wine is produced with 100% Sauvignon Blanc. Drink from 2023-2026. 90-90 Pts
2021 Bouscaut Blanc – Pessac-Léognan – Bright, fresh and floral, this is like biting into a crisp Granny Smith apple with just squeezed lemons, lime, and pomelo. The elegant, fresh, sweet, citrus in the finish lingers. Drink from 2023-2033. 91-93 Pts
2021 Bouscaut Les Chenes Blanc – Pessac-Léognan – The green apples, flowers, and grapefruit are crisp, bright, fresh, juicy, and ready to go. This is perfect for enjoyment over the near term. Drink from 2023-2026. 87-87 Pts
2021 Brane Cantenac Blanc – Bordeaux – Light yellow in color, the wine opens with pineapple, mango, green apple, and flowers. Fresh, juicy, vibrant, and focused on its yellow citrus, with just a dollop of honey on the palate, the wine ends with an invigorating, lemon méringue note. The wine blends 70% Sauvignon Blanc and 30% Semillon. Drink from 2023-2027. 92-92 Pts
2021 Brown Blanc – Pessac-Léognan – Lemon rind, yellow tropical fruits, mango, tangerine, and honeysuckle get your attention on the nose, while the fresh, bright, lemons, green apples, and touches of orange seal the deal on the bright, crisp palate. Drink from 2023-2030. 92-92 Pts
2021 Cantelys Blanc – Pessac-Léognan – Crisp, vibrant, juicy, fresh, lemons and just squeezed grapefruit notes are all over the place here in the nose and in the lively, racy palate. This is a well-priced, white Bordeaux that really hits the spot. The wine blends 50% Sauvignon Blanc with 50% Semillon. Drink from 2023-2029. 91 Pts
2021 Cantenac Brown Alto de Cantenac Brown – Bordeaux – Lemon peel, orange, white peach, and pineapple show up on the nose and in the bright, fresh, crisp palate. The wine was produced from a blend of 90% Sauvignon Blanc and 10% Semillon. Drink from 2022-2027. 92-92 Pts
2021 Carbonnieux Blanc – Pessac-Léognan – Lemon, lime, flowers, green apples, and a hint of white peach on the backend with loads of racy-acidity and crisp, sweet, yellow citrus in the creamy finish. Drink from 2023-2031 92-92 Pts
2021 Carbonnieux La Croix de Carbonnieux Blanc – Pessac-Léognan – Vibrant, fresh, juicy, and crisp, steely yellow citrus with a touch of mint in the mid-palate and in the finish is perfect for short term enjoyment. Drink from 2023-2026. 87-87 Pts
2021 Chantegrive Caroline – Graves – Bright, crisp, fresh, just squeezed lemons and grapefruit are made even better with all the sweet honeysuckle. This vibrant, citrus-filled charmer is ready to go and would be a perfect summer white wine. Drink from 2023-2030. 91 Pts
2021 ChateauOlivier Blanc – Pessac-Léognan – Crushed rocks, flowers, lemon peel, white peach, and pomelo hit the perfume easily. Juicy, sweet, elevated, energetic, and fresh, the finish is filled with sweet, crisp, yellow citrus from start to finish. The wine blends 80% Sauvignon Blanc with 20% Semillon, 13.5% ABV. The harvest took place September 8 – September 16. Drink from 2023-2033. 94-94 Pts
2021 Clarendelle Blanc – Bordeaux – Crisp lemons, juicy pineapples, green apples, and fresh, white peaches shine in the nose and on the palate of this frankly, delicious, well-priced, white Bordeaux. Drink from 2023-2026. 90-90 Pts
2021 Clauzots Blanc – Graves – White peach, flowers, green apples, and lemon peel with an accent of honeysuckle on the nose and palate, already display their charms with ease. Drink from 2023-2026. 87 Pts
2021 Clos Marsalette Blanc – Pessac-Léognan – Flowers, orange rind, green apple, honeysuckle, and lemons already express their character in the perfume and on the fresh, creamy, yellow, citrus-filled palate. The wine blends 60% Sauvignon Blanc with 40% Semillon. Drink from 2023-2028. 92-92 Pts
2021 Clos de La Molenie Blanc – Bordeaux – Flowers, white peach, and mango with a dollop of honey come through with ease on the nose and in the creamy textured, sweet, fresh finish. Drink from 2023-2026. 89-89 Pts
2021 Clos de La Molenie Pas de Colline Blanc – Vin de France – The first white Cabernet Sauvignon most of you are ever going to taste, this Blanc de Noir serves up white peach, flowers, orange, and honey. Sweet, bright, and fresh with lemons and pineapple in the finish, this is great to bring to blind tastings. Drink from 2023-2026. 88-88 Pts
2021 Clos des Lunes Lune d'Argent – Bordeaux – White peach, pineapple, apricot, orange, mango and limoncello notes create an interesting bouquet. Bright, crisp, and fresh, creamy, citrus-filled finish, you can drink this with pleasure on release. The wine blends 70% Semillon with 30% Sauvignon Blanc. Due to the frost, close to 50% of the harvest was lost. Drink from 2023-2029. 92-92 Pts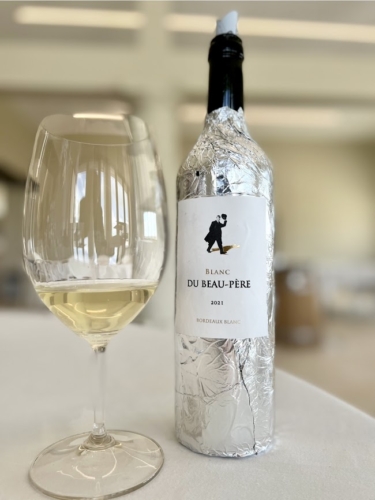 2021 Clos-du-Beau-Pere Blanc du Beau Père – Bordeaux – The first white wine from Pomerol in over 100 years could only come from Jean-Luc Thunevin and Murielle Andraud. Produced from blending 50% Sauvignon Blanc and 50% Sauvignon Gris, the wine pops with white peach, mango, candied lemon peel, herbs, and green apple. Sweet, creamy, and fresh, drink this on the young side. Good luck finding any as the production is limited to 2,500 bottles. Drink from 2023-2028. 89-89 Pts
2021 Cos dEstournel Blanc – Bordeaux – Honeysuckle, lemon peel, flowers, marshmallow, banana and a hint of pineapple create the enticing nose. On the palate, the wine is creamy, fresh, and fruity, finishing with waves of lemon curd, honeysuckle, orange rind, and meringue in the endnotes. The wine blends 71% Sauvignon Blanc and 29% Semillon. Drink from 2023-2032. 94-94 Pts
2021 Cos dEstournel Pagodes de Cos Blanc – Bordeaux – Bright, crisp, fresh and juicy, the wine leans to its yellow citrus side with a nice bite of pomelo and lemon curd in the light, but vibrant finish. This is fully ready to go. Drink from 2023-2027. 91-91 Pts
2021 Couhins Blanc – Pessac-Léognan – Flowers, yellow citrus, pineapple, mango with just a touch of white peach in the background of the nose and palate. Balanced between its racy freshness and creamy textures, this is a contender for the best white produced in the history of Couhins. Drink from 2023-2032. 93-93 Pts
2021 Couhins La Dame de Couhins Blanc – Pessac-Léognan – Bitingly fresh, lemon rind, grapefruit, and almost ripe, but not quite, green apples. Drink this over the new few years for its crispness. Drink from 2023-2026. 89-89 Pts
2021 Couhins-Lurton Blanc – Pessac-Léognan – Pomelo, lemon, lime, green apples, and hints of spice are all over the place here. Ripe, fresh, sweet, crisp, and creamy, this is already just great to enjoy. Drink from 2023-2032. 93-93 Pts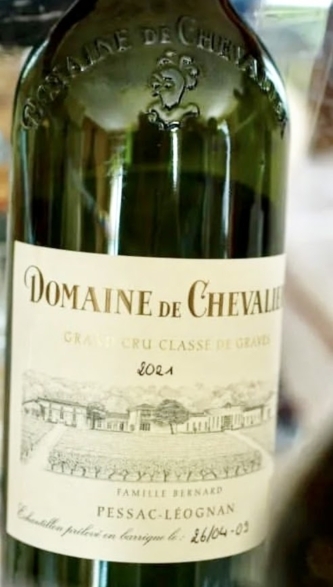 2021 Domaine de Chevalier Blanc – Pessac-Léognan – White flowers, honeysuckle, lemon rind, pineapple, spice, and vanilla aromatics motivate you to want to know more. On the palate, the wine is perfectly balanced between its lush, creamy character and blazing acidity. The fruit shows a gorgeous purity and the seamless finish builds, expands, and lingers. Clearly, this is a contender for one of the best, if not the best vintage of Domaine de Chevalier Blanc ever produced! Drink this young for its youthful exuberance, or age it for more secondary development. The wine blends 75% Sauvignon Blanc and 25% Semillon, 13.5% ABV. The harvest took place September 13-September 24. Drink from 2023-2050. 98-98 Pts
2021 Domaine de Chevalier L'Esprit de Chevalier Blanc – Pessac-Léognan – Lemon, lime, green apples, honeysuckle, pomelo, and flowers open the nose. Creamy, fresh, vibrant, and packed with sweet, yellow citrus, the wine is crisp, fresh, and juicy on the palate and in the finish. Drink from 2023-2031. 92-92 Pts
2021 Clos Dubreuil Chardonnay – Vin de France – The nose pops with its lemon peel, pear, green apples, and a hint of tropical fruit accents. Fresh, sweet, bright, and creamy, this is also a treat to taste and will make a fun wine to bring to a blend tasting! Drink from 2023-2028. 90-90 Pts
2021 Ferrande Blanc – Graves – Bright, crisp, fresh, and focused on its pomelo and lemon pith character, drink this on the young side to get as much of its sweet, ripe, citrus, and racy acidity as possible. Drink from 2023-2027. 90-90 Pts
2021 de Fieuzal Blanc – Pessac-Léognan – Flowers, yellow citrus, grapefruit, lemon rind, and honeysuckle, with a hint of orange tropical fruit in the background gets the perfume started. The wine is sweet, juicy, vibrant and fresh on the palate, finishing with a touch of salt in the energetic, fruit-filled endnote. Drink from 2023-2032. 93-93 Pts
2021 de-France Blanc – Pessac-Léognan – Fresh, crisp, bright yellow citrus with a hint of orange tropical fruits in the nose and on the vibrant, creamy finish. This is ready to go on release. Drink from 2023-2029. 90-90 Pts Pts
2021 Fleur Cardinale Intuition Blanc – Bordeaux – White peach, lemon chiffon, honeysuckle, and a touch of mango on the nose. Fresh, vibrant, sweet, tangy, and peachy, enjoy this over the next few years to capture all the sweet fruits. The wine is produced from a blend of 50% Sauvignon Blanc, 25% Semillon, and 25% Sauvignon Gris. Drink from 2022-2026. 90-92 Pts
2021 Grand Village Blanc – Bordeaux – Waxy lemons, white peach, and pear, with a touch of orange blossoms hit the spot on the nose and on the juicy, sweet, crisp, palate with all of its mango, orange rind, lemon meringue, green apple, and yellow plums. The wine truly lingers, with its sweet yellow citrus long after the wine has left your glass. This blend of 73% Sauvignon Blanc and 27% Semillon is ready to go. Drink from 2022-2030. 92-92 Pts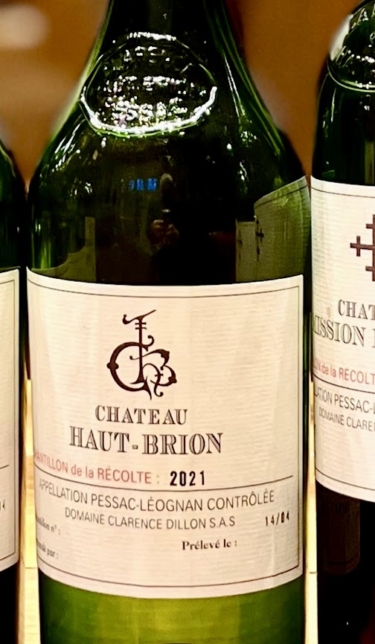 2021 Haut Brion Blanc – Pessac-Léognan – Explosive aromas of white flowers, honeysuckle, pineapple, lemon curd, grapefruit rind, orange blossoms, and Pippin apples. Rich, opulent, creamy, and fresh with non-stop layers of white peach, lemon, and green apples that accompany the gorgeous salinity in the crisp, racy finish that crosses the 60 sixty mark and keeps on going. This is a wow white wine that competes with the top vintages of Montrachet and Coche Dury. Clearly, this is the wine of the vintage. If this doesn't blow you away from the initial sip and sniff, have your pulse checked! Made from a blend of 55% Sauvignon Blanc, 45% Semillon, picking took place September 3, finishing September 13. 13.8% ABV. Drink from 2023-2050. 100-100 Pts
2021 Haut Brion La Clarte de Haut Brion Blanc – Pessac-Léognan – White peach, flowers, yellow citrus, pomelo, and yellow plums are all over the place here. Juicy and fresh, with a creamy, lemon and green apple finish, the endnote really keeps on going. The wine blends 55% Semillon and 45% Sauvignon Blanc. Drink from 2023-2034. 94-94 Pts
2021 Hubert de Boüard Sauvignon Blanc – Bordeaux – Bright, fresh, crisp, and fruity with loads of sweet, juicy citrus, flowers, and green apples in every sniff, swirl, and sip. Open this on the young side for all of its ripe, sweet fruits. Drink from 2023-2027. 90 Pts
2021 La Garde Blanc – Pessac-Léognan – Bright yellow citrus, vanilla, grapefruit, and lime create the sublime aromatic profile. Crisp, juicy, fresh, and sweet, with the perfect dab of honey on top of all the fresh yellow fruits that work perfectly well here. Drink from 2023-2031. 92-92 Pts
2021 La Grande Clotte Blanc – Bordeaux – The bright, fresh, crisp, juicy nature here creates the perfect backdrop for all the white peach, lemons, flowers, and grapefruit that are on display in the nose and on the palate. Drink from 2023-2030. 91 Pts
2021 La Louviere Blanc – Pessac-Léognan – Honeysuckle, orange tropical fruit, waxy lemons, grapefruit, green apples, and blazing acidity make this an instant treat to taste due to its racy quality and purity in its fruits. Drink from 2023-2033. 93-93 Pts
2021 La Mission Haut Brion Blanc – Pessac-Léognan – It takes no time at all to be reeled in here, starting with the nose. Crushed rocks, lemon verbena, flowers, pears, green apples, pears, and tangerine rind pack the perfume. As good as the nose is, the palate is equal to the task of keeping you focused with its 60-second plus blast of sweet, juicy, rich, creamy, fresh, vibrant, energetic waves of fruits. This is clearly in contention for one of the best vintages of La Mission Haut Brion Blanc ever produced! Made from a blend of 55% Sauvignon Blanc, 45% Semillon, picking took place September 3, finishing September 10. 14.1% ABV. Drink from 2023-2060. 98-98 Pts
2021 La-Tour-Martillac Blanc – Pessac-Léognan – Honeysuckle, orange rind, lemon peel, flowers, green apples, and pineapple create the enticing perfume. Juicy, crisp, fresh, and creamy on the palate, with a sweetness to the yellow citrus along with crisp freshness in the finish. Drink from 2023-2033. 93-93 Pts
2021 Lafaurie-Peyraguey Blanc – Bordeaux – White peach, pineapple, lemon, grapefruit, and flowers on the nose and on the crisp, bright, pure, clean palate. This is already just great to taste. Drink from 2023-2032. 92-92 Pts
2021 Lagrange Les Arums de Lagrange – Bordeaux – Flowers, white peaches, tangerine, and yellow citrus notes with a deft touch of honeysuckle are fresh, vibrant, crisp, and also creamy in the finish. Drink from 2023-2032. 90-90 Pts
2021 Larrivet Haut Brion Blanc – Pessac-Léognan – The nose is just great with all of its pineapple, white peach, honeysuckle, mango, orange rind, and waxy lemons in the perfume. Fresh, crisp, and energetic, with a bit of chalk to accompany all the yellow fruits in the finish. Drink from 2023-2030. 92-92 Pts
2021 Laurence Blanc Sec – Bordeaux – Green apples, mint leaf, lemons, spice, flowers, and grapefruit aromatics create the complex perfume. Bright, crisp, and fresh on the palate, the wine leaves you with a refreshing blast of creamy, vibrant, yellow citrus with a hint of pear. Drink from 2023-2030. 91 Pts
2021 Les Champs Libres – Bordeaux – Flowers, yellow citrus, honeysuckle, green apples, and bright pineapple create the exotic perfume. Fresh, crisp, and juicy, with a sweetness on the mid-palate and in the creamy, vibrant finish, all those fabulous yellow fruits build in intensity as they linger in the endnote. The wine is produced from 100% Sauvignon Blanc, picked September 9 – September 11. Drink from 2022-2035. 94-94 Pts
2021 Les Charmes-Godard Blanc – Côtes de Francs – Flowers, yellow citrus, honeysuckle, green apples, pears, and pink grapefruit nuances are all over the place on the nose and in the creamy, sweet, bright, vibrant, yellow citrus packed palate. The wine blends 65% Semillon 20% Sauvignon Blanc and 15% Sauvignon Gris. Drink from 2023-2030. 93-93 Pts
2021 Lespault-Martillac Blanc – Pessac-Léognan – Flowers, lemon rind, orange blossom, green apples, and spice create the nose. Fresh, creamy, fruity, juicy, and lively, with a blast of green apples, pink grapefruit, tangerine, and yellow citrus on your palate that hit everything just right. The wine blends 65% Sauvignon Blanc with 35% Semillon. Drink from 2023-2030. 92-92 Pts
2021 Lynch Bages Blanc de Lynch Bages – Bordeaux – A straight shot of lemons, white peach and lime, vanilla, and green apple form the core of this crisp, vibrant, bright, lemon-dominated wine. Drink from 2023-2032. 93-93 Pts
2021 Malartic Lagraviere Blanc – Pessac-Léognan – Spices, honeysuckle, lemon rind, pomelo, pears, and yellow apple notes are easy to find on the nose and palate. The wine is creamy, fresh, bright, long, and packed with sweet yellow fruits and crispness in the finish. The wine blends 89% Sauvignon Blanc with 11% Semillon. Drink from 2023-2034. 94-94 Pts
2021 Malartic Lagraviere Le Comte de Malartic Blanc – Pessac-Léognan – Flowers, green apples, citrus, and pears are easy to find on the nose and on the fresh, sweet, bright palate. Enjoy this over the next few years. Le Comte de Malartic Blanc is the new name for the second wine of Malartic Lagraviere. Drink from 2023-2028. 88-88 Pts
2021 Margaux Pavillon Blanc du Chateau Margaux – Bordeaux – White flowers, yellow citrus and orange rind with a hint of white peach. green apples and spice nuances are all over the place here. The wine shows a lushness and rich character that is equally fresh, crisp, and vibrant on the palate and in the finish. In fact, it is almost racy in its attitude. The wine is produced from 100% Sauvignon Blanc. 13.3% ABV. Drink from 2024-2037. 95-95 Pts
2021 Marjosse Blanc – Entre-Deux-Mers – Flowers, bright yellow citrus, green apple, and bright, grapefruits shine in the nose and on the creamy, bright, crisp palate. Drink this young for all of its fruit and freshness. Drink from 2023-2027. 90-90 Pts
2021 Mouton Rothschild Aile D'Argent Blanc – Bordeaux – Notes of white peach, ginger, flowers, and lemon curd are all over the place. The wine is sweet, fresh, and filled with even more of those ripe, sweet, white peaches and pomelo in the zesty finish. You can enjoy this on release. The wine was made from a blend of 45% Sauvignon Blanc, 36% Semillon and 19% Sauvignon Gris. Drink from 2023-2030. 94-94 Pts
2021 Nardian Blanc – Bordeaux – Honeysuckle, orange rind, vanilla, green apple, and a touch of lime show on the nose and in the fresh, bright, crisp palate. I like all the freshness here. Drink from 2023-2026. 92-92 Pts
2021 Pape Clement Blanc – Pessac-Léognan – Pumpkin spice, flowers, tart green apples, lemon meringue, white peach, and a touch of pineapple create the nose. Fresh, bright, creamy, lush, and packed with sweet, racy, yellow citrus with just a dab of honey, the wine is perfectly poised between its crispness and opulent sides. Picking took place September 8-September 23. Drink from 2023-2035. 95-95 Pts
2021 Pape Clement Clementin Pape Clement Blanc – Pessac-Léognan – Creamy, fresh and bright, with lemons, lime, and green apples and just a hint of spice, this is going to be perfect for consumption over the next few years. In fact, you can enjoy this refreshing wine on release! Drink from 2023-2027. 91-91 Pts
2021 Plain-Point Blanc – Bordeaux – White peach, grapefruit, and sweet lemon nuances show up in the nose and on the crisp, bright, juicy, citrus-dominated palate. Drink from 2023-2027. 88 Pts
2021 Puy Redon Chardonnay – Vin de Pays Pyrénees-Atlantiques – Unfiltered, the wine opens with flowers, pears, yellow citrus, banana, and roasted nut aromas. Fresh, bright, and zesty, the wine finishes with loads of creamy, sweet, fresh, yellow citrus in the endnote. Drink from 2023-2028. 91 Pts
2021 Puygueraud Blanc – Bordeaux – Blending 64% Sauvignon Blanc and 36% Sauvignon Gris, you find white peaches, mango, pineapple, and honeysuckle on the nose and in the sweet, juicy, creamy, crisp, tropical edged finish. Drink from 2023-2029. 91-91 Pts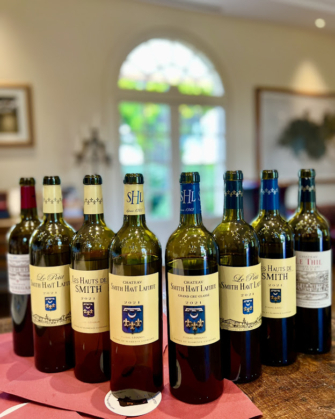 2021 Smith Haut Lafitte Blanc – Pessac-Léognan – Green apples, pineapple, flowers, vanilla, lemon chiffon, and orange blossoms crowd into the nose. Energetic, crisp, fresh, clean, and pure with a fabulous pop in the mouth from all the layers of sweet, but vibrant fruits. The touch of peppery spice in the finish adds another dimension. The wine was produced from a blend of 90% Sauvignon Blanc, 5% Sauvignon Gris, and 5% Semillon. 13.5% ABV. Drink from 2023-2035. 98-98 Pts
2021 Smith Haut Lafitte Le Petit Blanc – Pessac-Léognan – White peach, flowers, lemon grass, mango and pomelo make the perfume. Bright, crisp, juicy, and packed with the crunch of green apples and sweet yellow citrus, this is already easy to enjoy. The wine is produced from 100% Sauvignon Blanc. Drink from 2023-2028. 92-92 Pts
2021 Smith Haut Lafitte Les Hauts de Smith Blanc – Pessac-Léognan – Honeysuckle, white peach, orange rind, lemon peel, and tangerine with a dab of honey, the wine balances its creaminess with its vibrant, freshness. The wine is produced from 80% Sauvignon Blanc and 20% Semillon. Drink from 2023-2028. 93-93 Pts
2021 Suduiraut Lions de Suduiraut Blanc Sec – Bordeaux – A fresh, crisp, lively shot of lemon, grapefruit, flowers, spice, and white peach that is delivered in a creamy, zesty style, making this perfect for early drinking pleasure. Sadly, this is going to be quite difficult to find as the yields were only 3 hectoliters per hectare. Formerly known as Le Blanc Sec de Suduiraut, this is the same wine, but with a new name. Drink from 2023-2030. 91-91 Pts
2021 Talbot Caillou Blanc – Bordeaux – Sweet lemon rind, flowers, orange, and honeysuckle, with a nice bite of Granny Smith apples on the palate work well here in this early drinking, refreshing wine. The wine blends 73% Sauvignon Blanc and 27% Semillon, 13.5% ABV. Drink from 2023-2027. 91-91 Pts
2021 du Tertre Blanc – Vin de France – White peach, vanilla, flowers, melon, vanilla, lemons, and spice create the complex nose. Fresh, sweet, juicy, and creamy, with peach and lemon rind in the finish. You can enjoy this on release. The unique blend is made from 38% Gros Manseng, 25% Viognier, 25% Sauvignon Blanc and 12% Chardonnay. The wine was vinified in stainless steel and barrel and aged in 100% new, French oak barrels. Drink from 2023-2027. 90-90 Pts
2021 Valandraud Blanc de Valandraud – Bordeaux – Flowers, honeysuckle, vanilla, and yellow with orange citrus create the nose. On the palate, the wine cracks with bright, crisp, lemon peel, a touch of orange, spice, and pineapple. The finish balances between its opulent, flamboyant nature and its fresh, bright citrus side. The wine blends 50% Sauvignon Gris, 35% Sauvignon Blanc and 15% Semillon. The harvest took place September 7 – September 20. Drink from 2023-2037. 95-95 Pts
2021 Virginie de Valandraud Blanc – Bordeaux – Flowers, yellow citrus, lemongrass, white peach, spice, and grapefruit pop on the nose. On the palate, the wine is even better with all of its juicy, sweet freshness, racy lemons, and fresh pomelo with just a touch of spice in the finish Drink from 2023-2032. 92-92 Pts
We have one last article in our series of reports on the 2021 Bordeaux vintage to go. It focuses on the best sweet, white wines 2021 Sauternes Barsac Report