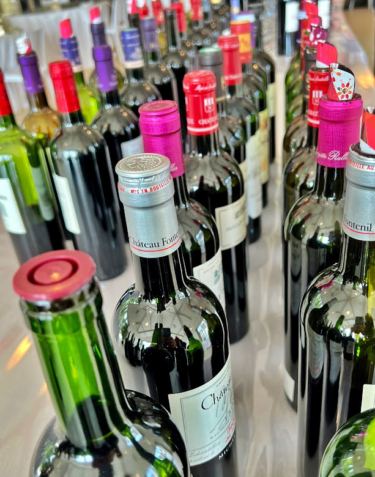 Every vintage is unique and 2021 Bordeaux is no exception. Yes, the wines are not like what you find in 2020, 2019, and 2018. But that is to be expected. When you think about it, those three years mark the first time Bordeaux has ever produced three vintages of extraordinary quality in a row. Perforce, a year like 2021 Bordeaux should not arrive as a surprise.
Before we get to the weather and harvest information, let's take a look at the wines. And the return to formal tastings of En Primeur in Bordeaux in the post covid era.
I do not know about you, but while I was not completely housebound for the past 2 ½ years, I did not travel overseas. In fact, I did not even get on a plane until January of this year. Interestingly, I tasted more Bordeaux wines while I was at home than I ever taste in Bordeaux! It has been fun tasting close to 5,000 wines from the comfort of my home office. But, after all this time, I was ready to travel. Needless to say, I was more than excited to see old friends and taste wine at the properties with owners, directors, and friends, as well as meet new people and make new friends as well.
From the smiles on everyone's faces, the Bordelais could not have been happier receiving people, (reasonably en masse) for the first time in over two years as well. The tastings were a bit quieter and more reserved. The large public events seem to be a distant memory. Everything was cleaner, calmer, and like the wines, fresher.
During the month of April, I tasted over 600 of the best wines of the 2021 vintage. Tasting notes are published as always in appellation reports, on the pages of each winery and all the notes are searchable on the site as well, using the tasting note search function and the advanced search.
2021 Bordeaux appellation reports are published from north to south, in the approximate order the wines were tasted in.
2021 Saint Estephe Wines
2021 Pauillac Wines
2021 St. Julien Wines
2021 Margaux Barrel Tasting Report
2021 Red and White, Pessac Leognan and Graves
2021 Haut Medoc, Listrac and Moulis
2021 Saint Emilion Pt 1, Wines A-J
2021 Saint Emilion Part 2, Wines L-Z
2021 Pomerol
2021 Lalande de Pomerol
2021 Cotes de Bordeaux
2021 Bordeaux Superieur
2021 St. Emilion Satellite Appellations
2021 AOC Generic Red and White Bordeaux
2021 Dry White Bordeaux Wine
2021 Sauternes Barsac Wines
What is new in Bordeaux?
The 2021 Bordeaux tastings were also held almost 1 month later than usual. Previously, the official tastings took place in late March and early April. With 2021 Bordeaux, the tastings took place at the end of April, allowing several more weeks of crucial aging time. You might not think that a few weeks matter. But, at this stage, it does. Especially with a difficult vintage. Wines evolve quickly during the start of their sojourn in barrel, so those extra weeks added a lot of maturity to the wines.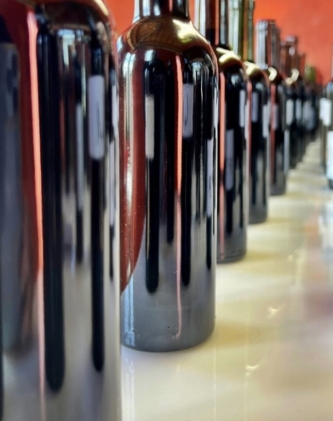 Bordeaux has changed in other ways over the past 2 years. The amount of new, state-of-the-art cellars was staggering! Figeac, Lynch Bages, Haut Bailly, Trotte Vieille, Peby Faugeres, dArmailhac, Le Dome, Carillon Angelus, Troplong Mondot, and probably a few more estates I am forgetting for the moment all had new, show-case cellars. Additionally, more new cellars are on the way as Branaire Ducru, Belair-Monange, Lafite Rothschild, Palmer, La Mission Haut-Brion, Larcis Ducasse, Leoville Barton, and others were in the process of creating new cellars as well. Although Leoville Barton was able to produce the 2021 vintage in their new cellars, the construction was not yet complete. Say what you want, but Bordeaux does not rest on its laurels.
So, what about the 2021 Bordeaux wines?
It never ceases to amaze me how many consumers make up their minds about a vintage before most journalists have tasted any wines, let alone published tasting notes. Once again, those self-professed, knowledgeable consumers have it wrong when it comes to 2021 Bordeaux.
2021 Bordeaux might not be a vintage for everyone. But for lovers of classic Bordeaux, (Classic in a good way), there are numerous 2021 red Bordeaux wines exuding freshness, salinity, crisp, red fruits, refreshing acidity, and low alcohol levels. Almost every wine I tasted came in at 1 to 1.5 degrees or in some cases even lower than what Bordeaux has produced over the past few vintages. If I had to guess an average, the majority of wines come in at 13% – 13.5% ABV. Yet, the wines are not underripe. They are just crisp, fresh, and often savory.
2021 Bordeaux Futures and prices… To buy or not to buy? That is the question.
The old adage, "There is no price high enough to make an owner happy and there is no price low enough to please the consumer" applies, especially today. Yes, yields were down. In some cases dramatically. And it is expensive to produce high-quality wine. But the value in buying futures for the consumer comes with the opportunity to buy at prices less than what the wines will cost 2 years later after the wines are bottled.
2021 Bordeaux is a heterogeneous vintage. It is not an easy year to buy blindly. Plus, 2021 comes on the heels of 2020, 2019, and 2018, which followed the dynamic duo of 2016 and 2015. There is a lot of wine in the market available to purchase. Most of it is ready for delivery. Add to that worldwide high inflation, increased borrowing costs, a declining stock market, skyrocketing energy prices, and the realistic potential of a recession, and the futures market for 2021 is not rosy.
There are some very nice wines worth purchasing this year. But the 2021 Bordeaux wines will need to be priced at levels worthy of buying as a future. Consumers and the owners equally need to make money. Without an economic upside, wine buyers are going to find it difficult to purchase the wines. With all that in mind, hopefully, the chateaux will try keeping costs down so that purchasing 2021 Bordeaux as a future makes economic dollars and sense.
How good are 2021 Bordeaux wines?
The truth is, not every 2021 Bordeaux wine is strong. Far from it. The biggest issue tasters will find with 2021 Bordeaux is the dilution in the mid-palate. To reduce the dilution, several producers used the saignée technique of bleeding vats to increase the concentration in the wines. Additionally, on parcels that did not achieve ample maturity, vignerons needed to use Chaptalization, which is the addition of sugars to increase the level of alcohol during fermentation. The addition of sugars increased the average level of alcohol between .5 – 1%. Prior to climate change, this was not uncommon, especially for Cabernet.
When tasting 2021 Bordeaux, the attack is often great. But, even with saignée, a lot of the wines trail off in the middle. You also find a classic, savory edge to the fruits on the nose and palate as well as the dusty tannins. All of which can be a shortcoming to tasters as well. Some of these characteristics were what you would find in vintages from the 70s, 80s, and 90s, in cooler, less sunny years that were also shaped by Indian summers.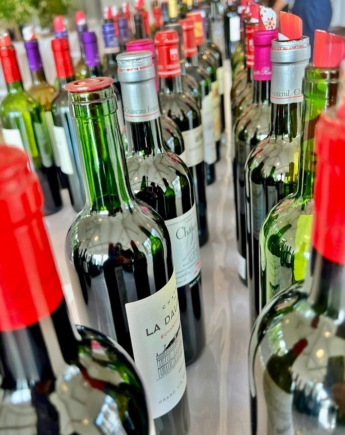 2021 Bordeaux is a vintage of choice. Starting with when to pick. In 2021, fortune favored the bold. Growers who waited to pick were taking a chance on their entire crop. After everything, they had already gone through, even though forecasters predicted massive rainfalls were coming on October 2 and 3, they were willing to wait it out to see what happened. Those brave souls produced some of the wines of the vintage. The storms failed to materialize, allowing those growers the extra time needed to reach better levels of maturity and to harvest under warmer, sunnier skies.
The next key choice was selection, selection, and more selection in the vineyards and in the cellars. Did I mention selection? Gentle extractions were paramount. And finally, the good fortune to have Cabernet Sauvignon and Cabernet Franc in the vineyards helped as well. When you look at the blends found in the Left Bank this year, all over the Medoc you will see massive increases of Cabernet in the wines with 2021 Bordeaux.
That being said, that is not to say the Merlot-dominated Right Bank wines were not good. Some of them are. Especially wines featuring a healthy portion of Cabernet Franc in the blend. As you will see in the tasting notes, Pomerol and St. Emilion both produced some very good wines.
But the problem is that the Merlot grape is more susceptible to frost and mildew, and because the grape is harvested earlier than the Cabernets, the Merlot was not afforded the extra hang-time to find reach maturity that came in October. For a more detailed report on the weather that shaped the vintage: 2021 Bordeaux Growing Season and Harvest Report
The drinking windows for most 2021 Bordeaux wines are shorter. But on the positive side, almost every wine I tasted will be just great to enjoy on release, or shortly thereafter. Very few wines need over a decade of aging. This includes the First Growths, which will age well, but this is not a vintage to lay down for your children.
2021 Bordeaux white wines are extraordinary! While some very good dry white Bordeaux has been produced over the past few years, a lot of those wines were missing their racy acidity that spanks your palate with freshness, as the weather in those vintages was simply too warm and sunny. That is not the case with 2021 Bordeaux white wines, as, for those wines, this is a very special vintage. The wines are vibrant, aromatic, and display a gorgeous sense of purity as well as crisp, biting acidities. In fact, only 1 wine hit 100 Pts in 2021 Bordeaux, and it was a white Bordeaux wine from Pessac Leognan!
Lovers of sweet, white Bordeaux from Sauternes should take a serious look at these wines. They are quite strong. But the yields were incredibly low at an average of fewer than 5 hectoliters per hectare, due to frost. Chateau Suduiraut recorded its lowest yields in the history of the property at only 1 hectoliter per hectare!
A few new trends in Bordeaux are also emerging. More growers are producing small amounts of dry white Bordeaux. Some are using non-Bordeaux grape varieties, especially Chardonnay. These are fun wines that in most cases are not too pricey and are worth taking a look at.
I am also seeing less new oak used in the aging process. This is a good thing. It is easier to find more purity of fruit and cleaner wines these days when a wine is not over-oaked. More vignerons are also aging a portion of their harvest in neutral vessels. Amphora and foudres are all over the place.
Personally, I like this trend as well. But overuse of neutral vessels produces thinner wines which I see as an issue. Something else, I tasted more wines sans sulfites this year than I have seen previously. But in almost every case, the wines were extremely reductive. This is not a positive trend in my view as I find at least as of this point, many of the wines seem unstable and will need to be consumed shortly after release. Innovation is supposed to make things better, not worse. At least that's how I see it. Of course, your mileage could vary.
Up next, how did 2021 Bordeaux become 2021 Bordeaux anyway? The weather, growing season, and harvest report. That will be followed by reviews and scores for the top 600 wines of the vintage, which we will release on a daily basis. The reports will be published by appellation starting with St. Estephe before moving on to Pauillac.