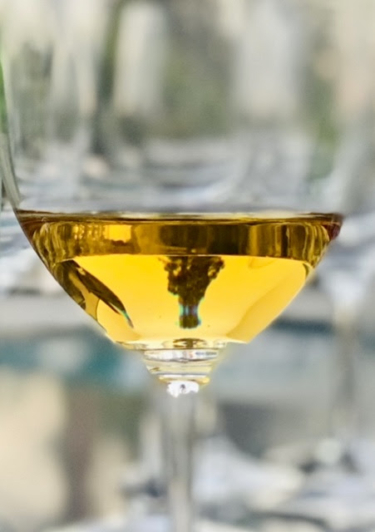 The two first points about 2021 Sauternes is that the wines are great! Point number two, there is very little wine as the vineyards were slammed, suffering extensive crop losses by the one-two punch of devastating frost storms and powerful bouts of hail storms.
What little wine was able to be produced, and by little, as you will see in the tasting notes below, yields were down dramatically. In fact, one vineyard was only able to produce 1 hectoliter per hectare. When tastings the sample, it dawned on me that I was actually drinking a portion of the entire production!
2021 Sauternes are truly very good wines. They have richness, complexities, concentration, purity, botrytis, and the all-important racy acidities that sweet white Bordeaux wine is known for.
The 2021 Sauternes Vintage, Growing Season, and Harvest…
Like all of Bordeaux, 2021 sweet Bordeaux did not start out promising. First, there was extensive crop loss from the early spring frosts. Growers experienced additional losses due to June hail storms. The cool, sunless summer weather did not help.
But similar to what the rest of Bordeaux experienced, everything changed by the middle of September when the rains helped create the conditions needed for the development of noble rot. Warmer conditions helped exacerbate the spread of botrytis on the Semillon and Sauvignon Blanc. But sadly, yields were as I mentioned previously, ridiculously low over much of the appellation. In fact, some growers were not able to produce any wine.
The following 2021 Sauternes and Barsac wines were tasted in April in Bordeaux in non-blind conditions.
2021 Bastor Lamontagne – Sauternes – With more richness than I recall finding here in previous vintages, the wine is loaded with candied apricots, white peach, roasted pineapple, and orange marmalade all liberally drizzled with honey. There is sweetness, paired with racy freshness so everything here is in balance, making this quite a sweet treat. Drink from 2023-2045. 90-92 Pts
2021 Clos-Haut-Peyraguey – Sauternes – Honeysuckle, apricots, flowers, and overripe pineapples are drenched with honey and vanilla, finishing with the amount of racy acidity to give everything lift and energy. Drink from 2023-2044. 92-94 Pts
2021 Coutet – Barsac – Honeysuckle, pineapple, cashew nuts, lemon meringue pie, orange blossoms, and honey on the nose move you to know more about this vibrant, racy, sweet treat. Drink from 2023-2050. 94-96 Pts
2021 Doisy Daene – Sauternes – Honey-coated apricots, pineapple, vanilla, flowers, and candied lemon curd notes are already on display in the nose and on the racy, fresh, vibrant palate, finishing with a gorgeous, honey-drenched display of tropical fruits. Drink from 2023-2050. 94-96 Pts
2021 de Fargues – Sauternes – With a massive bouquet of honeysuckle to dig through before moving on to all the honey-coated pineapples, apricots, white peach, apricot, and candied mango, the wine is rich, luscious, sweet, and vibrant with an energetic shot of acidity on the palate to keep everything upbeat and fresh. Drink from 2023-2047. 93-95 Pts
2021 La Tour Blanche – Sauternes – Honeyed tropical fruit with floral accents, apricots, and hints of white peach on the nose and on the sweet, medium/full-bodied, fresh, mango and pineapple-infused palate. Drink from 2023-2045. 91-93 Pts
2021 Lafaurie-Peyraguey – Sauternes – Yellow tropical fruits dipped in honey, with flowers, oranges, lemon curd, vanilla, mango, and roasted nuts. Fresh, sweet, racy, and energetic, with touches of roasted white peach, overripe apricots, and tropical fruits slathered in honey shine brightly in the mid-palate and in the finish. This is a sublime, sweet treat. Though it is going to be difficult to find as only 500 cases were produced! Drink from 2023-2050. 94-96 Pts
2021 Lafaurie-Peyraguey Blanc – Bordeaux – White peach, pineapple, lemon, grapefruit, and flowers on the nose and on the crisp, bright, pure, clean palate. This is already just great to taste. Drink from 2023-2032. 92-92 Pts
2021 Raymond Lafon – Sauternes – With an intense floral bouquet, the wine quickly moves to its candied orange, pineapple, mango, apricot, and an array of honeyed tropical fruits. Sweet, vibrant, and fresh, this is not only perfect for a sweet treat but it is also one of those sweet wines that can be paired with savory and spicy courses as well. Drink from 2023-2042. 91-93 Pts
2021 Suduiraut – Sauternes – When I discovered that the yields were only 1 hectoliter per hectare, it dawned on me that I was drinking a percentage of the production! While there was almost no wine produced this year, what there was hit all the right notes. Unctuous, rich, sweet, and most importantly, vibrant with its racy acidity, the ripe and overripe, spicy apricots, vanilla, honey and roasted nut aromas with their candied orange rind nuances were just what the doctor ordered on the nose and palate. Production is quite limited here, so if you want to buy some of this gem, you need to hurry as roughly 450 cases were produced this year. Drink from 2023-2050. 95-97 Pts
2021 Suduiraut Lions de Suduiraut Blanc Sec – Bordeaux – A fresh, crisp, lively shot of lemon, grapefruit, flowers, spice, and white peach that is delivered in a creamy, zesty style, making this perfect for early drinking pleasure. Sadly, this is going to be quite difficult to find as the yields were only 3 hectoliters per hectare. Formerly known as Le Blanc Sec de Suduiraut, this is the same wine, but with a new name. Drink from 2023-2030. 91-91 Pts
This article concludes our coverage of the barrel tastings for 2021 Bordeaux wine. In total, you can find tasting notes for almost 650 of the best wines from the vintage. For an overview of the entire 2021 Bordeaux vintage, please read 2021 Bordeaux Complete Guide to the Vintage You can read any or all of the notes by using the search function, by reading the 16 different appellation articles, or on the pages of the specific chateaux you are interested in.
Estates are now starting to bottle the 2020 Bordeaux Vintage. You can expect a full, detailed report on all of the best of the vintage between the end of January and February 2022. Although I was able to taste a lot of the top 2020 wines in April, so I will try to publish those tasting notes on all of the wines tasted by the end of June.
After June, it is back to the Rhone Valley for tasting visits to Chateauneuf du Pape, Cote Rotie and Hermitage! It is going to be a beautiful summer with lots of tastings. I am ready for a return to the new normal.