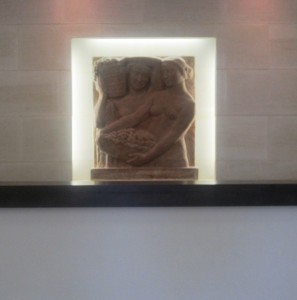 Learn everything about Le Nardian St. Emilion, Bordeaux with wine tasting notes, wine, and food pairing tips, best vintages, a history of the property, information on the vineyards, and winemaking. If you want to read about other important, Bordeaux Chateaux: Links to all Bordeaux Wine Producer Profiles
Le Nardian History, Overview
Le Nardian, formerly known as Clos Nardian, is owned by Jonathan Maltus. The vineyards are located just south of the beautiful Saint Emilion village in the commune of Saint Aubin de Branne. Starting with the 2014 vintage, the wine, formerly known as Clos Nardian as we mentioned previously, had its name changed to Le Nardian.
Le Nardian Vineyards, Terroir, Grapes, Winemaking
The terroir is well suited for producing dry white Bordeaux wine with its clay and limestone soils along with its naturally cooler climate. The minuscule 1.4-hectare vineyard of Le Nardian is planted with old vine, Sauvignon Blanc, Semillon, and Muscadelle. In fact, many of the vines are close to 50 years of age.
The oldest vines are planted to Muscadelle which are close to 70 years of age! The grape varieties are planted to 38% Sauvignon Blanc, 38% Semillon, and 24% Muscadelle. Of course, the blend varies from vintage to vintage, as you might expect. Low yields are the goal. The grapes are limited to only 3 bunches per vine.
Because no actual cellars or chateau for Le Nardian exist, the wine of Le Nardian is made at their other estate, Chateau Teyssier in St. Emilion. The modern cellars of Chateau Teyssier ensure that all wine is moved by gravity flow. To produce the wine of Le Nardian, the fruit is whole bunch pressed, using pneumatic presses.
To add more richness and thicken the texture of Le Nardian, a portion of residual is added to the blend. Vinification takes place in barrels and the wine is aged in on average, 50% new, French oak barrels. The wine is aged on its lees for about 8 months before bottling.
Not much Le Nardian is produced each year. In an average vintage, only 250 cases are made of this dry white Bordeaux wine each year. Because the appellations laws do not allow for the planting of white Bordeaux wine grapes, the wine is sold as a generic, AOC Bordeaux Blanc.
The best vintages of Le Nardian are: 2022, 2021, 2020, 2019, 2018, 2017, 2016, 2015, 2014, 2013, 2012, 2010 and 2009.
When to Drink Le Nardian, Anticipated Maturity, Decanting Time
Le Nardian can be served without decanting. Le Nardian offers its best drinking and should reach peak maturity between 1-6 years of age after the vintage.
Serving Le Nardian with Wine, Food, Pairing Tips
Le Nardian is best served at 15.5 degrees Celsius, 60 degrees Fahrenheit. The cool, almost cellar temperature gives the wine more freshness and lift. Le Nardian is best served with all types of seafood shellfish, raw fish, sushi, and sashimi. Chicken, port, and veal also match well with Le Nardian. Le Nardian is also a good wine to have with a cheese course.
Clos Nardian Wine Tasting Notes
12 Vintages 25,176 Views Sort by Vintage-Rating
2022
Le Nardian Blanc (Bordeaux)

White peach, vanilla, spice and orange rind form the core of this creamy, lush, sweet, forward, white Bordeaux wine. Drink this on the young side for all of its fresh, juicy, ripe fruits. The wine is a blend of 70% Sauvignon Blanc, 15% Muscadelle and 15% Semillon. 14.8% ABV. Drink from 2024-2028. 92-92 Pts.

1,845 Views

Tasted

May 8, 2023

2021
Le Nardian Blanc (Bordeaux)

Honeysuckle, orange rind, vanilla, green apple, and a touch of lime show on the nose and in the fresh, bright, crisp palate. I like all the freshness here. Drink from 2023-2026. 92-92

1,798 Views

Tasted

May 20, 2022

2020
Le Nardian Blanc (Bordeaux)

Honeyed orange rind, flowers, vanilla, pineapple, green apples and spice open the perfume. The creamy palate delivers zesty lemons and almonds with a creamy edge. This is already good-to-go. Drink from 2023-2028.

1,334 Views

Tasted

Mar 21, 2023

Flowers, yellow and orange citrus and tangerine skin come alive with freshness, tension and racy acidity. 93 Pts

2,606 Views

Tasted

May 20, 2021

2019
Le Nardian Blanc (Bordeaux)

Vanilla, almonds, tart, Granny Smith apples and citrus create the core of the wine. The palate is blasted with freshness, but there is a hint of bitter green apples in the finish some will like more than others. Drink from 2022-2027.

1,567 Views

Tasted

Mar 29, 2022

Floral and citrus notes along with honeysuckle and vanilla on the front end with juicy, fresh, yellow citrus on the backend make for a good combination here. 92 Pts

2,333 Views

Tasted

Jun 8, 2020

2018
Le Nardian Blanc (Bordeaux)

Honeysuckle, lemon peel, vanilla and grapefruit shine nicely in this rich, creamy, lush, slightly honeyed, citrus filled wine. The wine is a blend of 70% Sauvignon Blanc, 20% Muscadelle and 10% Semillon.

1,451 Views

Tasted

Mar 9, 2021

On the tropical side with vanilla, honeysuckle, mango and candied grapefruit, the wine is rich, bright, crisp and juicy and will be best enjoyed early in its life.

1,982 Views

Tasted

Apr 19, 2019

2017
Le Nardian Blanc (Bordeaux)

Alive and fertile, citrus with hints of honeyed pineapple and banana, Copa Cabana is the theme here. Quite sweet but despite this, the wine retains its freshness.

1,305 Views

Tasted

Apr 26, 2018

2016
Le Nardian Blanc (Bordeaux)

Grapefruit, lemon and vanilla is at the core here, with ripe, juicy citrus, in the medium bodied, already approachable wine. Drink this on the young side.

1,243 Views

Tasted

Apr 29, 2017

2015
Le Nardian Blanc (Bordeaux)

Combining fresh citrus with a hint of tropical fruit and floral notes, the wine is juicy, sweet, fresh and vibrant and should be fun to drink on release.

1,216 Views

Tasted

Apr 29, 2016

2014
Le Nardian Blanc (Bordeaux)

Bright, fresh, crisp and juicy citrus and grapefruit with a honeyed, vanilla tint. 89 Pts

1,375 Views

Tasted

May 1, 2015

2013
Clos Nardian Blanc (Bordeaux)

Grapefruit, lemon, floral and orange aromas open into a fresh, zippy, light and chalky lemon finish. From a blend of 50% Sauvignon Blanc, 40% Semillon and 10% Muscadelle. 90 Pts

1,714 Views

Tasted

Apr 28, 2014

2011
Clos Nardian Blanc (Bordeaux)

Sweet, fresh, honeyed citrus and tropical fruits in a forward, lush, easy drinking style that will be best consumed young.

1,580 Views

Tasted

May 19, 2014

2010
Clos Nardian Blanc (Bordeaux)

Blending 45% Sauvignon Blanc, 45% Semillon and 10% Muscadelle produced a sweet, fat, fresh, citrus and tropical fruit, character driven wine that drinks well young.

1,827 Views

Tasted

May 19, 2014