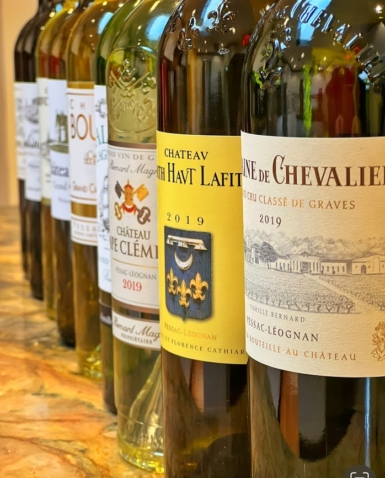 2019 White Bordeaux Wine Guide. As you know, Bordeaux is famous for its red wine. But the region produces a lot of fresh, bright, crisp, lively white wines filled with juicy lemons, pomelo, flowers, spice and white peaches. 2019 white Bordeaux offers wines that for the most part, are better in the first decade of life, though a few can age and evolve for decades. But those are the exceptions, not the rule. Still, the crisp, bright lively kiss you can get from 2018 white Bordeaux is worth the effort to seek out and experience the wines.
What's interesting here is how many estates famous for red wines are currently planting more white wine grapes. Even though the wines are sold as generic AOC Bordeaux Blanc, or even Vin de France, some of the wines from the Medoc, St. Estephe, Margaux and Pauillac are really quite good. St. Emilion is also experiencing growth in the percentage of white wine grapes being planted. It is a good time for white wine lovers to take a look at Bordeaux.
For a review of the vintage conditions or to look at tasting notes and ratings for more than 750 wines The Complete Guide To all the Best 2019 Bordeaux Wines
All of the following 2019 White Bordeaux Wines were tasted in my home office in non-blind conditions.
2019 dAiguilhe Blanc – Bordeaux – White peach, flowers, pears, spice, lemons and just a hint of roasted almond shine brightly on the nose. The wine is fresh and creamy, finishing with sweet, lemons in the endnote. The grapes come from vines planted in Castillon Cotes de Bordeaux. Drink from 2022-2027. 90 Pts
2019 Alba Mauvinon – Bordeaux – Produced from 100% Sauvignon Blanc, the wine is fully ready to go and will be best in its youth allowing you to enjoy all of its sweet, fresh, white peach, orange, flower and lemony character. Drink from 2022-2025. 87 Pts
2019 Bastor-Lamontagne Confidence – Bordeaux – Mango, dried pineapple, quince and flowers are at the core of this early, drinking, fresh, Bordeaux Blanc that delivers a mild touch of honeyed yellow plums in the finish. Drink from 2022-2025. 88 Pts
2019 Bouscaut Blanc – Pessac-Léognan – Flowers, peach, yellow and orange citrus and a touch of dried pineapple shine through on the nose and in the creamy, fresh, fruit-filled citrus-centered palate. Drink from 2024-2032. 91 Pts
2019 Bouscaut Les Chenes Blanc – Pessac-Léognan – Green apples, and pomelo with lemon peel nuances on the nose and palate create a ready-to-drink, citrus filled charmer. Drink from 2022-2026. 87 Pts
2019 Cantelys Blanc – Pessac-Léognan – Flowers, spice, orange tropical fruit and lemon rind on the nose and on the fresh, sweet, ripe, lifted, energetic palate has everything working in harmony. Drink from 2022-2028. 91 Pts
2019 Carbonnieux Blanc – Pessac-Léognan – Waxy lemon peel, orange tropical fruit, vanilla and honeysuckle come through on the nose and on the sweet, juicy, crisp, green apple-tinted palate. Drink from 2022-2027. 92 Pts
2019 Chantegrive Blanc – Graves – Zesty, lemons and limes along with just a hint of white peach helps to deliver freshness, sweetness, along with a bright, pomelo and green apple note in the finish. Drink from 2022-2028. 90 Pts
2019 Chantegrive Caroline Blanc – Graves – Curried lemons, white peach, vanilla, and yellow citrus scents shine through on the nose. The wine is fresh, sweet, juicy and vibrant on the palate, finishing with creamy, sweet, citrus peel with a touch of vanilla bean. Drink from 2022-2028. 91 Pts
2019 Chantegrive Les Oiseaux Le PanacheBlanc – Graves – Lemons, almonds, and a bit of white peach show up in the nose and on the palate. Forward, sweet, fresh and fully, ready-to-go, you can drink this on release and over the next few years. Drink from 2022-2025. 88 Pts
2019 Cheval Le Petit Cheval Bordeaux Blanc – Bordeaux – Fresh, bright and vibrant, the wine is all about its crisp, lively yellow citrus, white flowers, vanilla, green apple and orange blossom character. I love the lift, vibrancy and purity in the fruits with their mild touch of honey and spice in the finish. Drink from 2022-2031. 94 Pts
2019 Clos Floridene Blanc – Graves – Spring flowers, green apple, spice and lemon-lime sensations carry through on the nose and palate. Fresh, lifted and creamy, this will be quite nice on release. Drink from 2022-2029. 90 Pts
2019 Clos Marsalette Blanc – Pessac-Léognan – Creamy, round and lush in texture, the wine offers white peach, flowers, honeysuckle, mango, lemon rind and vanilla bean notes. Fresh, juicy and creamy, with a yellow citrus finish, the wine blends equal parts of Semillon and Sauvignon Blanc. Drink from 2022-2029. 92 Pts
2019 Clos des Lunes Lune d'Argent – Bordeaux – Honeysuckle, grapefruit, white peach and lemon rind nuances are easy to find in the perfume and in the lemon chiffon and mango, creamy-textured, fresh, juicy palate. Drink from 2022-2028. 92 Pts
2019 Cos d'Estournel Blanc – Bordeaux – Flowers, pomelo, lemon curd and a refreshing touch of spicy, green apples and vanilla gives this fresh, lively, crisp, slightly honeyed wine its character. You can enjoy this with pleasure on release. Drink from 2022-2032. 95 Pts
2019 Cos d'Estournel Pagodes de Cos Blanc – Bordeaux – Spicy lemon, lime, green apple and floral notes continue from the nose to the palate. The wine is fresh, zesty and creamy, with a touch of sweetness in the yellow citrus in the endnote. Drink from 2022-2027. 91 Pts
2019 Couhins – Pessac-Léognan – Fresh, bright, crisp, green apples, flowers, white peach and yellow citrus with a hint of underbrush come through easily on the nose and energetic, fresh, lemon-centric palate. Drink from 2022-2034. 93 Pts
2019 Couhins La Gravette Blanc – Pessac-Léognan – Flowers, green apples, and lemon peel with the right mix of sweetness and lift deliver a lot of bang for the buck here. Enjoy this on the young side. Drink from 2022-2026. 86 Pts
2019 Couhins-Lurton Blanc – Pessac-Léognan – Waxy lemons, flowers, pomelo, lime and green apple nuances form the core of this wine. On the palate, the wine is sweet, juicy, and fresh with a finish ending with lemon peel and tart, crisp, green apples. Drink from 2022-2032. 92 Pts
2019 Crabitey Blanc – Graves – Bright, crisp, lemons and flower notes are at the core of this early, drinking, fresh, summery, white wine. Drink this on the young side for all of its up-front yellow fruit. Drink from 2022-2026. 87 Pts
2019 Cruzeau Blanc – Pessac-Léognan – Bright, crisp, fresh, sweet, crunchy, yellow citrus with floral and white peach accents. This will be great on release. Though it will be best in its youth for all of its vibrant citrus characteristics. 89 Pts
2019 Domaine de Chevalier Blanc – Pessac-Léognan – Green apple, yellow citrus, honeysuckle and a tropical orange note with a hint of white peach shine through in the nose and on the fresh, creamy, lively palate. The finish hangs with you with endnotes of lemon, lime, vanilla, rocks and stones. This is already a treat to taste, but wait a few years and it is going to be even better as Domaine de Chevalier is one of the longest lived white wines from Bordeaux. Drink from 2023-2040. 95 Pts
2019 Domaine de Chevalier L'Esprit de Chevalier Blanc – Pessac-Léognan – Bright, fresh, zesty and tangy, yellow citrus with hints of tangerine and flowers, ending with a crisp, vibrant finish. Drink from 2022-2028. 91 Pts
2019 Domaine de la Solitude Blanc – Pessac-Léognan – Green apples and yellow citrus with a touch of minerality and some white peach in the finish makes this a perfect wine for early drinking pleasure. Drink from 2022-2028. 91 Pts
2019 Fieuzal Blanc – Pessac-Léognan – Juicy, fresh yellow citrus and white peach with floral accents show up easily in this ready to enjoy, yellow citrus filled charmer. Drink from 2022-2027. 91 Pts
2019 Fieuzal L'Abeille de Fieuzal Blanc – Pessac-Léognan – Light in fruit and color, this early drinking, yellow citrus focused wine will be at its best over the next couple of years. Drink from 2022-2025. 85 Pts
2019 de-France Blanc – Pessac-Léognan – Honeysuckle, flowers, and bright, sweet, yellow citrus with a hint of mango and tangerine blend together to create a juicy, sweet and fresh, forward, bright wine with a creamy, lemon oriented finish. Drink from 2022-2026. 91 Pts
2019 Girolate Blanc – Bordeaux – Showing a bit more exuberance on the palate than the nose for the moment, the wine is loaded with sweet fresh, creamy green apples, yellow citrus, yellow plums and white peach. Lush, a touch oily and fresh, you can enjoy this on release. Drink from 2022-2027. 90 Pts
2019 Grace Fonrazade Blanc – Bordeaux – With notes of lemons, white peach, orange rind and pear, this early drinking, oily textured wine will be best in its youth for all of its ripe, sweet fruits. Drink from 2022-2025. 86 Pts
2019 Grand Village Blanc – Bordeaux – Mango, flowers, lemons, guava and tangerine peel aromas hit the spot. On the palate, the wine is fresh, juicy, lifted and packed with green apples, waxy lemons and citrus rind. This blend of 75% Sauvignon Blanc and 25% Semillon is ready to go. Drink from 2022-2029. 92 Pts
2019 Haut Bertinerie Blanc – Blaye Côtes de Bordeaux – Honeyed yellow apples, flowers and citrus are on display here on the nose and palate. This is perfect for near-term enjoyment. Drink from 2022-2026. 85 Pts
2019 Haut Brion Blanc – Pessac-Léognan – Lusciously textured, fresh, vibrant white peaches and yellow citrus with crushed rocks and dried flowers are what you find in the attention seeking wine. Rich, full, deep and most importantly, vibrant, crisp, sweet and pure, the ripe lemons and mango with its infusion of honeysuckle lingers long after you've finished your glass. This is a stellar wine that has it all going on. Drink from 2025-2049. 97 Pts
2019 Haut Brion La Clarte de Haut Brion Blanc – Pessac-Léognan – Fresh, bright, lemon-centric, floral oriented wine with hints of orange rind and honeysuckle to round things out, finishing with sweet, lively yellow and orange fruits, oily textures and a juicy, lemon-drenched finish. Drink from 2022-2033. 92 Pts
2019 Haut-Bergey Blanc – Pessac-Léognan – White peach, orange and yellow tropical fruit and a hint of buttery vanilla make this an alluring wine to pop for near-term enjoyment. Drink from 2022-2027. 89 Pts
2019 Hubert de Boüard Sauvignon Blanc – Bordeaux – Flowers and yellow citrus combine to produce a forward, sweet, crisp, juicy Bordeaux Blanc with sweetness and lift that is perfect for near-term drinking enjoyment. This will be perfect for grilled seafood dishes this summer. Drink from 2022-2026. 89 Pts
2019 Hubert de Boüard Sémillon – Bordeaux – White peach, honeydew melon, flowers and spice show up easily in the nose. The wine is round, fresh, sweet, and fruity, with a touch of honeyed citrus and spice in the finish. This will be best in its youth. Drink from 2022-2025. 88 Pts
2019 La Garde Blanc – Pessac-Léognan – Waxy lemon and grapefruit along with a touch of spice and spearmint come through easily on the nose and fresh, lemon-centric finish. You can enjoy this on release. Drink from 2022-2028. 90 Pts
2019 La Louviere Blanc – Pessac-Léognan – Pomelo honeysuckle and green apple with a nice minty accent let you know this is going to be good. On the palate the wine is crisp fresh, vibrant and lifted with a nice touch of minerality in the mid-palate and in the finish. Drink from 2022-2029. 93 Pts
2019 La Mission Haut Brion Blanc – Pessac-Léognan – It was a close call picking a favorite here between LMHBB and HBB, but by a hait, perhaps the La Mission has just a bit more going here. The perfume is packed with honeysuckle, lemon rind, pomelo, white peaches and herbs, with a touch of spice cover all the bases. Full-bodied, rich, fleshy and deep, the wine fills your palate with wall of ripe, yellow and orange citrus, crushed rocks, mango and a dab of honey, with ample acidity to keep everything up-beat and fresh. Drink from 2025-2040. 97 Pts
2019 La Rose Perrière Blanc – Bordeaux – Fresh squeezed lemons, pomelo, green apple and spearmint open the wine on the nose. Bright, crisp, juicy, sweet, yellow fruits are what you will find on the palate and in the fresh, creamy finish. Drink from 2022-2026. 89 Pts
2019 La Tour Carnet Blanc – Bordeaux – Honeysuckle, green apples, pears and lemon rind with a touch of vanilla are the perfect backdrop for the fresh, crisp, juicy, vibrant, palate. The finish serves up more of those Granny Smith apples and lemons. Drink from 2022-2029. 92 Pts
2019 La-Tour-Martillac Blanc – Pessac-Léognan – Honeyed mangos, flowers, white peach, pineapple and lemon rind hits the spot in the nose. Juicy, sweet, crisp and fresh on the palate. this is good to go with its sweet, grapefruit, orange and vanilla tinted, energetic finish. Drink from 2022-2033. 92 Pts
2019 Lafaurie-Peyraguey Blanc – Bordeaux – Floral, fresh and already just delicious to drink today with all of its green apples, lemon oil, white peach and vanilla on full display on the nose and on the lusciously textured, lifted palate. Drink from 2022-2032. 91 Pts
2019 Larrivet Haut Brion Blanc – Pessac-Léognan – Green apple, tangerine, lemon chiffon, pomelo, pineapple and floral notes on the nose are made better with all the sweet, ripe, yellow citrus lemon peel, green apple and white peach in the fresh, zesty, yellow citrus, packed finish. Drink from 2022-2035. 94 Pts
2019 Latour Martillac Lagrave Martillac Blanc – Pessac-Léognan – Green apples, pears and a touch of crisp yellow citrus is already drinking at peak. Enjoy this for its early-drinking, yellow fruits over the next few years. Drink from 2022-2025. 85 Pts
2019 Laurence Blanc Sec – Bordeaux – Mango, white peach, lemons and a hint of honeysuckle form the perfume. Fresh, fruity and forward, with its citrus and yellow apple finish, this is ready to go. Drink fro 2022-2027. 90 Pts
2019 Laurence Petite Laurence Blanc – Bordeaux – Fresh, forward, fruity, zesty citrus oriented wine which will be best over the next 2-3 years. Drink from 2022-2025. 87 Pts
2019 Les Charmes-Godard Blanc – Côtes de Francs – Vanilla, tropical fruits, flowers, white peach and citrus creates the core of the nose and palate here. Fully ready to go, there is freshness, pure, yellow fruits and an energetic, citrus endnote. Drink from 2022-2028. 91 Pts
2019 Les Champs Libres – Bordeaux Blanc – Honeysuckle, pink grapefruit, guava, lemon meringue, and flowers create the complex nose. With crisp, bright, fresh, juicy, yellow citrus, the wine slaps your palate with fruit and keeps on going all the way through to the creamy finish. If you are a fan of white Bordeaux, this hits all the right buttons and is well-worth seeking out. The wine is produced from 100% Sauvignon Blanc. Drink from 2022-2034. 94 Pts
2019 Lespault-Martillac Blanc – Pessac-Léognan – Flowers, a touch of pepper, orange, vanilla, leafy herbs and yellow citrus shine with ease on the nose and fruity, slightly creamy palate. Drink from 2022-2027. 91 Pts
2019 Lussac Blanc – Bordeaux – Vanilla tinged, tropical fruits, honeysuckle and a touch of grapefruit are fully ready to go here. This will be best over the near term. Drink from 2022-2025. 85 Pts
2019 Malartic Lagraviere Blanc – Pessac-Léognan – The white peach, honeysuckle, lemon rind, green apple and pears on the nose are just perfect. On the palate, the wine hits that hard to accomplish feat of being equally fresh and creamy with a sweetness to all the ripe citrus and spice in the finish. Drink from 2022-2032. 94 Pts
2019 Marjosse Blanc – Entre-Deux-Mers – Flowers, waxy lemon, dried pineapple and a bit of pomelo create the core of this fresh, forward, early-drinking, charmer. The wine finishes with a nice touch of sweet, lemons. Drink from 2022-2027. 90 Pts
2019 Marjosse Cuvee Chardonneret – Vin de France – Fruity, juicy, forward and sweet with a core of lemons and pears, the wine is round and creamy with a yellow citrus endnote. Not much is made, so if you want to find this 100% Chardonnay from Bordeaux you need to move quickly as the production is under 100 cases. Drink from 2022-2026. 90 Pts
2019 Marjosse Cuvee Hirondelle – Vin de France – White peach and honeysuckle with marshmallow and pears create the interesting perfume. On the palate the 100% Muscadelle is ripe, round, oily and a touch salty from the minerality. You can enjoy this on release. fruity, floral, sweet and delicious, with a finish combining orange, honeydew, pineapple and spice. This is a perfect summer wine that is already fun to enjoy. Drink from 2022-2026. 90 Pts
2019 Marjosse Cuvee Palombe – Vin de France – Flowers, lemon rind, spearmint and honeysuckle notes are all over the place. Fresh, forward, fruity and with a creamy, yellow, citrus rind finish, with just a drizzle of honey, you can enjoy this on release. Drink from 2022-2028. 90 Pts
2019 Monbousquet Blanc d'Exception – Bordeaux – Just squeezed grapefruit, lemon rind, flowers and honeysuckle with tangerine open the wine. On the palate, the wine is fresh, vibrant and lush, with a sweetness and purity to the fruit along with a touch of vanilla to round out the citrus in the finish. Drink from 2022-2031. 92 Pts
2019 Mont Perat Blanc – Bordeaux – White peach, vanilla, yellow citrus and a touch of spice come through on the nose and palate. The wine is fresh, lively and finishes with a nice bite of sweet, pink grapefruit in the creamy finish. Drink from 2022-2027 90 Pts
2019 Nardian Blanc – Bordeaux – Vanilla, almonds, tart, Granny Smith apples and citrus create the core of the wine. The palate is blasted with freshness, but there is a hint of bitter green apples in the finish some will like more than others. Drink from 2022-2027. 90 Pts
2019 Naujan Blanc – Bordeaux – White peach and flowers with yellow citrus peel and vanilla notes are on the nose and palate. The wine is fresh, forward and leaves you with a zesty, lemon, honey and tart green apple pop in the finish. Drink from 2022-2027. 90 Pts
2019 ChateauOlivier Blanc – Pessac-Léognan – Bright, crisp, fresh, lemons, green apples, tangerine rind and a touch of honey create the right notes on the nose. Fresh, zesty and crisp on the palate, the finish continues that theme with creamy lemons in the endnote. Drink from 2022-2034. 92 Pts
2019 Olivier Le Dauphin d' Olivier Blanc – Pessac-Léognan – Orange and yellow citrus with a dab of honeysuckle and freshness on the palate and in the finish. Enjoy this over the next few years. Drink from 2022-2025. 85 Pts
2019 Pape Clement Blanc – Pessac-Léognan – Forward, fresh, round and rich, the wine offers its core of orange and yellow tropical fruits, honeysuckle and hint of candied grapefruit peel with little effort. Fresh, sweet, crisp and long, with waxy, yellow citrus and tangerines in the finish, you can enjoy this on release and over the next decade. Drink from 2022-2033. 94 Pts
2019 Pape Clement Clementin de Pape Clement Blanc – Pessac-Léognan – Bees wax and honeysuckle with a touch or orange rind are all over the place in this juicy, sweet, fresh, vibrant white wine. You can enjoy this on release. Drink from 2022-2026. 90 Pts
2019 Peyrat Blanc – Graves – Bright, crisp, lemons and grapefruit notes are in the nose and all over the palate, which finishes with a nice, green apple note at the end. Drink from 2022-2026. 87 Pts
2019 Portets Blanc – Graves – Green apples, juicy lemons with a touch of salt in the endnote make this a very nice, summer, easy to like wine for near-term enjoyment. Drink from 2022-2025. 86 Pts
2019 Puygueraud Blanc – Bordeaux – White peach, orange, rind, pineapple and lemon peel nuances are found in the nose and on the palate here. Fresh, zesty and lively with a creamy touch to the sweet, yellow citrus finish. Drink from 2022-2028. 91 Pts
2019 Rahoul Blanc – Graves – Slightly honeyed grapefruit, flowers and green apples with a touch of orange rind on the palate offers a ready to drink wine with freshness and creamy lemons in the finish. Drink from 2022-2027. 90 Pts
2019 Reynon Blanc – Cadillac Côtes de Bordeaux – Showing much better today than the sample I tasted, now, you find a honeysuckle, orange rind, flower and lemon curd nose, with good freshness on the palate and a yellow citrus finish with a nice bite of green apple in the endnote. Drink from 2022-2025. 89 Pts
2019 Rochemorin Blanc – Pessac-Léognan – The sting of ripe grapefruits with green apples and fresh cut grass creates the nose, while you find a crisp shot of yellow citrus and touches of mango with lime on the palate and in the bright, fresh, crisp finish. You can drink this on release. Drink from 2022-2029. 90 Pts
2019 Saint-Robert Blanc Cuvee Poncet Deville – Graves – Crisp, fresh, bright and packed with juicy, fresh squeezed lemons, green apples and grapefruit with a tint of orange and pineapple. This is going to be best in its energetic youth. You can pop a cork as soon as you see it in the store. Drink from 2022-2027. 89 Pts
2019 Smith Haut Lafitte Blanc – Pessac-Léognan – The attention-seeking perfume kicks in with flowers, white peaches, dried pineapple, and a touch of honeydew melon. Lush, creamy and with a dab of honey to sweeten all the yellow and orange citrus on the palate, the wine finishes creamy sweet and fresh. Drink from 2022-2035. 97 Pts
2019 Smith Haut Lafitte Le Petit Haut Lafitte Blanc – Pessac-Léognan – Sweet, ripe, juicy, yellow citrus and crushed rocks are what you initially notice and what you find in the fresh, vibrant, finish. Drink from 2022-2028. 90 Pts
2019 Smith Haut Lafitte Les Hauts de Smith Blanc – Pessac-Léognan – Vibrant, fresh and juicy with all the green apples, grapefruit and sweet lemon rind you could ask for. Luscious, fresh, fruity and already a treat to taste. Drink from 2022-2028. The wine is 100% Sauvignon Blanc. Drink from 2022-2028. 92 Pts
2019 Stella Solare Croix de Labrie – Bordeaux – Loads of honeysuckle, white peach, almonds and apples come through with little effort. Fresh and creamy on the palate, the wine finishes with juicy, yellow citrus along with a hint of mango. Drink from 2022-2027. 91 Pts
2019 Talbot Caillou Blanc – Bordeaux – Honey, white peach, lemons, almonds and flowers come through easily in this ready to drink, fresh, creamy. green apple filled Bordeaux Blanc. Drink from 2022-2027. 91 Pts
2019 Tourteau Chollet – Graves – Light, early-drinker, simple quaffer with a citrus character along with a hint of bitter melon in the finish. Drink this on the young side. Drink from 2022 – 2024. 84 Pts
2019 Yquem "Y" – Bordeaux – Green apples, lemon wax, flowers, dried pineapple and honeysuckle make for an exotic perfume. The wine is fresh, crisp and slightly honeyed with touches of vanilla and yellow fruits with a touch of spice found in the lifted endnote. You can enjoy this on release, or age it for 15-20 years for more exotic nuances. Drink from 2022-2040. 95 Pts
We are posting the 2019 Bordeaux articles as fast as we can. Up next, Guide to all the best 2019 Cotes de Bordeaux Wines