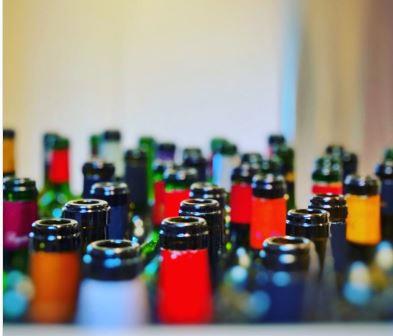 2019 Bordeaux Superieur is so packed with fabulous wines that sell for a song, I hardly know where to start. Merlot is the dominant grape here. The wines are round, soft, plush, polished, and many of these Right Bank gems are already at the start of their prime-time drinking window for most of them. If you are a fan of Merlot and looking for value as well as stylish, luscious wines with accents of chocolate, licorice and a fresh character, this is your jam!
For a review of the vintage conditions or to look at tasting notes and ratings for more than 750 wines The Complete Guide To all the Best 2019 Bordeaux Wines
All of the following 2019 Bordeaux Superieur wines were tasted in non-blind conditions in my home office.
2019 Balthus – Dark chocolate mint chip ice cream with black raspberries, black cherries, smoke and licorice hits you with little effort. Full-bodied, rich, plush, round and ready to go, the creamy textured finish is just right for all the layers of dark, ripe, red fruits, licorice and coffee beans. If you are hedonistic in nature, this is for you. The wine is produced from a specific parcel selection of 100% old vine Merlot. Drink from 2023-2034. 92 Pts
2019 Beaulieu – This is ready to go with its forward, uncomplicated, savory, leafy, red plum, olive and herbal core. Drink from 2022-2026. 86 Pts
2019 Bolaire – Dark, deep and powerful, this unique blend of roughly 40% Merlot and close to 60% old vine Petit Verdot is packed with dark chocolate, flowers, black, red and blue fruits along with earthy nuances. On the palate, the wine is lush, fresh and salty. Bold and richly textured, give this just few years in the cellar before pulling a cork. Drink from 2022-2031. 91 Pts
2019 Bouscat Belle-Annie – Black and blue fruit, licorice and oak come through on the nose and on the palate. The wine is full-bodied, round, lush, sweet and fresh with a light touch of salt along with the creamy tannins in the dark, fruit-packed finish. Drink from 2022-2034. 91 Pts
2019 Bouscat Caduce – Deep in color, the wine is loaded with licorice, blackberries, jam, espresso, chocolate and black cherries. Lush, round, forward and fruity, the creamy finish, with all of its layers of chocolate covered fruit is already just great to taste today. Drink from 2022-2033. 91 Pts
2019 Bouscat Cuvee la Gargone – Savory herbs, olives, 5 spice, coffee bean and dark, red sweet fruits are found on the nose and palate. Fresh, fruity, creamy and rich, the wine leaves you with layers of sweet, ripe fruits, oak, spice and crushed rocks in the finish. Drink from 2022-2034. 92 Pts
2019 Bouscat Les Portes de L'Am – Dark, almost opaque in color, the wine explodes with flowers, boysenberry, blackberry, chocolate, smoke, plum liqueur. mint, espresso and licorice. Powerful, full-bodied, rich and intense, this supple, opulent thrill ride is as intense as it is hedonistic. The layers of polished dark in fruits in the finish make an impression. Wine like this clearly illustrate what a dedicated producer can create in less exalted terroirs. The wine is a Jeffrey Davies Selection Exclusive. Drink from 2023-2035. 93 Pts
2019 Croix Mouton – It is hard to find a better value in Bordeaux today, The wine is soft, round, ripe, plummy, earthy and elegant. Already open and accessible, the wine is medium-bodied, fresh, fruity and plummy and a nice sweetness and hint of cocoa that comes with all those juicy plums in the finish. You can enjoy this on release. Drink from 2022-2029. 89 Pts
2019 De La Cour D'Argent – Medium-bodied, soft, polished and fresh, the wine focuses on its cherry, plum and oak filled core of, sweet, fresh fruits. You can enjoy this with just a year or so of age. Drink from 2022-2030. 90 Pts
2019 Fleur Haut Gaussens – Medium-bodied, soft, fresh and silky with a beautiful symmetry to the fruit. The cherries and plums with their espresso, spice and earthy essence comes through perfectly on the nose and in the palate. This is one of those super value wines that offers a lot of bang for the buck. Drink this ripe, fruity wine on the young side for its fruit and freshness. Drink from 2022-2032. 90 Pts
2019 Grand Village – Fresh, soft, silky, medium-bodied and on the elegant side of the style range, the wine is loaded with sweet, dark plums, cherries, licorice, flowers and a hint of chocolate in the end note. This is one of the great Bordeaux value wines you can purchase by the case, if you can find it. And it is ready to be enjoyed on release! Drink from 2022-2034. 92 Pts
2019 La Communion – A lighter, fresh style of early drinking Merlot that easily delivers a soft, cherry and cocoa mid-palate and finish. This will be best in its youth and over the next few years. Drink from 2022-2026. 86 Pts
2019 Lajarre Eléonore – Medium-bodied, bright, fresh, crisp red fruits with a savory edge in the finish for early drinking pleasure. Drink from 2022-2026. 87 Pts
2019 Lauduc Invincible – Medium-bodied, soft, fresh, polished, forward, uncomplicated, easy to like, floral, fruity, red berry oriented charmer, with chocolate-mint and cooking spice overtones for near-term drinking. Drink from 2022-2028. 87 Pts
2019 Lauduc Tradition – Blending 65% Merlot, Cabernet Sauvignon and 5% Cabernet Franc, the wine starts off with licorice, leafy herbs and crisp, spicy red fruits with hints of espresso. The wine is medium-bodied, bright and vibrant with an herbal, savory, leafy, olive tinted finish. You can drink this on the young side. Drink from 2022-2027. 85 Pts
2019 Laurence – Early drinking, fruity plummy, round, earthy red berry filled wine with a touch of cocoa and licorice in the supple, fruity finish. Drink on the young side for all its ripe, fruits. Drink from 2022-2028. 88 Pts
2019 Le Conseiller – Medium-bodied, red fruits and floral notes with an earthy accent starts off this 100% old vine Merlot-based wine. Medium-bodied, soft, sweet, fresh and ripe, the wine comes along with touches of truffle and cocoa to complicate the red fruits on the palate and in the soft, polished, sweet, fruit-filled finish. This is already quite tasty, so you can enjoy it on release. This is my favorite vintage of Le Conseiller yet. Drink from 2022-2033. 90 Pts 90 Pts
2019 Les Perrieres – Les Perrieres replaces the wine formerly known Acte from the Guinaudeau family. The gorgeous wine pops from the moment you open the bottle with all of its notes of flowers, underbrush, cherries, black plums earthy nuances. There is lift, energy, length and purity here with a fabulous finish that lingers with red fruit and freshness and a hint of salt in the endnote. This is setting a new mark for quality here that while you can enjoy this young, it is also able to age quite well. Drink from 2023-2037. 93 Pts
2019 Madran Cuvée Excellente – Inky dark in color, the wine pops with flowers, spice and black, red and blue fruits on the nose. On the palate, the wine is dark, round, polished and all about its forward-styled, chewy, fruity, chocolatey character. It is a fun wine to taste as it is one of the few Bordeaux produced from 100% Petit Verdot. Drink from 2022-2030. 90 Pts
2019 Pabus – Ripe, soft, supple, fresh and fruity, the medium-bodied wine is already deceptively easy to drink with its layers of dark cherry, plum and black raspberry with a tinge of cocoa in the finish. This is going to be just great on release. Drink from 2022-2032. 90 Pts
2019 Pasquet – Medium-bodied, herbal, earthy and cherry filled, early drinking wine with a savory, green, leafy character for near-term drinking. The wine was produced from 100% Merlot. Drink from 2022-2026. 84 Pts
2019 Penin Les Cailloux – Medium-bodied, bright, crisp, firm, soft and approachable, the wine is fruity, with a chewy texture and a savory slant, finishing with fruits, herbs and a touch of peppery olive in the endnote. This will be quite easy to taste on release. Drink from 2022-2029. 87 Pts
2019 Pey-La-Tour Reserve du Chateau – Floral in character with wet earth, smoke and plums, the wine is medium-bodied, soft, fresh, round and fruity with loads of sweet, ripe cherries and plums along with a touch of chocolate and coffee bean in the finish. Drink from 2022-2033. 91 Pts
2019 Peyfaures – Flowers, black raspberries and cherries open the wine. On the palate, the wine is soft, polished, medium-bodied and focused on its soft, polished, silky, savory red cherry and plum finish. You can enjoy this on release. Drink from 2022-2027. 89 Pts
2019 Peyfaures Dame de Coeur – Dark cherries, flowers and a touch of spice on the nose introduce the wine. Soft, smooth, fresh and medium-bodied, the sweet, red fruits taste and feel already quite easy to drink. The fruit forward finish offers ample lift and sweetness. This is going to be quite easy to enjoy on release and over the next decade or so. Drink from 2022-2031. 90 Pts
2019 Prieure Marquet – A lighter, soft, forward, early drinking wine with gentle textures and a light kiss of red fruits and spice in the easy to like finish. Drink this on release and over the next few years for all of its soft, sweet, fruits. Drink from 2022-2027. 85 Pts
2019 Reignac – Blackberries, plums, vanilla, smoke and licorice are what you find on the nose, before you get to the palate which is plummy, rich, round and polished, with loads of dark, creamy fruits in the finish. Drink from 2022-2033. 91 Pts
2019 Sainte Barbe – Medium-bodied, fresh, lifted, red plum filled wine with savory herbs, olives, cedar and earth on the nose and palate. This will be best in its youth. Drink from 2022-2029. 89 Pts
2019 Sainte Marie Vieilles Vignes – Medium-bodied, forward, savory, chewy wine with a core of red fruits, olives, herbs and a touch of oak in the finish. I'd probably opt for drinking this on the young side. Drink from 2022-2027. 87 Pts
2019 Toulouse Lautrec – Medium-bodied, fruity and fresh with an espresso, chocolate covered plum and blackberry filled palate, the wine is round, a bit rustic and chewy, but equally fun to drink on release. The wine is packaged in an antique shaped bottle. Drink from 2022-2037. 88 Pts
2019 Tour de Bellegarde – Medium-bodied with a nose of licorice, cocoa, red fruits and earth. The wine is soft textured, forward and already easy to drink, finishing with fresh, sweet, earthy plums and a touch of dust in the finish. This will be best in its fruit centric youth. Drink from 2022-2028. 88 Pts
We are posting the 2019 Bordeaux articles as fast as we can. Up next, Guide to all the best 2019 White Bordeaux Wines