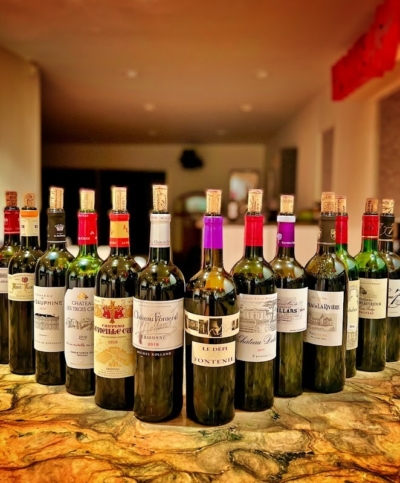 2019 Fronsac wines are already hitting on all cylinders. Across the board, these wines are just great. They are dynamic, rich, opulent, lush complex and fresh. This is a fabulous vintage for fans of these Right Bank wines. If you prefer exuberant, fruit-forward wines in their youth, with silky tannins, richness and length with purity, you should be all over 2019 Fronsac wines.
For a review of the vintage conditions or to look at tasting notes and ratings for more than 750 wines The Complete Guide To all the Best 2019 Bordeaux Wines
All of the following 2019 Fronsac wines were tasted in non-blind condition in my home office.
2019 Barrabaque Fronsac – Fronsac – Medium-bodied, forward, soft, polished, lighter-styled, fruit-oriented wine which is perfect for early drinking pleasure. You can enjoy this with ease on release. Drink from 2022-2027. 87 Pts
2019 Barrabaque Hugo – Canon-Fronsac – Medium-bodied, soft-textured fresh, lighter-styled, red plum and cocoa-filled wine that will be best enjoyed in its fruity youth. Drink from 2022-2028. 87 Pts
2019 Barrabaque Prestige – Canon-Fronsac – Medium-bodied, with a nose of herbs, wet earth, coffee bean and red fruits. Soft, forward and fresh with a gentle core of red plums and sweet, cherries in the finish. This will be perfect for near-term-enjoyment. Drink from 2022-2029. 88 Pts
2019 Barrabaque, Divin Canon-Fronsac – Canon-Fronsac – Medium-bodied, forward, silky, fresh and polished, with a core of vibrant, ripe, red fruits and flowers. This elegant-charmer is ready to go. Drink from 2022-2031. 87 Pts
2019 Beausejour Cuvee Prestige – Fronsac – Soft, supple creamy and fresh, with a silky-textured, fruit-filled, dark cherry and plum oriented palate with a touch of chocolate in the finish that will provide delicious drinking on release. This is showing much better from the bottle than it did in barrel. Drink from 2022-2031. 91 Pts
2019 Château La Croix Fronsac – Fronsac – Chocolate covered, cherries and plums with nuances of licorice, flowers and espresso on the nose and palate work well here. Medium-bodied, soft, round, polished and already delicious to taste, you can drink this from 2022-2032. 90 Pts
2019 Clos du Roy – Fronsac – Medium-bodied, soft, fresh, vibrant, easy to like charmer with a core of dark plums, sweet cherries, coffee bean and cocoa. You can enjoy this as soon as the wine hits the stores and over the next decade or so. Drink from 2022-2030. 91 Pts
2019 Dalem – Fronsac – Flowers, crushed rocks, smoke, licorice, cherry blossoms and dark red pit fruits are all over the nose and palate here. On the palate, the wine is even better due to all of its silky-textured, seductive, fresh, ripe, mineral-driven fruits. There is length, complexity and freshness with a finish that leaves you wanting more. This is one of the best values in Bordeaux. It is a purchase by the case wine that you can enjoy for 15 or more years with ease. This is probably the best vintage of Dalem I have ever tasted! Drink from 2022-2037. 94 Pts
2019 de Carles – Fronsac – Flowers, hints of espresso, touches of licorice and cherries are all over the place here on the nose and palate. You can enjoy this medium-bodied, soft, vibrant, chewy, plummy charmer on release. 89 Pts
2019 de la Huste – Fronsac – Round, lush, blackberry, plum and chocolate wine that is all about its richness and sweet, ripe, fresh fruits. Earthy, and elegant, medium/full-bodied and loaded with chocolate covered cherries, plums, licorice and espresso, this is going to easy to imbibe on release. 91 Pts
2019 du-Gazin – Canon-Fronsac – Produced from 100% Merlot, the wine opens with notes of flowers, cocoa, black raspberries and dark cherries. Medium-bodied, forward, soft and creamy, with chocolate overtones in the finish, this will be just great to enjoy on release and over the next decade or so. Drink from 2022-2031. 90 Pts
2019 Fontenil – Fronsac – Even better in the bottle than it was in barrel, and that is saying something, the wine opens with a massive bouquet of flowers on the nose. You also find crushed rocks, smoke, cherry blossoms, plums and sea-salt. The wine is soft, silky, fresh, vibrant and seductive with its layers of sweet fruits interspersed with various stones. Vibrant, long and fresh, the finish, with all of its sweet, fruits hits all the right notes. Drink from 2023-2037. Produced from 100% Merlot, this is one of the best vintages from Fontenil yet. Drink from 2023-2037. 94 Pts
2019 Fontenil Le Defi – Fronsac – Quite dark in color, the wine is loaded with spice, licorice, smoke, espresso, and ripe, plums with cherries. The concentrated, luscious wine wine coats your palate with fruit, rocks and stones that comes in waves that build in intensity. The wine is fresh, long and complex with layers of sea-salt, black plums, velvet-textured tannins, dark chocolate, spice, licorice and espresso. Clearly, this is the best vintage ever of Le Defi Fontenil! Drink it with a bit of age over the next 15-20 years. Drink from 2024-2039. 95 Pts
2019 George 7 – Fronsac – A new producer for me. Flowers, dark cherries, chocolate and wet earth on the nose move you to the round, polished, lush palate and all of its supple, textured, sweet, fresh, dark cherry and chocolate tones. You can enjoy this early, or age it for more complexity. Drink from 2022-2032. 92 Pts
2019 Haut Carles – Fronsac – You can sense the touch of oak on your initial sniff before finding all the licorice, cocoa and black plums. Round, plush and polished, the wine is packed with sweet, juicy, dark red fruits and roasted espresso beans. Give this a few years in the cellar to allow for the oak to better integrate and it will be a treat to enjoy for the next 12 years or more. 91 Pts
2019 Herve-Laroque – Fronsac – Medium-bodied, soft, round and fresh, this forward styled wine is all about its sweet cherries with hints of cocoa in the palate and in the finish. You can open this with pleasure on release, Drink from 2022-2030. 90 Pts
2019 Jeandeman La Cheneraie – Fronsac – Medium-bodied, fresh and savory with a strong, leafy component, the wine is bright and focused on its red berry and spice character. This is an early-drinking, crowd pleasing, easy to taste wine that will be best in its youth. Drink from 2022-2027. 85 Pts
2019 La Dauphine – Fronsac – Dark in color, the wine pops with little effort due to all of its flowers, perfectly ripe black-cherries, licorice, spice, dark chocolate and smoky aromatics. Opulently textured, with silky-tannins, vibrancy, length and purity, this beauty is going to provide fabulous drinking for at least 15 years. And it sells for a song. This is a wine you can purchase by the case! Drink it young, or age it for a few years. Drink from 2023-2035. 93 Pts
2019 La Riviere – Fronsac – Medium-bodied, round, supple-textured, plush, polished, forward wine with a generous dose of sweet, ripe, fresh, red fruits with just the right amount of chocolate in the round finish. You can drink this on release. Drink from 2022-2031. 92 Pts
2019 La Rose Garnier – Fronsac – Flowers, plums, dark chocolate and blue fruits come through easily on the round, plush, polished nose and palate. This is going to be just great on release and over the next 12 or more years. Drink from 2022-2032. 90 Pts
2019 La Vieille Cure – Fronsac – This is quite seductive. It only takes one sniff and sip to get you interested in all of its flowers, chocolate-covered plums, espresso and black cherries with just a bit of blue fruit. Opulent, fleshy, polished and concentrated, as well as refined, give it a year or two for the oak to integrate and it is going to be even better. The next time someone says Bordeaux is expensive, pop a bottle of this. Drink from 2023-2036. 93 Pts
2019 Lamarche Canon – Canon Fronsac – Medium-bodied, fresh and fruity, with a core of savory plums, herbs and olives on the nose and tangy, peppery palate for early drinking. Drink from 2022-2027. 87 Pts
2019 Les-Trois-Croix – Fronsac – Silky-textured, sweet and vibrant, there is a gorgeous sense of purity here to the seductive, dark red pit fruits with their chocolate edge. The finish feels just great due to the soft, polished tannins and all of those sweet, ripe, silky fruits and the touch of salt from the minerality in the endnote. This will drink well young, and it will be even better with a few years of age. Drink from 2023-2035. 93 Pts
2019 Malvat – Fronsac – Cocoa, earth, espresso, flowers, incense and red fruits pop up easily on the palate, and on the medium-bodied, soft, slightly oaky, round palate. This is ready for its prime-time drinking window. Drink from 2022-2028. 88 Pts
2019 Moulin Haut Laroque – Medium-bodied, soft, silky, fresh, lively wine that starts off with floral scents before moving to its layers of sweet, ripe, pure red pit fruits. The finish is a treat as it keeps on going with all of its red fruits. Drink from 2023-2032. 92 Pts
2019 Richelieu – Fronsac – Medium-bodied, lighter-styled, fresh, soft-textured, supple wine filled with silky-textured, sweet, ripe, fresh, red plums, cherry and strawberry with a hint of cocoa in the backend in the finish. You can drink this with ease on release. 2022-2030. 90 Pts
2019 Roullet Canon Fronsac – Canon-Fronsac – Medium-bodied, soft, fresh, lighter-styled, vibrant, refined wine which will deliver all of its strawberry, cocoa. and savory, red plums with cocoa notes on release and for about a decade or so. Drink from 2022-2030. 88 Pts
2019 Tessendey – Fronsac – Fresh, silky, vibrant and fresh, with soft, refined waves of sweet, ripe plums, espresso and cocoa on the palate and in the finish. You can enjoy this with ease on release. Drink from 2022-2031. 91 Pts
2019 Villars – Fronsac – Soft, supple-textured, medium-bodied, cocoa and infused, red pit fruit packed wine with a savory edge. The finish is marked by green olives and herbs in the end note. You can enjoy this easily on release. Drink from 2022-2031. 90 Pts
We are posting the 2019 Bordeaux articles as fast as we can. Up next, Guide to all the best 2019 Bordeaux Superieur Wines