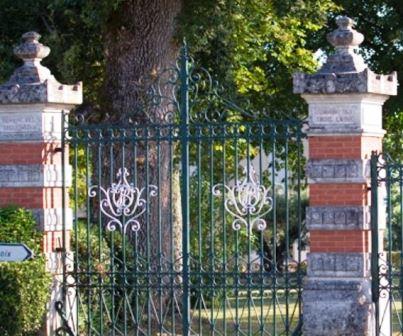 Learn everything about Chateau Les Trois Croix Fronsac with wine tasting notes, wine, and food pairing tips, best vintages, a history of the property, information on the vineyards, and winemaking. If you want to read about other important Bordeaux Chateaux: Links to all Bordeaux Wine Producer Profiles
Chateau Les Trois Croix History, Overview
Chateau Les Trois Croix dates back to at least 1712 when the large stone tower was carved and inscribed Trois Croix, which is translated to three crosses. However, we start paying attention to the property after Patrick Leon purchases the vineyard in 1995.
Prior to taking over Les Trois Croix in 1995, Patrick Leon was the winemaker for Chateau Mouton Rothschild in Pauillac. Sadly, Patrick Leon passed away in 2018. Today, the property is managed by his son, Bertrand Leon. In 2020, Les Trois Croix finished their renovation and modernization of their barrel cellar and bottling room.
Chateau Les Trois Croix Vineyards, Terroir, Grapes, Winemaking
The 20 hectare Right Bank vineyard of Chateau Les Trois Croix is planted to 80% Merlot and 20% Cabernet Franc. The terroir is limestone and clay soils. The vineyard is well placed at the peak of the Fronsac appellation with an elevation of 87 meters at its high point. They have old vines here. In fact, they still maintain a parcel of vines that were planted in the 1940s.
The team of Michel Rolland is their consultant. On average, the production is close to 8,000 cases of wine per vintage. There is a second wine, La Lamoliere.
The Best Vintages of Chateau Les Trois Croix are: 2022, 2021, 2020, 2019, 2018, 2016, 2015 and 2010.
When to Drink Chateau Les Trois Croix, Anticipated Maturity, Decanting Time
Chateau Les Trois Croix is better with at least 2-3 years of aging in good vintages. Young vintages can be decanted for up to 1 hour, helping the wine soften to help develop the aromatic character.
Older vintages might need very little decanting, just enough to remove the sediment. Chateau Les Trois Croix offers its best drinking and should reach peak maturity between 3-10 years of age after the vintage.
Serving Chateau Les Trois Croix with Wine, Food, Pairing Tips
Chateau Les Trois Croix is best served at 15.5 degrees Celsius, 60 degrees Fahrenheit. The cool, almost cellar temperature gives the wine more freshness and lift.
Chateau Les Trois Croix is best paired with all types of classic meat dishes, veal, pork, beef, lamb, duck, game, roast chicken, roasted, braised, and grilled dishes. Chateau Les Trois Croix is also good when matched with Asian dishes, rich fish courses like tuna, mushrooms, and pasta.
Château Les Trois Croix Wine Tasting Notes
12 Vintages 31,827 Views Sort by Vintage-Rating
2022
Château Les Trois Croix (Fronsac)

Flowers, cherries, licorice, and espresso blend to create a supple, fresh, creamy, rich wine with minerality, lush textures and ripe, polished fruits in the lengthy finish. Drink from 2025-2038. 93-95 Pts.

1,575 Views

Tasted

May 8, 2023

2021
Château Les Trois Croix (Fronsac)

Black cherries and roses with a touch of chocolate-dusted, black raspberries create the nose. Medium-bodied, with a bright, salty, fresh, crisp, savory edge to the red pit fruit and licorice notes tasted in the finish. Drink from 2024-3033. 89-91

1,357 Views

Tasted

May 20, 2022

2020
Château Les Trois Croix (Fronsac)

Perhaps it is the strong mineral essence that gives this wine its unique character. You find it in the nose, which also offers flowers, red pit fruits, and smoke. The wine is round, and polished, and will easily seduce you with its layers of fresh red fruits, salty tannins, and mildly savory edge in the finish. You can drink this young, or age it for more complexity. Drink from 2023-2037.

921 Views

Tasted

Mar 21, 2023

Ripe black and red pit fruits are packaged with crushed rocks, stones, salty tannins, spice and savory herbs. Round and seductive, with a fresh, savory, chewy finish. Give this 2-4 years before pulling a cork and enjoy it for 12-15 years after that. 91-93 Pts

1,882 Views

Tasted

May 20, 2021

2019
Château Les Trois Croix (Fronsac)

Silky-textured, sweet and vibrant, there is a gorgeous sense of purity here to the seductive, dark red pit fruits with their chocolate edge. The finish feels just great due to the soft, polished tannins and all of those sweet, ripe, silky fruits and the touch of salt from the minerality in the endnote. This will drink well young, and it will even better with a few years of age. Drink from 2023-2035.

1,582 Views

Tasted

Mar 29, 2022

Seductive, silky, medium-bodied, finesse driven, fresh and fruity, the red berries are clean, pure and feel just great. The tannins are soft, refined and should produce a wine that will drink well young, and even better with a few years of age. 91-93 Pts

2,502 Views

Tasted

Jun 8, 2020

2018
Château Les Trois Croix (Fronsac)

The sense of minerality is apparent with the initial sniff before finding flowers, red with black plums and cherries in the nose. Silky, smooth, fresh, elegant and with layers of sweet, soft, ripe fruits, chalk, licorice, pepper and a light touch of oak, the wine exudes energy, crushed rocks and red pit fruit from start to finish.

1,688 Views

Tasted

Mar 9, 2021

Lush, round, forward, medium/full bodied, with a dark, juicy plum, licorice, black cherry and earthy character. Fresh, plush and polished, this will be better with a few years of age. 90-92 Pts

4,362 Views

Tasted

Apr 19, 2019

2017
Château Les Trois Croix (Fronsac)

Medium/full bodied, forward and loaded with ripe, soft, round, fresh and slightly stony red fruits, this is already lovely to taste.

1,909 Views

Tasted

Apr 26, 2018

2016
Château Les Trois Croix (Fronsac)

Deep in color, the wine offers licorice, crushed stone and dark cherries from start to finish. On the palate you also find polished, silky dark, red fruits with more of that crushed rock sensations. This is the best and sadly the penultimate vintage for the owner Patrick Leon, who recently passed away.

2,149 Views

Tasted

Sep 21, 2019

2015
Château Les Trois Croix (Fronsac)

Owned by Patrick Leon, the wine is medium/full bodied, showing a stony edge to the floral and red berry fruit. Give it a few years to soften, flesh out and gain additional complexities.

2,461 Views

Tasted

May 21, 2018

2014
Château Les Trois Croix (Fronsac)

Fresh, earthy, soft, round, open, herb and spice-tinged red fruits show easily in this ready-to-drink, medium-bodied, plummy charmer.

2,125 Views

Tasted

Sep 1, 2021

2012
Château Les Trois Croix (Fronsac)

Medium-bodied, bright, fresh, stony red berries come alive with a touch of thyme, underbrush, cherry and dark cocoa in the round, soft, polished, crisp finish. This is drinking about as good as it is going to get.

2,022 Views

Tasted

Jul 9, 2020

2010
Château Les Trois Croix (Fronsac)

At full-maturity, the wine is earthy, smoky, round, lush, soft and still fresh, with its dark red pit fruits, licorice, cocoa and stony, mid-palate finish. I'd opt for drinking this over the next few years before it starts its gentle decline.

2,601 Views

Tasted

Jul 9, 2020

2009
Château Les Trois Croix (Fronsac)

Fully mature, or quite close to it, the wine is soft, smooth, easy to drink to drink and like. With its medium body and focus on fresh, ripe black cherries, earth and thyme, this is drinking right now in its sweet spot.

2,691 Views

Tasted

Jan 20, 2018