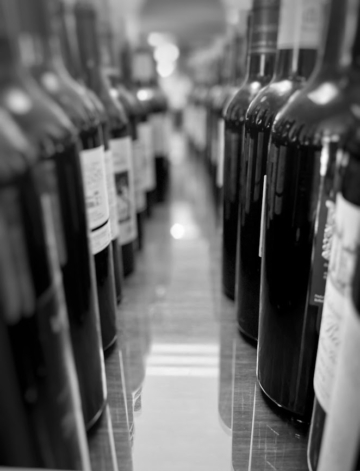 2019 Medoc wines offer some of the best values for fans of Left Bank Cabernet Sauvignon wines. At their best, they offer character, style and the ability to age and evolve. But, best of all, most of these wines sell for a song and they should all drink well early.
We tasted over 800 wines in the bottle from the 2019 vintage recently in my home office. All the tasting notes will be published in a series of reports that will be posted this week. For a review of the vintage conditions or to look at tasting notes and ratings for more than 750 wines The Complete Guide To all the Best 2019 Bordeaux Wines
All of the following 2019 Medoc wines were tasted in my home office in non-blind tasting conditions.
2019 Beauvillage – Much better in the bottle than it was during the barrel tastings, the wine has gained depth and weight. With a nose of flowers and tobacco leaf to join all the sweet cassis on the nose, the wine is round, sweet, fresh, lush and juicy, with good energy to the creamy cassis in the peppery savory finish. Drink from 2024-2036. 90 Pts
2019 Bellerive – With a strong, savory, herbal accent, the wine offers a fresh, medium-bodied, soft, not overly complex red berry and earth profile with a leafy, olive tint to the fruit that will be best in its youth. Drink from 2022-2030. 87 Pts
2019 Bournac – Meaty, savory and fresh, with loads of chewy, sweet, ripe, red currants, cocoa and leafy herbs on the nose and palate. Drink this solid value wine on release and for at least a decade or longer. Drink from 2022-2030. 90 Pts
2019 Castera – Medium-bodied, savory, herb and leafy profile with a bright, red currant finish that already drinks quite easily and fresh. Drink from 2022-2031. 87 Pts 87 Pts
2019 Clos Manou – Floral in nature in its opening notes, the wine is loaded with soft, polished, sweet, juicy, ripe, dark red fruits. Medium-bodied, vibrant and juicy, this is already a treat to taste from the fruit-filled mid-palate, all the way through to its creamy-textured, black currant finish. Drink from 2023-2034. 91 Pts
2019 Fleur la Mothe – Showing much better from the bottle, after its barrel aging, the wine opens with savory herb, tobacco leaf, cedar and red currants. Medium-bodied, juicy, bright, red fruits come through on the mid-palate and stay with you through to the soft, creamy-textured finish. This is a top value wine from the Medoc. Drink from 2022-2032. 90 Pts
2019 G d'Estournel – The debut vintage for the newly renamed G d'Estournel, previously known as Goulee starts off with licorice, flowers, coffee, cocoa and plums. Medium-bodied, soft and polished, with round textures and sweet, ripe, polished cherries with plums, this charmer is going to be just great on release. Drink from 2023-2034. 90 Pts
2019 Granges d'Or – Medium-bodied, fresh, earthy, dark red pit fruits, along with cedar, spice and tobacco leaf come through easily on the mid-palate and carry through to the, soft-textured finish. Drink from 2022-2029. 87 Pts
2019 Greysac – Tobacco, cedar and red currants show up well on the nose and palate. Medium-bodied, easy-drinking, fresh, sweet and fruity, with a round, soft finish. You can drink this with ease on release. Drink from 2022-2030. 88 Pts
2019 Haut Condissas Prestige – Showing a lot of oak at the moment, though, once past the vanilla, espresso and chocolate, you find a lot of sweet, ripe, fleshy, round, sweet fruits. Give it a few years and hope that the oak integrates better. Drink from 2022-2032. 87 Pts
2019 L'Or des Terres – The label boasts no sulfites. That being said, this early drinking, uncomplicated, soft-textured, dark red berry wine is easy to drink and will be ready on release. Drink from 2022-2026. 86 Pts
2019 La Branne – Medium-bodied, floral, spicy, savory, soft and a bit peppery, the wine is ripe, easy to taste, and finishes with a spicy, red currant note. This will be best in its energetic youth. drink from 2022-2032. 89 Pts
2019 La Chandellière – With a nose offering flowers, forest aromas, red plums and cocoa, the wine is forward, medium-bodied, fruity and fresh, with a nice pop of round-texture, bright, red fruits in the finish. Drink from 2022-2032. 90 Pts
2019 La Gorce – Forward, earthy, simple, medium-bodied, early-drinking quaffer that needs to be consumed in its youth. Drink from 2022-2026. 84 Pts
2019 La-Tour-de-By – With a deep color, the wine shows off its black cherry, dark cocoa, espresso and black plum nose right off the bat. On the palate the wine is soft, round, forward, polished and fruity with layers of ripe, dark, chewy red berries in the finish. Drink from 2022-2034. 90 Pts
2019 Les Grands Chenes – Smoky, with a touch of chocolate, licorice, espresso, spice and black cherries on the nose and palate come through quickly. Round, lush and polished with a richly textured, fleshy, dark plum, coffee, dark chocolate-covered cherry finish, give it a few years of age to start to show its best. Drink from 2024-2037. 90 Pts
2019 Loudenne – Savory herbs, currants and a touch of jam come through on the nose. The wine is medium-bodied, with a sweet, light, red currant and cedar palate presence, with a short, albeit pleasant, dusty finish. This will be ready to go on release. Drink from 2022-2030. 86 Pts
2019 Noaillac – Medium-bodied, soft, spicy, floral and fruity, the wine is already approachable, open and easy to drink, due to all of its soft, sweet, red berries. You can drink this on release. Drink from 2022-2031. 89 Pts
2019 Poitevin – Lively red plums, black currants, a dash of cocoa and coffee bean come through with ease on the medium-bodied, soft, easy to drink palate. This is going to be nice to drink on release. Drink from 2022-2029. 88 Pts
2019 Potensac – Medium-bodied, fresh, lively, fresh and vibrant, the wine is almost ready to go with its blast of tobacco leaf, currants, spice and touch of mint leaf on the nose and palate. The wine was produced from blending 47% Merlot, 36% Cabernet Sauvignon, 16% Cabernet Franc and 1% Petit Verdot. Drink from 2024-2038. 91 Pts
2019 Potensac Chapelle de Potnensac – Medium-bodied, forward, fresh and floral, this lighter styled, red fruited, early drinking charmer already focuses you on its ripe, cherries and red currants. You can enjoy this with ease on release. Drink from 2022-2027. 87 Pts
2019 Rollan de By – Medium-bodied, bright, fresh, crisp, juicy red currants with an herb accented profile on the nose and in the finish. Forward in style, you can enjoy this on release. Drink from 2022-2031. 88 Pts
2019 Roquegrave – Medium-bodied with layers of chewy, dark red fruits, licorice, spice, cocoa and herbs on the nose and palate will be easy to drink just about on release. Drink from 2022-2030. 89 Pts
2019 Tour Castillon – Medium-bodied, soft and sweet, with fresh, sweet, ripe, albeit light red fruits. This will be best in its youth before the delicious red berries begin to fade. Drink from 2022-2027. 86 Pts
2019 Tour Seran – Savory with accents of smoke, herbs and tobacco that come along with the spicy, fresh red currants. The tannins are soft, the finish is chewy and the fruits resonate savory and sweet qualities. All that and it sells for a song. Drink from 2022-2036. 91 Pts
We are posting the 2019 Bordeaux articles as fast as we can. Up next, Guide to all the best 2019 Fronsac Wines