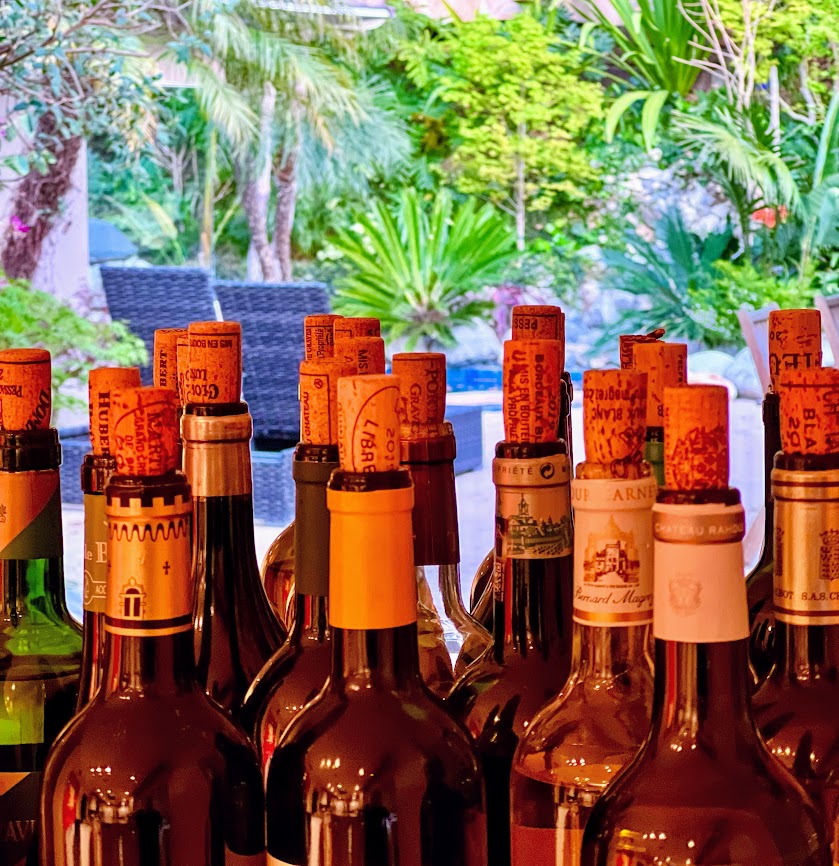 2019 Bordeaux AOC wines can offer good value and delicious drinking if you know where to look and how to separate the wheat from the chaff. In fact, there are also a few interesting Vin de France and Vin de Pays wines from the 2019 Bordeaux vintage as well. That is where this article comes in, to help you find the best as well as the most interesting wines for the money.
Bordeaux is a massive wine production area with over 100,000 hectares of vines planted. And as you know, most of the better vineyards are located in more prestigious appellations. However, large parts of Bordeaux produce what is commonly known as simple, AOC Bordeau wine.
True, much of that is not really of interest to most people reading this article. But note, I said much, not all. There are several wines that are sold as Bordeaux AOC that offer a lot of bang for the buck with red wines and white Bordeaux wine.
Some of those wines might not follow the rules of the appellation, so they are not sold under the chateau name, perhaps they use grapes not authorized by the AOC for example. In some cases, producers source grapes from more than one appellation. Or they do not allow white wine grapes in their appellation.
Today, we continue seeing more Left Bank vineyards planting Sauvignon Blanc these days. Producers in St. Emilion are now doing the same thing in their soils with cooler clay or limestone terroirs. Chateaux in Sauternes making dry white Bordeaux wines are also selling their wine as generic AOC Bordeaux or Vin de France. So as you can see, they can offer merit if, like Indiana Jones, you choose wisely.
For a review of the vintage conditions or to look at tasting notes and ratings for more than 750 wines The Complete Guide To all the Best 2019 Bordeaux Wines
The following 2019 Bordeaux AOC wines were tasted in non-blind conditions in my home office.
2019 dAiguilhe Blanc – Bordeaux – White peach, flowers, pears, spice, lemons and just a hint of roasted almond shine brightly on the nose. The wine is fresh and creamy, finishing with sweet, lemons in the endnote. The grapes come from vines planted in Castillon Cotes de Bordeaux. Drink from 2022-2027. 90 Pts
2019 Alba Mauvinon – Bordeaux – Produced from 100% Sauvignon Blanc, the wine is fully ready to go and will be best in its youth allowing you to enjoy all of its sweet, fresh, white peach, orange, flower and lemony character. Drink from 2022-2025. 87 Pts
2019 Bastor-Lamontagne Confidence – Bordeaux – Mango, dried pineapple, quince and flowers are at the core of this early, drinking, fresh, Bordeaux Blanc that delivers a mild touch of honeyed yellow plums in the finish. Drink from 2022-2025. 88 Pts
2019 Belle-Vue (Haut-Médoc) Petit Verdot – Bordeaux – Inky dark in color, the wine pops with notes of black raspberries, flowers, spice, blackberries and green leafy herbs. The wine is creamy, fresh and fruity, with a round, spicy, fruit-packed finish. This is a rarity in Bordeaux as it is one of the few wines made from 100% Petit Verdot. This is a bit tannic, so give it a few years of cellaring before pulling the cork. Drink from 2022-2034. 89 Pts
2019 Cheval Blanc Le Petit Cheval Bordeaux Blanc – Bordeaux – Fresh, bright and vibrant, the wine is all about its crisp, lively yellow citrus, white flowers, vanilla, green apple and orange blossom character. I love the lift, vibrancy and purity in the fruits with their mild touch of honey and spice in the finish. Drink from 2022-2031. 94 Pts
2019 Clos des Lunes Lune d'Argent – Bordeaux – Honeysuckle, grapefruit, white peach and lemon rind nuances are easy to find in the perfume as well as in the lemon chiffon and mango, creamy-textured, fresh, juicy palate. Drink from 2022-2028. 92 Pts
2019 Cos d'Estournel Blanc – Bordeaux – Flowers, pomelo, lemon curd and a refreshing touch of spicy, green apples and vanilla gives this fresh, lively, crisp, slightly honeyed wine its character. You can enjoy this with pleasure on release. Drink from 2022-2032. 95 Pts
2019 Cos d'Estournel Pagodes de Cos Blanc – Bordeaux – Spicy lemon, lime, green apple and floral notes continue from the nose to the palate. The wine is fresh, zesty and creamy, with a touch of sweetness in the yellow citrus in the endnote. Drink from 2022-2027. 91 Pts
2019 Dubreuil Chardonnay – Vin de France – Sweet, fresh, juicy, pomelo and Meyer lemon with a nice touch of minerality is noticeable all place here on the nose and palate. The endnote has loads of acidity and sweet, yellow fruits. Drink from 2022-2026. 91 Pts
2019 Girolate – Bordeaux – Flowers, cherries, espresso and mint create the aromatics. On the palate, the medium-bodied wine offers a soft, polished, fruity, cherry-dominated profile with a silky fresh finish. Drink it young, or give it a few years of age for more earthiness. Drink from 2022-2032. 90 Pts
2019 Girolate Blanc – Bordeaux – Showing a bit more exuberance on the palate than the nose for the moment, the wine is loaded with sweet fresh, creamy green apples, yellow citrus, yellow plums and white peach. Lush, a touch oily and fresh, you can enjoy this on release. Drink from 2022-2027. 90 Pts
2019 Grace Fonrazade Blanc – Bordeaux – With notes of lemons, white peach, orange rind and pear, this early drinking, oily textured wine will be best in its youth for all of its ripe, sweet fruits. Drink from 2022-2025. 86 Pts
2019 Grand Portail La Croix Blanche – Bordeaux – Medium-bodied with a strong floral character, the wine is sweet, fresh, fruity and ready to be enjoyed. This will be best over the next few years. The wine is made from 80% Merlot and 20% Cabernet Sauvignon. Drink from 2022-2025. 86 Pts
2019 Grand Village Blanc – Bordeaux – Mango, flowers, lemons, guava and tangerine peel aromas hit the spot. On the palate, the wine is fresh, juicy, lifted and packed with green apples, waxy lemons and citrus rind. This blend of 75% Sauvignon Blanc and 25% Semillon is ready to go. Drink from 2022-2029. 92 Pts
2019 Hubert de Boüard Cabernet Franc- Bordeaux – Earthy, floral nuances pair well with the fresh, refined, elegantly styled red fruits with a touch of thyme that you find on the nose and palate. This is one of the few Bordeaux wines made from 100% Cabernet Franc. And the cool thing here is, the wine is well-priced and can be enjoyed on release. Drink from 2022-2028. 90 Pts
2019 Hubert de Boüard Cabernet Sauvignon – Bordeaux – Earthy with charcoal, mushroom, herb and peppery currants, the medium-bodied wine is fresh, forward, soft and refined, with a juicy, sweet, fresh, plum and currant note in the finish. This is already delicious, so you can enjoy this on release. This is one of the few Bordeaux wines produced from 100% Cabernet Sauvignon. Drink from 2022-2029. 90 Pts
2019 Hubert de Boüard Chardonnay – Vin de France – Lighter styled, forward, fresh and fruity, drink this on the young side for all of its sweet, yellow apples, pears and touch of citrus. Drink from 2022-2026. 90 Pts
2019 Hubert de Boüard Merlot – Bordeaux – Ruby red in color, the wine already offers hints of mushroom, forest leaf, cocoa and cherry. Soft textured, medium-bodied, elegant and easy to taste, you can enjoy this on release for all its sweet, plummy fruits and earthy nuances. Drink from 2022-2028 89 Pts
2019 Hubert de Boüard Sauvignon Blanc – Bordeaux – Flowers and yellow citrus combine to produce a forward, sweet, crisp, juicy Bordeaux Blanc with sweetness and lift that is perfect for near-term drinking enjoyment. This will be perfect for grilled seafood dishes this summer. Drink from 2022-2026. 89 Pts
2019 Hubert de Boüard Sémillon – Bordeaux – White peach, honeydew melon, flowers and spice show up easily in the nose. The wine is round, fresh, sweet, and fruity, with a touch of honeyed citrus and spice in the finish. This will be best in its youth. Drink from 2022-2025. 88 Pts
2019 La Fontaine de Genin – Bordeaux – Flowers and chalk with black cherry and licorice create the nose. On the palate, the wine is soft, round, polished and savory with a touch of olives in the finish. Give it a year or so of rest before popping a cork. Drink from 2023-2030. 89 Pts
2019 La Freynelle Cabernet Sauvignon – Bordeaux – Fresh, vibrant, savory red fruits, tobacco leaf, herbs and a touch of green peppercorns on the palate and in the finish, The wine is medium-bodied, forward and distinctively savory in the finish. This is one of the few Bordeaux wines produced from 100% Cabernet Sauvignon. You can drink this on release or wait a few years for the wine to soften and fill out. Drink from 2023-2030. 89 Pts
2019 La Freynelle Emotion – Bordeaux – Medium-bodied, soft, fresh, forward, fruity, and focused on its red fruits, dusty tannins and a dash of chocolate, olives and espresso on the palate and in the finish, You can drink this on release. Drink from 2022-2028. 88 Pts
2019 La Rose Perrière Blanc Bordeaux – Fresh squeezed lemons, pomelo, green apple and spearmint open the wine on the nose. Bright, crisp, juicy, sweet, yellow fruits are what you will find on the palate and in the fresh, creamy finish. Drink from 2022-2026. 89 Pts
2019 La Tour Carnet Blanc – Bordeaux – Honeysuckle, green apples, pears and lemon rind with a touch of vanilla are the perfect backdrop for the fresh, crisp, juicy, vibrant, palate. The finish serves up more of those Granny Smith apples and lemons. Drink from 2022-2029. 92 Pts
2019 Lafaurie-Peyraguey Blanc – Bordeaux – Floral, fresh and already just delicious to drink today with all of its green apples, lemon oil, white peach and vanilla on full display on the nose and on the lusciously textured, lifted palate. Drink from 2022-2032. 91 Pts
2019 Lamothe-Vincent Heritage – Bordeaux – Medium-bodied, forward and with a savory edge to the cocoa and plummy fruits, the easy to drink charmer comes with soft, fresh, sweet fruits that stay through to the finish. Drink from 2022-2028. 87 Pts
2019 Laurence Blanc Sec – Bordeaux – Mango, white peach, lemons and a hint of honeysuckle form the perfume. Fresh, fruity and forward, with its citrus and yellow apple finish, this is ready to go. Drink from 2022-2027. 90 Pts
2019 Laurence Petite Laurence Blanc – Bordeaux – Fresh, forward, fruity, zesty citrus oriented wine which will be best over the next 2-3 years. Drink from 2022-2025. 87 Pts
2019 Leroy-Beauval – Bordeaux – Dark in color, the wine is rich, round, ripe and lush with layers of dark red fruits, spice and espresso bean on the nose, mid-palate and finish. This is a superb Bordeaux value wine. Drink from 2022-2034. 91 Pts
2019 Les Champs Libres – Bordeaux Blanc – Honeysuckle, pink grapefruit, guava, lemon meringue, and flowers create the complex nose. With crisp, bright, fresh, juicy, yellow citrus, the wine slaps your palate with fruit and keeps on going all the way through to the creamy finish. If you are a fan of white Bordeaux, this hits all the right buttons and is well-worth seeking out. The wine is produced from 100% Sauvignon Blanc. Drink from 2022-2034. 94 Pts
2019 Lussac Blanc – Bordeaux – Vanilla tinged, tropical fruits, honeysuckle and a touch of grapefruit are fully ready to go here. This will be best over the near term. Drink from 2022-2025. 85 Pts
2019 Madran – Bordeaux – Packaged in a massively, supersized, over-weight bottle, the wine is medium-bodied, oaky, fruity and savory with soft, ripe, black plums, round textures and a polished, fruity, red berry finish. You can enjoy this on release. Drink from 2022-2029. 89 Pts
2019 Marjosse – Bordeaux – Medium-bodied, soft, ripe, and easy to like, this charming red cherry filled wine is earthy, fresh and sweet, with a touch of herbs and tobacco leaf in the finish. This will be best in its youth for all its fruits and freshness. Drink from 2022-2030. 90 Pts
2019 Marjosse Cuvee Canton du Loup Vin de France – Produced from 100% Merlot and aged in new, French oak barrels, this parcel selection starts off with notes of espresso bean, smoke, chocolate and red plum notes. On the palate, the wine is round, fresh and plummy with a touch of salinity in the fruit filled finish. You can enjoy this soft, plush wine on release. Drink from 2022-2030. 91 Pts
2019 Marjosse Cuvee Chardonneret – Vin de France – Fruity, juicy, forward and sweet with a core of lemons and pears, the wine is round and creamy with a yellow citrus endnote. Not much is made, so if you want to find this 100% Chardonnay from Bordeaux you need to move quickly as the production is under 100 cases. Drink from 2022-2026. 90 Pts
2019 Marjosse Cuvee Gros Bec- Vin de France – It is not often I see Bordeaux from 100% Malbec, so this was a lot of fun to taste. The second vintage this Cuvee sports a deep color with hints of spice, grilled meat, dark red fruits and herbs on the nose and palate. The wine is soft, round and spicy, with a nice depth of ripe, earthy black cherries with a touch of cocoa on the palate and in the mildly dusty finish. Drink from 2022-2029. 90 Pts
2019 Marjosse Cuvee Hirondelle – Vin de France – White peach and honeysuckle with marshmallow and pears create an interesting perfume. On the palate the 100% Muscadelle is ripe, round, oily and a touch salty from the minerality. You can enjoy this on release. fruity, floral, sweet and delicious, with a finish combining orange, honeydew, pineapple, and spice. This is a perfect summer wine that is already fun to enjoy. Drink from 2022-2026. 90 Pts
2019 Marjosse Cuvee La Charmille – Vin de France – The second vintage of Cuvee La Charmille is produced from a parcel selection of 100% Merlot. Quite floral on the nose, with a touch of spice to the sweet, ripe, red fruits, the elegantly textured, cherry and plum packed wine is ready to go on release. Drink from 2022-2029. 89 Pts
2019 Marjosse Cuvee Ortalon – Vin de France – One of the few Bordeaux wines from 100% Cabernet Franc pops with cigar wrapper, herbs, flowers and mushroom tinged red fruits. On the palate the wine is soft, fresh, medium-bodied and focused on its refined, herbal, cherry tinted core of red berries. This delicious second vintage of this wine can be enjoyed on release. Drink from 2022-2032. 91 Pts
2019 Marjosse Cuvee Palombe – Vin de France – Flowers, lemon rind, spearmint and honeysuckle notes are all over the place. Fresh, forward, fruity and with a creamy, yellow, citrus rind finish, with just a drizzle of honey, you can enjoy this on release. Drink from 2022-2028. 90 Pts
2019 Monbousquet Blanc d'Exception – Bordeaux – Just squeezed grapefruit, lemon rind, flowers and honeysuckle with tangerine open the wine. On the palate, the wine is fresh, vibrant and lush, with a sweetness and purity to the fruit along with a touch of vanilla to round out the citrus in the finish. Drink from 2022-2031. 92 Pts
2019 Mont Perat – Bordeaux – Soft, silky, medium-bodied, fresh and with a touch of crushed stone on the backend after all the red plums and cherries are finished. You can drink this with pleasure on release. Drink from 2022-2028. 89 Pts
2019 Mont Perat Blanc – Bordeaux – White peach, vanilla, yellow citrus and a touch of spice come through on the nose and palate. The wine is fresh, lively and finishes with a nice bite of sweet, pink grapefruit in the creamy finish. Drink from 2022-2027. 90 Pts
2019 Nardian Blanc – Bordeaux – Vanilla, almonds, tart, Granny Smith apples and citrus create the core of the wine. The palate is blasted with freshness, but there is a hint of bitter green apples in the finish some will like more than others. Drink from 2022-2027. 90 Pts
2019 Naujan – Bordeaux – Medium-bodied, soft, fresh, silky and forward with notes of flowers, wet earth and red berries on the nose. This fully ready to go, easy to like charmer finishes with red plums, cocoa dust and savory, black raspberries. Drink from 2022-2030. 89 Pts
2019 Naujan Blanc – Bordeaux – White peach and flowers with yellow citrus peel and vanilla notes are on the nose and palate. The wine is fresh, forward and leaves you with a zesty, lemon, honey and tart green apple pop in the finish. Drink from 2022-2027. 90 Pts
2019 Puy Redon Chardonnay Vin de Pays Pyrénees-Atlantiques – White peach, and yellow citrus come along with a hint of Tropical fruit on the nose, palate and finish. This is perfect for near-term enjoyment. Drink from 2022-2025. 89 Pts
2019 Puygueraud Blanc – Bordeaux – White peach, orange, rind, pineapple and lemon peel nuances are found in the nose and on the palate here. Fresh, zesty and lively with a creamy touch to the sweet, yellow citrus finish. Drink from 2022-2028. 91 Pts
2019 Stella Solare Croix de Labrie – Bordeaux – Loads of honeysuckle, white peach, almonds and apples come through with little effort. Fresh and creamy on the palate, the wine finishes with juicy, yellow citrus along with a hint of mango. Drink from 2022-2027. 91 Pts
2019 Talbot Caillou Blanc – Bordeaux – Honey, white peach, lemons, almonds and flowers come through easily in this ready to drink, fresh, creamy. green apple filled Bordeaux Blanc. Drink from 2022-2027. 91 Pts
2019 Tempo d'Angelus – Bordeaux – Flowers and cocoa with cherries and raspberries come through on the nose. On the palate, the wine is medium-bodied, soft, earthy, silky and fresh with an elegant finish with its core of chocolate dusted red berries to boot. It is easy to see the of Stephanie de Bouard and the Angelus team here on this debut vintage for Tempo d'Angelus. Drink from 2022-2032. 90 Pts
2019 Yquem "Y" – Bordeaux – Green apples, lemon wax, flowers, dried pineapple and honeysuckle make for an exotic perfume. The wine is fresh, crisp and slightly honeyed with touches of vanilla and yellow fruits with a touch of spice found in the lifted endnote. You can enjoy this on release, or age it for 15-20 years for more exotic nuances. Drink from 2022-2040. 95 Pts
We are posting the 2019 Bordeaux articles as fast as we can. Up next, Guide to all the best 2019 Medoc Wines