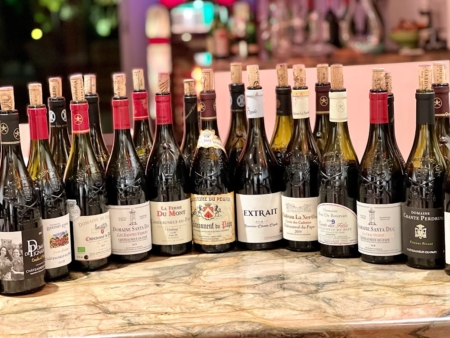 2019 Chateauneuf du Pape Wine Report
Fans of Grenache are going to be thrilled with 2019 Chateauneuf du Pape! It's a beautiful vintage all over the Southern Rhone. Red and white wine grape varietals are quite successful.
With 2019 Chateauneuf du Pape wines, you find the best of every world. The Grenache is fully ripened, but you also have a gorgeous, fresh quality, making it close to impossible not to be in love with the 2019 vintage.
How did the 2019 Chateauneuf du Pape vintage turn out so well?
Unlike 2018 and 2017, the growing season for 2019 Chateauneuf du Pape started out with reasonably, moderate temperatures over the winter and spring. Growers did not have to contend with deadly frosts or worse, attacks of mildew faced in 2018.
Instead, the summer was hot, sunny, and warm without being overheated or too dry. Though the summer months saw very little rain. However, this was not a problem as there was enough water in the soils to nourish the vines from what fell in the spring and two bursts of rain in mid-July and August. The rains that fell before harvest, starting September 18 were perfectly timed, giving the vines the energy they needed to finish ripening.
These conditions were perfect for the Grenache as well as Mourvedre and the Syrah also performed well. Overall the grapes are small with a high volume of skins to juice, so the wines are darkly colored, aromatic, and concentrated. Sugar levels are high, so the fruits are sweet, but not overly alcoholic. 2019 Chateauneuf du Pape wines are relatively forward. Most will drink well early. The top wines will age and evolve for 2 decades or more.
The character of 2019 Chateauneuf du Pape is just great. It is what I love about the region. The fruits are spicy, pure, deep, and rich, with sweetness, length, and at their best, they display a wonderful purity of fruit, concentration, and elegance. Even though alcohol levels are high, (This is Grenache) the wines are balanced, vibrant, and show good energy.
Fans of Chateauneuf du Pape Blanc will be happy as well because the white wine grapes also ripened without becoming overripe. 2019 Chateauneuf du Pape white wines are fleshy, aromatic, mildly oily, and fresh, with loads of white peach, citrus and floral notes.
There is more good news. After two vintages with low yields, 2017 and 2018, harvests were close to normal, so there will be plenty of top-quality 2019 Chateauneuf du Pape in the marketplace.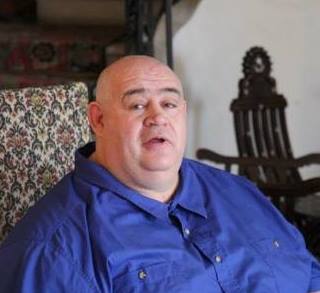 While 2019 Chateauneuf du Pape and it looks like 2020 Chateauneuf du Pape are filled with good news, it is with sadness that we note the passing of Philippe Cambie at the age of 59 December 18, 2021.
Philippe Cambie was the giant of Chateauneuf du Pape. As the most famous oenologist in the Southern Rhone Valley, he led the way for growers to focus on organic and biodynamic vineyard management.
Philippe Cambie did not just work in France, he was also active in Spain, California, and Washington State. In Chateauneuf, he worked with numerous estates, and he also owned his own label, Les Halos de Jupiter, with Michel Gassier.
Prior to meeting Philippe Cambie, I had been to Chateauneuf du Pape a few times. But I was not a regular visitor to the region. It was his invitation to come to see him in Chateauneuf and taste the 2012 vintage with him that sparked my interest in coming every year.
More than just wine, Cambie was a talented chef. I enjoyed a few meals with him in his home after tasting an incredible array of wines he was involved with. Philippe was kind enough to introduce me to numerous vignerons I remain friends with today. He loved wine and life. He will be missed.
This is only Part 1. The remainder of the 2019 Chateauneuf du Pape tasting notes are published in 3 additional articles. You can read Part 2 here: 2019 Chateauneuf du Pape Pt 2 Wines D-K 2019 Chateauneuf du Pape Pt 3 Wines L-O and 2019 Chateauneuf du Pape Pt 4 Wines P-Z
The following 2019 Chateauneuf du Pape wines were all tasted in my home office in non-blind tasting conditions.
2019 Albin Jacumin La Begude Des Papes – Smoked herbs, thyme, flowers, and cherry notes come alive on the nose. From there, you easily find a medium-bodied, soft, elegant, kirsch-dominated wine with freshness, purity, and spicy undertones in the finish. The wine was made from blending mostly Grenache, with Mourvedre and Cinsault. Drink From 2023 – 2033. 91 Pts
2019 Albin Jacumin My Grenache – Savory herbs, roses, kirsch, raspberries, and cherry nuances are easy to find. On the palate, the wine is fresh, silky, and lively. Medium-bodied, with a nice sweetness to all the red fruits, there is a gorgeous sense of purity in the elegant finish. Drink From 2022 – 2035. 93 Pts
2019 Albin Jacumin a Aime – Fresh, peppery, kirsch is what you will enjoy here from start to finish in this elegant, vibrant, medium-bodied, silky, lifted wine. Refined and ready to go, this will be just great on release. Drink From 2022 – 2034. 92 Pts
2019 Andre Mathieu Chateauneuf-du-Pape – Medium-bodied, fresh, forward, refined, elegant, a kirsch-filled charmer with length and purity that is going to be just great on release. Drink From 2022 – 2030. 91 Pts
2019 Andre Mathieu Chateauneuf-du-Pape Vin di Felibre – Green olives, herbs, thyme, and flowers join up with the spicy red fruits and touch of white peach on the nose. Medium/full-bodied, silky, soft, elegant and fresh, the wine is sensuously textured with layers of ripe, sweet, polished cherries, pepper and herbs in the finish. The wine was made by blending 80% Mourvedre, 10% Grenache, 5% Syrah, and 5% come from various, allowed grape varieties. Drink From 2023 – 2030. 93 Pts
2019 Andre Mathieu L'Éphémère – Deeply colored, the wine pops with smoke, licorice, black pepper, herbs, spice and dark red cherries. Rich, full-bodied, ripe, and fresh, the wine is packed with fruit, pepper, herbs, and tannins, so this going to require a bit of patience. The wine is produced from 100% Syrah, which is not so common in the Southern Rhone. Drink From 2025 – 2038. 93 Pts
2019 Andre Mathieu La Centenaire – With strong floral accents, you also find thyme, kirsch, red plums and spice in the perfume. Medium-bodied, soft, polished, elegant, and fresh, the wine focuses on its purity and bright, chewy, peppery, kirsch-packed finish. This should be even better with a few years of age. The wine has been blended using about 80% old vine Grenache from vines that are over 100 years of age, 10% Mourvedre, 5% Syrah with the remaining 5% coming from other AOC allowed grape varieties. Drink From 2025 – 2038. 94 Pts
2019 Andre Mathieu Chateauneuf du Pape Blanc – Fresh, energetic, yellow citrus with touches of flowers and green apples on the nose, palate and in the finish. This will be simply delicious on release. Drink From 2022 – 2028. 90 Pts
2019 Andre Mathieu Chateauneuf-du-Pape Vin di Felibre Blanc – Lighter styled, fresh, forward, citrus and white peach focused, early drinking charmer with a soft, polished finish for early drinking pleasure. Drink From 2022 – 2028. 90 Pts
2019 André Brunel Cuveé Réserveé – Forward, early drinking, soft, medium-bodied, kirsch and garrigue filled, Grenache dominated wine that is ready to go on release. Produced from young vine Grenache and purchased Syrah grapes, this is a negociant wine for Andre Brunel. Drink From 2022 – 2028. 90 Pts
2019 Antoine-Ogier Heritages – Medium-bodied, forward, fruity and chalky, the berries are ripe, sweet and pure, with a mildly chocolatey overtone in the finish on the backend. Drink From 2022 – 2033. 89 Pts
2019 Beaucastel – Spicy, meaty, earthy, rich, and lushly textured, the wine has depth of flavor, complexity and lift. The wine is balanced, concentrated and the fruit shows ripeness with lift that works. The spicy essence to the red fruits is on the nose and in the deep, dark, spicy red fruits on the palate and finish. Drink From 2025 – 2039. 96 Pts
2019 Beaucastel Hommage a Jacques Perrin – Incredibly concentrated, almost dense, yet, even with all the weight, heft and power, everything here is perfectly balanced, which lets you focus on all the meaty, dark, red fruits, peppery spice, grilled beef, flowers, smoked cherries and plums. This palate-staining gem delivers a solid 60 second finish that build and expands. This is not a wine for consumers without patience as you should wait at least 12-15 years before thinking about pulling a cork. But based on tasting numerous previous vintages, this is going to be worth the wait. Drink From 2030 – 2050. 99 Pts
2019 Beaucastel Blanc – Honeysuckle, white flowers, honeydew melon, citrus rind and white peach notes are all over the place on the nose and palate. Rich, lush oily and flamboyant, this is already sublime to taste with all its freshness and flesh. The wine was made from a blend of 85% Roussanne and 15% Grenache Blanc. Drink From 2022 – 2033. 95 Pts
2019 Beaucastel Blanc Cuvee Roussanne Vieilles Vignes – This is one of those thrill a sip wines that stuns you the moment the wine hits your glass. The complex nose with its array of white and yellow flowers, yellow tropical fruits, white peach, melon and crushed rocks is all you need to know until you get to the palate. There you find a massive wave of impossibly ripe, very ripe, and bordering on overripe fruits with freshness, energy, oily textures and a seamless, opulent finish that comes close to the 60-second mark. This could be the best white Chateauneuf du Pape I have ever tasted! Either open a bottle over the next year or two, or age it for 10-15-20 years, this is going to be one of those legendary wines that become hard to find as it matures. Drink From 2030 – 2045. 100 Pts
2019 Beauchene Grande Réserve – Medium-bodied, round, earthy, spicy, round and fresh, it is easy to get into all the soft, polished, savory berries, olives, herbs and peppery nuances in the finish. The wine blends 80% Grenache, 10% Syrah and 10% Mourvedre. Drink From 2022 – 2034. 90 Pts
2019 Beauchene Hommage à Odette Bernard – The melange of ripe, soft, silky, red fruits shows nicely in the nose and it gets even better in the elegant, soft, polished, silky palate. You can enjoy this beauty on the young side. I like the peppery spice note that makes an appearance in the finish. Drink From 2022 – 2034. 92 Pts
2019 Beauchene Vignobles de la Serriere – Savory, spicy, fresh, clean and pure, the ripe kirsch really stands out here in the nose and on the medium-bodied, refined, elegant, fresh palate. This should drink well on release. Drink From 2021 – 2032. 91 Pts
2019 Beaurenard (Paul Coulon et Fils) Chateauneuf-du-Pape – Touches of smoked herbs, dark cherry and spice greet your nose. The wine is loaded with ripe, dark, red fruits, chewy tannins and voluptuous textures, finishing with a blast of sweet, rounded berries. While dominated by Grenache, the wine includes various percentages of most if not all of the AOC allowable grapes. Drink From 2022 – 2033. 92 Pts
2019 Beaurenard Boisrenard – Deep, dark and rich, the wine is concentrated, full-bodied, powerful, lush, and lusciously textured with gobs of dark and bright red fruits and spice on the nose and palate. Pure, dark black cherries, velvet-textured tannins and waves of spice, licorice, plums, kirsch and pepper. Give this a few years in the cellar to soften and develop and it's going to be just great to enjoy for ages. Drink From 2024 – 2035. 95 Pts
2019 Beaurenard Blanc (Paul Coulon et Fils) Chateauneuf-du-Pape – Medium-bodied and loaded with yellow citrus, flowers and honeysuckle, the wine is forward, sweet, fresh and ready to go, with its crisp lemon and green apple core of fruits. Drink this young to capture all of its fruit at its peak. Drink From 2022 – 2030. 90 Pts
2019 Beaurenard Boisrenard Blanc – A touch of smoke, a dab of honey, flowers and citrus come through on the nose and palate. Round, lush and polished with sweetness to all the citrus hits the spot. Drink From 2022 – 2030. 93 Pts
2019 Benedetti Chateauneuf-du-Pape – With a strong dose of garrigue and olives, the wine is on the herbal and olive side of the style range. Round, earthy, forward, peppery and fresh, there is an energetic tangy quality to the fruit in the finish. Drink From 2022 – 2030. 89 Pts
2019 Benedetti Les Larmes Papales – One of the more unique wines from Chateauneuf as a portion of their grapes are dried on straw mats. Initially, on the nose, you notice smoke, espresso, thyme, licorice and dark, peppery cherries. Sweet, lush, round and polished on the palate, there is an enjoyable blast of dark ripe cherries with a touch of oak in the finish. Drink From 2023 – 2035. 91 Pts
2019 Benedetti Blanc Chateauneuf-du-Pape – Yellow citrus and herbs create the nose. On the palate the wine easily shows its fresh shot of citrus with just a touch of sweetness. This will be best in its youth for all its sweet, up-front fruits. The wine blends 40% Grenache Blanc, 40% Roussanne and 20% Bourboulenc. Drink From 2022 – 2027. 89 Pts
2019 Berthet-Capeau Elixir des Papes – Medium-bodied, with touches of smoke, licorice, dark cherries and spice on the nose. Soft, silky, fresh and vibrant on the palate, this should be approachable on release. The wine was produced using 100% old vine Grenache. Drink From 2023 – 2035. 92 Pts
2019 Berthet-Rayne Cuvee Cadiac – Meaty, spicy, peppery, smoky and wild, the Mourvedre stand out here. On the palate the wine is rich, intense, spicy, weighty and yet, balanced, fresh and vibrant, finishing with layers of dark deep, spiced, earthy, red fruits. The wine is produced from a blend of 50% Grenache and 50% Mourvedre. Give it a few years in the cellar a this can age. Drink From 2024 – 2038. 94 Pts
2019 Berthet-Rayne Tradition – Dried herbs and leafy notes are in the forefront, before you find the red kirsch notes. Medium-bodied, soft, fresh, silky and vibrant, the wine is sweet, juicy and lively, leaving you with ample peppery, silky red fruits in the finish. Drink From 2022 – 2033. 91 Pts
2019 Berthet-Rayne Vieille en Fut de Chene – Garrigue, olives, leafy herbs, dried thyme, flowers and cherries create the nose. The wine is round, plush, soft, fruity-filled and generous, the savory finish delivers layers of spicy berries, pepper, grilled meat and black raspberries. There is length and energy here. The Mourvedre and Counoise add a lot to the blend. This should age and develop quite well. Drink From 2024 – 2040. 93 Pts
2019 Bois de Boursan Cuvee des Felix – Smoky, dark red berries, herbs, pepper and spice pop on the nose. Medium-bodied, fresh, wild and meaty, with a boatload of chewy fruit on the palate, there is length, lift and freshness here. The wine was made using mostly Grenache and Mourvedre, with Syrah, Cinsaut and Counoise to top it off. Give it a few years in the cellar before popping the cork. Drink From 2025 – 2036. 94 Pts
2019 Bosquet des Papes A la Gloire de mon Grand-Père – Bright, fresh, lusciously textured, elegant red fruits galore here. Add nuances of flowers, spice, kirsch and thyme, ample concentration and a long, silky, supple textured finish and you get the idea. This beauty will age and evolve for 2 decades with no trouble. The wine was produced blending 98% old vine Grenache, with 1% Cinsault and 1% Clairette. Drink From 2024 – 2038. 97 Pts
2019 Bosquet des Papes Chante Le Merle Vieilles Vignes – Lush, refined, silky and fresh, the wine is already a treat to taste. Though, if you give it a few years in the bottle you are going to find even more ripe, red plums, flowers, smoke, licorice, kirsch and earth. Balanced, elegant and richly textured, this is going to age and evolve for 15 to 20 years. with ease. Drink From 2024 – 2038. 96 Pts
2019 Bosquet des Papes Tradition – The blend of spring flowers and garrigue on the nose is just perfect. The dark red berries come though from there on the nose and palate. Soft, fruity, fresh and juicy, the wine is already such a treat in your glass. The finish loads you with with its melange of red fruits and olives. Enjoy it on release, or give it a year or two in the cellar, either way you're in for a treat. Drink From 2023 – 2034. 93 Pts
2019 Bosquet des Papes Blanc – All the honeysuckle, white peach, and juicy, fresh citrus with the cut of minerality is working really well here, especially in the finish, with all of its freshness and ripe fruits. You can enjoy this on release. Drink From 2022 – 2029. 92 Pts
2019 Boutiniere Chateauneuf-du-Pape – Flowers, spice, and herbs add to all the soft, elegant, fresh red pit fruits and berries in this ready-to-go, medium-bodied, elegant, mildly spiced wine. You can enjoy this on release. The wine blends 70% Grenache, 10% Mourvedre, 10% Syrah and 10% Cinsault. Drink From 2022 – 2030. 89 Pts
2019 Boutiniere Grande Reserve – With a cool meaty, peppery, grilled beef, garrigue, and red plum nose, the wine offers hints of spice, flowers and dark cherries on the nose and lush, peppery, olive tinged palate. The old vine Cuvee from La Boutiniere blends mostly old vine Grenache with Mourvedre and Syrah. Drink From 2024 – 2034. 92 Pts
2019 Boutiniere Blanc Chateauneuf-du-Pape – Honey, flowers, nuts, peach and citrus come through on the nose and round palate. Forward and already approachable, the wine leaves you with spicy orange, white peach and citrus in the finish. The wine blends 35% Grenache Blanc, 35% Roussanne, 20% Clairette and various other assorted, allowable grape varieties. This will be a pleasure to taste on release. Drink From 2022 – 2027. 89 Pts
2019 Cabrieres Chateauneuf-du-Pape – The garrigue is strong here, but, not too strong, as you find layers of perfectly ripe, cherries, kirsch, strawberries and spice. On the palate, the olive and bouquet garni notes are noticeable, but so is all the ripe, sweet, peppery, intense red fruits. There is a cool vivacity to the finish, providing lift, and length. The wine was made from a blend of 50% Grenache, 20% Syrah, 20% Mourvedre and 10% Cinsault. Drink From 2022 – 2034. 92 Pts
2019 Chante Cigale – Layers of fresh, sweet, soft textured, polished, silky fruits are all over the place here. Wild elegance in the glass that finishes with savory spices, pepper, herbs and floral notes. Forward in style, this is a fabulous style of wine that is already quite charming to taste. Drink From 2024 – 2035. 93 Pts
2019 Chante Cigale Extrait – Deep, and dark in color, the wine is equally dark in fruit on the richly textured palate. The fruit smells and tastes as if it was smoked and covered with fresh black, cracked pepper. The wine is generous, rich, full-bodied, and intense, as well as balanced, fresh, long and complex. The wine is packaged in an oversized bottle that stands out almost as much on the shelf as it does on your palate. The wine comes from a blend of 70% Mourvedre, paired with 30% old vine Grenache. Give this a few years in the bottle before you pull a cork. It should age quite nicely. Drink From 2025 – 2040. 96 Pts
2019 Chante Cigale Pi – Produced from 100% old vine Grenache planted in Pignan, the wine is an elegant, soft, silky, refined expression of Grenache. Medium-bodied, fresh, sweet, pure and forward, with a beautiful floral quality, this will drink just great on release. Drink From 2022 – 2034. 92 Pts
2019 Chante Perdrix – The fruit tastes and smells ripe, which is a good thing as it makes you want to dig right in to all of its layers of ripe kirsch, peppery cherries, and black raspberries. Lush, round and forward, with an elegance to the tannins, this is going to be good on release and even better with a few years of bottle age. Drink From 2023 – 2034. 92 Pts
2019 Chante Perdrix Etienne Pecoul – Fresh spring flowers, roses, kirsch, cherries and red plums permeate the aromatics. Silky, refined, soft, medium-bodied and fresh, with sweet red cherries galore, here it is the purity of the fruit with its deft touch of spices that keep you going back for sip after sip. The wine is produced from 100% old vine Grenache. Drink From 2024 – 2037. 95 Pts
2019 Chapoutier Barbe Rac – Vibrant, rich, lush and silky, this elegant, concentrated, supple wine serves up seemingly endless waves of sweet, ripe, spicy kirsch, black raspberries and cherries with a floral accent. This is the top Southern Rhone wine from Chapoutier. Produced from 100% old vine Grenache, the wine should drink well young, yet age for 15 or more years with ease. Drink From 2024 – 2038. 97 Pts
2019 Chapoutier Croix de Bois – Full-bodied, elegant, rich and forward the wine is silky, fresh, and pure with layers of sweet, ripe kirsch, cherries, flowers, and q peppery, vibrant finish. You only need to give it just a few years to come around before it begins to show its stuff. Drink From 2024. 2037 – 95 Pts
2019 Chapoutier Pie VI – Produced from a blend of Grenache with a big splash of Syrah, the wine is deep, dark, rich, showy, and packed with loads of ripe, sweet, luscious, dark, red fruits, peppery herbs, thyme, smoke and cocoa which all come together in the almost opulently textured finish. Drink From 2023 – 2034. 94 Pts
2019 Chapoutier La Bernadine Blanc – Crushed rock, spice, yellow citrus and floral notes crowd for attention in the nose. On the palate, the wine is forward, fresh and fruity with silky textures and a crisp, lush, juicy finish. Drink From 2022 – 2030. 91 Pts
2019 Christophe Mestre – Chewy, dark red berries, iron, earth and herbs on the nose and palate. The savory, olive-tinged finish is soft and peppery. This will be just great on release. Drink From 2022 – 2031. 89 Pts
2019 Christophe Mestre Blanc – Forward, fruity, fresh, medium-bodied and already displaying its lifted, elegant style, this will be best in its upfront youth. Drink From 2021 – 2026. 88 Pts
2019 Christophe Mestre Syrah – Dark, brooding nose, with notes of iron, smoke, wood, pepper and dark red berries. Chewy, concentrated, tannic, savory and full, this is going to take some time to see what is going on here. Give it at least 5 years to develop. Drink From 2024 – 2035. 91 Pts
2019 Château de Manissy Trinite – Loads of tapenade here. Once you're past that, you find spring flowers, herbs, cherries, and spice. Medium-bodied, elegant, fruity and fresh, with a hint of cocoa on the back end, this is already drinking well. Chateau de Manissy is better known as one of the top producers of Rose' in Tavel. Drink From 2023 – 2032. 92 Pts
2019 Clef de Saint Thomas La Clef de St. Thomas – Sweet, almost candied red fruits, along with spring flowers, herbs and spicy red raspberries open the wine. On the palate, the wine is medium-bodied, soft, fruity, and supple, and with its red, sweet, fruit-filled character, this should offer plenty of early drinking charm. The wine blends 50% Grenache, 30% Syrah, and 20% Mourvedre, which helped this year. Drink From 2022 – 2034. 90 Pts
2019 Clef de Saint Thomas Pierre Troupel – This medium-bodied, fresh, spicy, earthy wine comes with a large dose of peppery, green olives, herbs, black raspberries, and red plums. Bright and fresh, with a spicy character, this should age and evolve quite well. The wine was made from a blend of 50% Grenache and 50% Syrah. Drink From 2024 – 2033. 90 Pts
2019 Clef de Saint Thomas Blanc – Forward, lighter-styled white wine focusing on its freshness and elegant character. Drink this on the young side. Drink From 2022 – 2026. 88 Pts
2019 Clef de Saint Thomas Pierre Troupel Blanc – Lemon, limes and floral nuances are easy to find in this fresh, crisp, sweet, and juicy citrus-oriented early drinker. Drink From 2022 – 2027. 90 Pts
2019 Clos Bellane Urgonien – Clos Bellane Urgonien takes its name from the type of limestone in the soil, Urgonien. The vineyard is a tiny 1.14 hectare of vines blending 77% old vine Grenache and 33% Mourvedre. The wine is, fruity, fresh and mineral-driven. The salty palate works perfectly with the ripe red fruits and their peppery edge. Give it a few years in the cellar to develop more complexity and to fill out and it should be an even better wine. Drink From 2024 – 2035. 90 Pts
2019 Clos Saint Michel Chateauneuf-du-Pape – Ripe, round, rich, and fruity, the wine is spicy, fresh, vibrant and meaty with a mineral-driven core of spicy fruit. Long. rich and packed with sweet, dark red fruits, this is already quite a pleasure to taste in its youth. The wine is a blend of 40% Grenache, 30% Mourvedre and 30% Syrah. Drink From 2024 – 2037. 92 Pts
2019 Clos Saint Michel Le Grand Vin – Deep in color, the wine pops with strong floral notes with a touch of wood, peppery spices, garrigue, licorice, espresso, and sweet dark red fruits gets things off to a good start here. Lush, round and packed with ripe, red berries, the wine is long, rich and supple on the palate. The blend of 50% Grenache and 50% Syrah really works well this year. Drink From 2024 – 2037. 95 Pts
2019 Clos Saint Michel Reservée – The kirsch takes on a smoked, meaty quality that comes along with licorice, peppery spice, herbs and olives. Lush, rich and equally vibrant, this is going to be just great after a few years in the cellar. Drink From 2025 – 2036. 93 Pts
2019 Clos Saint Michel Blanc Chateauneuf-du-Pape – Smoky, with sweet orange, peach and citrus on the nose, the wine is medium-bodied, sweet, lush, fresh and fruity, leaving with silky, yellow citrus in the finish. Drink From 2022 – 2029. 91 Pts
2019 Clos St Antonin – Medium-bodied, the nose, with its herbs, spices, flowers, and kirsch is just great. On the palate, the wine is elegant, fresh, vibrant and silky with loads of sweet, ripe, kirsch, and cherry tones that hold on from the mid-palate through to the finish. The wine was made from100% Grenache. You can enjoy this on release. Drink From 2022 – 2033. 93 Pts
2019 Clos des Papes – Rich, supple, deep, intense and complex, this is stunning from the get-go. One sniff of all that gorgeous, spicy kirsch, herbs, peppery spice, and mélange of red fruits, and you're hooked. If that wasn't enough, the silky, supple, elegant, fresh palate presence will seal the deal, finishing with its layers of deep, red fruits. This should age and evolve for 2-3 decades with ease. The wine is a blend of 45% Grenache, 40% Mourvedre, 10% Syrah, and the remaining 5% consists of various, allowable grape varieties. The grapes are as always 100% destemmed. Drink From 2025 – 2040. 99 Pts
2019 Clos deLOratoire des Papes Chateauneuf du Pape – Garrigue, green olives and peppery kirsch shows up easily on the nose. The medium-bodied, soft, sweet, fresh, kirsch palate is already disarmingly easy to taste. I like how the kirsch notes stick with you, finishing with hints of dust in the finish. The wine is a blend of 80% Grenache with Syrah and Cinsault. Drink From 2022 – 2032. 91 Pts
2019 Clos delOratoire des Papes Les Choregies – Elegant, fresh, spicy, and refined, the wine is medium-bodied, forward and packed with layers of sweet, ripe, silky kirsch, wild strawberries, herbs, and olives. This is already a pleasure in your glass. Drink From 2022 – 2035. 92 Pts
2019 Clos delOratoire des Papes Blanc – Following the initial note of ripe, white peach, the wine quickly moves to its core of honeysuckle and fresh, sweet citrus. On the palate, the wine is juicy and fresh with the perfect snap to the yellow fruit in the finish. Drink From 2022 – 2028. 92 Pts
2019 Clos du Mont Olivet – Fresh, floral and focused on its core of elegant, sweet, red fruits, the wine leaves you with a beautiful, spicy kirsch note that resonates. This will be easy to enjoy on release. Drink From 2022 – 2033. 92 Pts
2019 Clos du Mont Olivet La Cuvee du Papet – It is the silk and velvet textures that steal the show here. One of the most seductive wines in Chateauneuf du Pape hit a home run here. All the layers of sensuously textured red and dark red fruits, purity, elegance, flowers, kirsch, spice, and herbs are in full force on the nose and palate. This is already a pleasure to drink, but a few more years of age will make it even better. Drink From 2024 – 2038. 98 Pts
2019 Comte de Lauze Blanc – Notes of fresh flowers cut through the sweet citrus and an interesting note of buttered corn. Fresh, sweet and fruity, this will be just great on release. Drink From 2022 – 2028. 91 Pts
2019 Cote de lAnge Blanc – Freshly squeezed citrus with green apple and honeysuckle pop on the nose. On the palate, the wine is fruity, forward and early drinking, with a spicy, citrus and white peach finish. Drink From 2022 – 2027. 90 Pts
2019 Cote de lAnge Grenache – Flowers, herbs, spices, sweet, red cherries and silky textures are the hallmarks of this refined expression of Chateauneuf du Pape. The elegant finish packs in a load of dark, red berries with a touch of cocoa on the backend. Drink From 2022 – 2033. 92 Pts
2019 Cristia Chateauneuf du Pape – The kirsch and floral notes here get things off to a good start. Soft, silky, polished, fresh, and sweet, the red fruits on the palate and in the finish are blended with the perfect amount of spice and herbs to provide complicated nuances along with the ripe kirsch-oriented finish. Drink From 2022 – 2033. 91 Pts
2019 Crous St. Martin Hommage a L'an 1879 – With a strong, herbal, garrigue, green olive, and red plum nose, the wine put on a vibrant, juicy, fresh display of red fruits, peppery spices, and olives on the palate and in the finish. The wine blends 80% Grenache with 10% Mourvedre and 10% Syrah. Drink From 2023 – 2034. 92 Pts
2019 Croze-Granier Blanc Elise – Honeyed yellow citrus and spice combine to create the nose. On the palate, the wine is bright, fresh, lush, and juicy, with lift and ample sweet, yellow fruit in the finish. The wine is made from blending Clairette with Grenache Blanc. Drink From 2022 – 2033. 91 Pts
2019 Croze-Granier Le Chateau – Flowers, wet earth, a touch of wood, and dark red berries in the nose get to want to know more about the wine. On the palate, the wine is approachable, round, and polished with a luscious core of sweet, ripe, dark red fruits on the palate and in the fruit-filled finish. Drink From 2023 – 2034. 91 Pts
2019 Croze-Granier des Pontifes – Forward, lush, round, ripe, and fruity, the wine serves up all of its peppery black cherries, plums, herbs, and olives with ease. There is a nice, sweet cherry note with a tiny hint of chocolate that lingers in the finish that I really like. The wine is made from blending Grenache with Mourvedre, which worked quite well this year. Drink From 2023 – 2034. 91 Pts
2019 Cuvee du Vatican – The nose is discreet and requires coaxing before you find the flowers, kirsch, thyme and spice character. Medium-bodied, soft, and gently polished, this is going to be just great on release. Drink From 2022 – 2033. 91 Pts