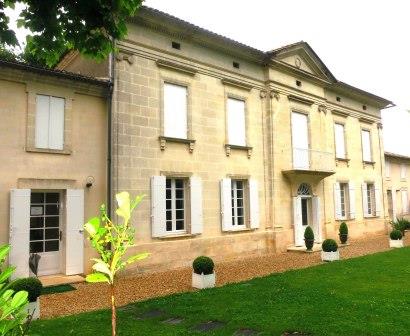 Learn everything about Chateau Dalem Fronsac with wine tasting notes and wine with food pairing tips. Learn the best vintages, a history of the property, information on the vineyards, and winemaking. If you want to read about other important, Bordeaux Chateaux:Links to all Bordeaux Wine Producer Profiles
Chateau Dalem History, Overview
Chateau Dalem is one of the oldest properties in Bordeaux. The estate originated all the way back in 1610. Chateau Dalem remained in the same family ownership until the vineyard was purchased by Michel Rullier in 1955.
Today, Chateau Dalem is managed by Brigitte Rullier-Loussert. Brigitte Rullier-Loussert took over managing the property in 2002. The Rullier family has long ties in the Bordeaux appellation.
Additionally, the family also owns two other estates aside from Chateau Dalem in the Right Bank including another vineyard in the Fronsac appellation, Chateau de la Huste. Chateau de la Huste has remained in the family's hands since 1860. Brigitte Rullier-Loussert is also charge of managing Chateau de la Huste. They also produce Chateau La Longua, which is made from declassified grapes from both Chateau Dalem and Chateau de la Huste.
In 2019, Chateau Dalem completed the full renovation and modernization of their cellars and wine-making facilities. Sadly in February 2022, Michel Rullier passed away at the age of 94.
Chateau Dalem Vineyards, Terroir, Grapes, Winemaking
The 33-hectare vineyard of Chateau Dalem is planted to 90% Merlot, 95 Cabernet Franc, and 1% Malbec. This is a big change in the vineyards. First, the vineyard has increased in size since it was initially acquired. In fact, it has more than tripled in size since the family purchased the vineyard in 1955!
For the grape varietals planted, previously, the estate devoted 10% of the Chateau Dalem vineyard to Cabernet Sauvignon. Those vines have been removed and those parcels have been replaced with more Merlot.
The terroir is a mix of clay and limestone soils with south, by southeast facing exposures. The vineyard can be subdivided into 16 distinct parcels. The vines are old. On average, the vines are 45 years of age. The vineyard is planted to a vine density that ranges from 6,000 vines per hectare to 6,600 vines per hectare.
To produce the wine of Chateau Dalem, the wines are vinified in traditional, temperature-controlled, concrete vats. The vats range in size to allow for a parcel by parcel vinification.
Malolactic fermentation takes place in barrels. The wine of Chateau Dalem is aged in 60% new, French oak barrels for an average of 18 months before bottling. In 2008, the estate introduced a second wine, Tenation de Dalem. The average annual production of Chateau Dalem is close to 5,500 cases per vintage.
The best vintages of Chateau Dalem are: 2022, 2021, 2020, 2019, 2018, 2017, 2016, 2015, 2014, 2012, 2010, 2009 and 2005.
When to Drink Chateau Dalem, Anticipated Maturity, Decanting Time
Chateau Dalem is much better with at least 2-4 years of aging in good vintages. Young vintages can be decanted for 1 hour to 90 minutes. This allows the wine to soften and open its perfume.
Older vintages might need very little decanting, just enough to remove the sediment. Chateau Dalem offers its best drinking and should reach peak maturity between 3-12 years of age after the vintage.
Serving Chateau Dalem with Wine, Food, Pairing Tips
Chateau Dalem is best served at 15.5 degrees Celsius, 60 degrees Fahrenheit. The cool, almost cellar temperature gives the wine more freshness and lift.
Chateau Dalem is best paired with all types of classic meat dishes, veal, pork, beef, lamb, duck, game, roast chicken, roasted, braised, and grilled dishes. Chateau Dalem is also good when matched with Asian dishes, hearty fish courses like tuna, mushrooms, and pasta.
Château Dalem Wine Tasting Notes
18 Vintages 73,826 Views Sort by Vintage-Rating
2022
Château Dalem (Fronsac)

Spices, flowers, fruits, silky tannins and layers of red and black plums that are a treat to taste. The wine is medium-bodied, soft, round and delivers length and complexity in the finish. Drink from 2025-2037. 93-95 Pts.

926 Views

Tasted

May 8, 2023

2021
Château Dalem (Fronsac)

Fresh, soft, bright and packed with cocoa-dusted, crisp red fruits on the nose. On the palate, the wine is medium-bodied, crisp and vibrant with ample sweet, dark red fruits in the finish. You can drink this on release. Dalem has been on quite a roll lately, and 2021 is no exception. Drink from 2023-2034. 91-93

1,147 Views

Tasted

May 20, 2022

2020
Château Dalem (Fronsac)

The floral bouquet is what you initially notice before moving on to its licorice, tobacco leaf, espresso, and chocolate-covered plum notes. On the palate, the wine is seductive with its silky textures, and opulent nature. In the finish, the wine feels as good on the palate as it tastes. This is in contention for the best vintage of Dalem I have ever tasted. Drink from 2023-2038.

1,112 Views

Tasted

Mar 21, 2023

Licorice, espresso, chocolate covered plums, smoke and earthy aromas are what you initially notice. From there you find a boatload of silky, polished black and red fruits, coffee bean and cocoa that feels as good on your palate as it tastes. Fleshy, full-bodied, long and lusciously textured, this is already showing just great. With a few years of age, it is going to get even better. 92-94 Pts

2,541 Views

Tasted

May 20, 2021

2019
Château Dalem (Fronsac)

Flowers, crushed rocks, smoke, licorice, cherry blossoms and dark red pit fruits are all over the nose and palate here. On the palate, the wine is even better due to all of its silky-textured, seductive, fresh, ripe, mineral-driven fruits. There is length, complexity and freshness with a finish that leaves you wanting more. This is one of the best values in Bordeaux. It is a purchase by the case wine that you can enjoy for 15 or more years with ease. This is probably the best vintage of Dalem I have ever tasted! Drink from 2022-2037.

2,847 Views

Tasted

Mar 29, 2022

Dark in color, the wine is full-bodied, lush, rich and supple. On the palate, you find loads of sexy, juicy freshness, dark chocolate and fruit that hits it just right, and the wine sells for song. 91-93 Pts

4,635 Views

Tasted

Jun 8, 2020

2018
Château Dalem (Fronsac)

Much better in bottle than in barrel, you can tell this is going to be great just from the nose with all its red, black and blue fruits, flowers, licorice and wet earth nuances. Sexy, silky, vibrant and fresh, the opulent character hits all the right notes. The wine is concentrated, rich and deep, with freshness giving lift to the non-stop layers of perfectly ripe fruits. The silk and velvet finish just nails it. This is the finest vintage of Dalem produced yet! The wine is made from a blend of 90% Merlot and 10% Cabernet Franc.

2,694 Views

Tasted

Mar 9, 2021

Plush, round, ripe, fruity and delicious. Here, even with all this ripeness and density, the truffle, cocoa and ripe, black fruits shine through. The wine is made from a blend of 90% Merlot and 10% Cabernet Franc. 91-93 Pts

4,052 Views

Tasted

Apr 19, 2019

2017
Château Dalem (Fronsac)

With a kiss of oak on the front end, the wine is deeply colored, round, fleshy, sweet, ripe, polished and fresh, leaving with plums, fennel and cocoa in the round finish. The wine is made from a blend of 90% Merlot and 10% Cabernet Franc.

3,507 Views

Tasted

Apr 26, 2018

2016
Château Dalem (Fronsac)

Dark in color, the wine exudes flowers, deep, red and black pit fruits, silky textures, balance, freshness and length. The silky textured finish brings everything together.

3,414 Views

Tasted

Sep 21, 2019

Dark in color, the dark chocolate, licorice and black cherry and vibrant, fresh, sweet and just, frankly, delicious in this blend of 80% Merlot and 20% Cabernet Franc.

5,661 Views

Tasted

Apr 29, 2017

2015
Château Dalem (Fronsac)

Soft, silky, fresh and plush, this feels great on the palate, has length and complexity. Plus it sells for a song for a wine of this quality! You can drink this young, or age it for over a decade.

3,760 Views

Tasted

May 21, 2018

Pure bottled pleasure, with its silky, opulent textures, rich, ripe fruits and licorice coated black cherry finish, this is probably the best wine I've tasted yet from Dalem.

4,080 Views

Tasted

Apr 29, 2016

2014
Château Dalem (Fronsac)

Spicy, smoky, cocoa dusted plums, with a forward, easy drinking, soft, ripe, spicy, supple berry and licorice filled charm. 88-90 Pts

2,270 Views

Tasted

May 1, 2015

2013
Château Dalem (Fronsac)

Soft, easy going, open and already drinkable, with its fresh, light red berry character. 86-88 Pts

3,047 Views

Tasted

May 1, 2014

2012
Château Dalem (Fronsac)

A screaming value, with its plush, round, textures, ripe, juicy, black plums, licorice and round, textures.

2,421 Views

Tasted

May 15, 2015

Medium-bodied with a crisp red berry and anise-filled personality, this will drink well on release. 87-89 Pts

2,846 Views

Tasted

Apr 26, 2013

2011
Château Dalem (Fronsac)

Fennel, earth, plums and oak scents, medium bodied, fresh, bright red and black plums are found in the finish. 87-89 Pts

2,028 Views

Tasted

Mar 16, 2012

2010
Château Dalem (Fronsac)

A solid Bordeaux value wine with loads of ripe black cherries, hints of vanilla, earth, licorice, jam and black raspberries. The wine is forward, lush, fun to taste and well priced.

4,533 Views

Tasted

Jun 2, 2013

2009
Château Dalem (Fronsac)

Licorice, smoke, coffee, jammy plum and blackberry scents open to a rich textured, plush, full bodied wine, packed with loads of ripe, boysenberry and chocolate. This open, round, polished, value Bordeaux wine is already offering pleasure.

4,138 Views

Tasted

Mar 12, 2012

2008
Château Dalem (Fronsac)

No need to age this another day. This is on the brighter, fresher, red berry side of the style range, with more crisp, berries than usual. Medium bodied and ready to go, drink this sooner than later.

2,023 Views

Tasted

Nov 6, 2016

2006
Château Dalem (Fronsac)

From a blend of 90% Merlot and 10% Cabernet Franc, this open, accessible, medium bodied, easy going wine is filled with black raspberry, cocoa and licorice.

1,934 Views

Tasted

Mar 12, 2012

2005
Château Dalem (Fronsac)

Fully mature, round, soft and ready to deliver all of its black cherry, smoke, licorice and earthy charm.

3,816 Views

Tasted

Nov 29, 2013

2000
Château Dalem (Fronsac)

Fully mature, which is as you should expect, as it approaches its 20th birthday in a few years. Truffle, tobacco, cherry and licorice, with spices are right where you want them. Round, soft, but starting to slowly fade, it's best to drink this over next few years.

4,394 Views

Tasted

Nov 2, 2016