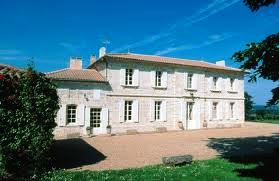 Learn everything about Chateau La Vieille Cure Fronsac with wine tasting notes and wine with food pairing tips. Learn the best vintages, the history of the property, and information on the vineyards and winemaking. If you want to read about other important, Bordeaux Chateaux: Links to all Bordeaux Wine Producer Profiles
Chateau La Vieille Cure History, Overview
While vineyards were cultivated in the late 1600s, the modern era for Chateau La Vieille Cure really starts in 1986. That was the year when the estate was purchased by two American owners, Colin Ferenbach and Peter Sachs. Once the deal was closed, their first order of business for this Right Bank estate was to completely renovate the property from top to bottom.
The extensive rebuilding took place in the wine-making facilities, the chateau, and even replanting a large portion of their vineyard. They brought in Michel Rolland as their consultant, to help with their vineyards and winemaking. By 2000, they were producing one of the top wines in the Fronsac appellation.
From that point forward, Chateau La Vieille Cure became a serious contender for the best Bordeaux wine value produced in the region. 2005 remains the best vintage yet for La Vieille Cure.
In July 2013, La Vieille Cure announced that Jean Luc Thunevin, the well-known consultant and owner of Valandraud would take over as the winemaker for the property because Jean Noel Herve retired Fans of the estate rejoiced as the wines could only get better! Jean-Philippe Forts is also working with the estate as their consultant.
Chateau La Vieille Cure Vineyards, Terroir, Grapes, Winemaking
The 37-hectare vineyard of Chateau La Vieille Cure is planted to 75% Merlot, 22% Cabernet Franc and 3% Cabernet Sauvignon. The vineyard is in one, large, contiguous parcel of vines.
The vineyard has a terroir of limestone, chalk, and clay-based soils. They have slopes and elevations rising up to 65 meters at their peak with an all-important, southwest exposure.
With terroir similar to St. Emilion, perhaps the most important reason for their quality, unique style, and the concentration found in the wine is, they have numerous old vines. When I say old, they have some of the oldest vines in the appellation. Many of their old Merlot vines are approaching an amazing 100 years of age!
To produce the wine of Chateau La Vieille Cure, following a three to four-week cold maceration, alcoholic fermentation takes place in temperature-controlled, stainless steel vats. Malolactic fermentation is conducted in French oak barrels. The wine is aged in an average of 70% new, French oak barrels before bottling.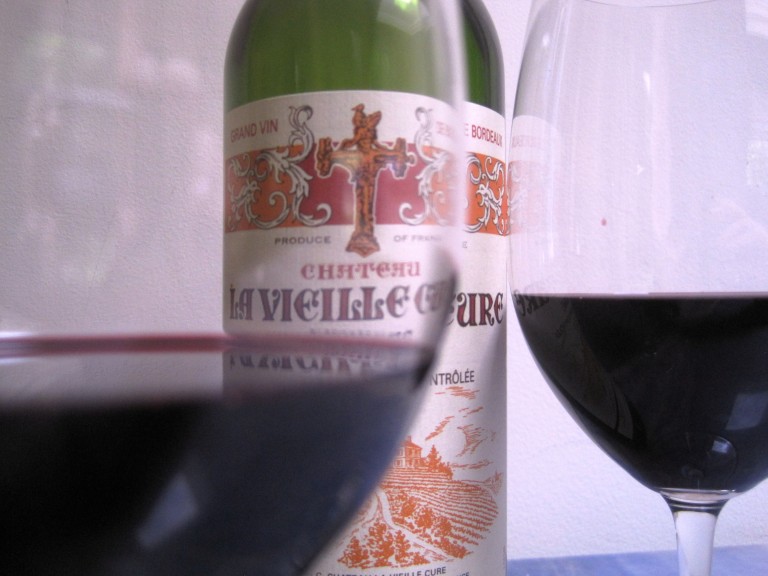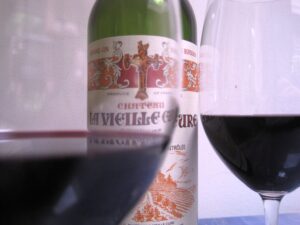 The style of wine produced at La Vieille Cure is all about the ripe, sweet, fleshy fruit, licorice, chocolate, low acidity, and jammy berries along with its plush textures and forward style. The Fronsac wine is full-bodied and round and can be enjoyed at a young age. This is another great property from the Fronsac appellation that is making some of the best values in Bordeaux wine today.
There is a second wine, La Sacriste de la Vieille Cure. Most of the second wine is not exported as it's sold primarily to two large, French merchants. The annual production of Chateau Chateau La Vieille Cure wine averages about 15,000 cases a year.
The best vintages of Chateau La Vieille Cure are: 2022, 2021, 2020, 2019, 2018, 2017, 2016, 2015, 2014, 2012, 2010, 2009 and 2005.
When to Drink Chateau La Vieille Cure, Anticipated Maturity, Decanting Time
Chateau La Vieille Cure is much better with at least 3-4 years of aging in good vintages. Young vintages can be decanted for 1 – 2 hours. This allows the wine to soften and open its perfume.
Older vintages might need very little decanting, just enough to remove the sediment. Chateau La Vieille Cure offers its best drinking and should reach peak maturity between 3-15 years of age after the vintage.
Serving Chateau La Vieille Cure with Wine, Food, Pairing Tips
Chateau La Vieille Cure is best served at 15.5 degrees Celsius, 60 degrees Fahrenheit. The cool, almost cellar temperature gives the wine more freshness and lift.
Chateau La Vieille Cure is best paired with all types of classic meat dishes, veal, pork, beef, lamb, duck, game, roast chicken, roasted, braised, and grilled dishes. Chateau La Vieille Cure is also good when matched with Asian dishes, rich fish courses like tuna, mushrooms, and pasta.
Château La Vieille Cure Wine Tasting Notes
20 Vintages 144,732 Views Sort by Vintage-Rating
2022
Château La Vieille Cure (Fronsac)

Lush, dark, polished, fruits, cocoa, chocolate, espresso and plums are ripe, sweet, creamy, long, fresh and a pleasure to taste. You can enjoy this with pleasure on release and for another 12 or more years after that. Drink from 2025-2038. 92-94 Pts.

1,475 Views

Tasted

May 8, 2023

2021
Château La Vieille Cure (Fronsac)

Medium-bodied, fresh, bright and fruity, the palate is loaded with ripe, crunchy black raspberries and red plums with overtones of licorice, espresso and cocoa. Drink from 2023-2032. 88-90

1,259 Views

Tasted

May 20, 2022

2020
Château La Vieille Cure (Fronsac)

Deep in color, the wine kicks off with a strong dose of oak before you find all of its chocolate coated black cherries, licorice, spice and smoke. Sexy and silky, the wine coats your palate with crushed rocks, dark red pit fruits and layers of chocolate. Give this a year or two for the oak to better integrate and this should be good to go. Drink from 2024-2038.

957 Views

Tasted

Mar 21, 2023

With a bit too much oak on the nose, the wine moves to its ripe, plush, lush, forward mid-palate and a finish packed with layers of blackberry, plum, chocolate covered cherry and espresso. Give this a few years for the oak to better integrate and this should be good to go. 91-93 Pts

2,067 Views

Tasted

May 20, 2021

2019
Château La Vieille Cure (Fronsac)

This is quite seductive. It only takes one sniff and sip to get you interested in all of its flowers, chocolate-covered plums, espresso and black cherries with just a bit of blue fruit. Opulent, fleshy, polished and concentrated, as well as refined, give it a year or two for the oak to integrate and it is going to be even better. The next time someone says Bordeaux is expensive, pop a bottle of this. Drink from 2023-2036.

2,194 Views

Tasted

Mar 29, 2022

Deep in color, with lush, plush, opulent polished textures. The wine has layers of fruit, sexy, silky tannins and a hedonistic finish. But this is no fruit-only bomb, it is a refined, sweet and hedonistic wine that should be great to taste early in life and age for at least a decade or more. The next time someone says Bordeaux is expensive, pop a bottle of this. 91-93 Pts

4,892 Views

Tasted

Jun 8, 2020

2018
Château La Vieille Cure (Fronsac)

Deeply colored, the next thing you notice is all the layers of supple textured, ripe, elegant, sweet, silky fruits that start off great, and keep on going. Richly textured, with good concentration and length, this is one of the best values in all of Bordeaux pairing style, quality and a more than fair price.

1,972 Views

Tasted

Mar 9, 2021

Concentrated, lush and loaded with chocolate covered, black cherries and licorice, the wine hits your palate with the essence of dark cocoa and red fruits that offer their pleasures with ease. 90-92 Pts

3,538 Views

Tasted

Apr 19, 2019

2017
Château La Vieille Cure (Fronsac)

Dark, chocolate-coverednred fruits, licorice and toasty oak, along with soft, round, corpulent textures, this will be easy to drink on release.

2,681 Views

Tasted

Apr 26, 2018

2016
Château La Vieille Cure (Fronsac)

Round, ripe, forward, sweet and delicious, the wine is packed with fat, dark, juicy fruits, licorice, and dark chocolate. Not exactly refined, but there is volume, ripeness and loads of chocolate covered fruits in the finish.

3,927 Views

Tasted

Sep 21, 2019

Fresh, sweet, juicy, polished fat, dark berries, licorice, and dark chocolate. Round, not refined, but fun to taste.

5,578 Views

Tasted

Apr 29, 2017

2015
Château La Vieille Cure (Fronsac)

It might be a bit obvious, as nothing is hidden here, but who cares? This is just great today. It's open, lusciously textured, ripe, sweet and fleshy, the tannins and silky, the finish carries through. You can pop a cork tonight or age it for 5 years for more secondary notes.

4,002 Views

Tasted

May 21, 2018

It's really hard to find a better wine for the money from Bordeaux year, after year. The wine has richness, silky, polished tannins, fresh, ripe, sweet, juicy dark red fruits, licorice, smoke and sweetness that when coupled with its consumer friendly pricing policy makes this a must buy, for value conscious consumers.

4,830 Views

Tasted

Apr 29, 2016

2014
Château La Vieille Cure (Fronsac)

Lush, round, polished and packed with plenty of fat, juicy, round berries, licorice and chocolate. 89-91

4,448 Views

Tasted

May 1, 2015

2013
Château La Vieille Cure (Fronsac)

Licorice, mocha and black raspberries and oak are open and already easy to drink. This will be best in its youth. 87-89 Pts

3,560 Views

Tasted

May 1, 2014

2012
Château La Vieille Cure (Fronsac)

Fresh, sweet, ripe and already delicious, the wine ends with a blast of sweet, black cherries, licorice and cocoa. This is consistently one of the best, Merlot based, Bordeaux value wines.

3,406 Views

Tasted

May 16, 2015

Deep in color with licorice, espresso, smoke and jammy berries in the nose, the wine is packed with soft, sexy, supple-textured fruit that is already fun to drink. And it's always available for a fair price. The wine was made from a blend of 75% Merlot, 22% Cabernet Franc and 3% Cabernet Sauvignon. 89-91 Pts

4,478 Views

Tasted

Apr 26, 2013

2011
Château La Vieille Cure (Fronsac)

Licorice, coffee bean, vanilla, black cherry and earth scents open to a fleshy, flashy, medium bodied, fresh Bordeaux wine that ends with chocolate covered cherries. From an assemblage of 75% Merlot, 20% Cabernet Franc and 5% Cabernet Sauvignon, the wine reached 14% ABV. 89-91 Pts

4,617 Views

Tasted

Mar 16, 2012

2010
Château La Vieille Cure (Fronsac)

Opaque in color, black licorice, dark chocolate, oak, jammy berries and sweet black cherry flavors are coupled with a big blast of concentrated, sweet jammy berries. This is the best wine produced by La Vieille Cure since the 2005.

8,934 Views

Tasted

Apr 22, 2013

2009
Château La Vieille Cure (Fronsac)

With its deep color, licorice, coffee bean, black cherry, blueberry, earth, plum and cocoa aromas, rich, opulent textures and forward style, the 2009 Vieille Cure once again shows why it remains at the top of the value Bordeaux wine parade. Enjoy it now and over the next several years, for this price and style, coupled with early drinkability, it's worth buying by the case.

8,310 Views

Tasted

Mar 17, 2012

2008
Château La Vieille Cure (Fronsac)

This has matured surprisingly fast. Lacking the levels of concentration and ripeness found in 2005 or 2009, this is still fun to drink now with its licorice, black cherry and coffee bean, soft textured personality.

3,578 Views

Tasted

May 20, 2013

2006
Château La Vieille Cure (Fronsac)

Coffee, licorice and jammy black raspberry aromas, open, opulent and ready, the wine ends with a licorice and black cherry finish. It's hard to find a better, more consistent Bordeaux value wine than Vieille Cure.

4,816 Views

Tasted

Mar 12, 2012

Licorice, blackberry jam, coffee, earth and black cherry scents are in full force. Big, full bodied and voluptuous in texture, this is no shy wine. With a long, ripe, exuberant, fruit forward style, this Bordeaux value wine is already showing well. This another bargain priced winner from this outstanding Fronsac property.

5,041 Views

Tasted

Aug 30, 2011

2005
Château La Vieille Cure (Fronsac)

Open, round, sweet, fresh and still going strong, popped and poured, this is still delivering a sensuous lush wine of pleasure. There is no need for decanting.

4,784 Views

Tasted

Jun 28, 2015

Better than the last bottle, which evidently was off, this open, lush, ripe, round, sweet, fresh wine is on top of its game. It's going to be hard to find a better 2005 Bordeaux for this small amount of money. Popped, poured and enjoyed, this is a real wine of pleasure. There is no need for decanting.

4,242 Views

Tasted

Feb 19, 2015

At close to 10 years of age, the nose is more complex with its secondary aromatics. But the sexy, fat, ostentatious palate is fading away. With this wine, it's going to depend on what you prefer in its personality, lush textures or less fruit and more tertiary aromas. Personally, with Vieille Cure, I love the fruit and lush character found in its youth. I need to retaste a bottle to see if this was just how this bottle developed, or is the wine rapidly aging. If I had to guess or bet, I'd say the wine is losing its fruit and should be consumed over the next year, or two.

3,530 Views

Tasted

Mar 1, 2014

Bought for about $20, this tremendous value wine keeps over delivering the goods! Licorice, chocolate, truffle, smoke and blackberry jam pop as soon as the wine pours. It's fat, juicy, plush and utterly delicious. It has not gained much in complexity, but unlike many value wines, it has not lost one iota of flavor. If you missed the 2005, look for 2009 or 2010. There is no reason to age this wine, it was tasty the moment it was released and it remains full of easy to like, pleasure today.

5,916 Views

Tasted

Mar 11, 2013

Still deep in color, with licorice, coffee bean, black cherry liqueur, smoke, milk chocolate and earthy scents, this delicious, sexy, easy to like wine has been a pleasure machine since the day it was bottled. I'm not sure how much complexity will come with bottle age, but how cares? It's great today and you cannot beat the price!

8,107 Views

Tasted

Dec 6, 2011

2005 Vieille Cure is filled with black licorice, fresh herbs, chocolate covered boysenberry, coffee and Asian spice aromatics. Full bodied, fat, round and deep on the palate, the wine ends with a mouth filling blast of chocolate covered black cherries. This is a lush, lusty wine that while not overly complex, offers a lot of hedonistic pleasure. This remains a contender for the top value play from 2005.

8,120 Views

Tasted

Dec 4, 2010

Chocolate covered blackberries, licorice, coffee and bluberries lead into a rich, sexy, fat mouth full of dark black cherry. What this lacks in finesse, it more than makes up for it, with layers of ripe, licorice coated fruit. Drink now and over the next 7 years.

7,632 Views

Tasted

Sep 18, 2010

2003
Château La Vieille Cure (Fronsac)

Black licorice, jammy blackberries, milk chocolate. earth and blueberry scents pair perfectly well the rich, round textures and ripe, jammy black raspberry and cherry filled finish. This fun to drink Bordeaux wine is fully mature and should be drunk up over the next 5 years to preserve its levels of ripe, juicy fruit.

5,213 Views

Tasted

Jul 23, 2011

2001
Château La Vieille Cure (Fronsac)

At the end of its life, I'd want to be drinking this sooner than later, to catch the remainder of its fresh, cherry fruits, mocha, earth and tobacco charms, before they fade away.

2,921 Views

Tasted

Aug 26, 2017

2000
Château La Vieille Cure (Fronsac)

Pleasant, but clearly fading. The original level of richness has morphed into a brighter, fresher, earthier, spicy, red berry filled wine. Soft, and not without charm, this requires drinking sooner than later.

3,707 Views

Tasted

Nov 3, 2016